What to Know in Washington: Jackson Swears in at SCOTUS Today
Jackson will join Supreme Court as Breyer retires
McConnell says Senate takeover will slow Biden nominees
Ketanji Brown Jackson will be sworn in today as the first Black female justice on the Supreme Court, succeeding the retiring Stephen Breyer as a transformational term comes to a close.
Jackson was confirmed to replace Breyer in April but then had to wait until he stepped down at the end of the nine-month term, which included the blockbuster ruling eliminating the constitutional right to abortion. Breyer said in a letter to President Joe Biden that his confirmation would become effective Thursday, Greg Stohr reports.
Jackson will take her two required oaths at noon at the Supreme Court before a small gathering that will include her family, the court said in a press release. Breyer, for whom Jackson once served as a law clerk, will administer an oath required under federal law. Chief Justice John Roberts will administer an oath mandated under the Constitution.
Jackson, 51, is likely to maintain the ideological balance on the conservative-controlled high court and join fellow Democratic appointees Sonia Sotomayor and Elena Kagan in the liberal wing.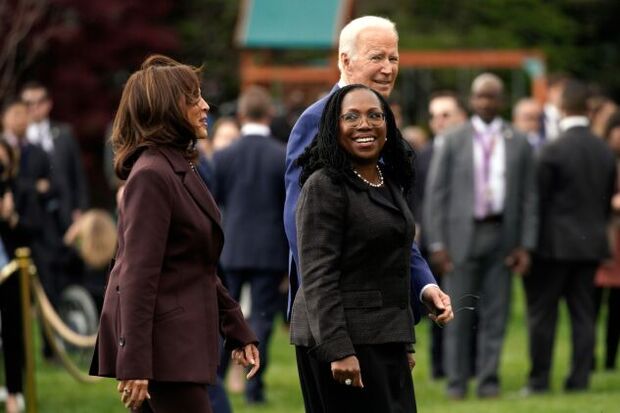 The transition comes as Senate Minority Leader Mitch McConnell signals how he'd run the Senate next year if Republicans regain the majority, and is making clear that preserving a federal judiciary dominated by conservative jurists is at the top of his agenda, Nancy Ognanovich reports.
McConnell (R-Ky.) during a series of appearances in Kentucky this week suggested if the GOP retakes the chamber he'll oppose advancing many of Biden's judicial nominees, a strategy he deployed during the Obama administration.
He said Wednesday that Obama-era vacancies he kept open were later filled "when improbably Donald Trump got elected" and nominated conservatives. The results include three Supreme Court justices and 54 circuit court judges.
McConnell hasn't been able to block many Biden nominees in a 50-50 Senate controlled by Democrats. Biden's tally includes one Supreme Court justice and 16 circuit judges confirmed over GOP objections. But "if I'm the majority leader, we'll be really picky on appointments," McConnell said.
The majority leader suggested he doesn't want to further dilute the effect of conservative appointments, which he said now include one-third of federal circuit court judges. That record translates into "lifetime appointments and opportunity to shape things for decades to come," he said.
Happening on the Hill
Concerns over inflation and domestic energy production cropped up during a committee markup of a $44.8 billion spending bill that would fund critical environmental, conservation, and tribal programs. The House Appropriations Committee advanced by a 32-24 vote the Interior-Environment fiscal 2023 spending measure. The legislation would provide an 18% increase in funding above the fiscal 2022 enacted level. An additional $2.55 billion would go to cap-adjusted fire suppression funding. Read more from Kellie Lunney.
Lawmakers are aiming to advance legislation to streamline the process for granting citizenship to veterans and service members after federal officials called for improvements. Representatives of the Veterans Affairs, Defense, and Homeland Security departments laid out their efforts to create a faster naturalization process for veterans, reach out to noncitizen veterans, and help immigrant veterans receive government benefits during Wednesday's House Judiciary Committee hearing. Read more from Mia McCarthy.
Delaware Supreme Court Justice Tamika Montgomery-Reeves is Biden's planned nominee for a vacancy on the Philadelphia-based US appeals court. Biden announced intent to nominate Montgomery-Reeves to the US Court of Appeals for the Third Circuit Wednesday, bringing the total number of pending circuit nominees to 15, Madison Alder reports.
Senator Patrick Leahy will undergo surgery to repair a broken hip, CNN reports citing a statement from Leahy (D-Vt.)'s office. It's unclear how long he'll be on medical leave.
Elections, Politics & Probes
Warning on Wednesday that her GOP colleagues must choose between former President Donald Trump or the Constitution, Republican Representative Liz Cheney (Wyo.) said they cannot be loyal to both.
"We are confronting a domestic threat we have never faced before: a former president who is attempting to unravel the foundations of our Constitutional Republic," she said in a speech at the Ronald Reagan Presidential Library in California.
Cheney said what is emerging from the House Jan. 6 committee's work and its public hearings is a picture of Trump's efforts to block Biden's presidential victory "even more chilling and threatening than we imagined."
"And he is aided by Republican leaders and elected officials who have made themselves willing hostages to this dangerous and irrational man," Cheney said. Read more from Billy House and Mark Niquette.
Republicans haven't won a gubernatorial race in New York in two decades. Lee Zeldin, a conservative congressman from Long Island, wants to change that. After beating three opponents in the GOP primary Tuesday, Zeldin will now face against Gov. Kathy Hochul (D), who became the state's first female leader last year when Andrew Cuomo resigned. In a solidly blue state like New York, prospects for any Republican are slim, but Zeldin says this year is different. Marie-Rose Sheinerman has more.
Around the Administration
PRESIDENT'S SCHEDULE:
Biden will attend a NATO Heads of State and Government meeting in the morning, and later hold a press conference. In the afternoon, the president will return to Washington, D.C. from the summit in Madrid, Spain.
The Biden administration is rolling out its first dedicated spending program aimed at reconnecting neighborhoods that have been split by highways. The Transportation Department debuted the competitive grant program Thursday, which will send out $195 million this year and accept applications until October. The department said preference for the money will be given to "economically disadvantaged communities." Read more from Lillianna Byington.
The Department of Transportation is facing increased pressure to punish airlines for flight disruptions, as post-Covid demand and a labor shortage strain travel schedules. US air carriers have struggled to manage demand, with 3.5% of flights canceled and nearly 20% delayed during the first four months of the year. Now officials like Sen. Bernie Sanders (I-Vt.) are urging the Transportation Department to issue major fines for staffing-related flight disruptions. Lillianna Byington has the latest.
Doctors and other health-care providers cannot disclose information about a patient's pregnancy or abortion unless state laws or a court require them to do so, the HHS said Wednesday. Doctors have expressed concerns about their obligation to disclose patient's medical information under the Health Insurance Portability and Accountability Act following the high court's ruling. A handful of states have laws requiring disclosure to law enforcement of any injury that appears related to a criminal offense. Read more from Shira Stein.
The Biden administration moved Wednesday to require state inspectors of nursing homes to incorporate a facility's self-reported staffing data into their inspections starting Oct. 24 to help identify noncompliance with federal staffing requirements for nurses. Read more from Tony Pugh.
America's top spy said she sees a "grinding struggle" ahead for Russia in Ukraine, with President Vladimir Putin's military able to make incremental gains—but no significant breakthroughs. Director of National Intelligence Avril Haines presented this as the most likely of three scenarios the US intelligence community is forecasting in an appearance Wednesday at an annual conference of the Commerce Department's Bureau of Industry and Security in Washington. Read more from Eric Martin and Peter Martin.
The Department of Justice sued to block Booz Allen Hamilton from acquiring defense firm EverWatch, citing concerns that the deal would harm competition for federal intelligence contracts. Read more from Dan Papscun.
The Environmental Protection Agency's nine month delay of the Trump administration's revised water regulations for copper and lead didn't harm Arizona, Louisiana, and three other states, and the decision was reasonable, the agency told the D.C. Circuit. The states' argument against the delay "is, at heart, a disagreement with EPA's policy judgment," according to the brief in the US Court of Appeals for the D.C. Circuit. Read more from Maya Earls.
The government's cybersecurity agency is taking an "all-hands-on-deck approach" to filling its current vacancies, Matt Hartman, deputy executive assistant director for cybersecurity, told Bloomberg Government. CISA held a hiring event on Thursday, promising to make up to 150 on-the-spot offers out of more than 5,000 candidates. Josh Axelrod has the story.
The National Labor Relations Board reported misleading performance statistics in 2019 and 2020 to show the agency was processing cases faster under a now-defunct speed initiative that turned out to be ineffective, according to the NLRB's internal watchdog, Robert Iafolla reports.
To contact the reporters on this story: Michaela Ross in Washington at mross@bgov.com; Brandon Lee in Washington at blee@bgov.com
To contact the editor responsible for this story: Giuseppe Macri at gmacri@bgov.com