What to Know in Washington: Injured Officer Leads Jan. 6 Hearing
First TV hearing will open with officer, filmmaker testimony
Biden hosts Summit of the Americas in Los Angeles
A police officer injured by rioters at the US Capitol on Jan. 6 and a documentary filmmaker who captured events that day, will be witnesses in Thursday night's opening televised hearing by a House committee investigating the attack.
The committee said Tuesday night that witnesses for the prime-time hearing will include Caroline Edwards, the first law enforcement officer injured in the Capitol assault. She suffered a traumatic brain injury, the committee said.
The Atlanta native's injuries have kept her from returning to her assignment in the Capitol Police First Responder unit.
Also testifying will be Nick Quested, a documentarian who, with his crew, was embedded with the far-right Proud Boys and filmed the first moments of the violence and some of the chaos that followed, the committee said. Billy House has the latest.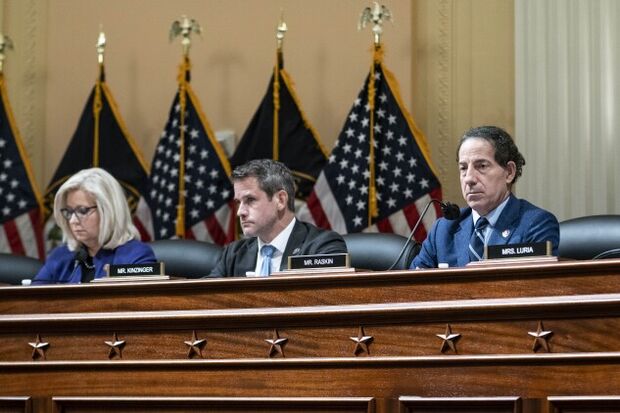 Rep. Jim Jordan calls the House hearings that begin this week a "sinister" Democratic plot to stigmatize conservatives. "With so much information already public about January 6, what is the real purpose of these prime-time hearings?" Jordan (R-Ohio) writes in the Federalist.
The column offers a glimpse of planned counter-programming as Rep. Jim Banks (Ind.), House GOP Leader Kevin McCarthy (Calif.) and conference chair Elise Stefanik (N.Y.) are among top House Republicans ready to rebut the televised hearings that begin prime time on Thursday. House has more.
Steve Bannon's lawyers are seeking to question under oath Speaker Nancy Pelosi (D-Calif.) and every member of the House committee investigating the Jan. 6 riot as part of a legal challenge to whether the panel was properly formed. Read more from Greg Farrell and House.
Happening on the Hill
CONGRESSIONAL SCHEDULE:
The House is in at 10 a.m. to vote on a gun control bill and several measures under expedited floor procedure.
Senators convene at 10 a.m. with a procedural vote later on a bill to expand VA benefits.
President Joe Biden's nomination of Michael Barr as vice chair for supervision at the Federal Reserve has won bipartisan backing, assuring that he will be quickly confirmed by the full Senate. Three GOP members of the Senate Banking Committee — Pat Toomey (Pa.), Mike Rounds (S.D.) and Cynthia Lummis (Wyo.) — said Tuesday they would back Barr when the panel meets Wednesday to vote on the nomination. Read more from Steven T. Dennis.
Federal election grants can now be used to protect election officials' physical security and to monitor increasing threats of violence on social media, the U.S. Election Assistance Commission said in new guidance, Kenneth P. Doyle reports. The advice followed a legal ruling from the Government Accountability Office and was announced Tuesday by Sens. Amy Klobuchar (D-Minn.) and Roy Blunt (R-Mo.).
Klobuchar and Blunt had asked the EAC to provide guidance to states on using federal grant money, provided under the Help America Vote Act, to protect election officials — a rare instance of bipartisan cooperation as threats have grown following former President Donald Trump's baseless claims of fraud in the 2020 presidential election. The two lead the Senate Rules and Administration Committee, which oversees elections.
"We need to respond to these threats head on and make sure that election workers are able to do their jobs free from intimidation or improper influence," Klobuchar said. Blunt said he would continue to work with Klobuchar "to address the totally unacceptable threats to election officials."
The House Armed Services panel would back a 4.6 % pay raise for US military and would direct the Pentagon to study how to compensate troops more fairly, according to a draft proposal released Tuesday, Roxana Tiron reports.
The Senate Finance Committee is targeting June 23 for a markup of bipartisan retirement legislation, Sen. Ben Cardin (D-Md.) told Bloomberg Tax. "That's the target date," Cardin said Tuesday. "It is a comprehensive bill. The scheduling is always a challenge. I hope we can hold to the schedule." Kaustuv Basu has the latest.
Ransomware attackers targeting federal contractors benefit from the government's fragmented procedure for reporting breaches. Government-wide standardization of reporting procedures are necessary, otherwise a new law designed to track ransomware in government contracting has the "potential to completely bury these agencies with unstructured data that cannot be parsed or analyzed at scale," Bill Siegel, CEO and co-founder of Coveware, told the Senate Homeland Security and Governmental Affairs Committee Tuesday. Read more from Josh Axelrod.
The House passed a bill that would expand the number of small business debtors eligible for expedited and less-costly procedures under Chapter 11 of the bankruptcy code. The House passed the legislation on a vote of 392 to 21. It would raise the debt limit for small business Subchapter V bankruptcies to $7.5 million from the current $3 million for a two-year period. The Senate passed the bill in April, Daniel Gill reports.
The Biden administration is pushing lawmakers to support a $4.3 billion plan to buy enriched uranium directly from domestic producers to wean the US off Russian imports of the nuclear-reactor fuel, according to a person familiar with the matter. Read more from Ari Natter.
The Department of Homeland Security's intelligence arm is getting a new leader with the Senate confirmation Tuesday of Ken Wainstein as undersecretary, Ellen M. Gilmer reports.
Elections & Politics
Tuesday's primaries set several competitive general election matchups that will help decide the House majority. They also featured some notable names and had several incumbents sweating, Kyle Trygstad reports.
Republican Reps. Michael Guest and Steven Palazzo appear set for June 28 runoffs as they each hover below 50% in Mississippi. Instructor pilot Michael Cassidy (R) leads Guest in the 3rd District 47.8%-46.6% with 85% reported. With 95% reported in the 4th District, the AP called that Palazzo advanced with 32% of the vote, though his opponent is still unclear.
In California, Reps. David Valadao (R) and Young Kim (R) are running second in their respective primaries and are positioned to advance to November, though plenty of votes are left to be counted.
Elsewhere, Sen. Bob Menendez's (D-N.J.) son, Port Authority Commissioner Rob Menendez (D), easily won the Democratic primary in New Jersey's open 8th District and is likely headed to Congress in the safe seat. Former Rep. Ryan Zinke (R), who served as Interior secretary in the Trump administration, is running closely with former state Sen. Al Olszewski (R) in Montana's 1st District, with 78% reported.
Eleven of 12 jurors wanted to convict former Bannon associate Timothy Shea of lining his pockets with money donated to build a wall on the southern US border, but a holdout who accused the majority of being liberals got in the way. Erik Larson and Patricia Hurtado have more on the case.
Republican-leaning counties in the US experienced higher rates of premature death even before the start of the Covid-19 pandemic, a study found, and researchers fear politically polarized responses to the virus could widen the gap. Democratic-voting counties had an overall 15% lower death rate than Republican counties in 2019, up from a 3% difference in 2001, researchers at Harvard-affiliated Brigham and Women's Hospital in Boston said Tuesday in a study. Read more from Madison Muller.
Around the Administration
BIDEN'S AGENDA:
The president will travel to Los Angeles to host the Summit of the Americas.
Biden will tape an appearance on Jimmy Kimmel Live! in the afternoon before greeting delegations.
Secretary of State Antony Blinken slammed Cuba, Venezuela, Nicaragua and El Salvador for repressing journalists as the US kicked off a summit of leaders from Latin America in Los Angeles, with tensions between Washington and the region's authoritarian nations hanging over the event. Read more from Iain Marlow and Eric Martin.
Biden and Juan Guaido plan to speak remotely during the Summit of the Americas this week, after the US declined to invite the Venezuela opposition leader to participate in the meeting in person, Eric Martin and Andreina Itriago Acosta report.
US Immigration Policy Dictated by GOP: Republican state officials are shackling the Biden administration's immigration policies with an aggressive legal campaign that's racking up bigger victories than some court watchers expected. State AGs have targeted the Biden administration's 100-day deportation pause, its decision to halt most border wall construction, the Department of Homeland Security's immigration enforcement priorities, and the agency's revocation of several Trump-era policies, among other moves. Read more from Ellen Gilmer.
Business leaders and cybersecurity experts are pushing the Biden administration to step up efforts to quell big hacks against US companies. In a joint statement to be issued Tuesday, several of the groups said a public-private initiative created by the Cybersecurity and Infrastructure Security Agency, known as CISA, 10 months ago needs to grow and increase its "reach and impact." That initiative, called the Joint Cyber Defense Collaborative, is intended to lead cybersecurity defense and crisis planning, as well as information sharing between the government and private sector. Read more from Katrina Manson.
Security threats facing the 2022 midterm elections are "more complicated" and "more dynamic" than in prior years, especially amid the spread of misinformation and increased harassment of election administrators across the country, according to a top US security official.
Jen Easterly, who directs CISA, said Tuesday at the RSA computer security conference that physical threats to election officials are particularly problematic, as they impact people working to safeguard the integrity of the electoral process. Election administrators such as poll workers, ballot counters and county clerks across the US have been subjected to increased harassment since the 2020 presidential race. Jack Gillum has more.
More International Cooperation Needed on Crypto Crimes, DOJ Says: The U.S. needs to ramp up its coordination with other nations to investigate and combat crimes involving digital assets, the Department of Justice said in a new report. The DOJ report called for more international collaboration to address "unique obstacles" posed by cryptocurrencies and other digital assets, such as the user anonymity and speed of cross-border payments. Gina Heeb highlights more from the report.
Drew Hirshfeld, the acting deputy director of the US Patent and Trademark Office who performed the role of interim director for more than a year, announced that his final day in the office will be June 21, Riddhi Setty reports.
Young, undocumented immigrants who hoped to secure protections from deportation are asking a New York federal court to order interim relief while a separate legal battle over the Deferred Action for Childhood Arrivals program plays out in Texas. Read more from Andrew Kreighbaum.
To contact the reporter on this story: Giuseppe Macri in Washington at gmacri@bgov.com
To contact the editor responsible for this story: Andrew Small at asmall@bgov.com