What to Know in Washington: Infrastructure Plan's Chances Gain
President Joe Biden's prospects for passing a major infrastructure bill through Congress with bipartisan support — seen unlikely in the wake of his Democrat-only pandemic-relief package in March — are now rising, though disagreements over funding could still scupper a deal.
Senate Republicans are set to deliver a revised offer of a package that includes roads, public transportation and airports to the White House as early as today.
During last year's presidential campaign, Biden enshrined the aspiration of restoring bipartisanship to American governance. The newfound opening, however, clouds the outlook for the rest of his economic vision: a sweeping expansion of the federal government in providing support to millions of lower-income Americans, financed by higher taxes on companies and the wealthy.
Progressives have warned about the danger of undermining Democratic unity for that element of Biden's $4 trillion agenda if infrastructure is stripped out.
The dual-track strategy could allow Biden to say he lived up to promises to work with Republicans, and it would give centrist, swing-district lawmakers in his party the bipartisan achievement they crave with the approach of the 2022 midterm elections. Biden is banking on grateful moderates then being willing to vote for the rest of his plan in a Democrat-only budget process this fall. Read more from Erik Wasson.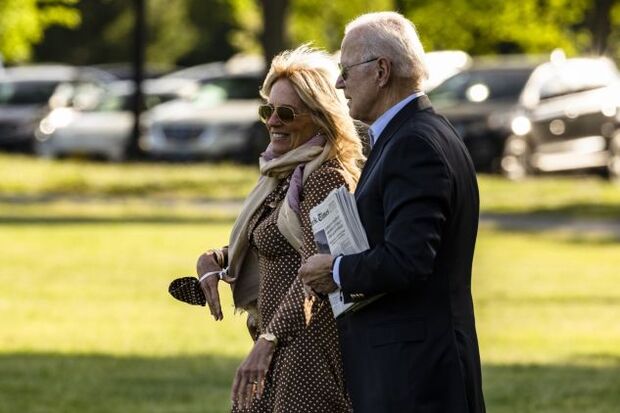 Lawmaker Dash for Pet Projects: About three-quarters of House members are seeking a total of almost $14.9 billion for surface transportation ranging from electric bus grants to road expansion as Congress opens the door for earmarking money for pet projects after more than 15 years. The House Transportation and Infrastructure Committee is reviewing more than 2,300 projects to ensure that all requests comply with the rules, Chair Peter DeFazio (D-Ore.) said.
Congressional leaders expect to get an infrastructure and surface transportation bill on the House floor before July 4. The committee has said each House member requesting projects would be expected to get about the same amount, between $15 million and $20 million, to earmark in the highway bill. Many members submitted more than that amount, with even individual projects well exceeding that cap. Lillianna Byington presents some takeaways from the requests.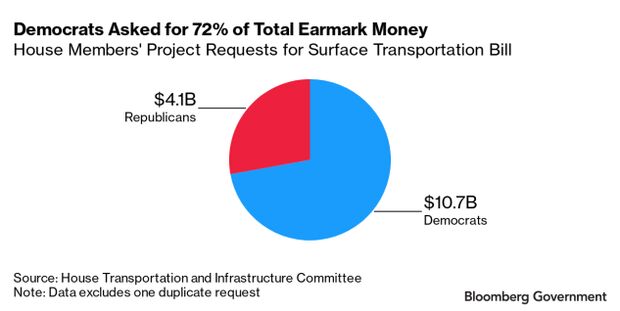 More on Biden's Economic Agenda
Biden Aides See Political Peril in Inflation Data: Biden's advisers detect a growing political challenge from the spike in inflation, even as they see little immediate peril to the economy from price increases that officials expect will last through the rest of the year. Senior administration aides contend the current jump in prices is being caused by a surge in demand for specific items—like used cars and hotels—that reflects the U.S. economy's revival from the pandemic. Nancy Cook, Saleha Mohsin, and Jennifer Jacobs have more.
Economic Rebound More a Grind Than a Boom: The prevailing scenario for the U.S. recovery on Wall Street and in Washington has until recently focused on a boom fueled by consumers roaring back to life with a vengeance in a vaccine-induced reopening of the economy. The reality emerging from the latest data is a bumpy rebound vulnerable to surprises. Read more from Cecile Daurat and Shawn Donnan.
Tax Day Arrives With IRS Behind on Returns: Today brings a close to what tax advisers have dubbed the "never-ending tax season," with the IRS scrambling to cope with repeated changes in law that offered just a foretaste of the challenges to come, as Biden presses for a raft of higher levies and stepped-up audits. And with IRS staff also having to operate under the strictures of the pandemic, over 8 million individual returns were awaiting review as of April. Read more from Laura Davison.
Biden's Child Tax Credit Boost to Send First Payments on July 15: About 39 million U.S. households will begin receiving monthly child tax-credit payments in mid-July, most of them automatically, as part of the Covid recovery bill in March, administration officials said. The administration announced today that monthly payments of as much as $300 for each child under age 6, and as high as $250 per month for children age 6 to 17, would begin on July 15 and continue for the rest of the year. Read more from Josh Wingrove.
Happening on the Hill
China's Rise Pushes Senate Action on Bill: Bipartisan concern about China's rising influence is driving the Senate toward passage of legislation aimed at bolstering U.S. competitiveness in technology and manufacturing and delivering money to spur the domestic semiconductor industry. The Senate is poised to begin action today on the package of bills based on a proposal from Majority Leader Chuck Schumer (D-N.Y.) and Sen. Todd Young (R-Ind.) with the goal of finishing by the end of the month.
The main part of the bill would authorize more than $100 billion over five years to boost research and development of innovative technology and manufacturing at colleges, universities and other institutions and create a new entity within the National Science Foundation to focus on technology. It's also expected to include a $50 billion emergency appropriation aimed at boosting domestic semiconductor manufacturing, as well as funding for a communications security initiative designed to counter China's dominance of 5G networks, according to a person familiar with the matter. Read more from Daniel Flatley.
Also on Today's Agenda:
Politics & Influence
Cheney Says She's Fighting for GOP's 'Soul': Rep. Liz Cheney (R-Wyo.) said Trump's role in her ouster was "dangerous" and that she'll do all she can to prevent a second Trump term in what she called "a battle for the soul of the Republican Party." Cheney, whom House Republicans ousted as their No. 3 leader last week, faced off in dueling Sunday show interviews with Rep. Elise Stefanik (R-N.Y.), the Trump-backed pick who replaced her. Read more from Craig Torres and Jordan Robertson.
Tech Curries Favor With Rare Embrace of Higher Taxes: A group of tech giants, echoing Amazon founder Jeff Bezos and the CEO of Lyft, is pushing for something companies almost never ask for: higher taxes. The Chamber of Progress—a group of Silicon Valley companies that launched in March to counter some of the anti-tech undercurrents on Capitol Hill by courting Democrats—is advocating for a higher corporate tax rate, which Biden recently proposed hiking to 28% from 21%. While these companies may publicly back a corporate rate hike, they will likely combat other White House corporate tax proposals on the back end, tax professionals say. Read more from Lydia O'Neal and David Hood.
The Coronavirus Pandemic
Biden Speaks Today: Biden will speak at 1 p.m. from the White House on the U.S. Covid-19 response and vaccination program.
How U.S. Decided to Change Mask Guidelines: For a nation mired in a pandemic for more than a year, the biggest step toward a return to normal came suddenly, even to Biden. After warning the country last Monday to stay vigilant amid the threat of variants, the president found himself three days later striking a different tone, celebrating that the U.S. had already reached a sort of finish line.
That decision—the most momentous yet in the nation's battle against Covid-19—was kept under wraps among a small circle of top White House aides that night as they began making arrangements for the president to address the watershed moment the following day. Read more from Josh Wingrove.
U.S. schools should maintain mask requirements at least through the end of the academic year, the CDC said in its latest guidance, even after saying fully vaccinated adults can safely shed face coverings in most settings. Read more from Tony Czuczka.
Walmart said fully vaccinated staff and customers can now leave their masks at home, a decision that could influence how other businesses respond to the latest government guidance. Starbucks also dropped a mask requirement for vaccinated customers starting May 17, while staff will continue to be required to wear facial coverings. Read more from Matthew Boyle.
Any mandates in the U.S. to require people to be vaccinated against Covid-19 will be set at the local level by companies and institutions such as colleges, CDC Director Rochelle Walensky said. "It may very well be that local businesses, local jurisdictions, will work towards vaccine mandates," Walensky told NBC. "That is going to be locally driven and not federally driven." Read more from Craig Torres and Yueqi Yang.
Trudeau Begins Work on Reopening U.S. Border: Prime Minister Justin Trudeau's government has begun preliminary internal discussions about reopening the border with the U.S., even as Canada remains well behind its neighbor in vaccinations. Read more from Kait Bolongaro.
No Hidden U.S. Vaccine Stockpile to Send Abroad: America led the world in buying up the messenger RNA vaccines that have proven most effective against Covid-19. It's now starting to lead the world in not using them. But while it might seem simple to box up the spares and send them out, the reality is far more complex. Read more from Drew Armstrong and Josh Wingrove.
Eviction Halt Remains in U.S. After Judge Ruling: The judge who threw out a national moratorium on evictions agreed to keep the protection in place to avoid further spread of Covid-19 while the Biden White House appeals the ruling, even though she said the government isn't likely to win. Jef Feeley has more.
Around the Administration
Biden Revokes Trump Orders on Twitter, Statues: Biden rescinded several actions on Friday that were put in place by Trump, including one targeting social media companies that his predecessor had ordered after Twitter flagged his tweets. Biden also revoked an executive order that would rebrand U.S. foreign aid and another order meant to encourage the Justice Department to prosecute people for destroying a U.S. "monument, memorial or statue." Read more from Brody Ford.
Tanden Hired as Biden Adviser After Nomination Scuttled: Biden has appointed longtime Democratic policy aide Neera Tanden as a senior White House adviser after her earlier nomination for budget director was scuttled by Senate opposition. Tanden's role will include planning for potential health policy changes if Republicans succeed in their efforts to strike down the Affordable Care Act at the Supreme Court, according to a White House official. Read more from Justin Sink and Jennifer Epstein.
Israel-Gaza Diplomacy Wavers: Officials from the U.S., Egypt, Qatar and United Nations are working around the clock to broker a truce in Gaza after more than a week of deadly fighting left more than 200 people dead, but Israel's leader signaled he's not yet ready to let up. Prime Minister Benjamin Netanyahu said yesterday he'll do "whatever it takes" to restore order after persistent rocket attacks from Gaza sparked Israeli jet strikes in retaliation. He said his goal is to "degrade" the ability of Hamas, which governs the densely populated Gaza strip, to threaten Israel. Read more from David Wainer.
Biden ramped up efforts to calm the spiraling violence, and urged the protection of civilians, including children, after an Israeli airstrike targeted media offices in Gaza. Biden told Netanyahu this weekend of his "grave concern" about the ongoing violence, the White House said in a readout. Read more from Ros Krasny.
EU, U.S. Reach Truce on Metal Tariffs: The European Union agreed to avoid escalating its dispute with the U.S. over metal tariffs, sparing iconic products such as bourbon whiskey and Harley Davidson motorbikes from a doubling of EU duties next month. At issue is a high-profile disagreement that started in 2018 when Trump imposed duties on steel and aluminum from Europe, Asia and elsewhere citing risks to national security. The EU has since retaliated and tariffs on a range of American products were set to jump to 50% on June 1. Under the agreement with the Biden administration, the EU will refrain from increasing those tariffs and both sides will engage in a dialog about overcapacity in the steel industry, according to a tweet from EU Commissioner Valdis Dombrovskis. Read more from Viktoria Dendrinou and Katharina Rosskopf.
To contact the reporters on this story: Zachary Sherwood in Washington at zsherwood@bgov.com; Brandon Lee in Washington at blee@bgov.com
To contact the editors responsible for this story: Giuseppe Macri at gmacri@bgov.com; Loren Duggan at lduggan@bgov.com; Michaela Ross at mross@bgov.com