What to Know in Washington: Infrastructure on Path to Passage
Bloomberg Government subscribers get the stories like this first. Act now and gain unlimited access to everything you need to know. Learn more.
Senate Majority Leader Chuck Schumer (D-N.Y.) moved to wrap up a days-long debate on a $550 billion infrastructure package, setting up the Senate for a Saturday vote to approve the largest infusion of cash for roads, bridges and other domestic projects in decades.
Schumer yesterday teed up a procedural vote that would limit further debate on the bipartisan measure when the Senate reconvenes tomorrow. Schumer attempted to move more quickly and vote last night, but last-minute disagreements on amendments held up progress.
Among the unresolved issues is how to modify a provision of the bill dealing with reporting requirements for cryptocurrency transactions for tax collections. The cryptocurrency industry said the original version of the bill unfairly targeted them and was too broad in scope.
Senate Finance Committee Chairman Ron Wyden (D-Ore.) and Republican Sens. Pat Toomey (Penn.) and Cynthia Lummis (Wyo.) proposed a narrower approach focused on those who conduct transactions on exchanges. But an 11th-hour alternative was proposed by Sens. Rob Portman (R-Ohio), and Democrats Mark Warner (Va.) and Kyrsten Sinema (Ariz.) and endorsed by the White House. It would target some software companies and cryptocurrency miners.
Toomey said they were at "an impasse" on the issue.
Another pending amendment would allow state and local governments to use up to 30% of their unspent Covid relief funds on infrastructure projects. Sen. John Cornyn (R-Texas), who sponsored the change with Sen. Alex Padilla (D-Calif.), said he bargained with the Biden administration on the change, which would free up between $80 billion and $100 billion for projects. But it has yet to be scheduled for a vote.
The overall legislation includes $110 billion in new spending for roads and bridges, $73 billion for electric grid upgrades, $66 billion for rail and Amtrak, and $65 billion for broadband expansion. It also provides $55 billion for clean drinking water and $39 billion for transit. The Congressional Budget Office said yesterday that the bill would add $256 billion to the federal deficit over a decade, though negotiators say the nonpartisan agency didn't give full credit for the package's offsets. Read more from Steven T. Dennis, Laura Litvan and Laura Davison.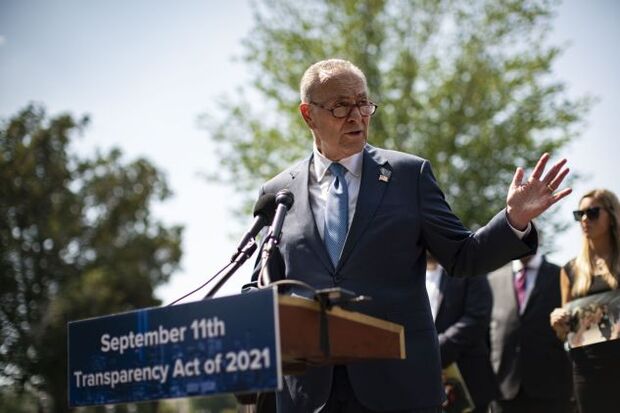 Water Groups Press for More Aid: Advocates for public wastewater and drinking water utilities are carefully navigating the politics of the infrastructure debate as the Senate and House diverge on several key priorities. The groups have expressed gratitude for historic levels of funding for critical water programs in the Senate infrastructure package, but they are also pushing for greater investment to help cash-strapped communities, in anticipation of the infrastructure bill moving to the House in the fall. Read more from Kellie Lunney.
Interior Must Be in Budget Bill, Grijalva Says: House Natural Resources Committee Democrats are urging the White House to lobby for significant investments in any budget reconciliation measure to tackle climate resiliency, strengthen conservation, and honor the government's obligations to tribes. Chair Raúl Grijalva (D-Ariz.) and seven other Democrats expressed their fears that Interior Department programs could be shortchanged in the Senate budget reconciliation bill. Kellie Lunney has more.
Happening on the Hill
Senate Confirms Homeland Nominee: The Senate yesterday confirmed Robert Silvers as undersecretary for strategy, policy, and plans at the Homeland Security Department by voice vote. Silvers, who previously served as the assistant secretary for cyber policy during the Obama administration and worked with now-DHS Secretary Alejandro Mayorkas, will now lead the office that coordinates policy across the department and its agencies, Ellen M. Gilmer reports.
Manchin Urges Powell to Start QE Tapering: Sen. Joe Manchin (D-W.Va.) urged Federal Reserve Chair Jerome Powell to start pulling back on its $120 billion in monthly bond purchases aimed at providing stimulus to the economy by cutting borrowing costs. Manchin said he's "deeply concerned" the continuing stimulus put forth by the Fed, and proposal for additional spending, "will lead to our economy overheating" and bring "unavoidable inflation taxes," Craig Torres and Laura Davison report.
Around the Administration
Today's Agenda:
Biden will speak from the White House at 10:30 a.m. on the July employment report. Today's report is expected to show that the U.S. added about 875,000 in July, the largest gain since August of last year, Olivia Rockeman reports.
Biden Heralds Officers Who Battled Insurrection: Biden heralded law enforcement officers for defending democracy against a "radical and chaotic" insurrection at the Capitol on Jan. 6, as he signed legislation yesterday awarding Congressional Gold Medals to officers serving that day. "Let's remember what this was all about," Biden said at the Rose Garden. "It was a violent attempt to overturn the will of the American people," he said, calling the rioters as a "mob of extremists and terrorists." Justin Sink has more.
DOJ Begins Probe of Phoenix Police Force: The Justice Department will investigate the city of Phoenix and its police department for possible civil rights violations, including sweeps of homeless encampments, in the third such probe of policing of Biden's term. Attorney General Merrick Garland said investigators with the DOJ civil rights office will examine whether Phoenix police engage in a pattern of abuses of the Constitution or federal law, such as using excessive force. Read more from Tom Schoenberg.
Biden EPA Proposes Stronger Vehicle Emission Rules: The Biden administration yesterday pitched new mileage standards and limits on greenhouse gas emissions from vehicles that exceeded what some environmentalists worried would be issued. The fuel economy and emissions requirements proposed by the Environmental Protection Agency and Transportation Department would strengthen rules that were eased during Trump's administration. Read more from Ari Natter, Keith Laing, and Jennifer A. Dlouhy.
Biden, flanked at the White House by executives from Detroit's leading automakers, also announced a national goal of having half of all vehicles sold in the U.S. to be emissions-free by the end of the decade. "The future of the American auto industry is electric," Biden said yesterday. "It is electric; there's no turning back." It's an ambitious goal that automakers say can only be achieved with further government investment in charging stations and other infrastructure. Laing and Justin Sink have more.
S. Korea, U.S. to Discuss Ways to Cooperate With N. Korea: South Korean Foreign Minister Chung Eui-yong spoke with Secretary of State Anthony Blinken over the telephone today to discuss the alliance between two nations and issues on the Korean Peninsula, South Korea's Foreign Ministry said in a statement, Shinhye Kang reports. The two agreed to continue coordinated diplomatic efforts to make progress for the goal of complete denuclearization and establishment of peace on the Korean Peninsula. South Korea and the U.S. will discuss ways to cooperate with North Korea, including humanitarian cooperation, and to keep making efforts to engage with North Korea.
To contact the reporters on this story: Zachary Sherwood in Washington at zsherwood@bgov.com; Brandon Lee in Washington at blee@bgov.com
To contact the editors responsible for this story: Giuseppe Macri at gmacri@bgov.com; Loren Duggan at lduggan@bgov.com; Michaela Ross at mross@bgov.com
Stay informed with more news like this – from the largest team of reporters on Capitol Hill – subscribe to Bloomberg Government today. Learn more.