What to Know in Washington: Infrastructure Drives Recess Message
The massive $1.2 trillion infrastructure package the Senate passed earlier this week still faces obstacles before it reaches the president's desk, but lawmakers are wasting no time trying to gain political mileage from the vast measure that includes everything from highway and mass transit funding to money for electric cars and expanded broadband.
Hammering home that message is particularly important for lawmakers such as Sen. Mark Kelly (D-Ariz.), who faces re-election in 2022 in a highly competitive state and whose seat is vital to Democrats retaining the majority. Congressional leaders understand that they need to reinforce their messaging on infrastructure before it's crowded out by other issues, such as the spread of the coronavirus delta variant.
Kelly is talking up his role in crafting the landmark bill as he gets ready to hit the campaign trail again this month. The senator, who won a two-year term in a special election, is reminding voters he was part of the bipartisan group of negotiators on the infrastructure bill led by fellow Arizona Sen. Kyrsten Sinema (D) and Sen. Rob Portman (R-Ohio). He also stressed his support for the measure in his maiden floor speech this month as Cindy McCain, the wife of the late Sen. John McCain (R-Ariz.), looked on in the chamber.
Other senators are using the same playbook. The office of Sen. Raphael Warnock (D-Ga.) yesterday issued a press release to plug a provision the senator secured to increase funding caps for a federal transportation grant program. Warnock, who is also up for re-election in 2022 after winning a special election last year, sponsored language to help create a new interstate connecting Georgia to Texas and provide better access to key military installations in the state. Read more from Nancy Ognanovich.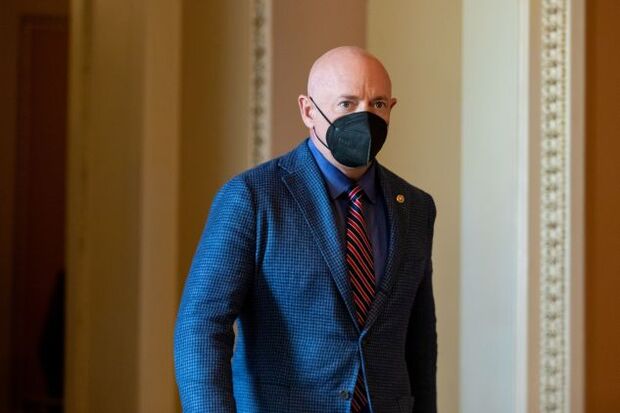 Happening on the Hill
House Staffers Can Make More Than Lawmakers: House staffers can now make more than their lawmaker bosses, Democratic leaders announced yesterday. The move, revealed in a "Dear Colleague" letter from Speaker Nancy Pelosi (D-Calif.), is a bid to attract and keep expert staffers on Capitol Hill who have more lucrative prospects in the private sector. The new maximum pay for staffers is now $199,300. Most lawmakers make $174,000, though party leaders make more. Read more from Emily Wilkins.
Climate Farming Bill Hits House Hurdles: Legislation that aims to boost climate-friendly farming practices is getting bogged down amid opposition in the House and questions over how the Agriculture Department would carry out its mandates. The measure, which would reward agricultural practices that sequester carbon, breezed to passage in the Senate in June. Supporters—including agriculture and environmental groups—billed it as a way to help farmers' bottom lines while cutting greenhouse gas emissions from agriculture.
But the Growing Climate Solutions Act has stalled in the House, with Republicans in the chamber recoiling at the idea of federal intervention in carbon markets, while progressive Democrats fret over a boon for big industrial operations. Read more from Dean Scott and Megan U. Boyanton.
Cyberspace Solarium Marks Goal Progress: Nearly 80% of the Cyberspace Solarium Commission's recommendations are in progress or completed, moving the federal government closer to establishing a national cyber strategy and centralized leadership, according to a report out yesterday. The commission's 2021 annual implementation report found 35% of its 82 recommendations from 2020 had been completed or nearly implemented, and 44% were on track. The progress comes as private companies and federal agencies have been hit by an increasing number of cyber and ransomware attacks in the last year.
"Over the past year, this commission has helped the country take considerable steps to strengthen its cyber defenses. But as recent cyberattacks have made clear, our work is not yet done," Rep. Mike Gallagher (R-Wis.), commission co-chair, said in a statement. Read more from Rebecca Kern.
Compromise Route on Cryptocurrency Rules Unclear: New tax reporting rules for cryptocurrencies in the Senate's $550 billion infrastructure deal have rattled the industry as House leaders weigh their next move. Under the deal, brokers must report crypto transactions to the IRS, drawing industry backlash. A Senate group offered amendments to restrict to whom the language would apply, but none were adopted. The broader bill now heads to the House, where its path is unclear. Read more in a BGOV OnPoint.
What Else to Know Today
Biden's Agenda: President Joe Biden has no public events scheduled, and plans to leave Delaware for Camp David at 1 p.m.
U.S. to Evacuate Some Afghan Embassy Staff: Biden is sending about 3,000 U.S. troops to Kabul to help evacuate more diplomats from the U.S. embassy, underscoring just how badly the U.S. has been caught off-guard by the speed of the Taliban's advance across Afghanistan as American forces withdraw. The State Department is drawing down staff to a "core diplomatic presence," but the embassy remains open and will continue its work, State Department spokesman Ned Price said at a briefing yesterday.
The Taliban continued its swift advance across Afghanistan today, seizing three more provincial capitals as it slowly starts to circle the capital of Kabul, the Associated Press reported. The militant group earlier seized Kandahar and Herat, the country's second- and third-biggest cities, as thousands of residents fled their homes and foreigners sought to leave the country. Read more from Nick Wadhams.
SCOTUS Keeps School Vaccine Mandate Intact: Supreme Court Justice Amy Coney Barrett refused to block Indiana University's mandate that all students be vaccinated against Covid-19 for the fall semester unless they have a religious or medical exemption. Barrett gave no explanation as she turned away an emergency request from eight students who said the mandate violated their constitutional rights. It marked the first time the nation's highest court has acted on any vaccine mandate. Greg Stohr has more.
Court Lets Some Evictions Resume: A divided U.S. Supreme Court cleared the way for some eviction proceedings to resume in New York, blocking a provision that gave renters a shield if they said they were experiencing hardships because of the pandemic. Over the dissents of three liberal justices, the court yesterday sided with a group of landlords who say they have been devastated by what they contend is an unconstitutional law. Read more from Greg Stohr.
U.S. Approves Third Vaccination for Some: Americans with weakened immune systems will be allowed to get three shots of a Covid-19 vaccine after U.S. regulators authorized giving an extra dose to the most vulnerable people. The U.S. Food and Drug Administration's action expands the use of vaccines from Moderna, Pfizer and BioNTech for organ transplant recipients and patients with other conditions like cancer that hobble the body's natural infection-fighting response. The agency's decision doesn't apply to other fully vaccinated individuals, it said in statement. Read more from Fiona Rutherford and Elaine Chen.
Hospitals Seek Staff Amid Covid Surge: Hospitals are desperately looking for medical staff as the Covid-19 surge that is pushing some systems to their breaking points in the U.S. South spills into the rest of the country. Over a dozen states face severe shortages of personnel, HHS data show. Hospitals are building tents for extra space, and the federal government deployed hundreds of ventilators into Florida in a rare tapping of the Strategic National Stockpile, Francesca Maglione, Shira Stein and Jonathan Levin report.
ACA Sees Record Numbers as Millions More Seek Coverage: The Affordable Care Act's six-month special enrollment period will come to a close this weekend after helping drive marketplace coverage to record levels, as the Biden administration continues to scrap Trump-era policies that depressed sign-ups. While final data isn't available, state and federal marketplace enrollment could soon be "peaking" at a record 13 million, said Katie Keith, a researcher at Georgetown University. Tony Pugh has more.
Solicitor General's Office Adjusts as Prelogar Steps Back: Elizabeth Prelogar must step away from the U.S. solicitor general's office while the Senate considers her nomination to lead the office permanently with a new Supreme Court term on the horizon featuring guns and abortion. Moving from an acting role to a permanent one as the so-called Tenth Justice will force the appellate specialist to find a home somewhere else in the Justice Department for the time being. In the interim, Brian H. Fletcher, an appellate litigator who has helped lead the Stanford Law School Supreme Court Litigation Clinic, will serve as acting solicitor general, according to the Justice Department. Read more from Kimberly Strawbridge Robinson.
Census Anxieties Focus on Data Privacy: Privacy precautions for the 2020 population survey go further than years before. As a measure to protect against the deployment of sophisticated data attacks, the U.S. Census Bureau adopted a security paradigm known as "differential privacy." This method for injecting noise into the many billions of pieces of data is meant to prevent a user not just from finding a single person but from piecing together the entire picture.
Data privacy comes at a cost, however, and as the Census Bureau releases its 2020 data for redistricting and other purposes in the weeks to come, users may see a trade-off in how useful the data are (or appear to be) at hyperlocal levels. Read more from Kriston Capps.
To contact the reporters on this story: Zachary Sherwood in Washington at zsherwood@bgov.com; Brandon Lee in Washington at blee@bgov.com
To contact the editors responsible for this story: Giuseppe Macri at gmacri@bgov.com; Loren Duggan at lduggan@bgov.com; Michaela Ross at mross@bgov.com