What to Know in Washington: Inflation Strains Biden's Big Win
Higher costs reduce impact of $1 trillion infrastructure law
House Democrats, Republicans defy Biden defense budget
The government can buy fewer roads, bridges, and tunnels today than it could seven months ago when President Joe Biden signed the $1 trillion infrastructure law.
Historic inflation and labor shortages now threaten to hamstring one of the administration's signature successes, which lawmakers were hoping to tout in reelection campaigns.
States across the country are seeing project bids come in as much as 30% above their original expectations, as contractors complain about supply problems, spiking material costs, and a dearth of workers. The law (Public Law 117-58) sends billions to be spent on surface transportation each year over the next five years, limiting the ability of officials to wait out the worst of the economic tumult.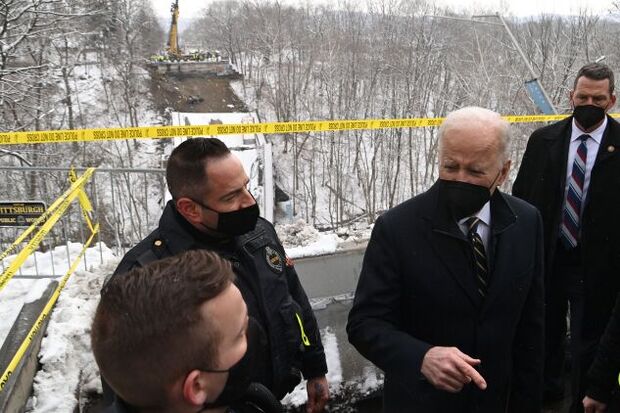 Biden officials have acknowledged the strain on projects, but are banking on the legislation's multiyear funding, hoping inflation will tamp down while projects still move forward. The pressures have already led to some changes at the federal level, including delayed Buy America requirements, a push to build up the workforce, and benchmarking to ensure that high bids are a result of cost pressures and not profit-taking. Lilianna Byington has more on inflation's impact.
Happening on the Hill
CONGRESSIONAL SCHEDULE:
Senators convene at 10 a.m. to resume consideration of a judicial nominee and gun safety legislation.
The House meets at noon to vote on extending child-serving food programs, mental health, and veterans' affairs bills.
House Armed Services Committee Democrats banded with Republicans to back a $37 billion boost to the national defense budget amid rising concerns about inflation, the Russian invasion of Ukraine, and China flexing its muscles in the Pacific region. The Armed Services panel early Thursday approved 57-1 the fiscal 2023 defense authorization measure after marathon deliberations that started Wednesday morning.
The bulk of the increase—more than $36 billion—would go to the Pentagon, which requested $773 billion for the year starting Oct. 1, as it makes up the majority of national defense spending. The bill also covers defense-related programs at the Department of Energy, which would see an increase of close to $1 billion. Roxana Tiron covers the details.
Meanwhile, the House Appropriations Committee advanced a $761.6 billion defense spending bill for fiscal 2023 over Republican complaints that the bill should provide more money. The panel voted 32-26 to advance bill. The bill's top-line funding total is a $32 billion increase over fiscal 2022. Jack Fitzpatrick has more.
A procedural snag in legislation to offer enhanced benefits to veterans exposed to toxic burn pits may delay a House floor vote and prevent passage this week. The House was set to vote on a Senate-passed version as early as Wednesday before lawmakers noticed it added a sentence dealing with taxable benefits. Provisions dealing with revenue must originate in the House under the Constitution. Read more from David Hood and Emily Wilkins.
The Senate will consider in July Steven Dettelbach's nomination to serve as the director of the Bureau of Alcohol, Tobacco, Firearms and Explosives, Senate Majority Leader Chuck Schumer (D-N.Y.) said. "We have the votes for it, he's a good person, we'll get him on there," Schumer said at news conference, Airielle Lowe reports.
House lawmakers, seeking to advance a landmark bipartisan privacy bill, face a pair of sticking points: whether individuals should be able to sue technology companies directly, and whether federal law should supersede state privacy laws. The two provisions in the legislation likely will attract amendments when the House Energy & Commerce consumer protection subcommittee considers the measure Thursday. Maria Curi has a preview of Thursday's markup hearing.
Apple says an antitrust bill aimed at cracking open the app-store market will make iPhones less secure — even though Congress and some large firms already have Apple-approved tools that let them bypass the App Store.
Although Apple says it's the only company that can offer a secure App Store, the iPhone maker has long allowed members of Congress and large firms to bypass its strict controls and use alternatives to install third-party apps. The practice isn't widely known, and is at odds with Apple's opposition to the bill designed to break its mobile app-store duopoly with Alphabet's Google. Leah Nylen has the story on the workaround.
Biden's budget request for Amtrak would get chopped down in draft legislation House appropriators released Wednesday to be marked up by a subcommittee Thursday. Still, overall transportation budget would get a boost with $105.4 billion in total budgetary resources to the Transportation Department for fiscal 2023, about $942 million more than Biden requested. Read more from Lillianna Byington.
House Democrats would end decades-old restrictions on federal funds for abortions as part of their Labor-HHS-Education appropriations bill released yesterday. The bill, to be marked up by a subcommittee Thursday, would give the Department of Health and Human Services $124.2 billion, a $15.6 billion increase over the fiscal 2022 level, and doesn't include the Hyde amendment. Read more from Alex Ruoff.
Meanwhile, the US Department of Labor would get $15 billion in discretionary appropriations for fiscal year 2023, an increase from $14.4 billion in fiscal 2022, according to the Labor-HHS-Education draft bill, Paige Smith reports.
Advocates for expanding the use of anti-addiction medications got a major win on Wednesday as the House passed legislation by a 402-20 vote to make it easier for doctors to prescribe such medicines. The legislation has an uncertain future in the Senate, where the Finance Committee is crafting its own bipartisan package on addiction. Read more from Alex Ruoff.
House passage of legislation to shepherd biomedical breakthroughs through a new agency marks a key step in shaping how the entity will use billions in health spending, Jeannie Baumann reports. The bill, which the House passed by a 336-85 vote, would establish the Advanced Research Projects Agency for Health.
Immigration provisions in a hotly debated US competitiveness package are effectively dead, but Democrats haven't admitted it yet, according to one Republican senator who's a top negotiator on the legislation. Sen. Todd Young (R-Ind.) was addressing measures in the House-passed competition bill (H.R. 4521) that would ease green card access for immigrants with advanced degrees in science, technology, engineering, and math, and provide a new visa pathway for entrepreneurs, among other things, Ellen M. Gilmer reports.
Sen.

Lindsey Graham

(R-S.C.) is threatening to gum up federal nominations until Biden visits the US-Mexico border—an escalation of GOP criticism of the administration's border management amid record high migrant encounters, Gilmer reports. But the weight of the ultimatum is unclear: Graham said he wouldn't set a deadline for a presidential visit, and he wouldn't specify which nominations he would target.
A Biden appellate court nominee's gun control representation was scrutinized by Republicans on Wednesday as bipartisan firearms safety legislation moves forward in the Senate. The brief exchange on guns was the a tense moment in an otherwise smooth Senate Judiciary Committee confirmation hearing for Rachel Bloomekatz, who's nominated to the Cincinnati-based U.S. Court of Appeals for the Sixth Circuit. Read more from Madison Alder.
A top Biden administration official sounded a note of caution Wednesday against Congress waiting too long to extend Obamacare premium tax credits in the American Rescue Plan Act that are set to expire this year. Open enrollment for 2023 begins Nov. 1 on the federal marketplace, but it would be confusing for enrollees if Congress reached a deal to extend the subsidies after the open enrollment period was underway, said Chiquita Brooks LaSure, administrator of the Centers for Medicare & Medicaid Services. Read more from Tony Pugh.
NFL Commissioner Roger Goodell supports legislation to limit the use of workplace nondisclosure agreements, he said during a US House Oversight Committee hearing Wednesday examining the alleged misconduct within the Washington Commanders football organization. Committee Chair Carolyn Maloney (D-N.Y.) introduced the Accountability for Workplace Misconduct Act and the Professional Images Protection Act Paige Smith reports.
A group of Democratic lawmakers joined the AFL-CIO and member unions in calling on Biden to cancel $50,000 of student loan debt per borrower, a move they said is vital for working-class Americans. The president can forgive the debt via executive order "with one stroke of a pen," Rep. Ayanna Pressley (D-Mass.) said at a roundtable discussion Wednesday. Read more from Jalen Brown.
The Senate Indian Affairs Committee expressed bipartisan support for granting subpoena authority to the Truth and Reconciliation Commission during a hearing examining the historical treatment of children at Indian boarding schools. The subpoena authority would come as part of a bill introduced by Sen. Elizabeth Warren (D-Mass.). Interior Secretary Deb Haaland told the committee the department "supports the bill as it is written," including the subpoena authority, which would help the commission obtain non-federal records, Mia McCarthy reports.
Two US senators are seeking feedback on a new bipartisan crypto legislation and they are using Microsoft-owned GitHub to reach the masses. Wyoming Republican Cynthia Lummis and New York Democrat Kirsten Gillibrand, posted the legislation on GitHub, a software development and version control platform, on Tuesday. As of Wednesday 4:55 p.m. New York time there were no comments. Read more from Immanual John Milton.
Elections, Politics & Probes
The House committee investigating the 2021 insurrection at the US Capitol will focus on Donald Trump's attempts to pressure top Justice Department officials to bolster his claims of election fraud in battleground states that Biden won. Committee Chairman Bennie Thompson (D-Miss.) said the hearing will show that several of Trump's Justice Department officials refused to participate in "the Big Lie" being pushed by the president and his allies about the election being stolen. Mike Dorning, Chris Strohm and Billy House preview today's latest hearing.
Wisconsin's Ron Johnson is the most vulnerable Senate Republican on the ballot this year and among the most divisive. But the economic pain of his constituents may have given him a lifeline. By pinning the blame on Biden, Johnson might just get re-elected in November. Laura Litvan and Michael Sasso have more on his prospects.
US Supreme Court justices should be bound by an ethics code, fellow judges said in a survey that showed concern that a lack of one would undermine confidence in lower courts. The National Judicial College asked more than 12,000 alumni in a mailing whether they supported a high court code of ethics, and more than 97% of the 859 who responded said they would. Kimberly Strawbridge Robinson has more.
US prosecutors say Lev Parnas, a Florida businessman and associate of Rudy Giuliani, should spend as long as eight years in prison for crimes that included violating campaign finance laws and defrauding investors. The native of Ukraine vaulted to prominence during the first impeachment of former President Donald Trump when it was revealed that Giuliani had recruited him to help in his effort to dig up dirt on then-candidate Biden and his son, Hunter. Robert Burnson has more.
Colony Capital founder Tom Barrack failed in his bid to have a US judge dismiss charges that he illegally tried to influence Trump administration policies on behalf of the United Arab Emirates. Barrack, a longtime friend of Donald Trump, faces separate charges he made false statements to the FBI. Read more from David Voreacos and Patricia Hurtado.
Around the Administration
BIDEN'S AGENDA:
Biden at 9 a.m. is scheduled to welcome wounded, ill, and injured service members to the White House as part of the annual Soldier Ride.
The Biden administration is making a play to set in stone the pandemic era-expansion of telehealth access for people struggling with addiction, offering up a series of suggestions for federal agencies and lawmakers in a new report. The expansion, made possible by the declaration of a public health emergency for the Covid-19 pandemic, has opened new doors for treating Americans suffering from substance use disorder. Read more from Ian Lopez.
Almost one-fifth of US adults who have had Covid-19 are currently experiencing symptoms of long Covid that persist for at least three months, new federal data show. The results of a June survey by the US Census shed light on how frequently the virus's symptoms linger beyond the initial period when people are acutely sick. Read more from John Tozzi.
The US plans to start testing for monkeypox at five of the nation's largest commercial laboratories, broadening its effort beyond government facilities in an effort to address rising case numbers, the Department of Health and Human Services said Wednesday. Read more from Madison Muller.
US Food and Drug Administration officials are investigating the death of another infant who was given formula made by Abbott Laboratories. The infant died in January—prior to the closure of Abbott's Michigan plant for unsanitary conditions— and the FDA was notified June 10, according to a statement Wednesday, Anna Edney reports.
The Securities and Exchange Commission plans to propose new rules this year to crack down on the behavioral prompts and data analytics used by some online stock brokerages and investment advisers. The agency's bid to impose restrictions on trading and investing apps popular with retail traders follows a review by the SEC of "digital engagement practices," which critics refer to as the gamification of investing. Read more from Lydia Beyoud.
China and India may be buying more Russian oil than the US previously believed, easing a supply crunch in global markets and potentially driving a recent price decline, Cecilia Rouse, chair of Biden's Council of Economic Advisers, said. Read more from Josh Wingrove.
With assistance from Ellen M. Gilmer and Mia McCarthy
To contact the reporters on this story: Michaela Ross in Washington at mross@bgov.com; Brandon Lee in Washington at blee@bgov.com
To contact the editors responsible for this story: Giuseppe Macri at gmacri@bgov.com; Loren Duggan at lduggan@bgov.com