What to Know in Washington: Inflation Fears Shape Budget Battles
Inflation outpaces DOD budget request, Republicans say
Biden outlines pressure on China over 'horrific' Uyghur abuses
Wrangling over how high national security spending should go to surpass US inflation will dominate lawmakers' deliberations this year on defense policy and appropriations legislation.
The Pentagon's inflation calculations are at the heart of a dispute with Republican lawmakers over whether Biden's proposed $773 billion defense budget will meet the increase in costs seen in recent months, or shortchange national security. Small changes in inflation may have massive impacts on long-term pay, in addition to forecasts for operations and maintenance and weapons contracts.
Democrats have traditionally needed GOP votes to pass defense bills, and their narrow majorities in Congress set the stage for increases in Biden's budget. GOP leaders such as Sen. Jim Inhofe (Okla.) and Rep. Mike Rogers (Ala.) say the fiscal 2023 request fails to estimate inflation adequately and leaves financial holes at a tenuous geopolitical time.
They say that the Pentagon's request doesn't reflect the 5% to 6% real growth some military leaders and defense hawks seek. The Pentagon's proposal instead projects 1.5% real growth over this year's budget. Roxana Tiron has more.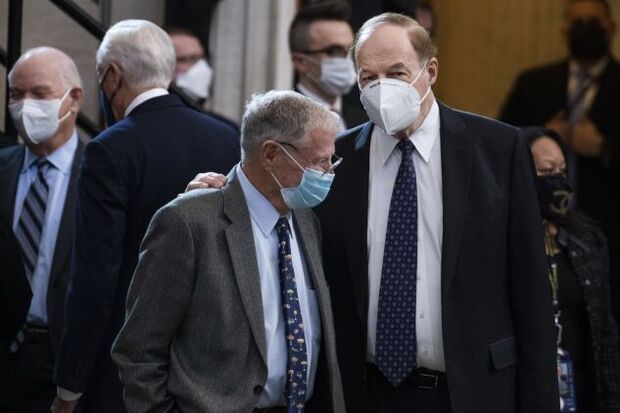 Also Happening on the Hill
CONGRESS' SCHEDULE:
The House convenes at 9 a.m. and will vote to reauthorize the Community Services Block Grant program.
The Senate is out until Monday, when it convenes at 3 p.m.
The Department of State sent Congress a report on plans to pressure China over its "horrific abuses" of Uyghur minorities in the Xinjiang region. This would be done in meetings with other nations, multilateral institutions such as the G7, and the private sector. But the report doesn't provide a list of new entities it says may be benefiting from forced labor. Jennifer A. Dlouhy and Bill Faries have more.
The Senate Judiciary Committee should take up a slate of narrow immigration measures as consensus on broader legislation remains out of reach, a diverse set of groups said. The National Immigration Forum and the libertarian-leaning Niskanen Center made the push in a letter Thursday, with faith-based organizations, and business groups signing on. Their recommendations include bipartisan bills to recapture unused employment-based visas, offer refugee status to Uyghurs persecuted in China, and establish regional immigrant processing centers along the border, Ellen M. Gilmer reports.
A European Union lawmaker behind the bloc's new gatekeeper rules for digital platforms endorsed US congressional efforts to rein in the largest technology companies, saying regulators can be more effective by acting together. Andreas Schwab, who led the discussions for Europe's Digital Markets Act met with key lawmakers including Sens. Amy Klobuchar (D-Minn.) and Marsha Blackburn (R-Tenn.). Read more from Leah Nylen.
Elections, Politics & Influence
The move by the panel investigating the Jan. 6 insurrection to slap House GOP leader Kevin McCarthy (R-Calif.) and four other Republicans with subpoenas threatens to plunge Congress into even deeper division. No one could recall a committee other than ethics panels trying to force the testimony of colleagues, and the decision risks a near-term legal clash and long-term political reprisals. But members of the investigatory panel said they are under pressure to complete their work and still need critical information. Billy House has more.
The mention of abortion in political ads has surged since a draft US Supreme Court opinion on Roe v. Wade was made public. In House races, 22% of pro-Democratic ads and 24.5% of pro-Republican spots that ran since the May 2 leak mentioned abortion, according to a report from the Wesleyan Media Project. Previously, 6.2% just of Democratic and 13.5% of Republican ads mentioned the issue. Read more from Shruti Date Singh.
For today's chief executive officers, traditional financial metrics for success are being eclipsed by the demand to take a stand on issues like abortion, global warming, and racial and gender equity. There's long been that pressure from Democrats, but as the Republican Party has evolved from a body focused on tax cuts and less regulation into one driven by identity politics and White grievance, the pressure on businesses to pick sides will only grow, Jeff Green reports.
Defense and Foreign Affairs
The European Union said talks with Iran on attempts to revive a nuclear deal with world powers went better than expected even as diplomats warn that a return to the 2015 agreement looks increasingly difficult. Discussions between the EU and and Iran have "reopened" after months of gridlock, the bloc's foreign policy chief, Josep Borrell, told reporters in Germany. A revived deal could allow Iran to return to global oil markets, Patrick Sykes reports.
The Biden administration has asked Congress to approve the sale of weapons and equipment upgrades to Turkey's fleet of American-made F-16 fighter jets, a sign of thawing relations between the NATO allies as the Russian war in Ukraine drags on. Turkey's arms purchase is expected to exceed $500 million, according to one of the people, who asked not to be identified in advance of a formal announcement. Daniel Flatley and Selcan Hacaoglu have more.
White House Cyber Director Chris Inglis said on Friday he expects Russia's use of disruptive cyber attacks to continue so long as there is war in Ukraine, adding that the enduring conflict has shown Russia is "not perhaps as competent as they might have imagined, both in the physical world and the cyber world," Jamie Tarabay and Philip J. Heijmans report.
A preliminary injunction requiring the U.S. to prove that an alien is either a danger or a flight risk in order to justify detention pending a removal hearing has been undone, after the Fourth Circuit said the trial court lacked jurisdiction to issue such an order. Read more from Holly Barker.
Around the Administration
PRESIDENT'S SCHEDULE:
At 10:45 a.m. Biden is scheduled to meet with King Abdullah II of Jordan and Crown Prince Hussein.
At 2:30 p.m., Biden meets with police officials and a community violence intervention expert to discuss public safety programs and will deliver remarks.
At 3:30 p.m., Biden participates in the ASEAN Special Summit.
Biden welcomed ASEAN leaders to the White House—which is hosting a summit for the first time in the 55-year history of the political and economic alliance—with a pledge of $150 million in new investments in the region. The assistance will include the deployment of a Coast Guard cutter and additional funding for a CDC facility in Hanoi meant to detect the spread of diseases like the coronavirus. Read more from Justin Sink.
U.S. inspectors spotted the potential for baby formula made at an Abbott Laboratories plant to become contaminated months before a recall that exacerbated a nationwide shortage, a government document shows. A Food and Drug Administration report obtained by Bloomberg News showed that on a routine visit to the company's Sturgis, Mich., facility last year, inspectors determined that employees might have transferred contaminants including deadly cronobacter. Read more from Anna Edney.
Biden's call to boost funding for nursing home inspections should improve state and federal oversight, but the extra money alone isn't likely to fix longstanding problems that have undermined the process for years, resident advocates say. Covid deaths of 200,000 nursing home residents and staff have only magnified the urgency of the issue. Read more from Tony Pugh.
Federal Reserve Chair Jerome Powell reiterated that raising rates by half percentage-point portions at the next two meetings is likely to be appropriate, though the nation's central bank is prepared to change course depending on incoming data. Read more from Rich Miller.
Google dodged court sanctions after it was called out by the Department of Justice for hiding documents from government lawyers. U.S. District Judge Amit Mehta in Washington said during a hearing on Thursday that he wouldn't punish the company over its practice of requiring employees to copy Google's lawyers on emails when discussing issues related to competition. Peter Blumberg has more.
With assistance from Ellen M. Gilmer
To contact the reporters on this story: Brandon Lee in Washington at blee@bgov.com; Michaela Ross in Washington at mross@bgov.com
To contact the editors responsible for this story: Giuseppe Macri at gmacri@bgov.com; Loren Duggan at lduggan@bgov.com