What to Know in Washington: Inflation Clouds Democrats' Message
Biden seeking to revive interest in public works package
Administration wavers in response to mask court setback
Democrats are providing a split-picture campaign message over the spring recess, touting the benefits of the bipartisan infrastructure package and telling voters what they're doing to combat inflation.
When President Joe Biden signed the $550 billion infrastructure package into law (Public Law 117-58) last fall, lawmakers saw the local projects it funded as surefire political wins to promote on the campaign trail. But their efforts to make it a key election selling point have been overshadowed by rising consumer prices, which Republicans are seizing on in their bid to retake control of Congress.
As Biden and his cabinet secretaries hit the road this week to reinforce the benefits of infrastructure spending, Democrats in the tightest races are echoing that message while also addressing voters' economic concerns. Their ability to strike that balance could help determine whether Democrats can maintain the Senate majority in November amid midterm headwinds.
Sen. Raphael Warnock (D-Ga.), seeking a six-year term after winning a 2020 special election, is reminding voters what the measure means for Georgia, including the Port of Savannah, among the nation's top half-dozen ports. But in one of his first ads, Warnock uses a wall of shipyard containers as a backdrop to instead call for solutions to supply-chain issues.
"I don't think it's an either or," Warnock said in an interview at the Capitol earlier this month. "The bipartisan infrastructure bill in the long run is good news for jobs, for opportunity, and for energy. But immediately I'm focused on dealing with addressing rising costs. We need to hold oil and gas corporations accountable."
Sen. Mark Kelly (D-Ariz.), who's also running for a full term after winning a special election, highlights in a new ad his work to help complete neglected interstate highway projects, improve ports of entry, and more. He's also promoting plans to suspend the 18.3 cents per gallon federal gas tax funding infrastructure programs.
"They know there's funding there, and they know that we're going to get a lot of these problems fixed," Kelly said in an interview. "I know people don't focus on that. They focus on what else is the next problem. It's the rising cost of gasoline."
Biden's latest push highlighting the law started Tuesday in New Hampshire, where Sen. Maggie Hassan (D) faces re-election. During a speech in Portsmouth, Biden described the "incredible opportunity" in implementing the new law. "But we know that families are struggling with higher prices," Biden said. Read more from Nancy Ognanovich.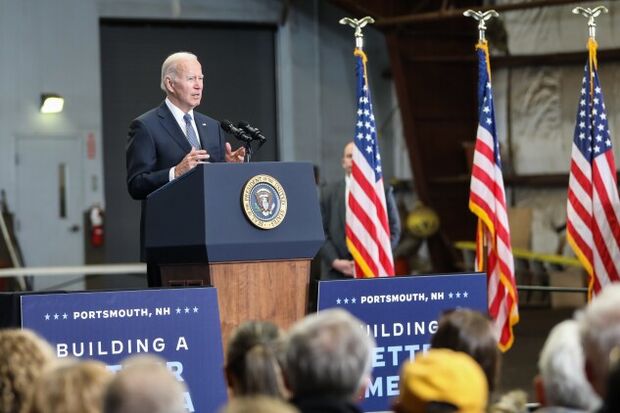 The Biden administration is hiring federal workers to go to Georgia, Kentucky, New Mexico, Mississippi and tribal nations in Arizona to help rural communities access the federal resources available to them. The initiative, announced Wednesday and branded the Rural Partners Network, is the latest in the White House's push to spread the word about the bipartisan infrastructure law and Covid-19 relief funding. Senior administration officials said that the initiative, led by the Agriculture Department, aims to continue expanding until it reaches all 50 states—if Congress provides the support requested in Biden's budget for fiscal 2023. Read more from Maeve Sheehey and Greg Giroux.
Also on Lawmakers' Radars
A push for energy security is on the table in reconciliation talks between the White House and members of Congress, said Ali Zaidi, the administration's deputy national climate advisor, at the BNEF Summit in New York. "We're having conversations with members on the Hill, a number of them, about a reconciliation package that will help us tackle consumer costs and boost energy security," Zaidi said. Sen. Joe Manchin (D-W.Va.) has said he is interested in restarting negotiations on a slimmer version of the stalled Build Back Better Act that would target climate change, high drug prices, and deficit reduction.
MORE FROM THE BNEF SUMMIT:
Booming cash flows stemming from higher crude prices are leaving American shale producers in a far better position to tap the nation's oil reserves, according to Anastacia Davies, head of oil supply and U.S. oil at BloombergNEF. New supplies from the U.S. will be likely needed to help fill up a potential supply gap left by Russia, Davies said.
Also at BNEF, one analyst said the GOP could adopt green-friendly agenda, if the recent climate shift by the U.K.'s Conservative Party is any indication. "Don't dismiss the possibility of a green elephant," said Tom Rowlands-Rees.
Biden's FCC nominee is drawing opposition from an unusual array of foes, including a police group, a North Dakota Democrat and former GOP aides working to stymie the president's agenda. Gigi Sohn, who would give Democrats a majority on the Federal Communications Commission—and possibly revive net neutrality policies she favors—has yet to get a full Senate vote, nearly six months after Biden picked her. The long fight over Sohn has delayed possible new regulations for voice and broadband providers. Read more from Todd Shields.
Sen. Manchin said he's concerned about U.S. talks with Iran and asked the Biden administration to provide lawmakers with a briefing on negotiations. Manchin said in a letter to Secretary of State Antony Blinken that he is "particularly worried" that the U.S. is considering removing the Islamic Revolutionary Guard Corps from the department's Foreign Terrorist Organization list. Read the letter here.
Join our webinar for insights on the key policy items Congress plans to tackle as it returns from its spring recess. Bloomberg Government's analysts April 27 will discuss what House and Senate leaders plan to prioritize for the remainder of 2022, with an eye on what can be accomplished before the midterm elections or possibly left to a lame-duck session. They'll talk about the latest on bills to boost U.S. manufacturing to compete with China, proposals to reauthorize key programs that committees are exploring, and whether there's any chance for a budget reconciliation. Register here .
Elections, Politics & Probes
Over the last two years, local elections officials across the U.S. have faced a deadly pandemic, shortages of funding and workers, false claims of election fraud and even death threats. Now they may face prison time, too. Under a spate of laws proposed or passed in at least 10 U.S. states, elections administrators could see criminal charges and penalties that include thousands of dollars in fines or even prison time for technical infractions of election statutes. Read more from Ryan Teague Beckwith.
Congressional districts approved by New Mexico's Democrat-led Legislature will stand for the June 7 primary after a state district court judge on Tuesday declined to temporarily block them. The lawsuit brought by the Republican Party of New Mexico argues that the three districts are a political gerrymander that violate the state Constitution. Read more from Brenna Goth.
A parade of senior Goldman Sachs executives is writing one check after another to sway a crucial Senate primary in Pennsylvania. More than 60 executives at the Wall Street giant have given the maximum allowed to back David McCormick, the hedge fund manager married to Goldman partner Dina Powell McCormick who's tried to label himself as "an America-first conservative" embracing Donald Trump's agenda in the race to represent the Keystone State. Read more from Mark Niquette, Sridhar Natarajan and Bill Allison.
Also in Pennsylvania, over a dozen Duane Morris lawyers have donated to colleague Bill McSwain's Republican bid for governor as the former Trump appointee tries to overcome the ex-president's criticism that he did "absolutely nothing" to overturn the state's 2020 election result. Read more from John Hughes.
The investigative firm hired by Hillary Clinton's 2016 campaign to research then-candidate Trump's suspected Russia ties urged a judge overseeing a related criminal case to keep their communications private. Fusion GPS said in a court filing that its messages with the campaign and the Democratic National Committee are protected by attorney-client privilege. Erik Larson has more.
Enrique Tarrio, the former chairman of the right-wing Proud Boys group, proposed putting up a $1 million bond to be released to home detainment pending a trial on Jan. 6 conspiracy charges. Read more from Erik Larson.
Get redistricted into an incumbent-vs-incumbent primary and one quickly learns who their friends are. Read this week's Ballots and Boundaries newsletter from Bloomberg Government for Greg Giroux's highlights from the first quarter of sudden-death-match fundraising, as well as other election and re-districting-related stories.
Florida lawmakers look ready to accept a congressional map that would eliminate districts now held by two of the state's Black House members, add four seats likely to go Republican, and potentially spark a new federal court challenge to the Voting Rights Act of 1965. Gov. Ron DeSantis (R) vetoed a map from lawmakers to make room for a new district added by reapportionment after the 2020 Census. Now, Republicans who hold the legislature have indicated they'll accept a proposal from the governor's staff. Jennifer Kay has more.
Florida's governor may be able to impose swift retribution against Disney for publicly disagreeing with the state's "don't say gay" education law. DeSantis asked lawmakers to remove a Disney exemption they wrote into a social media law last year. The legislature could vote as soon as Wednesday on bills (H.B. 5C and S.B. 6C) that would give the governor what he wants. Read more from Jennifer Kay.
The Coronavirus Pandemic
The Justice Department said it's prepared to appeal a ruling by a judge who struck down the Biden administration's nationwide mask mandate on airplanes, trains and other public transportation, if health authorities say it's necessary. The department said it will appeal a federal judge's ruling if the Centers for Disease Control and Prevention decides that masks should remain in place past the current assessment period, which is due to expire May 3.
"The department continues to believe that the order requiring masking in the transportation corridor is a valid exercise of the authority Congress has given CDC to protect the public health," the Justice Department said in a statement Tuesday. "That is an important authority the department will continue to work to preserve." Read more from Josh Wingrove, Erik Larson and Justin Sink.
Some state transit agencies are racing to update their masking mandates, while others are keeping them after the ruling. New York's Metropolitan Transportation Authority, the nation's largest mass-transit provider, is still requiring masks, while Amtrak withdrew its mask rules. The patchwork of policies have led to some confusion among riders of public transit. Skylar Woodhouse has more.
The U.S. mask mandate was thrown out by a Trump appointee considered unqualified for the job by the American Bar Association but immediately hailed as a hero in conservative circles. Kathryn Kimball Mizelle, who was born in 1987, is among the youngest federal judges. She clerked for four federal judges, including Supreme Court Justice Clarence Thomas, and had worked in several roles at the Justice Department and as an associate at Jones Day before her federal judiciary appointment in 2020. Read more from Madison Alder.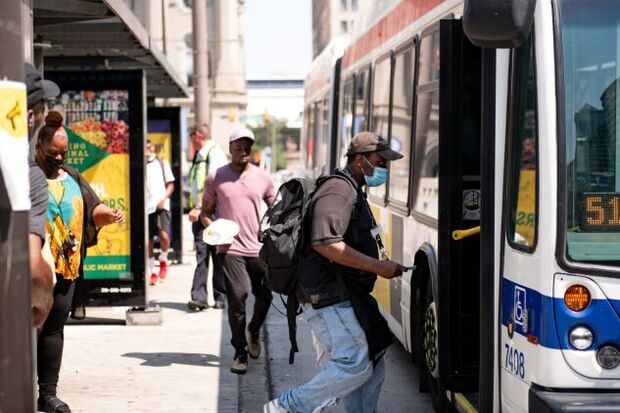 A panel of outside experts to the U.S. Centers for Disease Control and Prevention will meet Wednesday to discuss the agency's guidance for a fourth dose against Covid-19 and a framework for future additional shots. The panel of outside experts, which advises the CDC on how best to administer new vaccines, will also discuss safety and effectiveness of the boosters at the meeting, according to a draft agenda published late Tuesday. Fiona Rutherford has more.
Almost 90% of U.S. children hospitalized for Covid during the omicron wave this winter were unvaccinated, according to a government study. Omicron caused a record-breaking number of pediatric hospitalizations from December to February, and national data on hundreds of kids aged 5 to 11 highlight the importance of vaccinating them, the CDC said in the report. Read more from Madison Muller.
Biden's Covid-19 vaccination mandate for federal workers can't be challenged in court since the Civil Service Reform Act removed jurisdiction to hear certain actions involving federal employment, the Fourth Circuit ruled. Two federal staffers said that the mandate is unconstitutional for forcing them to choose between their jobs and getting vaccinated. Daniel Seiden has more.
A panel to envision a unified national public health system aims to help shape pandemic preparedness and advise lawmakers on public policy going forward, a former HHS official said Tuesday, Jeannie Baumann reports. The Commonwealth Fund last month formed a commission with a 90-day timeline, and it plans to release its recommendations by June.
"We really hope to be able to influence congressional debate over the summer and to also lay out ideas for the administration and others as they go forward," said Nicole Lurie, a member of the commission who is a former Health and Human Services assistant secretary for preparedness and response and currently serves as U.S. director of CEPI, the global partnership to develop vaccines to stop future epidemics.
The commission formed less than two weeks before a Senate health committee approved a sweeping pandemic preparedness bill (S. 3799) that would analyze national preparedness for public health threats and create an independent Covid task force. Reps. Diana DeGette's (D-Colo.) and Fred Upton's (R-Mich.) bill Cures 2.0 (H.R. 6000) also includes pandemic preparedness provisions.
Ukrainian Troops Risk Being Encircled in New Russian Offensive
Russia began what its foreign minister called a second phase of the war in Ukraine, and early indications are it could go better for Russia than the first. Russian forces took a pocket of territory including the city of Kreminna on Tuesday, the Ukrainian regional governor said. As a result they threaten to encircle an area at the top of the eastern front one military analyst says holds as much as 40% of Ukrainian troops in the region. Read more from Marc Champion.
Biden said Tuesday the U.S. would send more artillery to Ukraine as Russia presses its campaign in the Donbas. Press Secretary Jen Psaki said that Biden and other world leaders on a call earlier Tuesday "spoke about providing more ammunition and security assistance to Ukraine." Read more from Jennifer Jacobs.
Foreign Minister Sergei Lavrov claimed that Russia committed to avoiding nuclear war, after he was quizzed repeatedly about the possible use of atomic weapons in Ukraine. Read more from Bloomberg News.
U.S. border officials are seeing a big jump in Ukrainians attempting to enter the U.S. via Mexico or Canada as pressure builds for the Biden administration to open new paths for those fleeing Russia's invasion. Customs and Border Protection reported more than 5,000 encounters with Ukrainians last month, mostly at the southwestern border. The Homeland Security Department has permitted some Ukrainians to enter the U.S. through a humanitarian designation. Ellen M. Gilmer has more.
MORE ON THE WAR IN UKRAINE:
Around the Administration
BIDEN'S SCHEDULE:
The president meets with Defense Secretary Lloyd Austin, Joint Chiefs of Staff Chair Mark Milley, and top military commanders at 4 p.m.
If you're stuck on hold for hours on the IRS's customer help line, you're likely not just behind other people with tax questions. Queues are also jammed up with parents confused about new pandemic benefits, people missing stimulus checks, and sometimes even applicants for disaster assistance from the Federal Emergency Management Agency. The pandemic magnified longstanding deficiencies that hinder the IRS's ability to fulfill the agency's mission of collecting revenue and enforcing tax laws—problems that money alone can't solve. Read the latest installment in a multi-part series from David Hood, Naomi Jagoda, and Jasmine Ye Han on the problems plaguing the IRS.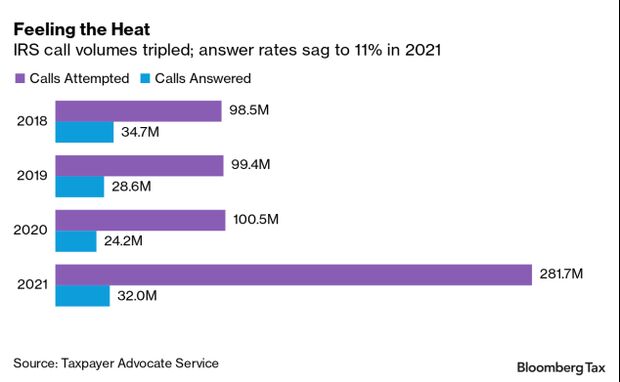 Biden signed papers to appoint Ketanji Brown Jackson to the Supreme Court on April 8 even though she can't begin work until Justice Stephen Breyer departs later this summer. Her precise status has been the subject of discussion stemming from the unprecedented timing of her Senate confirmation. Read more from Greg Stohr and Jordan Fabian.
The NIH will officially house a new biomedical innovation agency, a White House formality that crystallizes plans defying what principal players in Congress want. Secretary of Health and Human Services Xavier Becerra published a notice Tuesday that he's transferred fiscal 2022 money to establish the Advanced Research Projects Agency for Health to the National Institutes of Health. Becerra announced these plans during a hearing last month, which the Federal Register notice echoes. Read more from Jeannie Baumann.
Black people are about twice as likely to develop Alzheimer's disease as White people, but for years the demographic has mostly been left out of trials intended to prove new drugs are safe and effective. A Bloomberg News analysis of 83 Alzheimer's disease drug trials shows only 2% of patients included in trials reported in the past decade were Black. Read more from Robert Langreth and Madeline Campbell.
Health and Human Services is pumping out $105 million in grant funding for states and territories transitioning to a three-digit national suicide hotline in an effort to beef up staffing ahead of the targeted summer rollout. Read more from Ian Lopez.
The Department of Homeland Security awarded a $259 million contract for technology to counter the increasing threat from drones. The department on Tuesday doled out the money to the Defense Technical Information Center, which tapped Amentum Services to be its prime contractor. U.S. officials have warned lawmakers of heightened worries about attacks, smuggling and flight disruptions from drones. Read more from Lillianna Byington and Paul Murphy.
Federal agencies must to consider the climate impacts of infrastructure projects, land management efforts, and many other activities under a final rule the White House issued Tuesday. The rule precedes a second, more significant set of changes to the National Environmental Permitting Act rules coming later in the year. Tuesday's rule undoes some—but not all—of the changes to the nation's environmental permitting regime from the Trump administration. Read more from Stephen Lee.
The Biden administration's rewrite of the nation's environmental permitting rules is heightening expectations for follow-up guidance telling agencies how to consider the climate impacts of proposed projects. The Council on Environmental Quality has said it wants to move ahead with guidance this year, after plans issued during the Obama administration were scuttled under Trump. Read more from Stephen Lee.
The EPA is forging ahead with phase-out programming to curb emissions of hydrofluorocarbons, a climate superpollutant. The agency began doling out allowances to 50 companies, largely in the heating and cooling sectors, on March 31, according to a Tuesday news release. The phase-down rule, finalized in 2021, was the first and only major climate regulation released by the Biden administration. Jennifer Hijazi has more.
A strategy the EPA is using to decide what scientific data it will use to decide whether a chemical's potential to harm people or the environment is so great it must be regulated could ignore potential harms, academic scientists and an environmental group said Tuesday. The agency revamped the protocol after dropping a previous method the National Academies of Sciences, Engineering, and Medicine criticized last year. Read more from Pat Rizzuto.
The Department of Education announced new steps to bring borrowers closer to public service loan and income-driven repayment forgiveness, according to a release. Those steps will include conducting a one-time account adjustment to count certain long-term forbearances toward forgiveness. Read more from Megan Howard.
A tight U.S. job market and low-cost online registration have contributed to an unprecedented number of registrations for high-skilled H-1B visas, immigration lawyers say. Employers submitted more than 483,000 H-1B registrations for fiscal 2023, U.S. Citizenship and Immigration Services reported—an increase of 57% from the previous record high in fiscal 2022. Up to 85,000 H-1B temporary work visas are available each year. Read more from Andrew Kreighbaum.
Also From the Courts
Appellate judges threw a set of California climate cases back to state court on Tuesday, dealing another blow to Exxon, Chevron, and other industry giants targeted in climate liability litigation. The battle is emblematic of the almost two dozen climate cases pending across the U.S., with oil companies trying to punt the suits to federal courts, where they stand a better chance of being preempted under federal laws like the Clean Air Act. Read more from Jennifer Hijazi.
The U.S. Supreme Court should toss the "significant nexus" standard and adopt a more limited view of the federal government's power over waters of the U.S., according to separate filings from lawmakers, states, and industry groups. The groups filed briefs Monday supporting Idaho landowners Michael and Chantell Sackhett challenging the Ninth Circuit's ruling that their property contained wetlands subject to regulation. Read more from Maya Earls.
The overlap between lawsuits filed by states and industry groups over the Biden administration's pause on oil and gas leasing isn't complete enough to justify consolidating the disputes, a federal judge in Louisiana said. A group of 13 states including Louisiana and Texas sued Biden over an executive order imposing a "moratorium" on oil and gas leasing activities. Maya Earls has more.
State policy makers will be left to their own legislative fixes to provide taxpayers with relief from a $10,000 cap on state and local tax deductions now that the U.S. Supreme Court has closed the door on legal challenges and there is no imminent remedy from Congress. More than 20 states led by Democrats and Republicans have already seized on a blessing by the IRS in November 2021 for pass-through entity taxes as workarounds for the federal SALT deduction cap imposed in the 2017 tax law. Read more from Donna Borak and Perry Cooper.
Tesla revealed that it faced an investigation by the U.S. Equal Employment Opportunity Commission that predates a lawsuit by California's civil rights office accusing the company of ignoring "rampant racism" on its factory assembly lines. The world's largest electric-vehicle maker disclosed the federal probe in a court filing while urging a judge in Oakland, Calif., to pause February's case by the state's fair employment and housing department. Read more from Dana Hull and Paige Smith.
Activision Blizzard investors who said the game maker misled shareholders about investigations by state and federal agencies into sexual harassment allegations failed to meet the threshold to pursue their claims under federal securities law, a California judge said. Read more from Maeve Allsup.
With assistance from Jeannie Baumann
To contact the reporters on this story: Michaela Ross in Washington at mross@bgov.com; Brandon Lee in Washington at blee@bgov.com
To contact the editors responsible for this story: Giuseppe Macri at gmacri@bgov.com; Loren Duggan at lduggan@bgov.com