What to Know in Washington: Inflation Anguish Before Midterms
Democrats struggle for effective inflation policy, message
$40 billion Ukraine aid House vote could come today
As Ronald Reagan might have put it: Here we go again. Forty-two years after inflation helped sweep the former California governor into the White House and return the Senate to GOP control, surging prices threaten once again to upend a Democratic administration.
President Joe Biden and his fellow Democrats in Congress are desperate to avoid the fate of President Jimmy Carter, ousted after one term. But Biden so far has had little success in either figuring out how to douse inflation that's running at a four-decade high or even convincing voters that it wasn't his $1,400 stimulus check that acted as kindling. Unfortunately for Biden and Democrats, the lesson from the 1970s and '80s is that U.S. presidents are quite limited in what they can do on their own to tamp down price pressures.
Biden appeared to be acting on those recommendations last week, delivering remarks at the White House that were sharply critical of a proposal by a top Republican senator, Rick Scott of Florida, to require all Americans, even those with the lowest earnings, to pay some income tax. Biden will talk about his plans to fight inflation again on Tuesday, when he's expected to escalate his criticism of Republicans and call out what he sees as their lack of proposals.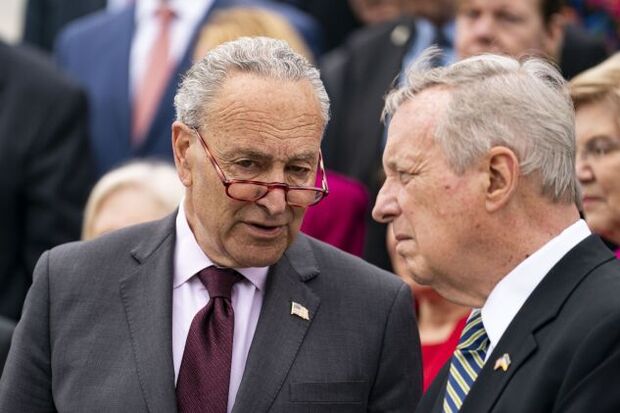 The No. 2 Democrat in the Senate, Dick Durbin of Illinois, is leaning on the White House to seek out new means to tame inflation. Biden is "doing a lot, but I want him to do more," Durbin says. He didn't elaborate on what other policies he'd like to see from the White House.
Congressional Democrats are urgently cobbling together legislation they hope will slow or reduce prices, with Senate Majority Leader Chuck Schumer (N.Y.) particularly focused on bolstering the reelection hopes of the four most vulnerable incumbent Democrats: Mark Kelly of Arizona, Raphael Warnock of Georgia, Catherine Cortez Masto of Nevada, and Maggie Hassan of New Hampshire.
Representative Sean Maloney of New York, who leads the House Democrats' campaign organization, says: "Voters understand that we don't have a magic wand, but they want us working on the problem. Read more from Nancy Cook and Laura Litvan.
Democrats Weigh $40 Billion for Ukraine, Topping Biden's Ask
Democrats have drafted a $39.8 billion aid package for Ukraine and plan to vote on it this week without attaching Covid pandemic funding. Biden told lawmakers to separate the two requests to avoid stalling the funds for Ukraine. The House could vote as soon as Tuesday on the aid, which is larger than the $33 billion Biden requested from Congress last month, according to people familiar with the plans. Lawmakers added $3.4 billion in military funds and $3.4 billion in humanitarian assistance.
"We cannot afford delay in this vital war effort," Biden said in a statement. "Hence, I am prepared to accept that these two measures move separately, so that the Ukrainian aid bill can get to my desk right away." The move to swiftly pass Ukraine aid, which has been stalled in the Senate amid a spat over immigration, comes as Biden's White House warns that funding for the drawdown authority the president has invoked to send weapons to Ukraine would run out by the third week of this month.
Republicans have not yet signed on to the plan. The extra military relief is less than the $8 billion increase that Senate Republicans had sought. The plan would need at least 10 GOP votes to pass the Senate. Blair Taylor, spokesperson for Senate Appropriations Committee top Republican Richard Shelby (R-Ala.) said negotiations are still going on. Read more from Erik Wasson.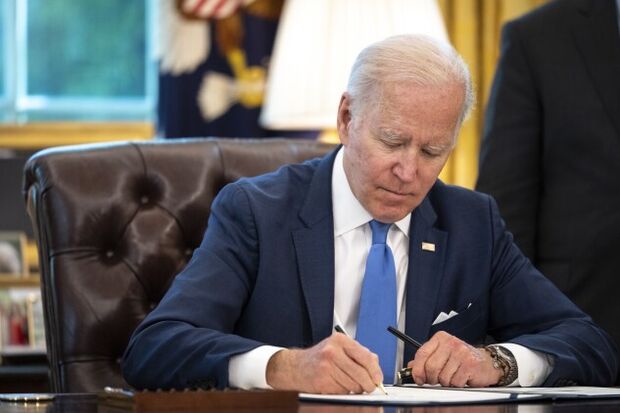 Biden said he's worried that Russian President Vladimir Putin "doesn't have a way out right now" of the war. Speaking at a Democratic National Committee fundraiser, Biden told his audience that Putin, a "very calculating man," started the conflict believing that he could cow NATO and the European Union.
At least 86 of the 90 M77 howitzers that the U.S. has committed to Ukraine have been delivered, and about 310 Ukrainian soldiers have been trained on their use, a U.S. defense official said. Around 60% of the promised 184,000 artillery rounds have arrived as well.
As Europe's largest conflict since World War II rages, senior Biden administration aides are increasingly convinced it could provide the U.S. with an unexpected advantage: against China. U.S. officials see the conflict's toll and the slew of sanctions placed on Moscow as leaving Russia hobbled for years to come. Combined with bolstered European defense spending, that means the U.S. may have a freer hand to accelerate its long-term shift toward China, seen as America's biggest future challenge, according to several officials interviewed by Bloomberg News. Read more from Peter Martin.
Also Happening on the Hill
CONGRESS' SCHEDULE:
The Senate meets at 10 a.m. and plans to vote to confirm Lisa Cook for the Fed board.
The House meets at 2 p.m., with votes sought as early as today on Ukraine relief.
Family members of Supreme Court justices would have security protection under a bipartisan bill (S. 4160) passed by the Senate. Swift passage of the Supreme Court Police Parity Act comes after protests outside the homes of conservative justices after the leak of the draft opinion overturning Roe v. Wade. "The events of the past week have intensified the focus on Supreme Court Justices' families, who are unfortunately facing threats to their safety in today's increasingly polarized political climate," sponsor Sen. John Cornyn (R-Texas) said. Madison Alder has more.
About 100 demonstrators protested outside the residence of Justice Samuel Alito on Monday. The protesters chanted "keep abortion safe and legal" and "no uterus, no say" as they marched Monday in Alexandria, Virginia, where Alito lives, before stopping in front of his house. Read more from Madison Alder.
Pro-abortion rights supporters don't plan to let the weeks leading up to the Supreme Court's official ruling in Dobbs v. Jackson Women's Health Organization, expected this summer, to pass by quietly: A coalition of over 30 advocacy groups are organizing a nationwide day of protests on May 14. Groups including Planned Parenthood, MoveOn, UltraViolet and Women's March, have announced that "Bans Off Our Bodies" rallies will occur that day across the country, including "anchor" events in Chicago, Los Angeles, New York and Washington, D.C. Ella Ceron has more.
Senate Minority Leader Mitch McConnell claimed Monday that he wouldn't support a push to end the Senate's filibuster rule to pass a national abortion ban if his party takes the chamber. "I will never, never support smashing the legislative filibuster on this issue or any other,"

McConnell

(R-Ky.) said. Steven T. Dennis has more.
Senate Democrats plan votes to confirm Lisa Cook's nomination to be a Federal Reserve governor Tuesday, they announced Monday night. Covid cases among Democrats in the evenly divided chamber have delayed a number of nominations over the last several weeks, sparking a logjam on Fed and other nominations. Votes to advance her nomination and to confirm her, both eyed Tuesday, would likely require a tie-breaker from Vice President Kamala Harris. Steven T. Dennis has more.
Some ranchers and farm groups are urging the Senate to amend legislation (S. 4030) meant to bring transparency to cattle markets, saying that it doesn't go far enough to deal with industry consolidation. The bipartisan bill would divide the country into regions and task the Department of Agriculture with deciding, for each one, the minimum share of cattle that a packer must buy through the cash market. The industry is dominated by four large meatpackers, with an ever-growing gap between the price consumers pay for beef and the price ranchers get, Maeve Sheehey reports.
Mental health services would get a funding boost in bipartisan legislation set to be unveiled Tuesday that aims to improve coordination across agencies focusing on opioid addiction services and paying for treatment. The measure, from Sens. Bill Cassidy (R-La.) and Chris Murphy (D-Conn.), would provide a path for ramping up existing health plans and coordination between the Substance Abuse and Mental Health Services Administration and the Centers for Medicare & Medicaid Services to better help individuals. Read more from Ian Lopez.
The government's once-niche power to levy tax penalties that courts say they can't review until fully paid has exploded, prompting calls for Congress to address a growing barrier-to-justice issue. "Taxpayers who cannot afford to pay what the IRS says they owe should have the same opportunities to choose a judicial forum as wealthier taxpayers who can afford to pay," IRS National Taxpayer Advocate Erin Collins wrote in her 2022 legislative recommendations to Congress. Read more from Aysha Bagchi.
BGOV OnPoint: Potential Committee Chairs in the 118th Congress: Several House and Senate committee leaders have announced their retirements ahead of the 2022 midterm elections, ramping up jockeying for leadership roles in the 118th Congress. Download the new BGOV OnPoint to read about committees' outlooks.
BGOV Midterm Elections Webinar: Wondering what impact the 2022 midterm elections may have on financial markets? Bloomberg Intelligence and Bloomberg Government are hosting a webinar today featuring BGOV elections team leader Kyle Trygstad and several BI analysts who focus on specific sectors. Register here .
Around the Administration
BIDEN'S SCHEDULE:
The president is scheduled to give remarks at 11:30 a.m. on his plan to fight inflation.
Biden is slated to meet at 2 p.m. at the White House with Prime Minister Mario Draghi of Italy to discuss efforts in Ukraine.
The U.S. is writing a proposal to boost Latin American economies and strengthen U.S. ties ahead of a key regional summit the U.S. will host next month to help confront the challenge of migration. The proposed economic framework, still in its early stages, will address issues including so-called nearshoring and supply-chain vulnerabilities revealed by the pandemic, people familiar with the process said. Read more from Eric Martin and Jenny Leonard.
The White House has the authority to increase federal contractors' wages, a coalition of unions and civil rights groups told a Texas federal court. The coalition led by the Texas AFL-CIO filed a friend-of-the-court brief on Monday asking the Southern District of Texas to grant the government's motion to dismiss. The Department of Justice asked the court to toss out a challenge from three states who sued to block an executive order from Biden, which requires federal contractors to raise their minimum wage to $15. Read more from Erin Mulvaney.
A new DOJ directive ordering each of the nation's 93 U.S. attorneys to tap an environmental justice coordinator will bring a sharper focus to the issue, former U.S. attorneys tell Bloomberg Law. The memo directs the pointperson in each attorney's office to set up a procedure for the public to report environmental justice concerns. Stephen Lee has more.
The CFPB's payday lending rules should be struck down without delving into questions over whether the bureau is itself unconstitutional, industry lawyers told the Fifth Circuit. A 2020 rule restricting lenders from accessing borrowers' accounts to collect payments runs afoul of federal rulemaking procedures and Supreme Court precedent, an attorney told the Fifth Circuit. Read more from Evan Weinberger.
Financial market regulators are considering steps they could take to rein in the crypto market if Congress doesn't pass legislation, the head of Wall Street's derivatives regulator said. "In the absence of clear direction from Congress, which I know they're working on, it's our responsibility to work together and to come up with solutions to the extent that we're able to within the authority that we currently have," Commodity Futures Trading Commission Chair Rostin Behnam said Monday in an interview with Bloomberg News. Read more from Allyson Versprille.
Meanwhile, Treasury Secretary Janet Yellen will testify before the Senate Banking, Housing and Urban Affairs Committee today to deliver the annual Financial Stability Oversight Council report to Congress. Digital assets may pose risks to the financial system, and increased and coordinated regulatory attention is necessary, Yellen said in prepared remarks for the hearing. The Financial Stability Oversight Council "is drafting a report that will identify financial stability risks and regulatory gaps" in that area, she said, Maria Luiza Rabello reports.
To contact the reporter on this story: Brandon Lee in Washington at blee@bgov.com
To contact the editors responsible for this story: Giuseppe Macri at gmacri@bgov.com; Loren Duggan at lduggan@bgov.com; Michaela Ross at mross@bgov.com