What to Know in Washington: Impeachment Urgency Tested by Pelosi
House Democrats who've argued for months that President Donald Trump's impeachment was a matter of urgent national interest are now being forced to defend Speaker Nancy Pelosi's delay in handing the case over to the Senate.
Pelosi's top lieutenants, some of whom said they got no heads-up that the speaker was holding back the next step in the impeachment process, brushed aside that there was an intractable stand-off with Senate Republicans. They said the issues would be resolved by Pelosi (D-Calif.) and Senate Majority Leader Mitch McConnell (R-Ky.) by early January when both chambers return to Washington from the holiday break.
"I think they'll be sent over," House Foreign Affairs Committee Chairman Eliot Engel (D-N.Y.), said yesterday. "There are points we want to make. I think it's a good thing to hold it a while. But I don't think we want to hold it for too long."
The confusion and political maneuvering, which began just after the House had approved two articles of impeachment against the president, threaten to undercut the carefully crafted message by Pelosi and her caucus that the impeachment inquiry transcended the usual partisan conflicts that have paralyzed the Capitol.
The postponement, even if temporary, also risks diluting the impeachment arguments as the country draws ever nearer to the 2020 election season, even as Democrats said they're just fighting for fair rules for a Senate trial.
McConnell, Trump and their Republican allies taunted Pelosi over the delay and argued it showed that the Democrats had presented a weak case.
"I'm not sure what leverage there is in refraining from sending us something we do not want," McConnell said on the Senate floor. If Democrats never send over the articles of impeachment, he said, that's "fine with me."
Both sides are seeking leverage to set the terms of the Senate trial of the president on articles of impeachment charging him with abuse of power in his dealings with Ukraine, and obstruction of Congress. It's only the third time that an American president has been impeached, leaving a thin layer of precedent to proceed. Read more from Billy House.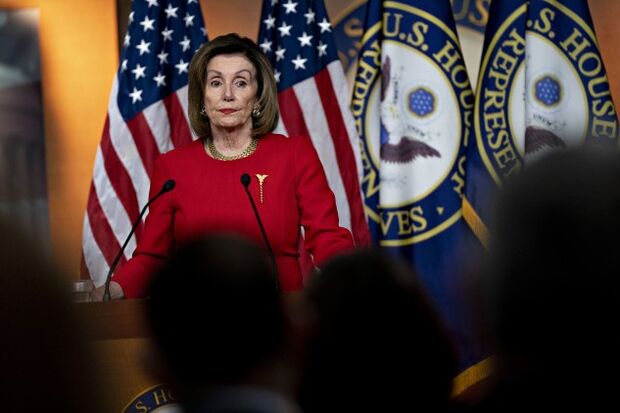 Trump Has Mused About Ousting Counsel: Trump recently quizzed advisers and lawmakers about whether he should replace Pat Cipollone as White House counsel, according to two people familiar with the matter, though they cautioned a move is not imminent. The president in the past two to three weeks has asked some senior White House staffers as well as a House member and a senator who are close allies about bringing in a new top in-house lawyer, the people said. Trump believes Cipollone should be more aggressive and, according to one of the people, has voiced concerns about Cipollone's effectiveness with his top aides amid the impeachment that has stained his presidency. Read more from Saleha Mohsin, Jennifer Jacobs and Jordan Fabian.
Impeachment Sucks in Chief Justice: As a presidential impeachment trial loomed in 1999, John Roberts thought about William Rehnquist, the U.S. chief justice who was set to preside. "If anybody can do it, I'm sure the current chief will," Roberts said of Rehnquist, who had written a book about impeachment. Roberts, now chief justice himself, was then a lawyer in private practice and spoke in a Bloomberg News interview.
Two decades later, the same words could apply to Roberts, who has tried to carve out a nonpartisan role as the leader of the Supreme Court. Now he will oversee Trump's Senate impeachment trial in a far more partisan Washington and may be asked to rule on divisive issues governing witnesses and evidence.
Roberts will take up those duties as a singular figure in American public life. Even as he has steered the court to the right over the past 15 years, the Republican-appointed Roberts has staunchly defended the judiciary's independence and shown an occasional willingness to push back against Trump. He will now face the challenge of trying to bring that judicial independence — and a modicum of decorum — into the political maelstrom of a Senate impeachment trial. Read more from Greg Stohr.
Congress Wraps 2019 Work Period
The House and Senate capped their year yesterday by passing a flurry of legislation. Both chambers depart for a two-week break to close out the year. The Senate returns for votes on Jan. 6, with the House following the next day.
Spending Bills Cleared for Trump: The Senate sent Trump two spending bills yesterday that would provide $1.4 trillion to fund the U.S. government through September and avoid a shutdown on Saturday. The White House said Trump will sign the bills, already passed by the House, preventing a replay of the 35-day partial government closure he provoked last December over funding for a wall on the U.S.-Mexico border.
The bill to fund defense-related departments passed on a 81-11 vote. The other, to fund non-defense agencies and extend a number of expiring tax breaks, passed earlier in the day 71-23. The rare moment of bipartisanship came as lawmakers and voters are bitterly divided over Trump's impeachment by the House on Wednesday. Read more from Erik Wasson.
House Passes USMCA: The House approved Trump's top legislative priority of the year by advancing the U.S.-Mexico-Canada trade accord. The bill to replace the current North American Free Trade Agreement was passed on a 385-41 vote, with strong bipartisan support. The Senate won't take up the trade agreement until next year, after finishing the impeachment trial that is likely to end with Trump's acquittal. The USMCA legislation can't be amended, and it will need just a simple majority to pass the Senate, according to fast-track trade powers Congress gave the president in 2015. Read more from Erik Wasson.
House Votes to Repeal SALT Cap: Democrats from high-tax states scored a symbolic victory yesterday as the House voted to repeal a politically fraught portion of Trump's tax law: the cap on state and local tax deductions. The bill would repeal the $10,000 cap in 2020 and 2021, and raises it to $20,000 for married couples for 2019. The measure is offset by raising the top individual tax rate to 39.6% from 37%. Republicans, with Democratic support, amended the measure at the last minute to block those earning $100 million or more a year from deducting their entire state and local tax bill, a move that would prevent extremely wealthy taxpayers from benefiting from the more generous SALT allowance. Read more from Laura Davison.
Trump Judicial Push Continues: Trump and McConnell's accelerated push to pack the judiciary with conservatives wrapped up for the year in a confirmation sprint that just cleared the president's appointment goal through 2019. The Republican-led Senate cleared 13 district, or trial court, nominees over the course of two days, concluding yesterday. That brought the number of Trump appointees to district and appeals courts to 183 with two more to the Supreme Court since he took office in 2017. Trump exceeded his target for nearly three years in office by two seats. Read more from Madison Alder.
O'Donnell Confirmed as EPA Inspector: A batch of key Trump administration environment and energy posts will remain unfilled heading into 2020, as the Senate yesterday confirmed just one of the outstanding nominees, the inspector general for the Environmental Protection Agency. Sean O'Donnell, who served most recently as a trial attorney in the criminal division of the Department of Justice, was confirmed by voice vote. But other environment and energy nominees, including James Danly, Trump's pick to fill one of two vacant Federal Energy Regulatory Commission seats, were not voted on. Read more from Dean Scott.
Domestic Terrorism Grant Bill Cleared: A bill that would set a funding floor of at least $75 million for grants to help non-profits, synagogues and churches secure their facilities against mass shootings and terrorist attacks cleared the Senate yesterday, Michaela Ross reports. The legislation would authorize spending for the Department of Homeland Security's Nonprofit Security Grant Program, which was funded at a record high $90 million in the spending package cleared by the Senate yesterday, and $60 million last fiscal year.
Elections & Politics
Biden Has Strongest Debate Yet, Buttigieg Roughed Up: Joe Biden has held steady as the Democratic front-runner despite his weak and stumbling debates. But last night he delivered a steady and crisp performance that showed voters why he's the candidate to beat for the party's nomination. He didn't ramble. He didn't trip over his words. He didn't flub basic facts. He didn't evoke record players or make other archaic references. He offered flashes of humor and a moment of fiery indignation when ripping into "Medicare for All."
And his closing statement laid out his rationale for the White House effectively with three questions: Who on stage is best-positioned to defeat Donald Trump, who can help other Democrats win, and who has a record of delivering results?
Biden was further helped by the fact that Pete Buttigieg — his chief rival for moderate Democrats who's outperforming him in the first two contests — was roughed up in a pile-on from other candidates including Sens. Elizabeth Warren (D-Mass.), Amy Klobuchar (D-Minn.) and Bernie Sanders (I-Vt.). Read more from Sahil Kapur.
At the sixth Democratic debate in Los Angeles, the candidates sought to draw sharp lines over everything from their donors to their ages and their takes on what's wrong with American politics. Ryan Teague Beckwith highlights some of the most compelling moments.
(Michael Bloomberg is also seeking the Democratic presidential nomination. Bloomberg is the majority owner of Bloomberg Government's parent company).
Trump Highlights Support for Black Colleges: Trump is seeking to appeal to African American voters by highlighting funding for historically black colleges and criminal justice reform, even as polls show he faces an uphill battle. As part of the effort, White House advisers yesterday said Trump pushed Congress to provide $75 million for his First Step program that gives inmates a personalized assessment and recidivism reduction program, Justin Sink and Jennifer Jacobs report.
Trump also signed the FUTURE Act into law after it was passed by the House and Senate last week. The measure permanently extends $255 million in annual funding to support math and science education at historically black colleges and other minority-serving institutions. It also streamlines the application for federal student aid by allowing sharing of taxpayer information between the IRS and Department of Education, Andrew Kreighbaum reports. For more, read the BGOV Bill Summary by Naoreen Chowdhury.
Around the Administration
New Ambassador to Russia Will Focus on Counterterrorism Ties: John Sullivan, the former deputy secretary of state who is now heading to Moscow as U.S. ambassador to Russia, said he will try to focus on areas where the two sides can cooperate, even with relations still at a post-Cold-War low. Speaking about a month before he departs, Sullivan said he has a range of priorities: Cooperating on an arms-control strategy that makes sense, addressing the rights of gays and lesbians, security in the Arctic, and sharing information to protect the U.S. and its allies from terrorist attacks. Read more from Jennifer Jacobs.
Xi to Skip Davos, Deflating Hopes for Trump Summit: Chinese President Xi Jinping isn't planning to attend the World Economic Forum in January, according to people familiar with the matter, taking one option for a face-to-face meeting with his U.S. counterpart off the table. Beijing still plans to send its top trade negotiator Vice Premier Liu He to Washington to sign the phase-one deal in early January, an official said separately, asking not to be identified because the discussions were private. U.S. Trade Representative Robert Lighthizer has said he expects the 86-page agreement to be signed by himself and Liu around that time. Read more.
Trump Scores a Win for Coal: Trump can claim a victory for his friends in the coal industry after his hand-picked energy regulators changed the rules in the biggest U.S. power market. The Federal Energy Regulatory Commission ordered an overhaul of a massive electricity auction that power generators count on for more than $9 billion a year in payments. Under the new rules, coal plants that have struggled to compete with low-cost gas and renewable energy may now claim more of that money. That's a boon for fossil-fuel plant owners Calpine, Vistra Energy and NRG Energy. Read more from Stephen Cunningham and Christopher Martin.
Aid for Schools Affected by Disasters: Education Secretary Betsy DeVos announced $155 million in emergency relief for schools in 13 states and the Northern Mariana Islands affected by hurricanes Florence and Michael and other natural disasters in the past two years. The funding will pay for grants to help reopen schools in affected areas, support displaced students, and support projects on college campuses for students at risk of becoming homeless, Andrew Kreighbaum reports.
White House Presses Navy on Trump's 355-Ship Target: The White House budget office is pressing the Navy to stick to a campaign pledge by Trump to work toward fielding a fleet of more than 350 ships after its initial proposal for the next fiscal year fell short. The Navy proposal called for a 287-ship fleet by fiscal year 2025 — the last year of a potential second Trump administration, according to the budget office. But that level, which includes the decommissioning of 12 warships to save money, would be well below the long-term 308-ship target set by the Obama administration and even further from Trump's current goal of 355 ships. Instead, the Office of Management and Budget directed the Navy and Pentagon to try again. Read more from Tony Capaccio.
NAACP Census Challenge Revived: The NAACP's constitutional challenge to the 2020 Census shouldn't have been dismissed, a federal appeals court ruled. The opinion yesterday authored by Judge Barbara Milano Keenan of the U.S. Court of Appeals for the Fourth Circuit said the claim against the methods and means for conducting the census is ripe for review. The Constitution mandates that Congress make an "actual Enumeration" of the U.S. population every 10 years. The results are used to apportion congressional representatives and allocate billions in federal funds. Bernie Pazanowski and Kimberly Strawbridge Robinson have more.
Cohen's Request for Sentence Reduction Opposed: Michael Cohen should serve his full three-year prison sentence for financial fraud and lying to Congress because he didn't provide "substantial assistance in the investigation or prosecution of others," U.S. prosecutors told a judge. In a filing yesterday, prosecutors also said that Cohen, Trump's former lawyer and fixer, lied when he met with them and the FBI in January and February, after he was sentenced. Read more from Chris Dolmetsch.
To contact the reporters on this story: Zachary Sherwood in Washington at zsherwood@bgov.com; Brandon Lee in Washington at blee@bgov.com
To contact the editors responsible for this story: Giuseppe Macri at gmacri@bgov.com; Loren Duggan at lduggan@bgov.com