What to Know in Washington: Impeachment to Start, Then Pause
Senators will be sworn in as jurors in Donald Trump's impeachment trial today and issue a summons to the former president. But they will then mostly set it aside for two weeks as they plow through confirmation votes on President Joe Biden's cabinet and work on another pandemic relief plan.
The unprecedented trial ceremonially kicked off last night as a delegation of House Democrats who will act as prosecutors delivered the single article of impeachment to the Senate chamber. The substance of the trial, however, will wait until the week of Feb. 8, when briefs from House prosecutors and Trump's defense team are due.
The group of Democrats, known as impeachment managers, walked in a silent procession across the Capitol and lead manager, Rep. Jamie Raskin (D-Md.), read the brief article, charging Trump with incitement insurrection for his actions before a mob stormed the Capitol on Jan. 6.
Trump "threatened the integrity of the democratic system, interfered with the peaceful transition of power, and imperiled a coequal branch of government," Raskin read from the document. "He thereby betrayed his trust as president, to the manifest injury of the people of the United States.
Trump is the first American president to have been impeached twice and will be the first to be tried after leaving office. The symbolic opening of the trial comes as the Senate is still without an agreement on how it will operate with a 50-50 split and Democrats in nominal control. Senate Majority Leader Chuck Schumer (D-N.Y.) and Republican leader Mitch McConnell (R-Ky.) have agreed on the timing for moving ahead with the trial but little else. Read more from Billy House, Laura Litvan and Daniel Flatley.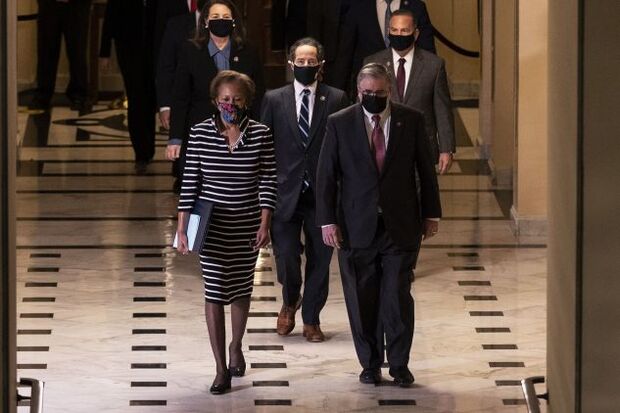 More on Impeachment and the Capitol Riot
Jordan to Mount 'Rapid-Response': Rep. Jim Jordan (R-Ohio), the top Republican on the House Judiciary Committee, and several like-minded House colleagues are looking to reprise an impeachment rapid-response group to advise Trump's legal team and talk to the media, multiple people involved said. A similar effort was mounted during Trump's first trial by eight House Republicans, separately from Trump's formal impeachment defense lawyers. Read more from Billy House.
Roberts Off the Hook in Second Trial: Chief Justice John Roberts won't preside over the second impeachment trial. The Constitution commands when "the President of the United States is tried, the Chief Justice shall preside." Since Trump is no longer president, Senate President Pro Tempore Patrick Leahy (D-Vt.) gets that job. Read more from Kimberly Strawbridge Robinson and Steven Dennis.
Trump Opens Office to 'Carry On' Agenda: Moments before the impeachment article was delivered, Trump announced he's opened an "office" to "advance the interests of the United States and to carry on the agenda" of his administration, according to a statement. The letterhead on the statement indicated the office will operate out of Palm Beach. Read more from John Harney.
Watchdog Group to Track Ex-Trump Aides: Companies that hire people who worked as top aides to Trump will be identified by a new liberal watchdog group formed to track the employment of ex-senior administration officials. The Campaign Against Corporate Complicity, which kicks off today, said it's building a list of former officials and aides who were involved in what the group says were the Trump administration's most controversial actions. Read more from Ben Brody.
Conservative Law Movement Faces Reckoning: For decades, the conservative legal movement united behind shared goals of filling the federal bench with like minded judges and espousing common principles grounded in an originalist reading of the Constitution. Now, with a Democratic president, it doesn't have judges to agree on, and how to define constitutional principles came under question when prominent legal conservatives sought to help Trump overturn voting outcomes and disrupt the Electoral College ratification in Congress. Read more from Madison Alder and Kimberly Strawbridge Robinson.
Some Capitol Rioters Look for a Deal: A growing corps of lawyers is looking for ways to defend more than 135 people charged in connection with the Jan. 6 siege of the Capitol with everything from assault and trespassing, to stealing government property, and conspiring to subvert democracy. As part of that effort, lawyers are poring over reams of social media posts and news footage for any evidence that could be used to change the public perception of their clients or minimize their roles in the riot, which left five dead and injured more than 100 police officers. Read more from David Yaffe-Bellany.
Also Happening on the Hill
McConnell Agrees to Power Sharing Pact: McConnell has backed off from a key demand that had held up a power-sharing agreement after two Democratic senators agreed not to vote to do away with the rule he wanted to preserve — the filibuster. McConnell had refused to agree to any deal with Schumer to share power in the 50-50 Senate without a pledge that Democrats wouldn't jettison the filibuster, which allows the minority to block legislation by requiring 60 votes to advance most legislation. Schumer rebuffed the idea of a guarantee. But McConnell said statements from two Democratic senators, Joe Manchin (W-Va.) and Kyrsten Sinema (Ariz.), were enough. Read more from Steven T. Dennis.
Biden 'Open to Negotiate' on Stimulus: Biden said he is open to reshaping his $1.9 trillion Covid-19 relief proposal as the administration seeks a bipartisan deal, though didn't rule out pursuing a Democrat-only route for passage. "I am open to negotiate," Biden said at a news conference yesterday. Still, he said "time is of the essence and I must tell you I'm reluctant to cherry pick and take out one or two items here."
The process is just beginning, Biden said one day after White House officials held a call on the stimulus proposal with 16 senators from both sides of the aisle, along with leaders of a group of House centrists. Republicans have rejected the price tag as too big and too soon after last month's $900 billion bill. Even some Democrats have joined in questions on the basis for the proposed size. Read more from Erik Wasson and Josh Wingrove.
Schumer Says Biden Should Invoke Climate Emergency: Schumer called for Biden to declare a climate emergency, a controversial move that would give the new administration sweeping authority to circumvent Congress to combat global warming. Declaring a climate emergency could unlock new powers for Biden, including the ability to redirect funding for clean energy projects, shut down crude oil exports, suspend offshore drilling and curtail the movement of fossil fuels on pipelines, trains, and ships.
Schumer also said he thought his party could advance major parts of a climate agenda — even a ban on conventional, gas-powered cars — through budget reconciliation, a process that allows easier passage of some tax and spending legislation on a simple majority vote. Republicans used the process in 2017 to mandate the sale of Arctic drilling rights. Read more from Ari Natter and Jennifer A. Dlouhy.
Top House Appropriators Named: House Appropriations Chairwoman Rosa DeLauro (D-Conn.) yesterday named Democrats who will lead the panel's subcommittees. The picks still must be approved by the Democratic Caucus. House Appropriations ranking member Kay Granger (R-Texas) earlier announced her party's selections.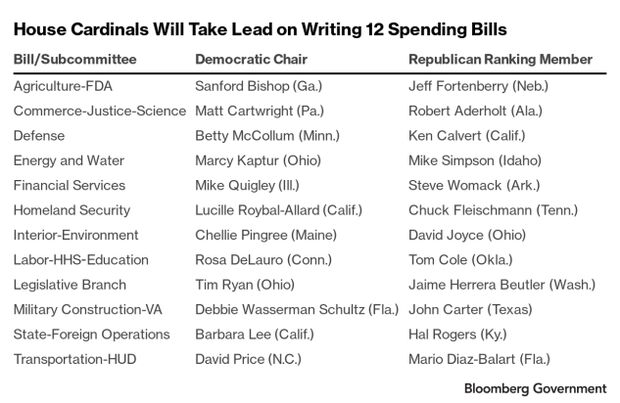 Labor Panel Makes Push for Apprenticeship Expansion: Lawmakers reintroduced a bill that aims to beef up the federal apprenticeships program, just two months after the House passed same bill on a largely party-line vote. The National Apprenticeship Act of 2021 would authorize $3.5 billion over the next five years for registered apprenticeships, youth apprenticeships, and pre-apprenticeships. Andrew Kreighbaum has more.
New Administration Takes Shape
Yellen Takes Charge at Treasury: Janet Yellen won confirmation to become treasury secretary, building out Biden's team as the administration struggles to win bipartisan support for a $1.9 trillion Covid-19 relief plan for shoring up a weakening economic recovery. The first woman to serve in the post, Yellen will take charge of a department with responsibilities spanning tax policy and government spending to financial stability, economic sanctions and foreign-exchange policy. She'll also oversee ties with the Federal Reserve, which she previously chaired. She was confirmed last night by the Senate 84-15. Read more from Saleha Mohsin, Christopher Condon and Erik Wasson.
The Senate will proceed at noon today to vote on the confirmation of Antony Blinken to be secretary of state.
Alejandro Mayorkas will move one step closer to confirmation today when the Senate Homeland Security and Governmental Affairs Committee meets to vote on his nomination to lead the Homeland Security Department, Shaun Courtney reports. A spokesperson for the committee said Mayorkas is expected to be approved with bipartisan support. Mayorkas' confirmation has been delayed by Sen.

Josh Hawley

(R-Mo.), who yesterday said he will vote not to advance it during the panel meeting, but will not seek to hold the committee vote over another week, Laura Litvan reports.
The Senate Commerce, Science, and Transportation Committee will vote tomorrow on whether to advance Pete Buttigieg, Biden's nominee to run the Transportation Department. Both Democrats and Republicans spoke positively about the former South Bend mayor at a hearing last week. Read more from Lillianna Byington.
Biden Expects Vaccines for Anyone by Spring: Biden says he expects Covid-19 vaccines will be available to anyone in the country by spring, an ambitious target that can only be met with sharp increases in the current pace of inoculations. The U.S. is currently administering about 1.2 million vaccine doses a day, data compiled by Bloomberg show, and Biden said yesterday he expects that will soon reach 1.5 million doses. Josh Wingrove and Jennifer Epstein have more.
Still, the U.S. faces a steep uphill struggle in gearing up to monitor Covid-19 variants, a key part of watching for the emergence of dangerous mutations that might spread quickly, evade vaccines or kill more infected people. Other countries, such as the U.K., have established robust, nationwide DNA surveillance programs to identify new covid genomes and track the spread of existing ones. But the U.S. has not: It ranks 32nd in the world for the number of sequences completed per 1,000 Covid cases, according to data from GISAID, a global database where researchers share new genomes. Read more from Kristen V. Brown.
Biden Taps New NLRB Top Lawyer: The Biden administration named veteran National Labor Relations Board attorney Peter Sung Ohr as the agency's acting general counsel, a move that could stabilize the NLRB's legal arm after the White House fired two top Trump-era lawyers in successive days. Read more from Robert Iafolla.
H-4 Plan Called a Step Toward Fixing Woes: Biden's proposal for legislation giving spouses of H-1B visa holders work authorization will alleviate a lot of the uncertainty surrounding the current state of the program, but persistent problems could harm those efforts, immigration attorneys say. Read more from Genevieve Douglas.
Union Lauds Biden Action on Slaughter Speeds: A major food workers' union praised Biden for ending a Trump-era rule that would have permanently permitted poultry producers to kill more chickens per minute. The Trump administration in its waning days had pushed to install the rule, which industry groups called safe. Read more from Michael Hirtzer.
Biden's China Policy Hinges on Xi: As Biden settles into the White House, there's been endless debate about what his China policy should, could, and will be. Yet it takes two superpowers to tango, so Xi Jinping's approach to Biden will be every bit as critical as Biden's to Xi—perhaps even more so. Any significant improvement in U.S.-China relations is impossible unless Xi is willing to dance. Read more from Michael Schuman.
Vietnamese Look to Biden to Offset China: As officials in Vietnam's Communist Party jockey for position during a twice-a-decade meeting to refresh the leadership ranks, they are largely agreeing on one thing: Closer ties with the U.S. are poised to become even more important to counter a rising China. John Boudreau, Philip Heijmans, and Nguyen Dieu Tu Uyen have more.
To contact the reporters on this story: Zachary Sherwood in Washington at zsherwood@bgov.com; Brandon Lee in Washington at blee@bgov.com
To contact the editors responsible for this story: Giuseppe Macri at gmacri@bgov.com; Loren Duggan at lduggan@bgov.com; Michaela Ross at mross@bgov.com