What to Know in Washington: Impeachment Tests Senate Incumbents
The Senate's historic impeachment trial of President Donald Trump will be especially momentous for a small group of vulnerable incumbent senators whose 2020 re-election bids are central to determining control of the chamber.
Trump is all but certain to be acquitted on two articles of impeachment since the U.S. Constitution requires 67 votes to convict. But for just over half a dozen senators locked in the closest races, and a few others whose contests could tip competitive, their votes on whether to remove him from office will trigger inevitable political fallout.
Sens. Cory Gardner (R-Colo.) and Susan Collins (R-Maine), two of the most at-risk Republican incumbents, are particularly boxed in. Both represent Democratic-leaning states where a vote to acquit Trump could spark a voter backlash in the fall. But a vote to convict would be bait for a GOP primary challenge that could damage or end their re-election campaigns. Sen. Doug Jones (D-Ala.), who hails from deep red Alabama, confronts the opposite dilemma.
"Impeachment is just one more giant hurdle they have to leap in their bids for re-election," said Jennifer Duffy, Senate editor of the nonpartisan Cook Political Report. "They must be enormously frustrated by it because they have no control over what happens, how it happens, and they have a tough decision."
In the lead up to next month's Senate trial for Trump on charges that he abused the powers of his office and obstructed Congress, Democrats have gained some ground in their drive to overturn the GOP's 53-47 advantage in the Senate.
"I'd still rather be the Republicans than the Democrats in the race for Senate control, but the targets are there for the Democrats," said Kyle Kondik, managing editor of Larry Sabato's Crystal Ball election forecast at the University of Virginia.
Democrats need a net gain of four seats to snag a Senate majority if Trump wins re-election, and three if they win the White House. The party is favored to keep House control, with Republicans needing 19 seats to take back the speaker's gavel.
For most senators, the votes on whether to convict or acquit Trump pose little risk back home. Only 35 of the 100 Senate seats are on the ballot next year, and more than two dozen of those appear unlikely to flip. Read more from Laura Litvan.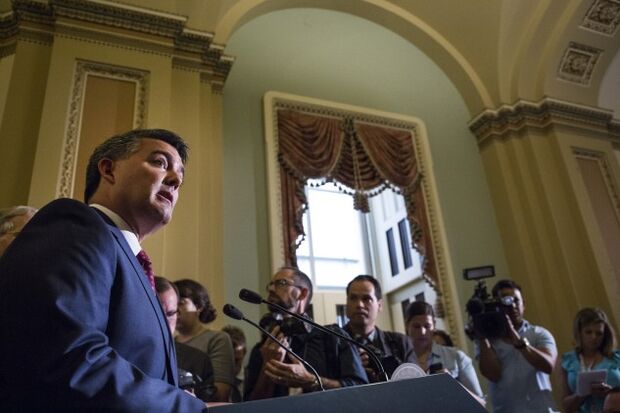 Trump Retweets Name of Alleged Whistleblower: A retweet by Trump, naming the alleged whistleblower whose complaint triggered the investigation that resulted in his impeachment, was restored to Twitter late Saturday. The post, originally from the handle @Surfermom77, was retweeted by Trump to his 68 million followers about midnight Friday and by Saturday morning was no longer visible in the president's Twitter feed. CNN first reported late Saturday that the temporary removal followed a Twitter glitch that affected certain accounts, not deliberate action to delete the tweet by Trump or someone with access to his account.
The tweet identifies an individual it says is the whistle-blower: the person who first raised the alarm about the president's conduct in his July 25 phone call with Ukrainian President Volodymyr Zelenskiy. A mystery also surrounded the @Surfermom77 Twitter handle, which by last night was wiped from the social media site.
Trump's Friday retweet was being directed to a new handle, @4Shereene4, or "Leona." Confirming the identify of the account holder is next to impossible, but the original @Surfermom77 handle shared some traits common to fake accounts. Read more from Ros Krasny and Kartikay Mehrotra.
Defense & Foreign Affairs
Pompeo Goes to Ukraine Under Impeachment Cloud: Secretary of State Michael Pompeo arrives in Ukraine this week to voice support for the embattled nation, a message muddled by Rudy Giuliani's latest visit there in search of dirt on Joe Biden and by the pending impeachment trial of Trump. Even as the top U.S. diplomat, Pompeo may struggle to convince his counterparts in Kyiv that he really runs America's Ukraine policy after he acquiesced to demands from Giuliani—and Trump—including the purging of an ambassador who resisted efforts to pressure Ukraine's new president.
Pompeo's visit will make him the highest-ranking administration official to travel to Ukraine since Trump's July call with Zelenskiy evolved into an impeachment debacle. Read more from Nick Wadhams.
U.S. Strikes Bases of Iranian-Backed Militia in Iraq: The U.S. launched air strikes on five bases in Iraq and Syria used by an Iranian-backed militia yesterday after repeated attacks on the American-led coalition operating in the region. "What we did was take a decisive response that makes clear what President Trump has said for months and months and months, which is that we will not stand for the Islamic Republic of Iran to take actions that put American men and women in jeopardy," Pompeo said yesterday in brief remarks at Trump's Mar-a-Lago resort in Palm Beach.
Rocket assaults on or near Iraqi installations that host American troops and personnel have occurred since the fall, and Pentagon officials have expressed increasing concern about Iranian involvement. An American contractor was killed in such an attack on Friday, and several U.S. service personnel were wounded. Read more from Justin Sink and Polina Noskova.
Putin Thanks Trump in Call for Anti-Terrorism Help: Russian President Vladimir Putin called Trump to thank him for intelligence that helped prevent terrorist acts in Russia, the Kremlin said in a statement. The two leaders discussed further cooperation to combat terrorism and "other issues of mutual interest," according to a Kremlin statement issued yesterday. Read more from Laura Davison.
Russia Rejects Extending Iran Arms Embargo: Russia, seeing prospects for multibillion-dollar deals, ruled out extending a United Nations-approved arms embargo on Iran that expires in October next year, despite U.S. warnings that lifting the restrictions will jeopardize global security. "We're not ready to do the bidding of our American colleagues," Deputy Foreign Minister Sergei Ryabkov told the Interfax news agency in an interview published Friday. Pompeo earlier this year warned that allowing renewed weapons sales to Iran will mean the country will be "unleashed to create new global turmoil." Read more from Henry Meyer.
Kim Weighs 'Offensive Measures' Ahead of Deadline: Kim Jong Un urged "positive and offensive measures" to bolster North Korea's security, as the Trump administration said it was watching for provocations around the regime's year-end deadline. Kim issued his call for action during an unusually large and lengthy meeting of North Korea's ruling Workers' Party, which continued behind closed doors today in Pyongyang. Trump's national security adviser, Robert O'Brien, who credited the president with persuading Kim to forego a destabilizing action during the Christmas holiday, said the administration was monitoring the situation. Read more from Jihye Lee, Steve Geimann and Susan Decker.
U.S. Denies Seeking Troop Funding Boost From South Korea: The U.S. denied a report that it's demanding South Korea pay as much as 20% more to host American troops, as funding talks between the two nations continue. The 10%-20% figure referred to in Korean media is "ungrounded speculation," a Trump administration official said by email. U.S. negotiators will seek a "fair and equitable" outcome at the next round of talks in early January, the official said. Read more from Kanga Kong.
Families of Afghan War Dead Say Contractors Bribed Taliban: Families of almost 150 U.S. service members and civilians who were killed or wounded in terror attacks in Afghanistan sued a group of Western contractors involved in the nation's reconstruction for allegedly bribing the Taliban for protection for years. The alleged payments ultimately helped finance a Taliban-led insurgency that led to the attacks in Afghanistan between 2009 and 2017, according to a lawsuit filed Friday in federal court in Washington. The suit seeks unspecified damages for the families under the Anti-Terrorism Act. Read more from Erik Larson.
Meanwhile today, the Taliban claimed responsibility for an attack that killed at least 14 Afghan soldiers, diminishing hopes for a nationwide ceasefire proposed by the U.S. The insurgents attacked a checkpoint in the northern Jawzjan province, the province's spokesman Abdul Marouf Azar said. Five soldiers were wounded and two are missing, he said. Read more from Eltaf Najafizada.
People & Politics
Lewis Diagnosed With Pancreatic Cancer: Rep. John Lewis (D-Ga.), the civil rights icon and most senior black lawmaker in Congress, said he's been diagnosed with Stage IV pancreatic cancer. "I have been in some kind of fight –- for freedom, equality, basic human rights — for nearly my entire life," he said in a statement yesterday. "I have never faced a fight quite like the one I have now."
Lewis, 79, was among the marchers on the Edmund Pettus Bridge in Selma, Ala., in 1965 where he suffered a skull fracture at the hands of Alabama police wielding billy clubs in what became known as "Bloody Sunday." He was first elected to Congress in 1986 to represent an Atlanta-based district. President Barack Obama awarded Lewis the Presidential Medal of Freedom in 2011.
Lewis said he'll return to Washington in the coming days to begin treatment, adding that he "may miss a few votes during this period, but with God's grace I will be back on the front lines soon." Read more from Derek Wallbank.
Biden Clarifies Position on Impeachment Trial: Former Vice President Joe Biden clarified his position on a suggestion he wouldn't comply with a potential subpoena to testify at Trump's impeachment trial in the Senate. "I have always complied with a lawful order and in my eight years as VP, my office — unlike Donald Trump and Mike Pence — cooperated with legitimate congressional oversight requests," Biden said in a Facebook post on Saturday, which was also issued as a series of tweets. There's no legal basis for Republican subpoenas that would compel his testimony at the impeachment trial, said the 2020 presidential hopeful, who's campaigning in Iowa. Read more from Ros Krasny.
Warren Fundraising Dips Amid Buttigieg Dispute: Only a little more than a week after Sen. Elizabeth Warren (D-Mass.) boasted about her grassroots fundraising at a Democratic debate, her campaign admitted it is falling short. In an email to supporters, the Warren campaign said on Friday it has raised less money than in the previous quarter. "So far this quarter, we've raised a little over $17 million. That's a good chunk behind where we were at this time last quarter," the email said, according to CNBC. If that holds, it would be about a 30% drop from her third-quarter total of roughly $25 million. Read more from Ryan Teague Beckwith.
McGrath Files to Challenge McConnell: Democrat Amy McGrath has filed to challenge Senate Majority Leader Mitch McConnell (R-Ky.) in Kentucky next year, the Associated Press reports. McGrath, a former Marine fighter pilot who narrowly lost a House race in 2018, had said she planned to challenge McConnell. In an interview with AP, McGrath said the recent Democratic victory in the Kentucky governor's race "gives us momentum because it shows that against an unpopular Republican incumbent, a Democrat can win."
Spotify to Eliminate Political Advertising: Spotify Technology will stop selling U.S. political advertising in early 2020, following Twitter's lead in steering clear of a contentious election cycle. The move will apply to Spotify's ad-supported service, as well as its original and exclusive podcasts, the company said on Friday. The music-streaming service never sold political ads in other countries, so the change only affects the U.S. Spotify is describing the move as a "pause" and may resume the ads in the future. Read more from Nick Turner.
(Michael Bloomberg also is seeking the Democratic presidential nomination. Bloomberg is the majority owner of Bloomberg Government's parent company.)
What Else to Know Today
Federal Workers in D.C. Area Will Get 3.52% Raise: Pay increases for federal workers in 2020 will range from a high of 3.52% for those in the Washington-Baltimore "locality pay area" to a low of 2.85% for employees not in a designated pay area, under an executive order from Trump. Pay tables posted by the Office of Personnel Management show how the government will implement the president's Dec. 26 order, which calls for a 3.1% average increase for federal workers to be divided into a 2.6% across-the-board pay raise for all eligible workers and a 0.5% average "locality" increase that will vary from place to place. The pay increases will take effect in early January. Read more from Louis C. LaBrecque.
Agencies Will Define 'Habitat' Under Endangered Species Act: The Trump administration will write a rule that defines "habitat" under the Endangered Species Act, prompting conservationists to worry that officials will use the definition to de-fang one of the nation's most powerful environmental laws. The Office of Management and Budget is targeting May as a possible date to publish a U.S. Fish and Wildlife Service and National Marine Fisheries Service regulations revision that will define the term. Congress never defined "habitat" when it passed the Endangered Species Act in 1973. Read more from Bobby Magill.
Ad Tech Companies Seek to Avoid California Privacy Requests: Google, Facebook, and other tech advertising companies are seeking to avoid a new California requirement that they stop selling consumers' data upon request. The companies through their trade groups asked California Attorney General Xavier Becerra (D) to treat some of their business units as service providers, which would exempt them from the requirement, in rules for enforcing the California Consumer Privacy Act. Service providers, which process data on behalf of businesses, are exempt because they don't sell consumer information. The ad tech sector views itself "as one big neutral service provider," said Adam Schwartz, senior staff attorney at the nonprofit Electronic Frontier Foundation, which opposes such an exemption for the companies. Read more from Daniel R. Stoller.
Cuomo Calls Hanukkah Stabbing Attack 'Domestic Terrorism': New York Gov. Andrew Cuomo (D) called a multiple stabbing during Hanukkah celebrations on Saturday night "an act of domestic terrorism," and Trump urged the nation to unite against antisemitism. The attack, which Cuomo said was one of about 13 antisemitic incidents in the past few weeks, took place in Monsey, a suburban hamlet in Rockland County, north of New York City. "I believe the situation has gotten so bad, frankly, that we need to increase our legal enforcement," Cuomo said yesterday during a televised press briefing. Read more from Eric Newcomer.
To contact the reporter on this story: Zachary Sherwood in Washington at zsherwood@bgov.com
To contact the editors responsible for this story: Brandon Lee at blee@bgov.com; Loren Duggan at lduggan@bgov.com