What to Know in Washington: Impeachment Tests McConnell-Trump
President Donald Trump's showman instincts will be running up against Mitch McConnell's cautious management of the Senate as the two men with the most important relationship in Washington negotiate the terms of a high-stakes, election-year impeachment trial.
Trump is accustomed to acting as his own chief strategist and spokesman. But the Senate is McConnell's domain. As he plots out Trump's impeachment trial, the majority leader is using his leverage to nudge a president — who typically bends the Republican Party to his will — toward bringing the process to a swift conclusion.
An impeachment trial is all but certain to open in the Senate in January. The House Judiciary Committee is scheduled to vote on two articles of impeachment this morning. The full House is tentatively set to hold a historic vote next Wednesday charging Trump with abuse of power and obstruction of Congress.
Trump has expressed a desire for a lengthy impeachment trial with multiple witnesses who could air out his own narrative about election interference and Democratic corruption.
"It's up to the Senate to decide how they move forward with some of this, but the president has also been clear: he wants witnesses out there because he wants his side of the story told," White House spokesman Hogan Gidley said yesterday on Fox News. "They didn't allow us to do this on the House side."
Senate Republicans, however, are increasingly warming to the idea of a short, tightly orchestrated trial without calling witnesses to avoid unleashing an unpredictable circus that could tie up the chamber for weeks or months, even though the outcome — Trump's eventual acquittal — isn't really in doubt.
That leaves it to McConnell to thread the needle, and he met yesterday with two top White House officials to hash out how that will be done. Read more from Steven T. Dennis and Laura Litvan.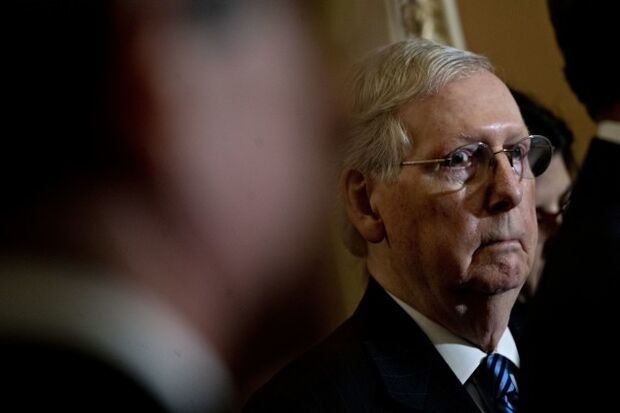 White House Taps Cipollone as Senate Lawyer: White House Counsel Pat Cipollone will argue on behalf of Trump during a Senate impeachment trial, Billy House and Jordan Fabian report, citing a person familiar with the matter. The person, who spoke on condition of anonymity since the decision had not yet been made public, said the choice was made yesterday. It's not clear if Cipollone will act as sole counsel or as part of a group of lawyers.
Judiciary Pushes Vote to Today: The House Judiciary Committee plowed ahead with articles of impeachment against Trump, despite objections and amendments from the panel's Republican members, setting up a final vote this morning. The hearing began yesterday with the reading of the two charges against the president — abuse of power and obstruction of Congress — and quickly turned to Republican complaints about the impeachment process.
After hours of bitter and heated debate, the tension boiled over late last night when Chairman Jerrold Nadler (D-N.Y.) unexpectedly announced he was delaying the panel's final votes until 10 a.m. the next morning. Read more from Billy House.
Happening on the Hill
Next Week's House Agenda: The impeachment vote by the full House is tentatively planned for Wednesday, Erik Wasson reports, citing a Democratic leadership aide. The impeachment vote would come a day after the House votes on bipartisan spending bills, while the House tentatively would vote next Thursday on the U.S.-Mexico-Canada trade agreement, the aide said. The House will also vote on a bill that will raise the $10,000 state and local tax, or SALT, deduction cap for 2019, and repeal the limit entirely for 2020 and 2021. The House Rules Committee will consider the bill on Monday, teeing it up for a vote later in the week, according to a press release.
Spending Deal: Lawmakers from the House and Senate reached a bipartisan deal to fund the government before the Dec. 20 spending deadline, according to House Appropriations Chairwoman Nita Lowey (D-N.Y.). The $1.3 trillion deal in principle follows weeks of negotiations between the Democratic-led House, the Republican-led Senate and the Trump administration. Lowey was accompanied by her Republican and Senate counterparts when she told reporters yesterday that they have an agreement on all 12 spending bills needed to fully fund the government for the rest of the fiscal year. The White House has yet to sign off on the agreement.
Congress will have eight days to pass the measures through both chambers and get them to Trump's desk. The bills are likely to be introduced Monday, according to a person familiar with the deal. Read more from Jack Fitzpatrick and Erik Wasson.
Lawmakers Urge Sanctions Over China's Actions in Xinjiang: A bipartisan group of lawmakers sent a letter to Secretary of State Mike Pompeo, Treasury Secretary Steven Mnuchin and Commerce Secretary Wilbur Ross urging the Trump administration to "respond strongly and decisively" over China's oppression of its Uighur population. Lawmakers requested the administration impose sanctions on senior leaders who have "had a role in setting and implementing China's ethnic and religious policies," according to a letter dated yesterday, Ben Livesey reports.
Defense & Foreign Affairs
Trump Approves U.S.-China Trade Deal: Trump signed off on a phase-one trade deal with China, averting the Dec. 15 introduction of a new wave of U.S. tariffs on about $160 billion of consumer goods from the Asian nation, according to people familiar with the matter. The deal presented to Trump by trade advisers yesterday included a promise by the Chinese to buy more U.S. agricultural goods, according to the people. Officials also discussed possible reductions of existing duties on Chinese products, they said. The terms have been agreed but the legal text has not yet been finalized, the people said. A White House spokesperson declined to comment. Read more from Jenny Leonard, Jennifer Jacobs, Shawn Donnan and Saleha Mohsin.
Trump Congratulates U.K.'s Johnson on Win: The U.K. and U.S. "will now be free to strike a massive new trade deal after Brexit," Trump said in a tweet on news that Boris Johnson won an emphatic election victory. "Deal has the potential to be far bigger and more lucrative than any deal that could be made with the EU."
Johnson's win redraws the political map of Britain and gives the prime minister the mandate he needs to pull the U.K. out of the European Union next month. The result spectacularly vindicated Johnson's gamble on a snap election to break the deadlock in Parliament over Brexit, as his Conservatives were set for their biggest majority since 1987 under Margaret Thatcher. Tim Ross, Alex Morales and Greg Ritchie have the latest from London.
Mexico's Senate Passes USMCA Changes: Mexico's Senate passed changes to a new NAFTA replacement free-trade deal with the U.S. and Canada after the governments of the three nations completed months of negotiations. The Senate voted 107 to 1 to approve the changes. It only needed to debate the latest adjustments, because the original agreement was ratified 114 to 4 in June, with broad support from President Andres Manuel Lopez Obrador's Morena party and the next two biggest blocs.
The move makes Mexico the first country to approve the revised deal with stronger labor protections announced on Tuesday by Speaker Nancy Pelosi (D-Calif.) and backed by the largest American labor federation. Read more from Eric Martin.
U.S. to Release $115 Million in Aid for Lebanon: Secretary of State Michael Pompeo personally intervened yesterday to order the release of about $115 million in economic aid to Lebanon that had been quietly held up for a month, the latest skirmish over delays that became an issue in the Ukraine impeachment inquiry, four people familiar with the matter said. The hold on the Economic Support Funds, which had not been previously reported, was imposed by Bonnie Glick, the deputy administrator at the U.S. Agency for International Development, after deliberations with Deputy National Security Adviser Victoria Coates and hard-liners in Congress, the people said. Pompeo called Glick yesterday and told her to release the money, they said. Read more from Nick Wadhams and Jennifer Jacobs.
Brazil to Rethink Relations With U.S.: Brazilian President Jair Bolsonaro was "naive" to align fully with the U.S. and should change course, the head of the powerful agribusiness caucus in Brazilian Congress said. Alceu Moreira, a Bolsonaro ally and the president of the Parliamentary Agriculture Front, said two developments have prompted a review of Brazilian foreign policy: The continuation of a U.S. ban on Brazilian raw meat; as well as Trump's decision to prioritize Argentina's bid to join the Organisation for Economic Co-operation and Development after publicly endorsing Brazil's membership. Read more from Samy Adghirni and Simone Iglesias.
Army's Secret Flights Over Washington Continue: The U.S. Army has made permanent a classified aviation mission over Washington and disclosed that it's aimed at responding to a terrorist attack or natural disaster. The mysterious operation — which generated complaints from local residents for excess noise at night — was mentioned in a Pentagon request to Congress in July asking for approval to shift fiscal 2019 funds to different purposes. The request included providing $1.55 million for aircraft maintenance, air crews and travel in support of an "emerging classified flight mission." Read more from Tony Capaccio.
What Else to Know
Court Poised to Act on Trump Bid to Shield Records: The U.S. Supreme Court is poised to make a decision as soon as today that could add an explosive new dynamic to the impeachment fight between House Democrats and Trump. The justices are scheduled to meet privately and could decide whether to consider Trump's effort to keep his financial documents out of the hands of Congress and a New York prosecutor. In the coming days, the court could schedule a landmark constitutional showdown for early next year — or force the quick turnover of documents Trump has fought for years to shield. Read more from Greg Stohr.
Trump Doesn't Think Emoluments Clause Is Phony: Though Trump called the U.S. Constitution's emoluments clauses "phony" in October, a Justice Department lawyer tried to reassure a federal appeals court that the president doesn't really believe that. "No one is denying the clauses exist or that they're important," department lawyer Hashim Mooppan said yesterday at arguments before a 15-judge appellate panel in Richmond, Va., that is considering one of three lawsuits accusing Trump of flouting the constitution's prohibition on presidents receiving things of value, or emoluments, from foreign governments. The judges, who heard nearly three hours of arguments, seemed divided on the issue of whether Trump can be sued over his ownership of properties including a D.C. hotel that has been patronized by the governments of Saudi Arabia and Kuwait, among others. Read more from Andrew Harris.
FTC Eyes Suit to Block Facebook Plan: U.S. antitrust enforcers are considering going to court to stop Facebook's plan to merge technology systems so that users can communicate across the company's apps, according to a person familiar with the matter. The Federal Trade Commission is studying whether to seek a court order to block the company's effort to enable messaging among users of WhatsApp, Instagram and Facebook Messenger, said the person, who declined to be named because the investigation is confidential. Read more from David McLaughlin and Ben Brody.
NRA Blocks Law Requiring Contractors to Reveal Ties: The National Rifle Association blocked a Los Angeles law that requires city contractors to disclose any business ties with the gun rights organization, with a judge ruling the ordinance may violate the group's free speech rights. U.S. District Judge Stephen Wilson in Los Angeles on Wednesday granted the NRA's request for a preliminary injunction that prevents the city from enforcing the ordinance until it's determined at trial whether it's legal. Read more from Edvard Pettersson.
McDonald's Gets Win Under Trump: The national board that referees union-organizing drives effectively absolved McDonalds of liability for alleged labor-law violations in some of its franchisees' restaurants, easing a major threat to the fast-food giant's business structure. Trump's appointees overrode an agency judge and rebuffed ethical concerns raised by labor advocates to approve a group of settlements in the matter on a 2-1 decision. The deal resolves allegations of wrongdoing without holding the corporation legally liable as "joint employer" with its franchisees. The victory, which eluded McDonald's during Obama's presidency, could help the fast-food giant close a bruising chapter in its history that imperiled its valuable brand as well as the franchise structure it's built on. Read more from Lauren Etter, Josh Eidelson, Hassan Kanu and Michael Smith.
South Carolina Can Cancel Its Presidential Primary: South Carolina's Republican Party can cancel its 2020 presidential primary, a judge ruled, making for one less hurdle in Trump's bid for reelection next year. The party's executive committee voted 43-1 in September to forgo the nomination contest, known for being the earliest in the southern U.S., saying the move would save South Carolina taxpayers more than $1.2 million. But a former U.S. congressman and a state business sued to force an election, saying state law requires the party to hold a primary. Read more from Chris Dolmetsch.
To contact the reporter on this story: Zachary Sherwood in Washington at zsherwood@bgov.com
To contact the editors responsible for this story: Giuseppe Macri at gmacri@bgov.com; Loren Duggan at lduggan@bgov.com