What to Know in Washington: Impeachment Shifts to Senate
The Senate will convene a formal impeachment trial of President Donald Trump early next year in a bitter and divisive climate where there's only one thing both parties agree on: keeping the proceedings relatively brief.
After yesterday's House vote to impeach Trump on two counts of wrongdoing, the third impeachment trial in Senate history is all but assured to end with an acquittal that will leave the president in office.
But it will still be a dramatic political moment for both the president and the Democratic party to begin an election year with the biggest possible stage for Trump to formally present his defense.
So far, Trump has said he's willing to go along with Senate Majority Leader Mitch McConnell's (R-Ky.) plans for a short trial, but the president remains a wild card. He has repeatedly said he'd like to call his own witnesses and see his party mount a full-scale exoneration of him.
The trial could last for as little as two weeks, barring unexpected revelations or other drama. McConnell plans to block new witnesses sought by Democrats and he will keep nudging Trump to limit his defense on the way to his expected acquittal. On the eve of the House vote, McConnell declared he won't be an "impartial juror," even though he and the other 99 senators will swear at the start of the trial to deliver "impartial" justice.
The trial will also be the last chance for House impeachment managers to convince the American people that Trump betrayed his oath of office in his dealings with Ukraine. However, Speaker Nancy Pelosi (D-Calif.) said after the House voted last night that she was holding back for now on taking a step that would initiate the trial.
"We cannot name managers until we see what the process is on the Senate side," Pelosi said after the House votes. "This is a serious matter, even though the majority leader in the United States Senate says it's OK for the foreman of the jury to be in cahoots with the lawyers of the accused. That doesn't sound right to us." Read more from Steven T. Dennis and Laura Litvan.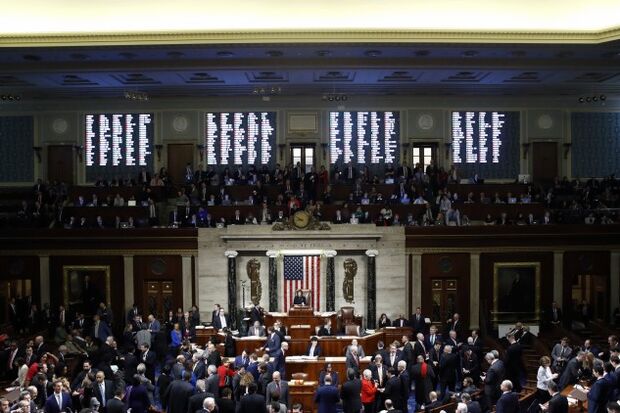 What to Know About the Senate Trial: The rules the constitution lays down are spare: The Senate will hold a trial. The senators will take an oath or affirmation beforehand. Supreme Court Chief Justice John Roberts will preside over the trial. And it takes a two-thirds vote to convict. Senate leaders have built out a set of rules over the course of 19 impeachments of presidents, judges and other federal officials conducted from 1798 through 2010. But those 26 guidelines aren't set in stone — and anything can be changed with 51 votes. As the Senate moves forward, Ryan Teague Beckwith explains key decisions to be made about the trial.
Happening on the Hill
Spending Bills Head for Senate Vote: The Senate is set to vote on the fiscal 2020 spending package, and senators are optimistic about passage of the House-passed bills that would fund the government for the rest of the year and avert a partial shutdown.
Senators expect to have enough votes to pass the measures, though the exact vote count isn't clear, Senate Appropriations Chairman Richard Shelby (R-Ala.) and Vice Chairman Patrick Leahy (D-Vt.) told reporters yesterday, Jack Fitzpatrick reports. "I think it's safe to say the vote will not be close," Leahy said.
White House Legislative Director Eric Ueland said Trump will sign the measures into law, saying both appropriations packages have important priorities for Trump. Adviser Kellyanne Conway has also said Trump is "poised" to sign the bills. "There is much in these appropriations bills that he supports, that reflects his agenda that he's worked on all year," Ueland told reporters yesterday.
Generic Drug Groups Criticize Spending Bill: Groups advocating for easier development of generic drugs say the government spending bill making its way to Trump's desk this week is a giveaway to name-brand drugmakers. A provision in the spending bill would expand the definition of a biologic drug to include "chemically synthesized polypeptides," drugs such as Novo Nordisk's Victoza. Groups like Public Citizen and the Association for Accessible Medicines warned yesterday it gives these drugs the 12-year exclusivity period for biologic drugs, not the five-year of exclusivity granted to small-molecule drugs. Read more from Alex Ruoff.
Grassley Eyes Vehicle for Drug Bill: Senate Finance Chairman Chuck Grassley (R-Iowa) is ready to defy McConnell to advance a bill to lower prescription drug prices. He indicated that he expects more members to sign on as the 2020 election nears and Republicans seeking re-election hear from voters worried about health care costs. Grassley said he's eyeing the May 2020 deadline created by the spending package for funding extensions for federal health-related programs as a chance to pass his drug pricing package. Read more from Laura Litvan.
House to Vote on Local Taxes, Trump Threatens Veto: The House will vote today on legislation that would suspend a $10,000 limit on the amount of state and local taxes that can be deducted on federal returns. The bill offers a short-term fix for what Democrats see as one of the most politically motivated portions of the Republicans' 2017 tax law. The White House yesterday threatened a veto of the bill. "This legislation would unfairly force all federal taxpayers to subsidize a tax break for the wealthy, as well as excessive government spending by fiscally irresponsible states," the White House said in a statement.
Crapo Opposes Pot Banking Bill: Senate Banking Chairman Mike Crapo (R-Idaho) has come out strongly against bipartisan House legislation intended to clarify banking regulations for the cannabis and hemp industries. Crapo said he has "significant concerns" about the SAFE Banking Act and was inviting public input on how to address some of those concerns, according to a statement yesterday, in which he cited concerns over marijuana's "potency" and potential "marketing tactics to children." Read more from Lydia Beyoud.
Bipartisan Privacy Draft Unveiled: A top House panel unveiled long-awaited draft privacy legislation that calls for limits on sharing consumers' information and would allow users to correct their personal data. The draft, which also calls for the Federal Trade Commission to establish a new privacy bureau, could become the basis for the country's first federal privacy law—though until it's adopted, a strict California rule, which takes effect Jan. 1, could become the de facto national standard. Read more from Ben Brody and Rebecca Kern.
Subpoena for Border Docs: Acting Homeland Security Secretary Chad Wolf missed a Dec. 11 deadline to submit border security documents requested by the Homeland Security Committee. Yesterday, panel Chairman Bennie G. Thompson (D-Miss.), and ranking member Mike Rogers (R-Ala.) sent a letter to Wolf. "This is unacceptable," they wrote. "You are required to produce the responsive documents, which are essential to the Committee's oversight of the Department's border security activities, including the treatment of children in custody, the separation of families, and metering of individuals at ports of entry."
Elections & Politics
Trump Tries to Turn Impeachment to His Advantage: Trump will be the first impeached U.S. president to seek re-election in more than 150 years, and he's betting that voters in key swing states will view his rebuke at the hands of House Democrats as a rallying cry. Recent national polls have shown weakening support for Trump's removal from office, and in states including Wisconsin, Michigan and Pennsylvania, data and interviews suggest the picture is even brighter for the incumbent president.
In a campaign rally last night as the House voted, Trump previewed how he'll handle his impeachment in the coming months. He spent more than two hours extolling his administration's achievements and said Democrats showed "deep hatred and disdain for the American voter" and would pay for it in the election. "This lawless, partisan impeachment is a political suicide march for the Democratic party," Trump told supporters in Battle Creek, Mich., a Republican stronghold that helped him win the traditionally Democratic state in 2016. Read more from Mario Parker.
Meanwhile, nearly every one of the nearly three dozen Democrats who represent districts Trump won in 2016 voted to impeach him — and many acknowledged they could be thrown out of office next November because of it. Heading into the vote, some Democrats had spoken of pursuing a milder censure vote, or perhaps even casting a no vote on impeachment. In the end, 28 of the 31 stood with their fellow Democrats on both articles of impeachment, a statement on the potency of partisan unity in Washington even as their votes risked making them look out of step with voters at home. Read more from Erik Wasson.
Senate Trial Could be Boon for Biden: The Senate impeachment trial could turn out to be a meaningful factor in the presidential election—not because of its effect on Trump, but because of the wrench it throws into the Democratic primaries.
The trial will tie up five Democratic hopefuls, including two of the front-runners, Sens. Bernie Sanders (I-Vt.) and Elizabeth Warren (D-Mass.), going into Iowa's first-in-the-nation caucus on Feb. 3. All the Democratic candidates agree that Trump should be removed from office, so that question on its own doesn't divide the field. But the obligation to attend the Senate trial means a good number of the candidates will be absent from Iowa in the critical weeks before the caucus—at least during the workweek—when they'd rather be making their closing pitch. That could be a particular setback for Sen. Amy Klobuchar (D-Minn.), who's recently been gaining momentum. Meanwhile, Joe Biden, Pete Buttigieg, and other non-senators will have the state to themselves while their rivals are stuck on Capitol Hill. Read more from Joshua Green.
2020 Democrats to Spar in Last 2019 Debate: Democratic presidential candidates take the stage tonight for the sixth debate of the nomination race. The candidates fighting to face Trump next year are unlikely to do more than nod toward the historical importance of yesterday's impeachment vote and instead focus on policies that are sharply dividing Democrats, including health care and taxes.
Seven contenders will gather for the three-hour debate in Los Angeles at 8 p.m. Eastern time, a far smaller contingent than previous encounters, giving the increasingly aggressive top-tier candidates more time to air their differences. Jennifer Epstein previews what to watch for.
Rep. Mark Meadows, Trump Ally, Won't Seek Reelection: Representative Mark Meadows (R-N.C.), one of Trump's staunchest allies in the House, won't seek reelection, his office confirmed today. Meadows, whose retirement was first reported by Politico, told the publication he may even leave Congress before his current term expires.
"At this point, I plan to serve the people of western North Carolina until it's decided that I can best serve the president and the American people in a different capacity," he told the Capitol Hill newspaper. "And so while there's no immediate plans, there's certainly discussions that have occurred and potentially could occur in the future." Meadows, a co-founder of the hard-line conservative House Freedom Caucus, was a thorn in the side of his own party's leadership before Trump came to office, including in 2015 seeking the resignation of his fellow Republican John Boehner as speaker. Read more from Derek Wallbank and Erik Wasson.
Around the Administration
ACA Challenge Sent Back to Hostile Judge for Review: A federal appeals court hearing a multi-state challenge to Obamacare sent the case back to the Texas trial judge who ruled earlier that the law was illegal. A divided three-judge panel concluded the individual mandate in the Affordable Care Act is unconstitutional because it can no longer be read as a tax and directed the Texas judge to decide whether that means the entire law must fall. The verdict means final resolution on the law's fate likely won't come before the 2020 elections. Laurel Calkins and Lydia Wheeler have more.
Trump Called Boeing's CEO on Max: Trump called Boeing to ask CEO Dennis Muilenburg about the company's health, the day before the planemaker said it would suspend production of the grounded 737 Max, a person familiar with the matter said. Muilenburg assured Trump that any potential stoppage would be temporary and there would be no layoffs, the person said, who asked not to be identified. Trump expressed concern about the health of the company on the call, which lasted 10 minutes, and whether Muilenburg was doing well, the person said. Read more from Julie Johnsson and Kyunghee Park.
Return to Space Faces Biggest Test for Boeing: NASA's effort to resume flying American astronauts on American spacecraft—something that hasn't happened since the Space Shuttle program ended in 2011—faces a major test this weekend. Over the past decade, a lot of attention has been paid to billionaire space entrepreneurs like Elon Musk. His company, SpaceX, has been launching payloads into low Earth orbit for years, replete with balletic booster landings and even a space going Tesla Roadster. But as far as humans are concerned, the U.S. has been dependent on its chief geopolitical rival—Russia—to provide billions of dollars worth of taxi rides to the International Space Station. Read more from Justin Bachman.
Mexicans Are Dubious Trade Deal Will Boost Wages: On paper, Mexican workers should be big winners from the new NAFTA. They're not holding their breath. Stronger unions and higher pay south of the U.S. border are a key part of the revamped trade deal, which the House is due to vote on today. The measures are supposed to bring knock-on benefits for the U.S. and Canada too — by eating into a wage gap that's lured factories and jobs away. The worry is that any new rules in Mexico will largely remain on paper. Mexican workers themselves, who watched their pay fall even further behind during a quarter-century of the North American Free Trade Agreement, say there's reason to doubt if its successor will be much different. Read more from Justin Villamil.
To contact the reporters on this story: Zachary Sherwood in Washington at zsherwood@bgov.com; Brandon Lee in Washington at blee@bgov.com
To contact the editors responsible for this story: Giuseppe Macri at gmacri@bgov.com; Loren Duggan at lduggan@bgov.com