What to Know in Washington: Impeachment Reaches Decision Stage
House Democrats are starting to compress weeks of depositions, documents and testimony into a report almost certain to result in articles of impeachment against President Donald Trump, as the White House wages a campaign to discredit the investigation.
Intelligence Chairman Adam Schiff (D-Calif.) won't rule out more witnesses or other avenues of investigation beyond a central focus: whether Trump tried to use his office to force Ukraine into announcing a politically motivated probe.
"The investigation isn't going to end," Schiff said yesterday on CNN's "State of the Union." Yet he acknowledged that "there is a sense of urgency" to quickly draft a report for the Judiciary Committee — which would begin any formal impeachment — so that the whole process can be wrapped up before 2020 campaigns begin in earnest.
A court case and a continued steady drip of other documents and emails that have emerged over the past week may make it difficult for Schiff and Democrats to meet a goal of sending an impeachment case to the Senate for trail at the start of the new year.
The two weeks of public hearings provided new evidence linking Trump and senior administration officials to investigations of Joe Biden and the 2016 election they pushed Ukrainian leaders to announce in exchange for a White House meeting and security assistance. The 12 career diplomats, civil servants and political appointees who testified also detailed the back-channel diplomacy led by Rudy Giuliani, Trump's personal lawyer, which undermined long-held U.S. foreign policy objectives.
Testimony and documents unearthed so far could be the foundation of at least three articles of impeachment, including bribery, abuse of power, and obstruction of Congress, according to officials familiar with Intelligence Committee plans. Other potential articles, such as possible witness tampering, have not been ruled out. Read more from Billy House.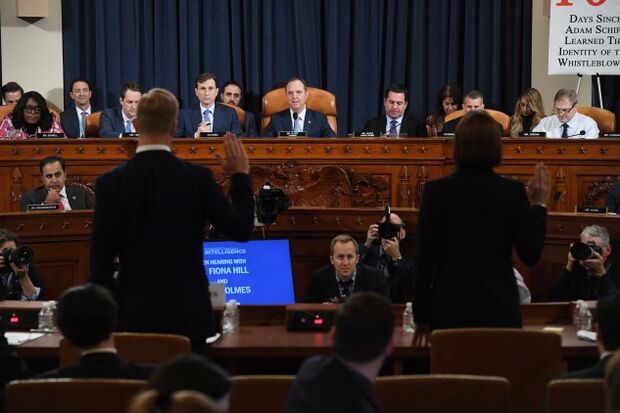 Nunes Pushes Back: Meanwhile, Intelligence Committee ranking member Devin Nunes (R-Calif.) lashed out at the media yesterday as he faced criticism and a potential ethics probe for his alleged role in helping Trump dig up dirt on Joe Biden. "It's not OK to work with someone who's been indicted, to build a media narrative to try to dirty up the people who are doing the work on behalf of the American people," Nunes told Fox News. Lev Parnas, who worked with Trump attorney Rudy Giuliani to push claims of Democratic corruption in Ukraine, is prepared to testify under oath that Nunes, one of Trump's loudest defenders in Congress, participated in meetings in Europe focused on Biden, the Ukrainian-born American's lawyer told CNN on Friday. Read more from Ros Krasny and Hailey Waller.
Giuliani Touts Biden Documents: Rudy Giuliani suggested on Twitter that he has dirt on the Biden family that would be released were he to get into trouble. Giuliani, Trump's personal lawyer, also described as "sarcastic" a statement he made recently about having "an insurance policy" should he fall out of favor with the president. That followed an interview with Fox News during which he was asked whether Trump might soon conclude that Giuliani is a liability, and throw him "under the bus." Giuliani said: "This is ridiculous. We are very good friends. He knows what I did was in order to defend him, not to dig up dirt on Biden." Read more from Ros Krasny.
Watchdog Sees No FBI Bias: FBI surveillance of a former campaign adviser to then-candidate Trump in 2016 was marred by bureaucratic mistakes but wasn't illegal or driven by bias within the bureau's leadership, people familiar with the findings of an internal probe said. Federal Bureau of Investigation officials made some sloppy, but relatively minor errors when it came to seeking court approval for a surveillance warrant against former Trump adviser Carter Page. The issues cited included one lower-level lawyer who altered an email related to the warrant application, according to the people. Read more from Chris Strohm and Billy House.
Elections & Politics
Bloomberg Takes Untested Path to 2020: Former New York Mayor Michael Bloomberg's late entry into the presidential race highlights the deep philosophical divide animating the Democratic contest – putting his experience, his reputation and his fortune behind the argument that a pragmatic centrist pledging competent government is what's needed to take down an unconventional president. With no clear front-runner in the Democratic race so far, Bloomberg says he wants to fill this vacuum by offering primary voters a credible alternative – and a clear choice to go down a path of moderate views on taxes and health care, at a time there's concern in the party that advocating policies deemed too far left will only ensure Trump's re-election.
The question Bloomberg will face is whether a 77-year-old billionaire and former Republican is the right candidate to carry that message as the Democratic nominee. Bloomberg has added another layer of complications, saying he doesn't plan to compete in the early nominating contests like Iowa and New Hampshire and will focus on delegate-rich California and other states voting on the March 3 Super Tuesday contests and beyond. Mark Niquette has more. Bloomberg is the majority owner of Bloomberg Government's parent company.
Trump Makes Florida Center of Campaign: Trump is preparing to pour hundreds of millions of dollars into Florida for his 2020 campaign after changes in demographics and voting laws put the linchpin swing state up for grabs. Democrats have made potentially major inroads since Trump won the state handily in 2016. They pushed through an amendment to the state's constitution restoring the right to vote for more than 1 million convicted felons. And as many as 40,000 Puerto Ricans migrated to Florida after Hurricane Maria — a disaster that all but shattered Trump's standing with the island's residents because of the botched government response. But if Democrats want to flip Florida's 29 electoral votes to their column in 2020, Trump and the Republican Party plan to make them pay dearly. Read more from Mario Parker and Bill Allison.
Yang Pushes MSNBC Boycott: Angered by what he said were repeated snubs by MSNBC during Wednesday night's Democratic debate in Atlanta, candidate Andrew Yang struck back on Twitter, and soon had the #BoycottMSNBC hashtag trending among his fans. In a series of posts, the entrepreneur accused the network of repeatedly omitting him from debate graphics, calling him by the wrong name, and giving him less speaking time than was afforded to other, lower-polling Democrats. Read more from Ros Krasny.
Vilsack Endorses Biden: Former Iowa Gov. Tom Vilsack and his wife, Christie, endorsed Biden on Saturday, providing him key support as he has seen his poll numbers in the first caucus state slip. Vilsack was agriculture secretary during both terms of the Obama administration. He and his wife joined Biden and his wife, Jill, at a campaign event in Des Moines on Saturday. Read more from Tyler Pager.
Lewandowski Continues to Tease Run: Corey Lewandowski, former campaign manager for Trump, said Saturday he's still considering a run for the U.S. Senate from New Hampshire, and taunted one of his potential Republican opponents. The lobbyist and political operative tweeted that he's "seriously thinking of running for the US Senate" and in a tweet declared himself the "only candidate" who could defeat Sen. Jeanne Shaheen (D-N.H.). "Let's send help to the President" as Trump faces impeachment in the House, Lewandowski added. Read more from Sahil Kapur.
Defense & Foreign Affairs
Esper Ousts Navy Secretary: Defense Secretary Mark Esper asked and received the resignation of Navy Secretary Richard Spencer yesterday over his handling of the case of a Navy SEAL accused of war crimes in Iraq that angered Trump. "I was not pleased with the way that Navy Seal Eddie Gallagher's trial was handled by the Navy," Trump said in a series of tweets after Spencer's ouster was announced by the Pentagon. Trump confirmed that Kenneth Braithwaite, the U.S. Ambassador to Norway since 2018, will be nominated as his replacement. Esper acted after learning Spencer had approached White House officials privately about the case of Chief Petty Officer Edward Gallagher. The request was first reported by the Washington Post. Read more from Ros Krasny and Andrew Kostic.
Pence Makes Iraq Visit: Vice President Mike Pence made an unannounced visit to Iraq Saturday, where he met the president of the country's semi-autonomous Kurdistan region to reassure the longtime allies who fought in the U.S.-led campaign against Islamic State. In Erbil, capital of the Kurdistan region, the vice president said the U.S. hopes to keep a strong relationship with the Kurds that was shaken by Trump's decision to withdraw forces from northeastern Syria last month. Read more from Jordan Fabian.
Turkey Begins Testing Missile Radars: Turkey will test a component of its newly acquired Russian air defense system, a step that risks escalating a dispute with the U.S. and touching off possible sanctions. Military aircraft will be used in the capital Ankara today and tomorrow during the testing of the S-400 system's radar-detection equipment, a Turkish defense official said, asking not to be identified in line with his department's restrictions. Read more from Firat Kozok.
Amazon Sues Over Cloud Award: Amazon filed a lawsuit Friday challenging the Defense Department's choice of rival Microsoft for a Pentagon cloud-computing contract worth as much as $10 billion. The suit, filed under seal in the U.S. Court of Federal Claims in Washington, marks Amazon's most aggressive push to defend its competitive edge in the lucrative and cutthroat world of federal contracts. Amazon previously said it planned to formally protest its loss of the Pentagon's Joint Enterprise Defense Infrastructure cloud contract because the evaluation process was deficient. Read more from Naomi Nix.
China to Raise Penalties on IP Theft: China said it will raise penalties on violations of intellectual property rights in an attempt to address one of the sticking points in trade talks with the U.S. The country will also look into lowering the thresholds for criminal punishments for those who steal IP, according to guidelines issued by the government yesterday. The U.S. wants China to commit to cracking down on IP theft and stop forcing U.S. companies to hand over their commercial secrets as a condition of doing business there. China said it's aiming to reduce frequent IP violations by 2022 and plans to make it easier for victims of transgressions to receive compensation. Read more.
What Else to Know Today
Top-Line Spending Levels Deal: Top congressional negotiators have agreed to a set of spending levels for legislation to fund the government in fiscal 2020, a move that reduces chances of a shutdown in December. House Appropriations Chairwoman Nita Lowey (D-N.Y.) and Senate Appropriations Chairman Richard Shelby (R-Ala.), have reached agreement on the figures, according to two people familiar with the talks. By deciding on top-line spending figures for the 12 fiscal 2020 appropriations bills, lawmakers can begin negotiating the details of the bills with an eye toward striking a deal to avoid a shutdown or another short-term stopgap measure in late December. Read more from Jack Fitzpatrick.
Trump Wavers on Vaping: Trump has wavered for months in private over what to do about vaping. On Friday, he put his ambivalence on public display. The president summoned public health groups, e-cigarette companies and industry associations to the White House to hash out what to do in the face of vaping-related illnesses and deaths among teens. Then he invited the press to watch them spar. Seated at the center, Trump held court as debate went on for almost an hour in front of cameras. He said he wanted a solution "where everybody's happy." Instead, the spectacle illustrated such result is elusive if not impossible, leaving the president with a politically tough choice he's been reluctant to make. Read more from Josh Wingrove and Gerald Porter Jr.
Meanwhile, after the fraught White House meeting, Trump broke tensions by joking that he should fire Azar. The president wasn't serious, six people familiar with the matter agreed. But the joke reflected frustration within the White House toward a conservative group opposed to a ban on flavored vaping products, Americans for Tax Reform, that has publicly advocated for Azar to be replaced, Porter and Wingrove report.
Trump's Appeal on Tax Returns: The Justice Department urged the Supreme Court to hear Trump's bid to prevent his tax returns from being turned over to a New York prosecutor. Adding his voice to those of Trump's personal lawyers, U.S. Solicitor General Noel Francisco said a federal appeals court was too quick to uphold a grand jury subpoena for the documents from Manhattan District Attorney Cyrus Vance Jr. Francisco didn't go as far in his arguments as Trump's private lawyers, who contended in their appeal that the president has broad immunity from criminal investigations while in office. Greg Stohr has more.
Editor's Note: Monday's What to Know in Washington corrected the party affiliation of Rep. Devin Nunes in the seventh paragraph.
To contact the reporters on this story: Zachary Sherwood in Washington at zsherwood@bgov.com; Brandon Lee in Washington at blee@bgov.com
To contact the editors responsible for this story: Giuseppe Macri at gmacri@bgov.com; Loren Duggan at lduggan@bgov.com