What to Know in Washington: Impeachment Closing Arguments Begin
House investigators give their closing summations today in the Democrats' case against President Donald Trump as they continue debating how far to go in drafting articles of impeachment later this week.
Judiciary Chairman Jerrold Nadler (D-N.Y.) said yesterday his panel is on track to decide what charges will be brought against the president, setting up an historic vote on impeachment in the full House before Congress leaves for a scheduled holiday break on Dec. 20. Likely articles of impeachment are abuse of power and obstruction of Congress, he said.
"There's a sense of urgency, because he will do anything — judging from his past conduct — that he can to get interference and to rig the next election," Nadler said of Trump on CNN's "State of the Union" program.
Judiciary Committee Democrats worked through the weekend preparing for today's hearing at which the staff counsels of both parties will outline opposing views of the evidence from months of work by multiple House committees.
White House Counsel Pat Cipollone has already informed Nadler that the administration won't participate. Trump yesterday derided the investigation and highlighted counter-arguments by his allies on news shows.
Officials familiar with the Judiciary Committee's plans say it will start to publicly debate and compose final versions of articles of impeachment as soon as Thursday, though it could spill into another day. With a vote by the full House the following week, which is expected to cleave along party lines, Trump would be only the third U.S. president to be impeached. He is all but certain to be acquitted in the Senate, where Republicans hold a majority. Read more from Billy House.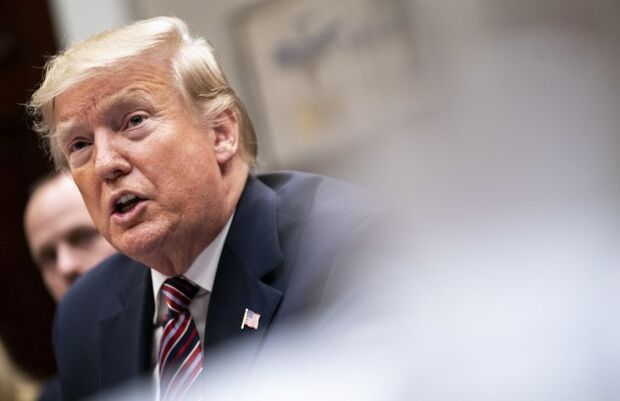 Giuliani Report: Trump said that his personal attorney, Rudy Giuliani, plans to prepare a report for the U.S. Justice Department and Congress about allegations of misconduct the former New York mayor says he uncovered during a recent trip to Ukraine. Trump said Giuliani, a central figure in the impeachment investigation, hadn't briefed him on his findings. But, the president said, "I hear he found plenty."
"He's going to make a report, I think to the attorney general and to Congress," Trump told reporters at the White House on Saturday as he departed for a fund-raising trip to Florida. "He says he has a lot of good information. I have not spoken to him about that information yet." Justin Sink has more.
Happening on the Hill
Lawmakers Review USMCA: Negotiations on the stalled U.S.-Mexico-Canada Agreement reached a crucial phase in Washington on Saturday, as the Trump administration sent Speaker Nancy Pelosi (D-Calif.) a proposal for changes to the deal for review, according to people familiar with the talks.
Mexican Foreign Minister Marcelo Ebrard said that changes to the NAFTA successor trade deal with the U.S. and Canada must respect his nation's "red lines." Ebrard told reporters yesterday he briefed the nation's Senate on the position of President Andres Manuel Lopez Obrador's government to reject a U.S. demand for American labor inspectors south of the border. He said a U.S. proposal for steel in cars to originate in North America would only be acceptable if implemented after more than five years, and a demand on aluminum is impossible for Mexico to meet. Read more from Eric Martin.
Drug Pricing Bill: Pelosi's signature drug pricing bill could be in danger as leaders of House Democrats' liberal wing are weighing whether to block the legislation if changes aren't made. The Congressional Progressive Caucus may take a stand on a procedural step needed to bring the measure to the floor, rather than voting against the bill itself. The bill is set for a floor vote this week, as early as Wednesday. Read more from Alex Ruoff.
Meanwhile, Senate Finance Chairman Chuck Grassley (R-Iowa) and ranking member Ron Wyden (D-Ore.) on Friday unveiled a new version of a separate drug pricing measure that has broader bipartisan support. Under their revised version, seniors could pay a smaller portion of the cost for medicines, and be shielded from huge one-time drug expenses. Jacquie Lee has more.
Defense Authorization Vote: Congressional negotiators and the White House have reached agreement on the fiscal 2020 defense bill and the House will vote as soon as Wednesday, Rep. Mac Thornberry (R-Texas) said over the weekend. Thornberry, top Republican on the House Armed Services Committee, was speaking at the Reagan National Defense Forum in Simi Valley, Calif.
The agreement reached would include Trump's proposed Space Force as a separate branch of the military — the first new military service to be created in the U.S. in seven decades. It would also include 12 weeks of parental leave for all federal employees and a fix to fully reimburse military spouses for survival benefits, Roxana Tiron reports.
House, Senate Leaders Cut Surprise Medical Billing Deal: Leaders of the House and Senate health committees announced yesterday they have reached a deal on a package of health care legislation including measures to tackle surprise medical billing.
Sen. Lamar Alexander (R-Tenn.), chairman of the Senate Health, Education, Labor, and Pensions Committee, and Reps. Frank Pallone, Jr. (D-N.J.) and Greg Walden (R-Ore.), the Democratic and Republican heads of the House Energy and Commerce Committee, said in a statement they'd reached agreement on legislation to end surprise bills, raise the age to buy tobacco products to 21, and extend funding for federal health programs like community health centers.
The legislation could pass as part of a spending bill later this month, Walden said earlier in the week. Alex Ruoff has the latest.
Hunter to Resign After Holidays: Rep. Duncan Hunter (R-Calif.) said he will resign from Congress "after the holidays" following his guilty plea to a conspiracy charge this week and a warning from the House Ethics Committee not to vote. "Shortly after the holidays I will resign from Congress," Hunter said in an emailed statement Friday. "It has been an honor to serve the people of California's 50th District, and I greatly appreciate the trust they have put in me over these last 11 years." Read more from Steven T. Dennis and Erik Wasson.
Defense & Foreign Affairs
FBI Calls Florida Base Shooting 'Terrorism': The FBI presumes a Florida attack by a Saudi air force officer that left three U.S. sailors dead "was an act of terrorism," the agent in charge of the investigation said, and Republican lawmakers urged a suspension of training for foreign fighters in the U.S. As criticism mounted about the incident, including Trump's rapid defense of the Saudi royal family, Crown Prince Mohammad bin Salman called the U.S. president yesterday to express his condolences, the state-run SPAnews agency reported.
The Pentagon should temporarily suspend training for foreign fighters, Republican lawmakers, including Rep. Matt Gaetz (Fla.) and Sen. Lindsey Graham (S.C.), said yesterday on political talk shows. Read more from Steve Geimann.
Trump Downplays North Korea Missile Tests: Trump downplayed Pyongyang's latest actions, including missile tests, saying North Korean leader Kim Jong Un "is too smart and has far too much to lose, everything actually" if he acts in a hostile way toward the U.S. Still, Trump said on Twitter that North Korea "must denuclearize as promised," a day after its envoy to the UN said in a pointed statement that such a move was off the table. Trump said Kim signed a "strong Denuclearization Agreement" when the pair met in Singapore in 2018, although steps toward North Korea giving up its nuclear ambitions were never formalized. Read more from Kanga Kong.
Russian Foreign Minister to Meet Pompeo: Secretary of State Michael Pompeo will host his Russian counterpart in Washington tomorrow for Sergei Lavrov's first visit to the U.S. capital since a trip in 2017 set off a storm of criticism. Russia's Foreign Ministry announced the plans today. There was no mention of a possible visit to the White House by Lavrov, unlike his last trip to Washington. In May, Pompeo and Lavrov met in the Russian Black Sea resort of Sochi, when the top U.S. diplomat also held talks with President Vladimir Putin. Read more from Stepan Kravchenko.
Iran Releases U.S. Student: Iran released the Chinese-American graduate student Xiyue Wang on Saturday as part of a prisoner swap, U.S. officials said. Iranian Foreign Minister Mohammad Javad Zarif confirmed that the U.S. freed Iranian scientist Massoud Soleimani. Soleimani was "delivered to Iranian officials in Switzerland," Iran's foreign ministry said on its Telegram channel. Zarif later tweeted photos of himself with his countryman. Read more from Arsalan Shahla and Mario Parker.
Trump Scolds World Bank Over China Loans: Trump added to the criticism of the World Bank's plan for low-interest loans to China. "Why is the World Bank loaning money to China?" Trump said in a Twitter post on Friday night. "Can this be possible? China has plenty of money, and if they don't, they create it. STOP!" His tweet came a day after Treasury Secretary Steven Mnuchin, at a congressional hearing, said that the administration opposes the plan by the bank, which has loaned more than $1 billion to China this year. Read more from Saleha Mohsin and John Harney.
Trump Holds Off on Labeling Cartels as Terrorists: Trump said he's holding off — at least for now — on a proposal to classify Mexican narcotics cartels as terrorist organizations, adding that he's doing so as a favor to Mexico's president. "All necessary work has been completed to declare Mexican Cartels terrorist organizations," Trump tweeted on Friday night. "Statutorily we are ready to do so." Read more from John Harney.
Elections & Politics
Biden-Buttigieg Dream of Congress Unity: Joe Biden and Pete Buttigieg are selling voters on their ability to unite Democrats and Republicans around their agenda. But current and former members of Congress have a message for them: Dream on. Biden frequently tells voters that if Trump is defeated, Republicans will have an "epiphany" and work with Democrats. Buttigieg, in a 30-second spot appearing in South Carolina, vows to "unify the American people" around pocketbook issues, gun violence and immigration.
But the two moderate Democrats may be walking into the same trap that stymied President Barack Obama: A belief that they can overcome intense tribalism and get Republicans to work with them. Read more from Sahil Kapur.
Warren Says She Made $1.9 Million as Bankruptcy Lawyer: Sen. Elizabeth Warren (D-Mass.) yesterday said she made about $1.9 million working as a bankruptcy lawyer over three decades, a disclosure that comes after requests from the media and Buttigieg for her to release her tax returns. Warren had previously released the names of the clients and cases she took on during her tenure as a professor at Harvard and other law schools, as well as 11 years of tax returns, dating back to 2008. The documents released yesterday cover her compensation between 1985 and 2009, but don't include tax returns. Read more from Misyrlena Egkolfopoulou.
Kerry Rallies With Biden, Evoking Some 2004 Parallels: For some voters, seeing John Kerry and Joe Biden campaign together felt like déjà vu. In 2004, Kerry was the establishment Democrat who struggled in early-state polls but went on to defeat populist rivals for the nomination, propelled by a perception that he was the most "electable" option to face down a Republican incumbent unpopular with the left. Now Biden, having recently won Kerry's endorsement, is looking to replicate that feat with a similar message of experience and steady leadership as he faces serious competition from progressive competitors. Read more from Sahil Kapur.
Biden Would Consider Giving Ambassadorships to Donors: Biden said Friday he would not rule out appointing donors as ambassadors, but wouldn't make decisions about those roles based on someone's financial contributions. "Nobody in fact will be appointed by me based on anything they contributed," he told a group of reporters aboard his "No Malarkey" bus in Decorah, Iowa. "But, for example, you have some of the people who are out there that are prepared to in fact, that are fully qualified — head of everything from being the ambassador to NATO to be the ambassador to France or any other country — who may or may not have contributed, but that will not be any basis upon which I in fact would appoint anybody." Read more from Tyler Pager.
(Michael Bloomberg is also seeking the Democratic presidential nomination. Bloomberg is the majority owner of Bloomberg Government's parent company).
Around the Administration
Energy Adviser Leaving White House: An international energy adviser to Trump, who was sought by congressional Democrats as part of their impeachment inquiry, is leaving the White House, according to three people familiar with the matter. Wells Griffith, who has been serving as a senior director for international energy and environment on the National Security Council, is set to join the Overseas Private Investment Corp. this week, said two of the people. All three asked not to be named discussing a personnel issue. Read more from Jennifer A. Dlouhy and Ari Natter.
Trump Plays Up Deregulatory Moves: Trump called fiscal 2019 another wildly successful year for his administration's deregulatory mission and touted more than $50 billion in total savings, a claim law professors and regulatory analysts deem true in some ways and exaggerated or false in others. Federal agencies took 150 deregulatory actions during fiscal 2019, which ended Sept. 30. They also issued 35 new, economically significant regulations, the White House regulatory office said in a report released Friday. Read more from Cheryl Bolen.
Trump Orders Toilet Rule Review: Trump's latest target for deregulation: American toilets. The president on Friday said he ordered a federal review of water efficiency standards in bathroom fixtures and complained that "people are flushing toilets 10 times, 15 times as opposed to once" in homes with low-flow appliances. He said other bathroom fixtures have slowed water to a trickle. "You can't wash your hands practically, there's so little water comes out of the faucet, and the end result is you leave the faucet on and it takes you much longer to wash your hands, you end up using the same amount of water," he said at an event with small-business owners at the White House. He said the Environmental Protection Agency was looking into the issue on his recommendation. Read more from Justin Sink and Mario Parker.
Top Court Won't Let Federal Executions Resume: The U.S. Supreme Court refused to clear the federal government to resume executions next week after a 16-year hiatus, rejecting a bid by Trump's administration to lift a court-ordered hold. The Justice Department had sought to have the trial judge's hold lifted in time for Daniel Lewis Lee to be put to death in Indiana. The court as a whole gave no explanation, but the justices said they expect a federal appeals court to move with "appropriate dispatch" in the case. Read more from Greg Stohr.
DOJ on Trump Spying: The Justice Department's internal watchdog is set to dismiss one of the oldest conspiracy theories of Trump's presidency: the accusation that the FBI illegally spied on his campaign in 2016. The report expected to be issued Monday concludes the FBI was justified in opening an investigation into Trump campaign officials before the 2016 election, and that the actions and decisions of senior leaders weren't driven by political motivations or anti-Trump bias, according to people familiar with the findings who asked not to be identified discussing the unpublished report. Read more from Chris Strohm.
Trump Emolument Suits Advance: Even as he faces impeachment over Ukraine, federal lawsuits claiming that Trump has unconstitutionally enriched himself continue to dog him. Now two of the suits have reached a crucial juncture. A pair of U.S. appeals courts this week will consider whether to let the two "emoluments" cases go forward. The plaintiffs argue that the president is financially benefiting from foreign and domestic government officials using his properties. A ruling against Trump could open his business affairs to scrutiny just before the 2020 balloting, after he has spent much of his first term guarding them — though only if the courts act unusually fast. Read more from Andrew Harris.
High Court Temporarily Keeps Trump Records Private: A U.S. Supreme Court justice temporarily blocked subpoenas that would force Deutsche Bank and Capital One Financial to turn over years of Trump's financial documents to two House committees. Justice Ruth Bader Ginsburg put the subpoenas on hold on Friday until Dec. 13. The justices are already scheduled to discuss at a private conference that day whether to take up a separate challenge by Trump to a subpoena by a New York prosecutor for his tax returns. Read more from Greg Stohr.
To contact the reporters on this story: Zachary Sherwood in Washington at zsherwood@bgov.com; Brandon Lee in Washington at blee@bgov.com
To contact the editors responsible for this story: Giuseppe Macri at gmacri@bgov.com; Loren Duggan at lduggan@bgov.com