What to Know in Washington: Impeachment Anticipation Builds (1)
Anticipation is building in Washington ahead of the nation's first impeachment trial in more than 20 years even as Democrats and Republicans continue to squabble about everything from the length of trial days to calling witnesses.
The Democratic House impeachment managers held meetings for much of yesterday. They're expected to do a formal walk-through of the Senate chamber this morning, open to the public, to get their bearings. Each of the seven managers will have their own role in the proceedings.
Both sides yesterday stuck to familiar positions, reflecting legal filings made on Saturday. For Democrats, Trump is a "threat to the nation and the rule of law." For Republicans, Democrats are staging a "brazen and unlawful" attempt to overturn the 2016 election.
Alan Dershowitz, a member of Donald Trump's legal team, said earlier he sees no grounds for the impeachment of the president. "If the allegations are not impeachable, then this trial should result in an acquittal, regardless of whether the conduct is regarded as OK by you or by me or by voters," Dershowitz said on ABC's "This Week." "That's an issue for the voters."
Dershowitz, a constitutional law expert whose clients have included accused sex offender Jeffrey Epstein, will be part of what he characterized yesterday as "special teams" on the Trump legal roster. "I'm the kicker, and I can kick the field goal that wins the game," Dershowitz said on CNN's "State of the Union." Read more from Hailey Waller and Laura Davison.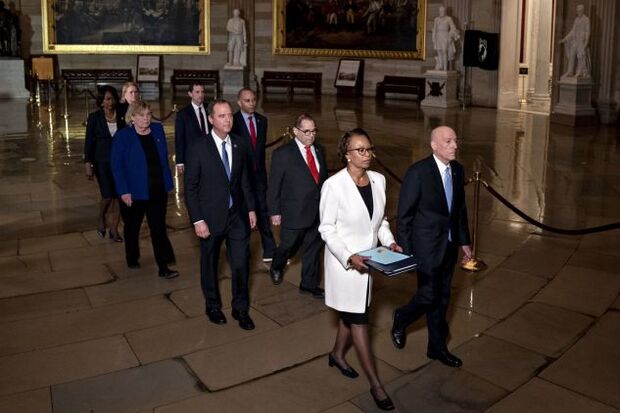 Both Sides Preview Their Arguments: Trump's attorneys and the House Democrats managing his impeachment trial filed their first formal briefs in the case on Saturday, pursuing familiar arguments aimed more at influencing the voters than the senators who will be his jurors, Billy House and Justin Sink report.
In a 111-page trial brief, the seven Democratic impeachment managers say the president's pattern of misconduct made him a "threat to the nation and the rule of law." An initial six-page response from Trump's own lawyers takes aim at the House Democrats who investigated Trump, calling the impeachment probe a "brazen and unlawful" attempt to overturn the 2016 election.
Billy House and Anna Edgerton highlight some key takeaways from the filings.
How to Watch the Senate Impeachment Trial: Ryan Teague Beckwith and Laura Litvan run down the logistics of the Senate trial set to start tomorrow. Here's how to watch it.
Elections & Politics
Democratic Candidates Attend Martin Luther King Day Celebration: Pete Buttigieg will attend an important Martin Luther King Day celebration in South Carolina today after Democrats in the state voiced concern that his absence from the event would be disrespectful to black voters there. The former South Bend, Ind., mayor had been the only top-tier Democratic candidate not planning to attend the annual event, "King Day at the Dome," on the steps of the state capitol in Columbia. He had planned to spend today at a King Day event in South Bend before traveling to Iowa for a forum addressing issues important to voters of color.
Sen. Amy Klobuchar (D-Minn.) had also not initially intended to attend, but she altered her plans late Friday so that she could make a stop in South Carolina today ahead of her speaking slot at the Iowa forum. The other four candidates who appeared on last week's Democratic debate stage — former Vice President Joe Biden, Sen. Bernie Sanders (I-Vt.), Elizabeth Warren (D-Mass.) and billionaire Tom Steyer — had all already planned to attend King Day at the Dome. Two other Democratic candidates, former Massachusetts Gov. Deval Patrick and Rep. Tulsi Gabbard (D-Hawii), will also be at the event. Read more from Jennifer Eptsein.
Warren, Klobuchar Get Dual New York Times Nod: The New York Times endorsed both Warren and Klobuchar for the Democratic presidential nomination, saying, "May the best woman win."
The newspaper revealed its pick on its television show, "The Weekly" and ran video clips of the interviews that Warren, Klobuchar, Biden, Sanders, Buttigieg, Andrew Yang and Sen. Cory Booker (D-N.J.) gave to the paper's editorial board. Booker dropped out of the race after his New York Times interview. Editorial board members said they were impressed by Warren's emphasis on policy and said Klobuchar "could unite the party and perhaps the nation." Read more from Wendy Benjaminson.
Democrats Try to Reassure Latinos Over Socialism Cry: Democrats seeking to counter Trump's use of "socialism" as a slur can look to a yearlong effort to fight back now underway in Florida. Trump frequently attacks Warren and Sanders as socialists in the mold of progressives in Congress like Rep. Alexandria Ocasio-Cortez (D-N.Y.), who are pushing the party to adopt far-left policies.
This attack has particular resonance among Hispanic voters, particularly those from socialist countries. Democrats were stung by a narrow loss in a gubernatorial race in 2018 that featured similar accusations, and Florida Democrats are looking to blunt those attacks in the crucial 2020 swing state. The party is reaching out to voters whose negative experiences with governments in Nicaragua, Venezuela and Cuba have heightened their concerns about socialism and made them receptive to Trump's criticisms. Read more from Ryan Teague Beckwith.
Warren Says Senators Would Get Say in Judge Picks: Warren criticized congressional Republicans for ignoring the tradition that allows senators to approve or veto a judge from their home state, saying that if elected president she wouldn't allow them to play "dirty" to block her nominees. "I'm not going to be the Democrat who says, 'oh, when Democrats are in the White House we'll all play by the nice rules,' and when Republicans are in the White House we all play by the dirty rules. I'm not playing that game again." Warren said at a Citizens United Forum in Des Moines, Iowa, yesterday. Read more from Misyrlena Egkolfopoulou.
Bloomberg Pitches Black Economic Progress Program: Michael Bloomberg unveiled a plan yesterday to invest $70 billion in low-income neighborhoods throughout the country, increase the number of black homeowners, and double the number of black-owned businesses if he's elected president. Bloomberg, speaking in Tulsa, Okla., at a former hub of black businesses destroyed in a 1921 riot by white residents, outlined his plan to address what he called systemic discrimination in African American access to credit and wealth creation. Read more from Jeffrey Taylor. Bloomberg is the majority owner of Bloomberg Government's parent company.
Collins Gets 26 Months for Insider Trading: Former Rep. Chris Collins (R-N.Y.) was sentenced to 26 months in prison for passing confidential information about a failed drug trial to his son, who sold shares based on the tip. The sentence caps a bizarre political downfall for the first congressman to endorse Trump for president. Collins went on to become the first sitting member of the House to be charged with insider trading based on a call he made from the South Lawn of the White House. Read more from Chris Dolmetsch.
High Court to Rule on 'Faithless Electors' in Presidential Vote: The U.S. Supreme Court agreed to decide whether states can penalize members of the Electoral College if they refuse to vote for the presidential candidate who won the statewide vote, taking up an issue that could affect the outcome of a tight election. Accepting cases from Washington and Colorado, the justices will consider whether electors have a constitutional right to vote as they please, even if that means bucking the will of the state's voters. The court will probably hear arguments in April and rule by late June, before the November presidential election. Litigants in the two cases had urged the justices to resolve the issue now to ensure it won't arise in the middle of a disputed election. Read more from Greg Stohr.
Defense & Foreign Affairs
Trump to Mingle With Elites in Davos: Trump is heading back to Davos, poised to hail his economic record as vindication of an "America First" agenda to the world's elite while lawmakers back home weigh his impeachment. Barring a last-minute change of plans, Trump is scheduled to deliver opening remarks tomorrow at the World Economic Forum in Switzerland, his second visit to the annual gathering of business chieftains, central bankers and foreign leaders. The president, who has increasingly embraced the elites he chided in his rise to power as a populist, will celebrate his trade deal with China while warning against socialism — likely a welcome message at the world's foremost capitalist confab. Josh Wingrove previews the trip.
China Deal Is Trump's Hedge Against Impeachment: Hours before the seven House Democrats managers marched articles of impeachment across the Capitol last week, Trump secured what he's relying on to counter any political damage — a cease-fire in the trade war with China. With little chance the Senate will convict him, the greatest danger to Trump is that the proceedings present an unfavorable portrait of the president durable enough to sway Americans against his re-election 10 months later.
His hedge is the phase-one trade deal with China he signed last Wednesday. By calling a truce in a trade war that has dampened economic growth — historically one of the most powerful engines of support for incumbent presidents — Trump won what he's counting on as a key element of his case for re-election. Read more from Mike Dorning and Shawn Donnan.
Trump Hails Trade Deal Wins for Farmers: Trump championed a pair of trade victories at a farm convention yesterday in Austin, Texas. "The two momentous trade deals we completed last week are just the beginning of a really incredible story," Trump said in a speech to the American Farm Bureau Federation's annual meeting. Earlier, tweeting as he prepared to travel to Texas from Florida, the president said farmers "hit 'paydirt' with our incredible new Trade Deals." Under the deal negotiated with Beijing, China pledged to buy at least $32 billion in additional U.S. agricultural products over the next two years. The Chinese said they would "strive" for another $10 billion in agricultural purchases, but warned those sales would be dictated by market demands. Read more from Justin Sink.
Meanwhile, Canadian Finance Minister Bill Morneau said signing off on the overhauled North American Free Trade Agreement is a top priority for Canada's government when parliament resumes sitting Jan. 27. The U.S. Senate last week sent the president legislation that would implement the U.S.-Mexico-Canada Agreement, and Mexico has given its approval. Read more from Stephen Wicary.
Maduro Calls for Direct Talks with U.S.: Venezuela's President Nicolas Maduro called for direct talks with the U.S., saying its support for opposition leader Juan Guaido has failed. In a rare interview with the Washington Post published Saturday, Maduro mocked Secretary of State Mike Pompeo and said former national security adviser John Bolton and Elliott Abrams, the state department's special envoy for Venezuela, had given Trump bad advice. Trump is being fed "fake reports," Maduro told the Post. As an incentive for talks, Maduro dangled the prospect of access to the nation's oil industry. Venezuela has the largest known oil reserves in the world. Maduro denied Russian oil major Rosneft is processing 70% of Venezuelan output, putting the number closer to 20%. Read more from Sebastian Boyd.
Trump Says Soleimani Said 'Bad Things': Trump gave a new justification for killing Qassem Soleimani, telling a gathering of Republican donors that the top Iranian general was "saying bad things about our country." "How much are we going to listen to?" Trump said Friday, according to remarks from a fundraiser obtained by CNN. He also used a vulgar expression to describe the nature of Soleimani's comments. Trump spoke amid a brewing controversy in Washington, where some lawmakers, especially Democrats, have said the White House has repeatedly shifted its justification for the Jan. 3 strike, which pushed Washington and Tehran to the brink of war. Read more from Justin Sink.
What Else to Know Today
Trump Loses Another Russia Adviser: The top Russia expert on Trump's National Security Council has left his post after about three months, according to three people familiar with the matter. Andrew Peek, the NSC's senior director for European and Russian affairs, was escorted from the White House grounds on Friday, two of the people said, asking not to be identified because they weren't authorized to discuss personnel matters. A spokesman for the NSC declined to comment, citing the same reason. Peek also declined to comment. Axios reported earlier Saturday that Peek was placed on administrative leave pending a security-related investigation. Read more from Jennifer Jacobs, Nick Wadhams and Justin Sink.
Homeland Security Aide Likely to Be Reassigned: Rear Admiral Peter Brown, Trump's third homeland security and counter-terrorism adviser, is expected to be reassigned after about six months in the job, said four people familiar with the issue. It's the latest turnover in an office that's seen its responsibilities narrow. Brown replaced Rear Admiral Doug Fears, who left in July, after being tapped by Bolton, who in turn departed the White House in September. Fears returned to the Coast Guard, where Brown had also served. Read more from Jennifer Jacobs.
Schiff Says Agencies Are Stonewalling: Congress is being stonewalled by intelligence agency officials who refuse to testify in public for fear of drawing Trump's ire, said House Intelligence Chairman Adam Schiff (D-Calif.). "Part of their job is to speak truth to power," Schiff said yesterday on "This Week" on ABC. "The intelligence community is reluctant to have an open hearing," Schiff said, "because they're worried about angering the president." Schiff's committee has in the past held annual public hearings to discuss global security threats, with leaders at the Central Intelligence Agency and the National Security Agency among those testifying. A hearing hasn't been set for this year. Read more from Steve Geimann.
FAA Bans Drones Near Virginia Capitol Ahead of Rally: The Federal Aviation Administration has banned drones within a 2.3 mile radius of the Virginia state Capitol building in Richmond, the latest step as authorities prepare for a rally amid worries the event may turn to violence. Virginia Gov. Ralph Northam (D), who backs the gun control proposals at the heart of the protests planned for today, declared a state of emergency and temporarily banned guns on the state Capitol grounds, amid what he labeled "credible threats of violence." Northam said while he expects the majority attending the rally to be peaceful protesters, it's also "attracting extreme individuals and groups — including national hate, neo-Nazi, and white supremacist groups — who are threatening violence and looking to advance a violent agenda." Read more from Derek Wallbank.
Trump Rolls Back School Lunch Nutrition Rules: The Trump administration announced a rollback of Michelle Obama's signature initiative for healthy school lunches on Friday, coinciding with the former first lady's birthday. Agriculture Secretary Sonny Perdue announced a proposed new regulation that would make it easier for school cafeterias to offer a la carte entrees to students and allow more varieties of vegetables to be used to meet nutrition requirements. Perdue said the proposed rule will offer schools more flexibility to serve meals that appeal to student's preferences, reduce food waste and cut administrative burdens on administrators. Read more from Mike Dorning.
U.S. Archives Rues 'Mistake' of Blurring Trump Protest Images: The National Archives and Records Administration says it made a mistake by blurring images depicting protest signs critical of Trump in a promotional display for a new exhibit on women's sufferage. "As the National Archives of the United States, we are and have always been completely committed to preserving our archival holdings, without alteration," the independent agency in charge of the preservation of government and historical records said on Twitter Saturday. The archives said it altered parts of an image from the 2017 Women's March in Washington to remove Trump's name on signs. At least one placard reading "God Hates Trump" was changed to merely say "God Hates," according to the Washington Post, which reported the edits earlier Saturday. Read more from Laura Davison.
To contact the reporter on this story: Zachary Sherwood in Washington at zsherwood@bgov.com
To contact the editor responsible for this story: Loren Duggan at lduggan@bgov.com