What to Know in Washington: Hurricane Ida Hits, New Orleans Dark
Bloomberg Government subscribers get the stories like this first. Act now and gain unlimited access to everything you need to know. Learn more.
President Joe Biden approved a federal disaster declaration for Louisiana to assist with recovery from Hurricane Ida as the Category 4 storm made landfall yesterday in Louisiana.
Biden also pledged to ensure a full recovery for areas hit by the hurricane. "We're going to be here to help the Gulf region get back on its feet as quickly as possible, as long as it takes," Biden said during a visit to the Federal Emergency Management Agency's headquarters.
Biden predicted the hurricane could knock out power for "a long time" with outages stretching "weeks for some places."
"As soon as the storm passes, we're going to put the country's full might behind the rescue and recovery," he said. Read more from Jennifer Jacobs and Justin Sink.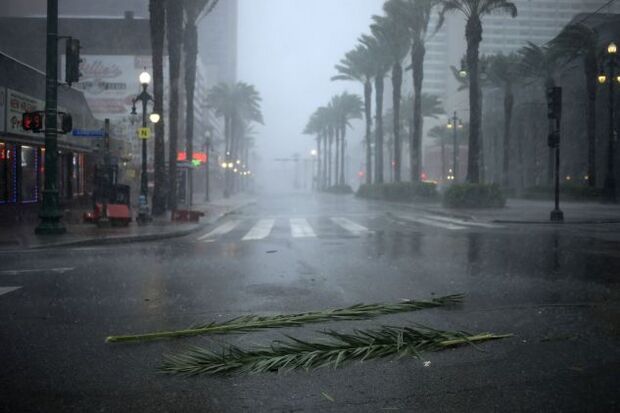 Hurricane Ida pummeled New Orleans and the Louisiana coast overnight with lashing rain and ferocious gusts, leaving much of the region without electricity and bracing for widespread floods and devastation.
The storm, wielding some of the most powerful winds ever to hit the state, drove a wall of water inland when it thundered ashore yesterday. All of New Orleans was without power when evening fell. As Ida lumbers north, it's expected to unleash a potentially catastrophic amount of rain, totaling up to 2 feet.
"We're in for some historic floods," said Jim Rouiller, lead meteorologist at the Energy Weather Group. "The rainfall — that is going to be the next story."
Ida struck New Orleans on the 16th anniversary of Hurricane Katrina, the costliest tropical cyclone in U.S. history that left much of the city in ruins. Now the levees, pumps and other infrastructure rebuilt after that 2005 storm are being put to their biggest test yet. Louisiana's hospitals, meanwhile, are already overwhelmed with more than 2,600 coronavirus patients.
While the storm's impact wasn't fully clear early today, and first responders don't plan to start answering search and rescue calls until sunrise, signs have already emerged that Ida's toll has been dire. Read more from Brian K. Sullivan and Sergio Chapa.
Read more: New Orleans Facing Weeks of Darkness on Hurricane Damage
Happening on the Hill
Pelosi Looking at Ways to Speed Rental Aid: Speaker Nancy Pelosi (D-Calif.) indicated the House will look at potential legislation to expedite aid for renters after the Supreme Court lifted the Biden administration's pandemic-related moratorium on evictions, but offered no specific plan or timetable for action. A group of progressive Democrats is urging both Pelosi and Senate Majority Leader Chuck Schumer (D-N.Y.) to work toward passing legislation that would extend the eviction moratorium.
Pelosi, though, cited work by Financial Services Chair Maxine Waters (D-Calif.) to find ways to hasten distribution of aid for renters and landlords that Congress has already appropriated. "Families must be protected during the pandemic, and we will explore every possible solution," Pelosi told her caucus in a letter. Just $5.1 billion of the $46.5 billion appropriated by lawmakers for preventing evictions have been disbursed, figures released by the Treasury Department showed. Read more from Billy House.
AOC Foresees Democratic Row Over Economic Plan: House Democrats are careening toward an "ugly" intra-party collision over parts of Biden's $4.1 trillion economic agenda, warns Rep. Alexandria Ocasio-Cortez (D-N.Y.). The freshman predicted on Friday that she and other progressives would come under increasing pressure to help pass a $550 billion public works measure as a standalone bill—and drop their demand on pairing it with the wider $3.5 trillion budget legislation. Read more from Billy House.
Panel Largely Scraps Afghan Forces Funding: The House Armed Services Committee proposed providing only one-tenth of the money requested for Afghanistan's national forces. Chair Adam Smith's (D-Wash.) proposal would leave $350 million in the account, mainly to wind down contracts and close out other activities, according to a draft of the text obtained by Bloomberg Government. The administration initially requested $3.3 billion for Afghanistan's national security forces. The panel will consider the measure on Wednesday. Roxana Tiron has more.
Hispanic Colleges Seek More Aid as Black Universities Eye Gains: Colleges educating high numbers of Hispanic students are vying for a bigger share of federal money designated for institutions serving minorities as lawmakers prepare to hammer out the details of a $3.5 trillion social spending package. "We're hopeful they will listen and pump up those numbers," said Antonio Flores, president of the Hispanic Association of Colleges and Universities. "Otherwise, many institutions will be underfunded." Such demands could complicate efforts to get broad support for the massive spending plan as committees work to assemble legislation by mid-September. Lawmakers cite long-running maintenance issues at Historically Black Colleges and Universities as a priority, and HBCUs protest the notion that Hispanic-serving institutions deserve a bigger share. Read more from Andrew Kreighbaum.
Around the Administration
Today's Agenda: Biden and Vice President Kamala Harris will receive an update at 10 a.m. from the national security team on Afghanistan. The president will also receive regular briefings from the homeland security team on Hurricane Ida.
Taliban Condemns U.S. Drone Strike: Biden has been briefed on a rocket attack at Kabul's Hamid Karzai International Airport this morning, according to a press statement from the White House. National Security Adviser Jake Sullivan and Chief of Staff Ron Klain informed the president "that operations continue uninterrupted at HKIA, and has reconfirmed his order that commanders redouble their efforts to prioritize doing whatever is necessary to protect our forces on the ground," the statement said. The rocket attack comes a day after a U.S. drone blew up a vehicle heading for Kabul airport that officials say was carrying several suicide bombers, according to U.S. Central Command, which said it's still assessing results of the strike following reports of civilian casualties.
U.S. National Security Adviser Jake Sullivan said yesterday there was still "serious danger" in Kabul, where a suicide bomber last week killed at least 169 people. The U.S. is expected to wrap its military and civilian evacuations and withdraw the last of its troops by tomorrow. The Taliban condemned the U.S. drone strike yesterday that destroyed a vehicle with explosives, which Bilal Karimi, a member of the Taliban's cultural commission, said killed several Afghans who were members of the same family, Eltaf Najafizada reports.
A U.S. air strike on Friday killed two ISIS-K targets and injured a third, the Pentagon said. Sullivan said two Islamic State members killed in the air strike were planning additional attacks after the Kabul airport bombing and signaled the U.S. will keep targeting the group. Biden "will stop at nothing to make ISIS-K pay," Sullivan told Fox News. "These are individuals who are planning additional attacks," Sullivan told CNN yesterday. "And we believe that by taking them out, we have disrupted those attacks to the individuals involved in the facilitation and planning and production of explosive devices." Tony Czuczka has more.
Biden honored the U.S. service members killed in Thursday's Kabul attack, attending the return of their remains at Dover Air Force Base yesterday along with their families. Biden witnessed the unloading of cases with the remains of all 13 service members who died in the blast outside the gates of Kabul airport. Read more from Jennifer Jacobs and Justin Sink.
Biden's hopes of keeping the Afghan Taliban in check will rely heavily on Pakistan, a neighboring nation that has close ties to the militant group, but which has often been an unreliable partner to Washington. Islamabad has long sought to balance its U.S. and Taliban relationships, stoking anger and a sense that the Taliban's triumph has a lot to do with its base of support in Pakistan. Pakistan even on its own remains an indispensable power in the region. Peter Martin and Faseeh Mangi have more.
Israel, U.S. Pursuing Joint Strategy on Iran Program: Israel and the U.S. have agreed to pursue a joint strategy to halt Tehran's nuclear program, Prime Minister Naftali Bennett said, without providing further details. "We achieved all the goals that we set for this visit, and even more," Bennett said. Bennett, who met with Biden on Friday, said his country had made "significant headway" in equipping its military and has also made progress on a bid for visa-free entry for Israelis to the U.S., Alisa Odenheimer reports.
Canada to Join Mexico-U.S. Auto Spat: Canada will be an interested third party in negotiations between the U.S. and Mexico over rules governing cars traded in North America, avoiding direct confrontation with Washington ahead of elections next month while still showing concern about the White House's position. Kait Bolongaro and Eric Martin have more.
U.S. Destroyer Transits Taiwan Strait: Two U.S. ships sailed through the Taiwan Strait on Friday in the latest sign of support for the island nation following questions about Washington's commitment to its partners in Asia, Samson Ellis reports.
The Coronavirus Pandemic
White House Rushes to Booster Doses as Advisers Bide Time: U.S. public-health advisers are moving slowly toward considering the nationwide plan for booster doses of Covid-19 vaccines to ward off the fast-spreading delta variant, even as the administration seeks a Sept. 20 kickoff. While the booster plan laid out earlier this month had targeted those who received their last dose at least eight months ago, Biden said Friday that Americans may get a booster even faster: five months after completing the first regimen. The White House quickly clarified its stance, saying that the plan hasn't changed, but Biden's interest in a rapid rollout is clear. Booster shots were supposed to be the main topic of discussion at an Aug. 24 meeting that was pushed to today. Fiona Rutherford has more.
Anthony Fauci said the door is open to administering booster shots in the U.S. sooner than eight months. "We're still planning on eight months. That was the calculation we made," Fauci, the president's chief medical adviser, told NBC. But "we're totally open to any variation in that based on the data," he said. Fauci also said he favors requiring shots for students as "a good idea" for the U.S., where only kids age 12 and older are eligible for the shot. Ian Fisher and Yueqi Yang have more.
Biden Criticizes Beijing for Aiding Virus Report: Biden rebuked China for stonewalling a U.S. investigation into the origins of the coronavirus, as the U.S. reported it was unable to reach firm conclusions due to Beijing's unwillingness to cooperate. China denied hindering the probe. "The world deserves answers," Biden wrote in a statement after the White House released a summary of the analysis. "Responsible nations do not shirk these kinds of responsibilities." Josh Wingrove, Chris Strohm and Claire Che have more.
Parents Have Few Paid Leave Rights as Covid Closes Schools: Working parents once again face the dilemma of school and day care closures as the Delta variant surges, but this year their paid leave options are scant. The federal safety net for coronavirus-related paid leave that Congress passed in 2020 expired in December. And while a patchwork of states have passed pandemic-related leave measures, not all guarantee coverage for school closures. Read more from Erin Mulvaney.
To contact the reporters on this story: Brandon Lee in Washington at blee@bgov.com; Giuseppe Macri in Washington at gmacri@bgov.com
To contact the editors responsible for this story: Zachary Sherwood at zsherwood@bgov.com; Loren Duggan at lduggan@bgov.com; Michaela Ross at mross@bgov.com
Stay informed with more news like this – from the largest team of reporters on Capitol Hill – subscribe to Bloomberg Government today. Learn more.