What to Know in Washington: Hurdles Ahead for Debt Ceiling Fix
Lawmakers are on track to avoid a federal default by agreeing to a short-term raising of the debt limit, but Democrats will still face significant challenges in the coming months if they determine that budget reconciliation is their only path to allow government borrowing for a longer term.
Senators voted last night to raise the debt limit by $480 billion, aiming to punt the issue until December. The House will have to pass the measure before sending it to Biden ahead of Treasury Secretary Janet Yellen's estimated Oct. 18 deadline.
Leading up to December, Republicans will again push Democrats to raise the debt ceiling on their own through the budget reconciliation process—unless Democrats agree to drop their up-to-$3.5 trillion social tax and spending bill, a cornerstone of Biden's legislative agenda.
Democrats have agreed to push back the deadline to December, but haven't agreed to act the next time through reconciliation. That gives Democrats roughly eight weeks, if they choose to pursue the complex process they sought to avoid, to push a measure through equally-divided Senate committees and allow a lengthy series of floor votes sought by Republicans.
That would require Democrats to raise the debt limit to a specific number greater than $30 trillion, rather than suspending it for a period of time—giving Republicans' a campaign talking point. It would not, however, require Democrats to revisit their main tax and spending bill, which they could still pass through reconciliation in a separate process.
Democrats have resisted the effort to use reconciliation to raise the debt limit, citing the lengthy procedural hurdles required to pass legislation using the process. Biden, for example, said Monday the action "would require literally up to hundreds of votes" that have "nothing directly to do with the debt limit."
But that's not entirely true, a former Senate parliamentarian and other specialists on procedure said. If Democrats choose to pursue reconciliation, they'll likely now have time to retroactively amend their reconciliation instructions, kicking off another round of committee work and floor votes.
Still, there are myriad ways lawmakers can speed up or slow down the process of amending reconciliation instructions. It starts with the instructions themselves. Jack Fitzpatrick breaks down the legislative process ahead if Democrats pursue reconciliation.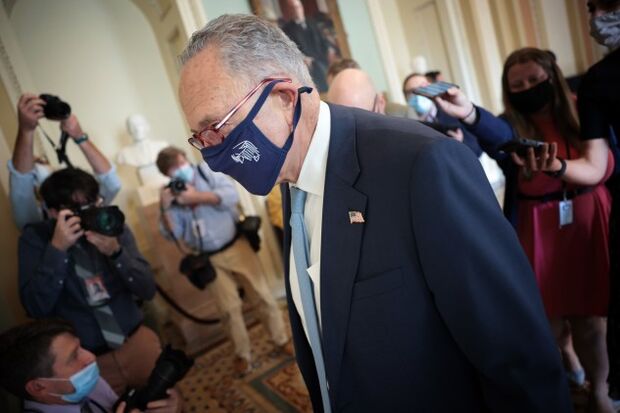 Democrats Face $2 Trillion Math Problem: Congressional Democrats are beginning to discuss how to pare down their sweeping social-spending bill. Lawmakers have yet to coalesce around a list of priorities, or even begun negotiations with both moderates and progressives present—a hallmark of when a deal is close to being reached. Biden and White House officials, however, have held a series of meetings in recent days with key Democrats, including groups of liberal House lawmakers and key centrist Sens. Joe Manchin (D-W.Va.) and Kyrsten Sinema (D-Ariz.).
A third or more of the spending may need to be slashed from the House version of the bill. That version is estimated to cost at least $3.5 trillion, but the official scorekeeper, the Congressional Budget Office, said yesterday it didn't know when it would have its calculation — further complicating Democrats' discussions. Read more from Laura Davison.
Also Happening on the Hill
House Panel Expands Capitol Riot Probe: The House panel investigating the Jan. 6 insurrection issued additional subpoenas yesterday, seeking testimony and records from two men it says have ties to organizing a rally that took place on the grounds earlier that day. The panel also subpoenaed records from the organization Stop the Steal, affiliated with another rally at the White House Ellipse featuring then-President Donald Trump. The panel says it has uncovered and is exploring direct connections between the two gatherings and the riot at the Capitol. Read more from Billy House.
Border Phone Searches Face Restrictions: Government officials would need a warrant to search Americans' phones and laptops at U.S. borders instead of routinely doing so without one, under a bipartisan bill unveiled yesterday. Sens. Ron Wyden (D-Ore.) and Rand Paul (R-Ky.) introduced a bill to terminate a longtime federal policy allowing broad searches at borders and airports without Fourth Amendment protections against unreasonable search and seizure. Read more from Ellen M. Gilmer.
Around the Administration
Today's Agenda: Biden will sign two pieces of legislation at 10 a.m., legislation (S. 1828) that would allow the CIA and State Department to provide financial support to U.S. intelligence and diplomatic personnel and their family members who develop brain injuries; and legislation (S. 1917) would require the Homeland Security Department to analyze and provide guidance on cybersecurity risks facing K-12 schools.
The president will speak at 11:30 a.m. on the September jobs report.
White House to Restore National Monuments: Biden this afternoon will also restore the original boundaries and slightly expand two national monuments in Utah, as well as protections for one off the coast of Massachusetts, the White House said. Biden will reverse Trump's 2017 decision to shrink Bears Ears National Monument by nearly 85% and Grand Staircase-Escalante National Monument by almost half. Both are overseen by the Bureau of Land Management.
He is also reversing Trump's decision to allow commercial fishing in the protected waters of the Northeast Canyons and Seamounts, a national marine monument that President Barack Obama designated in 2016. Read more from Bobby Magill and Kellie Lunney.
Biden Leans In Harder on Vaccine Mandate: Biden escalated his campaign to pressure private employers into imposing coronavirus vaccination mandates in a trip to a Chicago suburb, saying shots would save lives and boost the economy. "I'm calling on more employers to act," Biden said yesterday in Elk Grove Village, Ill. "My message is require your employees to get vaccinated. With vaccinations, we're going to beat this pandemic."
Biden is seeking to increase the vaccination rate as public approval of his handling of the pandemic has been falling. The president said his administration would soon issue regulations to implement a plan he announced last month to require businesses with more than 100 employees to ensure workers are fully vaccinated or face weekly testing. Read more from Jennifer Jacobs.
Republican lawmakers are criticizing the Biden administration for pressuring the aviation industry to mandate Covid-19 vaccines for its workers. Pressing airlines to impose vaccination mandates on their employees and fire those who don't comply is "unacceptable," House Transportation and Infrastructure ranking member

Sam Graves

(R-Mo.) and

Garret Graves

(La.), the top Republican on the aviation subcommittee, wrote to Biden yesterday. Read more from Lillianna Byington.
NLRB Pressured to Remove Biden Picks from Joint Employer Case: An anti-union group has asked the National Labor Relations Board's top ethics officials to bar its two new Democratic board members from involvement with the agency's Trump-era rule on joint employment, which is under review in a pending federal court case. The National Right to Work Legal Defense Foundation targeted NLRB members Gwynne Wilcox and David Prouty for removal from the case based on their prior work for affiliates of the Service Employees International Union, which is challenging the regulation. The organization made its case to David Berry, the NLRB inspector general, and Lori Ketcham, the agency's designated ethics official, in a letter earlier this week. Read more from Robert Iafolla.
U.S. Entering Recession, Study Says: A decline in consumer expectations suggests the U.S. economy is in recession even though employment and wage growth indicate otherwise, according a new study co-authored by a former Bank of England policy maker. In the research, David Blanchflower of Dartmouth College and Alex Bryson of University College London say consumer expectations indexes from the Conference Board and University of Michigan tend to predict downturns 18 months in advance. Simon Kennedy has more.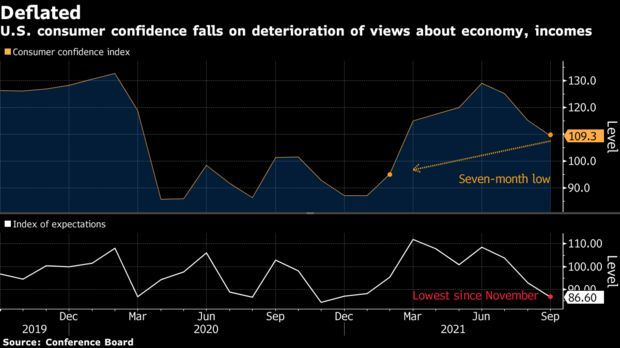 Defense & Foreign Affairs
Journalists Ressa, Muratov Win Nobel Peace Prize: Maria Ressa from the Philippines and Dmitry Muratov of Russia won the Nobel Peace Prize for their work to safeguard freedom of expression. They are "receiving the Peace Prize for their courageous fight for freedom of expression in the Philippines and Russia," the Oslo-based Nobel Committee said. "They are representatives of all journalists who stand up for this ideal in a world in which democracy and freedom of the press face increasingly adverse conditions." Read more from Lars Erik Taraldsen and Stephen Treloar.
Superpower Rivalry and Vaccine Envy Set Stage for Climate Talks: Premiers, presidents, and princes come and go from the world's biggest climate stage. It's the nature of the annual international climate talks organized by the United Nations, known as the Conference of the Parties in Glasgow. The pandemic has heightened rivalries between the U.S. and China, making climate diplomacy harder, even if Biden has returned the world's richest nation to the table on climate.
There's also the vast chasm of inequality between rich and poor countries. It's been a persistent fault line in climate negotiations, now exacerbated by bitterness over the uneven distribution of Covid-19 vaccines. Record debt, emptied treasuries, and even lingering divisions over Brexit could make progress difficult on two issues: ending the use of coal and channeling climate aid from rich nations to the developing economies that depend on cheap fossil fuels. Marc Champion and Jess Shankleman have more.
U.S. Has Troops in Taiwan Training Forces: The U.S. has had troops in Taiwan training local forces to better defend themselves in case of attack by China for at least a year, according to a U.S. defense official, a development likely to further antagonize ties between Washington and Beijing. The official, who asked not to be identified, confirmed an earlier report by the Wall Street Journal that more than two dozen American service members, including special forces, have been in Taiwan for more than a year. Some of the training has been with local maritime forces on small-boat training, according to the Journal. Read more from Peter Martin and Bill Faries.
A U.S. nuclear-powered attack submarine struck an object while submerged in international waters in the Indo-Pacific region last week, the Navy said, adding that no life-threatening injuries were reported. "The submarine remains in a safe and stable condition. USS Connecticut's nuclear propulsion plant and spaces were not affected and remain fully operational," U.S. Pacific Fleet said in a statement late yesterday, adding that the extent of the damage from the Oct 2. incident is being assessed. Read more from Jon Herskovitz.
China called on the U.S. to abide by its agreement to withdraw troops from Taiwan, in a relatively muted response. Chinese Foreign Ministry spokesman Zhao Lijian urged the U.S. to uphold the consensus that led Washington to sever ties with Taipei in favor of Beijing more than four decades ago, including ending its formal security pact. Read more from Bloomberg News.
To contact the reporters on this story: Zachary Sherwood in Washington at zsherwood@bgov.com; Brandon Lee in Washington at blee@bgov.com
To contact the editors responsible for this story: Giuseppe Macri at gmacri@bgov.com; Loren Duggan at lduggan@bgov.com