What to Know in Washington: House Wants a Say in Infrastructure
Bloomberg Government subscribers get the stories like this first. Act now and gain unlimited access to everything you need to know. Learn more.
The Senate spent months finessing its $1.2 trillion infrastructure plan. Now, its House counterparts want their own say on the legislation.
House lawmakers, perhaps most notably Transportation and Infrastructure Chair Peter DeFazio (D-Ore.), have repeatedly criticized the Senate package for leaving out provisions from the House-passed surface transportation and water bill that address climate change and fossil fuel pollution.
But making those changes could jeopardize Republican support for the final product after a bipartisan group of senators crafted a compromise intended to win at least 60 votes needed to advance the measure in that chamber. The Senate is working to pass that deal ahead of their August recess. "Substantial changes of that bill would make it very difficult for it to ultimately become law," Sen. Mitt Romney (R-Utah), one of the negotiators of the package, said in an interview.
But DeFazio said there will be time to make changes, especially if Speaker Nancy Pelosi (D-Calif.) delays a vote on the infrastructure bill until the Senate has also sent the House the larger budget reconciliation package that would carry an array of domestic programs in areas such as health, labor, and education. "If they send it over here in early August, it will sit. It will sit for a very long time," DeFazio said in an interview. Read more from Emily Wilkins.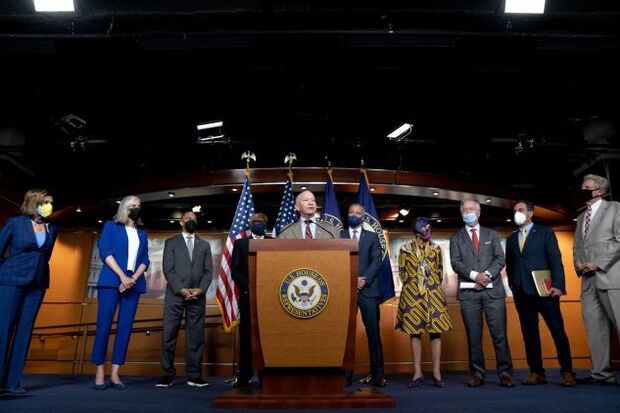 More on the Infrastructure Plan
Leaders Drive Infrastructure Deal, Bypass Panels: The trend in recent years of Capitol Hill leaders consolidating their power over the writing and scheduling of significant legislation continued with the Senate bypassing the traditional committee route in delivering the package.
Senate Majority Leader Chuck Schumer (D-N.Y.) and Minority leader Mitch McConnell (R-Ky.) tapped favored lawmakers to lead critical negotiations on the shape and details of the $1.2 trillion package rather than defer to the chairs of Environment and Public Works, Finance, and other committees who would have ordinarily overseen the drafting of the legislation. Read more from Nancy Ognanovich.
Senators Propose Using Covid-19 Aid on Infrastructure: Sen. John Cornyn (R-Texas) said he and Sen. Alex Padilla (D-Calif.) are bargaining with the White House on their proposal to give states flexibility to use some unspent pandemic relief funds on infrastructure projects, which would free up billions of federal dollars. Cornyn and Padilla are making their proposal as an amendment to the infrastructure package. A White House official said the administration was in discussion and working to ensure the proposed amendment didn't undermine the effort against the coronavirus.
Cornyn said their latest offer is to give states flexibility on spending 25% of any funds they were allocated from two major Covid-19 relief bills. They could spend another 25% of the money with a waiver from the Biden administration. Read more from Laura Litvan and Steven T. Dennis.
Water Aid Boost Sought: Communities would be able to access more direct aid for drinking water and wastewater through a bipartisan amendment to the infrastructure package. The provision offered by Sens. Jeff Merkley (D-Ore.) and Jim Inhofe (R-Okla.) would change the formula related to appropriations for the Clean Water State Revolving Fund and the Drinking Water State Revolving Fund included in the bipartisan infrastructure measure. Read more from Kellie Lunney.
Pharma May Face Billions in Waste Fines: Drug manufacturers Takeda Pharmaceutical and Roche could each be forced to repay the government $100 million annually for wasted medicines under the bipartisan Senate infrastructure deal. The $550 billion deal would require companies to refund Medicare when doctors throw away drugs, a move meant to press certain drugmakers to stop overpacking single-use containers. The funds would offset part of the bill's spending on roads and bridges.
Medicare paid $752.9 million for drugs that were discarded in 2019, according to U.S. government data. More than a third, or $286 million, of that spending came from just four drugs, and one—Takeda's Velcade—accounted for over $114 million of that spending alone. The top five most-wasted drugs by cost in 2019 were Velcade, Roche's Herceptin, Amgen's Nplate, Bristol-Myers's Abraxane, and Roche's Rituxan. Velcade topped the list for all three years Medicare has collected this data. Alex Ruoff has more.
Happening on the Hill
Today's Agenda:
The Senate plans to continue consideration of amendments to the infrastructure bill.
Click here for a complete list of today's hearings and markups.
Senators Go Beyond Biden Plan to End Private-Equity Tax Break: Two senior Senate Democrats are proposing to end a prized tax break for the private-equity industry in a new bill that would go further than Biden's plan and potentially raise quadruple the revenue. Senate Finance Committee Chairman Ron Wyden (Ore.) and Sheldon Whitehouse (R.I.), a member of the panel, are introducing legislation today to repeal the break for carried interest, which allows private equity fund managers to pay lower tax rates on their earnings than they would for regular income. The bill would also prohibit them from deferring tax payments on those earnings, another benefit embedded into the current law. Read more from Laura Davison.
San Francisco Fed Rebuffs Toomey Probe: The Federal Reserve Bank of San Francisco has declined to comply with a document request by Sen. Patrick Toomey (R-Pa.) as part of the lawmaker's investigation into Fed research on topics including climate change and racial justice. A Senate Banking Committee Republican aide who is familiar with the matter said that instead of providing the full suite of requested documents, the San Francisco Fed had offered to arrange a conversation between its president, Mary Daly, and the senator. Read more from Catarina Saraiva and Craig Torres.
Around the Administration
Today's Agenda:
Biden and Vice President Kamala Harris meet at the White House at 11:30 a.m. with Asian American, Native Hawaiian, and Pacific Islander civil rights leaders.
Biden will speak at 3 p.m. on steps the administration is taking to on clean cars and trucks production.
The president at 4:30 p.m. will sign legislation that would award four congressional gold medals to the U.S. Capitol Police and others who served at the U.S. Capitol on Jan. 6. For more on the measure, read the BGOV Bill Summary by Adam M. Taylor.
Biden Sets U.S. Goal of 50% Clean Cars: Biden plans to call for half of all vehicles sold in the U.S. to be emission free by the end of the decade, an ambitious goal that automakers say can only be achieved with a bigger government investment in charging stations and other infrastructure. Biden will be joined at the White House today by representatives of the major Detroit automakers and the United Automobile Workers union as he unveils an executive order establishing the the goal for half of all the cars sold to be battery electric, plug-in hybrid electric or fuel cell electric by 2030, according to senior administration officials and a White House fact sheet. Read more from Ari Natter and Keith Laing.
U.S. Weighs Requiring Vaccinations for Visitors: The U.S. is considering a plan to require all foreign visitors to be vaccinated for the coronavirus, according to a White House official. The potential move comes amid a surge in Covid-19 cases causes by the highly infectious delta variant; officials expect infections to continue to rise among the unvaccinated population in the coming weeks, Nancy Cook reports.
Biden's administration is working towards making a recommendation that some immunocompromised people receive an extra dose of coronavirus vaccine, according to Axios, citing two unidentified people familiar with the matter. A recommendation is likely to come soon but there is no firm timeline, according to a senior Biden official, Deana Kjuka reports.
EPA Union Asks Congress to Top Biden Budget: The EPA's biggest union is asking Congress to deliver funding that would boost the agency's workforce by nearly 40%, far outstripping the request in Biden's budget blueprint. The American Federation of Government Employees wants the Environmental Protection Agency to grow to 20,000 staffers, which would be the highest level in the agency's 51-year history. It currently employs some 14,300 workers. Read more from Stephen Lee.
Census Will Forgo "Majority-Minority" Approach: The U.S. Census Bureau is moving away from using "majority" and "minority" for measuring racial and ethnic diversity, and will opt for a new set of metrics in its analysis of the 2020 population survey. The bureau said the inclusion of certain groups as part of the "majority" or "minority" has become more complex because many people may not identify with certain population groups, even if that is how they are classified according to federal guidelines. The racial and ethnic categories measured by the bureau are based on standards set by the U.S. Office of Management and Budget in 1997. Read more from Payne Lubbers.
Nuclear Talks With Iran Enter Danger Zone: The climate has turned gloomy around world powers' talks with Iran to revive a frayed nuclear accord, as a new ultraconservative Iranian president formally takes over today and a crisis in Persian Gulf shipping lanes threatens to deepen. Cleric Ibrahim Raisi will be installed after having received the blessing of his mentor, Supreme Leader Ayatollah Ali Khamenei, on Tuesday. Iran had put a brake on nearly three months of nuclear talks in Vienna to allow for its June presidential election and the changing of the guard, and hasn't signaled when negotiations might resume. Read more from Jonathan Tirone and Golnar Motevalli.
To contact the reporters on this story: Zachary Sherwood in Washington at zsherwood@bgov.com; Brandon Lee in Washington at blee@bgov.com
To contact the editors responsible for this story: Giuseppe Macri at gmacri@bgov.com; Loren Duggan at lduggan@bgov.com; Michaela Ross at mross@bgov.com
Stay informed with more news like this – from the largest team of reporters on Capitol Hill – subscribe to Bloomberg Government today. Learn more.