What to Know in Washington: House Votes to Avert Rail Strike
Bloomberg Government subscribers get the stories like this first. Act now and gain unlimited access to everything you need to know. Learn more.
The House plans to take up legislation on Wednesday to prevent a strike by freight-rail workers, and prospects were brightening for quick action in the Senate despite resistance from a few Republicans and progressive Democrats.
President Joe Biden, who helped broker a deal between railroads and labor that was rejected by members of four of 12 unions, urged Congress to impose the agreement anyway, saying, "The economy's at risk."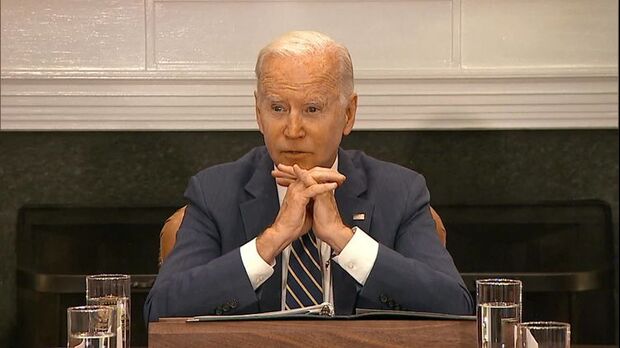 Speaker Nancy Pelosi (D-Calif.) said that the legislation to impose the tentative agreement reached in September has the votes to pass. Senate Majority Leader Chuck Schumer (D-N.Y.) said that the chamber's Republican leader, Mitch McConnell (Ky.,) had agreed try to pass the bill as quickly as possible.
An objection by any senator to fast tracking the measure could push final Senate action until close to the formal strike deadline of Dec. 9.
Number two Senate Republican John Thune (S.D.) told a panel of Bloomberg editors and reporters in Washington that while many Republicans would prefer not to have Congress intervene, a "significant" number would likely vote for the measure if it comes to the Senate floor.
Railroads likely will begin shutting down rail service as soon as the end of this week, beginning with embargoes on accepting hazardous freight, to make sure rail cars aren't left stranded on the tracks, adding to pressure on Congress to intervene.
The House will also vote on adding seven days of paid sick leave as a technical correction to the bill. That procedure would allow the Senate to hold a quick up-or-down vote on the sick leave matter and then proceed to debating the underlying legislation if the sick leave change is rejected.
Pelosi told reporters she would vote for sick leave.
Sen. Bernie Sanders (I-Vt.) said he will demand a vote on an amendment that would provide the benefit. But in a positive sign, he told reporters that he expects that it will be allowed, which could streamline the process in the Senate.
Thune told reporters that he did not think there would be enough Republican votes to pass the Sanders amendment. Read more.
Business groups are signaling the alarm that Biden's call for Congress to intervene could come too late to stop a potential shutdown of transportation arteries vital to the broader economy. Read more.
Also Happening on the Hill
CONGRESS' SCHEDULE
The House meets at 9 a.m. and plans to vote on resolutions to prevent a freight-rail worker strike, among other measures
The Senate meets at 10 a.m. to consider two judicial nominations
The Senate passed legislation to enshrine federal protection for same-sex marriages with a bipartisan vote that dramatically demonstrates the massive cultural shift in the US on the issue.
More Americans than ever support same-sex marriage — yet 36 Republican senators voted against the measure on Tuesday. Read more.
Senators pressed the chief executive officers of Kroger Co. and Albertsons Cos. on Tuesday about whether their proposed $24.6 billion deal to create a supermarket giant will benefit consumers in an era of rising inflation.
The chairman of the US House committee investigating the 2021 assault on the US Capitol said the panel's final report would likely not be released until late December, shortly before Republicans take control of the chamber.
Stewart Rhodes, leader of the right-wing Oath Keepers group, and one other defendant were convicted of seditious conspiracy for their roles in the storming of the US Capitol on Jan. 6, 2021, capping a trial of the most serious crimes alleged among the hundreds of people prosecuted. Read more.
Senate Republicans want to leverage the next US debt limit increase to force cuts in projected federal spending and changes to Social Security and other entitlement programs, the party's No. 2 leader said.
A bipartisan bill to ease green card access for legal immigrants is on track to reach the House floor next week, a rare bit of traction for immigration legislation as thornier debates continue.
US lawmakers are discussing a compromise measure that would allow Boeing Co. to certify its final two 737 Max models without an expensive redesign while also adding new safety requirements.
Apple Inc. Chief Executive Officer Tim Cook is in Washington to meet with top Republican lawmakers, according to people familiar with his visit, as the company seeks to forge ties with the GOP ahead of the party's takeover of the House early next year.
A top congressional Republican said he expects the US will keep money and weapons flowing to Ukraine after the GOP takes control of the House of Representatives in January, playing down concerns that lawmakers in his own party who advocate a halt in funding will succeed.
A number of incoming Republican House members who helped deliver the chamber for the party are jockeying for a coveted spots on the House Financial Services Committee, the influential panel that oversees the banking, insurance, and real estate industries.
The Senate cleared legislation Tuesday night that would make it a federal crime to export protected American Indian cultural items and archaeological resources without authorization.
Senate Democrats led by Majority Whip Dick Durbin (D-Ill.) want the Agriculture Department to strengthen treatment standards for dog breeders. The USDA should require stronger housing, caging, feeding, watering, socialization, and veterinary care for puppy dealers, the lawmakers said in a letter to Secretary Tom Vilsack, Maeve Sheehey reports.
Elections, Politics & Influence
The top two Senate Republicans distanced themselves from Donald Trump, following the former president's dinner with a white supremacist leader and the GOP's poor showing in the midterm elections.
The Republican Party is setting out on a review of its disappointing performance in the midterms, an election in which US voters issued a strong rebuke of Trump-backed candidates who still say the 2020 election was stolen.
South Carolina's highest court rejected an appeal by former White House chief of staff Mark Meadows to avoid testifying in the Atlanta district attorney's criminal probe of Donald Trump's attempts to overturn the 2020 election in Georgia.
Around the Administration
PRESIDENT'S SCHEDULE
Biden at 11:30 a.m. gives a speech at the White House Tribal Nations Summit in Washington, D.C.
At 5:30 p.m. the president, first and second family will attend the National Christmas Tree lighting
At 2 p.m. White House Press Secretary Karine Jean-Pierre gives a press briefing
Biden will welcome French President Emmanuel Macron for the first White House state dinner in more than three years on Thursday, setting aside recent tensions with Paris over defense and trade issues. Macron's government is angry about the tax-and-climate law that Europeans say unfairly subsidizes North American electric-vehicle production.
US allies and companies support Washington's efforts to keep China bereft of advanced technologies needed to modernize its military, and they're willing to accept lower revenue for the sake of national security, according to US Commerce Secretary Gina Raimondo.
China shouldn't interfere with "extraordinary" protests against strict Covid curbs that broke out across the country, the US envoy to Beijing said Tuesday in the most detailed comments about the demonstrations by a senior US official so far. Read more.
Taiwan's semiconductor industry may be impacted by recent US moves to reduce reliance on the island's leading-edge technology, according to a Taiwanese economic official. Read more.
The Treasury Department's need to produce guidance on implementing the provisions of President Joe Biden's tax-and-climate law has delayed some of the department's other rulemaking projects, a Treasury official said Tuesday.
Planned wind projects off the New England coast threaten to harm the region's dwindling population of endangered right whales, according to a US government marine scientist.
The Biden administration nominated Ismail "Izzy" Ramsey to serve as the top federal prosecutor in San Francisco.
With assistance from Maeve Sheehey
To contact the reporter on this story: Michaela Ross in Washington at mross@bgov.com
To contact the editor responsible for this story: Katrice Eborn at keborn@bgov.com
Stay informed with more news like this – from the largest team of reporters on Capitol Hill – subscribe to Bloomberg Government today. Learn more.