What to Know in Washington: House to Vote on Russia Trade Status
House bill would revoke Russia's trade status with the U.S.
Ireland's Taoiseach, set to meet Biden today, tested positive
The House will vote on ending permanent normalized trade relations with Russia and Belarus on Thursday, a move that would allow the U.S. to impose higher tariffs on Russian goods and take other actions.
The bill will use an expedited process requiring the support of two-thirds of lawmakers for passage.
"I urge my colleagues on both sides to join in voting to hold them accountable," House Majority Leader Steny Hoyer (D-Md.) said in a tweet.
The legislation has bipartisan support and will come to the floor one day after Ukrainian President Volodymyr Zelenskiy asked Congress for additional sanctions on Russia.
Revoking the status, which in the U.S. requires legislation, would put Russia in the same category as other states viewed by Washington as pariahs, including North Korea and Cuba.
The bill also includes an expansion of the Global Magnitsky Human Rights Accountability Act. That would enable the Biden administration to impose further sanctions on Russian officials for human rights violations. The House included Magnitsky language in legislation to ban Russian oil that passed that chamber last week. However, attaching it to the trade legislation may move it through the Senate and to President Joe Biden's desk sooner, though no timetable has been set.
The president last week announced the U.S., along with other G-7 and European Union countries, would revoke the trade status in response to the invasion of Ukraine.
Negotiations briefly stalled in the House while Democrats and Republicans were divided over just how much power Biden should have to reinstate Russia's status and what Moscow would have to do to regain the standing, lawmakers involved in the talks said. Rep. Kevin Brady (Texas), the senior Republican on the House Ways and Means Committee, said both parties and the White House reached a compromise that allows for both Congress and the president to be involved in re-establishing a U.S. trade relationship with Russia. Read more from Laura Davison and Billy House.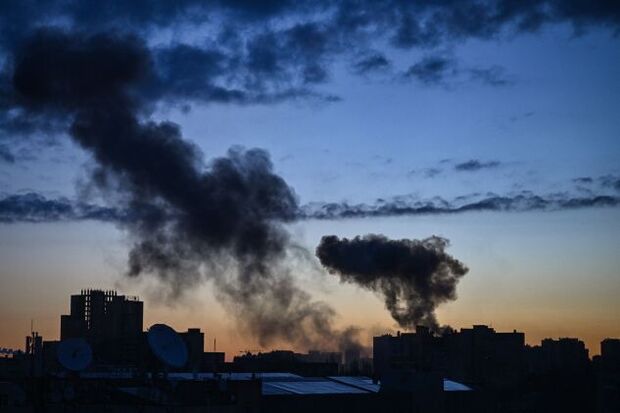 MORE ON THE WAR IN UKRAINE:
A Kremlin spokesman said a report of major progress in talks with Ukraine was "wrong" but that more discussions are expected on Thursday. Ukrainian President Volodymyr Zelenskiy addressed German lawmakers a day after an impassioned address to Congress. Biden branded Russian President Vladimir Putin a "war criminal" and offered $800 million-worth of new weaponry to Ukraine. Read the latest in the Bloomberg News Ukraine Update.
The expanded arsenal that the U.S. is sending to Ukraine includes 100 armed drones that are tube-launched from the ground and plunge into their targets, people familiar with the plans said. The dive-bombing Switchblade drone, made by AeroVironment, has been in the arsenal of U.S. commandos since it was secretly deployed in Afghanistan in 2010 for use against the Taliban. Army officials have described it as a flying shotgun. Read more from Tony Capaccio and Roxana Tiron.
The U.S. and allies have launched a task force to track Russian oligarchs. Russian Elites, Proxies, and Oligarchs (REPO) task force members will collect and share information for actions including sanctions, asset freezing and civil and criminal seizure, and criminal prosecution, the Treasury Department said. Australia, Canada, Germany, France, Italy, Japan and U.K. representatives took part in an online meeting with U.S. officials on Wednesday to launch the task force, Jim Silver reports.
Happening on the Hill
CONGRESSIONAL SCHEDULE:
The Senate is in at 10 a.m. to continue processing a round of Biden's judicial nominees.
The House meets at noon to vote on legislation to revoke Russia's trade status and ban forced arbitration.
Jerome Powell won bipartisan support from a Senate panel for another term as Federal Reserve chair on Wednesday evening while Biden's other remaining nominees to join the central bank also advanced. The Senate Banking Committee approved Powell in a 23-1 vote. The panel also backed sending the nominations of Lael Brainard as vice chair and Philip Jefferson as Fed governors to the full Senate. The committee, evenly split between Democrats and Republicans, deadlocked 12-12 on Lisa Cook's nomination to the board of governors, which will require another vote on the Senate floor. Olivia Rockeman and Steven T. Dennis have more.
The Federal Reserve kicked off a campaign of interest rate hikes that's set to be the most aggressive since the mid-2000s, as Powell assured Americans that the fight against inflation won't tip the U.S. economy into recession. Read more from Craig Torres and Steve Matthews.
House Democrats want to slap big oil companies with a new windfall tax and return the money to consumers via a monthly rebate, the latest step by Democrats to try and tie gas prices to top fossil fuel producers. Transportation and Infrastructure Chair Peter DeFazio (D-Ore.) on Wednesday introduced legislation that would establish a re-distributive tax on oil companies like Exxon Mobil and Chevron to fund rebates structured similarly to the stimulus payments that Congress authorized during the pandemic. It's similar to a bill floated last week by Sen. Elizabeth Warren (D-Mass.) and others, Colin Wilhelm reports.
Senate Banking Chairman Sherrod Brown asked Treasury and the National Association of Insurance Commissioners to study the growing role of private equity firms in managing retirement insurance products. "These risky companies have a track record of undermining pension and retirement programs," Brown (D-Ohio) said in a letter. He asked for a report to Congress by May 31 from Steven Seitz, director of the Treasury Department's Federal Insurance Office; and Dean Cameron, director of the National Association of Insurance Commissioners, Alisa Parenti reports.
Employers hoping to offer apprenticeship programs to aid workforce development in a tight labor market would get some funding help under a House bill to be introduced Thursday. The legislation comes at a time when the workforce is continuing to recover from the peak of the global Covid-19 pandemic and jobless rates are at a record low in some places. Reps. Lori Trahan (D-Mass.), Joseph Morelle (D-N.Y.), and Jason Crow (D-Colo.) plan to introduce their "Apprenticeship Support for Small Employers and Teams," or ASSET Act, Thursday. Read more from Paige Smith.
A House committee will spotlight an FDA process that's been criticized as putting some of the costliest drugs on the market with limited evidence. The House Energy and Commerce Committee Health Subcommittee will tackle 22 pieces of legislation at a hearing on Thursday about the future of medicine. The hearing comes as Congress considers legislation to reauthorize user fees, which the Food and Drug Administration takes from drug and device-makers to fund its operations. Read more from Jeannie Baumann and Celine Castronuovo.
A key senator reiterated that Chinese companies must comply fully with U.S. rules if they want to keep trading on New York exchanges. "Americans are investing money in companies which don't have the transparency that you would expect from other investments, virtually from any company from virtually any part of the world," Sens. Marco Rubio (R-Fla.) said, as U.S.-listed Chinese stocks soared Wednesday. Rubio was discussing a law passed in 2020 that could lead to Chinese companies being booted off exchanges as soon as 2024 if regulators aren't able to inspect their corporate audits. Read more from Steven Dennis.
Elections, Politics & Probes
As the end of redistricting approaches, former Attorney General Eric Holder is more hopeful about Democrats' competitive positioning over the next decade, but just as disheartened by the overall state of U.S. elections. Holder has focused as chairman of the National Democratic Redistricting Committee on leveling the playing field after the GOP dominated the previous round of district line-drawing. In an interview with BGOV reporters, Holder said Democrats "stopped Republicans from drawing their way into a permanent majority in Congress." Read more from Emily Wilkins and Greg Giroux.
Every edge counts for the incumbents whose re-election chances were most affected by redistricting. More than 40 are running in House districts where they currently represent less than half of all residents, and some are in far less hospitable territory for their party. That abundance of new-to-you voters dilutes at least a couple of the traditional benefits that come with incumbency—name I.D. and a record of constituent service. Giroux has more.
Ohio's Supreme Court plunged the state's election schedule into doubt with a ruling that legislative maps were unconstitutionally gerrymandered. The court ordered the state redistricting commission to try again and file a new plan with the secretary of state by March 28. "Substantial and compelling evidence shows beyond a reasonable doubt that the main goal of the individuals who drafted the second revised plan was to favor the Republican Party and disfavor the Democratic Party," according to the majority opinion issued late Wednesday. Read more from Kenneth P. Doyle.
Celebrity physician Mehmet Oz said he will renounce his Turkish citizenship if he's elected to the Senate from Pennsylvania after Republican rival David McCormick made it an issue in their GOP primary and questioned whether he could have conflicting loyalties. McCormick, the former Bridgewater Associates CEO, criticized Oz for his dual citizenship. His campaign had questioned why Oz served in the Turkish military rather than the U.S. military and held a call Wednesday with Sen. Dan Sullivan (R-Alaska), who cast doubt on Oz's ability to receive classified briefings if he were a Turkish citizen. Read more from Mark Niquette.
Around the Administration
BIDEN'S SCHEDULE:
The president was scheduled to meet with Irish Taoiseach Micheál Martin at 10:30 a.m. in the Oval Office, but Martin has since tested positive for Covid-19 after arriving in Washington.
The pair were also scheduled to deliver remarks to at the Annual Friends of Ireland Luncheon hosted by Speaker

Nancy Pelosi

(D-Calif.) at the Capitol. A shamrock presentation with the two alongside First Lady Jill Biden and Mary Martin was also scheduled for 5 p.m. at the White House.
Irish Prime Minister Micheal Martin tested positive while in D.C. for St. Patrick's Day celebrations, according to news reports. The Press Association reported Martin's positive test Wednesday. Martin left the Ireland Funds Gala in Downtown Washington after learning of the result, according to CBS News. A White House spokesman said Biden spoke at the event but he was not in close contact with Martin. Jordan Fabian has more.
Biden's crypto executive order put the nation's two federal consumer protection regulators front and center in regulating digital currency. The Federal Trade Commission and the Consumer Financial Protection Bureau have largely taken a back seat to other financial regulators when it comes to crypto. But Biden's order on March 9 directed the CFPB and FTC to analyze how they can police crypto transactions for fraud and abuse. "They've taken the position that crypto is not a consumer product, but as of [March 9] that position is done," one former CFPB attorney said. Evan Weinberger has more.
States and companies can't keep using Trump-era formulas to estimate social costs of greenhouse gas emissions for future energy and infrastructure projects while they battle over Biden administration calculations that are roughly twice as costly. The federal appeals court in New Orleans on Wednesday granted the White House's request to temporarily let federal agencies use Biden's new cost-benefit analysis rules, which seek to slow climate change by making activities that emit greenhouse gases far more expensive. Read more from Laurel Brubaker Calkins.
The U.S. wants to broaden efforts to boost the energy sector's cybersecurity defenses, shoring up the U.S. supply chain of power equipment to spot vulnerabilities more quickly amid rising concerns from Russia and China. The Department of Energy's four-year-old cybersecurity office, with an 18% bump in funding approved by Congress this month, is stepping up coordination with other agencies and private industry, Puesh Kumar, director of the Office of Cybersecurity, Energy Security, and Emergency Response, told Bloomberg Law. Read more from Daniel Moore.
Ketanji Brown Jackson's work on the U.S. Sentencing Commission led her and members of different ideologies to reach consensus on hot-button issues. Consensus in contentious matters on the Supreme Court can be more elusive, but Jackson's experience on the sentencing commission at a pivotal moment in its history will help her and the court if she's confirmed, according to lawyers with commission experience and scholars who've studied the organization. Jackson, Biden's choice to succeed retiring Supreme Court Justice Stephen Breyer, will begin nomination hearings in the Senate next week. Read more from Jordan S. Rubin.
To contact the reporters on this story: Giuseppe Macri in Washington at gmacri@bgov.com; Brandon Lee in Washington at blee@bgov.com;
To contact the editors responsible for this story: Loren Duggan at lduggan@bgov.com; Michaela Ross at mross@bgov.com