What to Know in Washington: House to Vote on Omnibus, Oil Ban
House releases omnibus spending bill with Ukraine, Covid relief
Chamber will also vote on bill to ban import of Russian oil
Democrats and Republicans in Congress struck a deal on a long-delayed $1.5 trillion spending bill that would fund the U.S. government through the rest of the fiscal year and provide $13.6 billion to respond to Russia's invasion of Ukraine.
Lawmakers released the text of the 2,741-page measure early this morning, with the House planning to pass it later in the day. The House also is set to vote on another stopgap spending bill, continuing government funding at current levels through March 15 to give the Senate time to deal with the full-year legislation.
The legislation would provide $730 billion for non-defense discretionary spending, a 6.7% increase and a win for Democrats while Republicans were able to negotiate a 5.6% increase for defense spending over fiscal 2021, bringing it to $782 billion.
Congress added to the $10 billion the Biden administration initially requested to handle the Russia-Ukraine war. In a last minute compromise, funding for pandemic-related measures was cut from the $22.5 billion the administration wanted, to $15.6 billion.
Congress will need to send the funding package to the president's desk by Friday to fund the government by that night's deadline.
Senate Appropriations Chairman Patrick Leahy (D-Vt.) and Vice Chairman Richard Shelby (R-Ala.) both said yesterday it's possible the Senate will have to vote on the omnibus this weekend, though they hadn't given up hope of Friday passage. Read more from Read more from Erik Wasson and Jack Fitzpatrick.
House Democrats Unveil Measure to Bar Russian Crude Oil Imports
House Democrats unveiled legislation early this morning barring U.S. imports of Russian oil amid growing political pressure to punish Russia for its invasion of Ukraine.
The legislation, which comes after a move yesterday by President Joe Biden to implement a ban on Russian crude oil and other fossil fuel products, was planned for a floor vote later today.
The House bill would bar the importation of Russian crude oil, liquefied natural gas, coal, and refined products like gasoline and kerosene. The House legislation, which would go into effect 45 days after being enacted, was a response by lawmakers to the escalating public anger over Russia's invasion of Ukraine that also helped force Biden's hand despite the administration's concerns about the effect on energy prices. Read more from Ari Natter and Erik Wasson.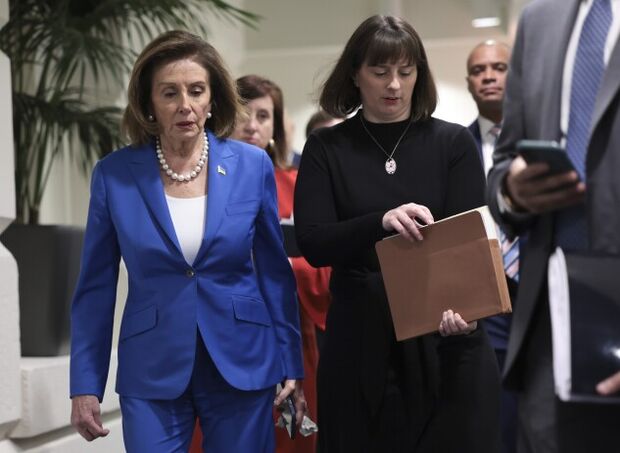 Oil industry leaders are meeting with U.S. officials this week as surging energy prices and mounting national security concerns bring together two groups that have had a distant relationship since Biden's inauguration. Energy Department officials including Secretary Jennifer Granholm will meet with representatives from Exxon Mobil, Shell, and several shale producers on the sidelines of the CERAWeek by S&P Global conference in Houston, according to people familiar with the matter. Read more from Kevin Crowley, Jennifer A. Dlouhy, Ari Natter and Naureen S. Malik.
Venezuela's government released two political prisoners yesterday, days after a rare meeting with the White House to discuss lifting oil sanctions. President Nicolas Maduro released Gustavo Cardenas, a U.S. citizen and former executive from oil firm Citgo, according to his lawyer Diego Barboza. Cuban-American citizen Jorge Rodriguez, arrested in February of 2021, was also freed, his lawyers said. The decision followed a surprise visit from U.S. officials on Saturday in which they discussed a potential waiver of some sanctions. Adreina Itriago Acosta, Fabiola Zerpa, and Nicolle Yapur have more.
President Vladimir Putin's war in Ukraine is barely two weeks old, but this time it's starting to look like an act of retribution that has no obviously achievable endgame. As Russia's generals shift to ever-more-brutal tactics, it isn't clear how Putin can try and converge Ukraine's devastation with the goals he's set out: to create a neighbor that's no longer "anti-Russian" and all the while change the post-Cold War order in Moscow's favor. But none of that's happening because Putin has miscalculated. "They wanted Crimea 2014, but they got Chechnya 1994," says scholar Thomas de Waal. Read more from Marc Champion.
Vice President Kamala Harris is traveling to Poland today to discuss the next steps U.S. and its allies should take to both support Ukraine, through military and humanitarian assistance, and punish Russia for invading the country without provocation. Two senior administration officials declined to go into any specifics on what Harris hopes to achieve during her three-day tour that will also take her to Romania. On the trip, Harris will meet with Polish President Andrzej Duda and Canadian Prime Minister Justin Trudeau, who will be in Warsaw at the same time. She also plans to meet with embassy staff, refugees from Ukraine as well as Polish and U.S. service members. Read more from Nancy Cook.
Poland Pushes Fighter Jet Issue Over to NATO to Decide: Poland is offering to send its MiG-29 fighter jets to an American base in Germany for NATO to decide what to do with them, as it grapples with public pressure from Ukraine to send in planes to help combat Russia's air superiority. The government in Kyiv has repeatedly called for more fighter jets for its pilots, putting Poland in a tricky spot as it seeks to avoid being pulled into a potentially broader conflict with Russia. Read more from Piotr Skolimowski and Bill Faries.
Also Happening on the Hill
CONGRESSIONAL SCHEDULE:
The House meets at 9 a.m. to take up the spending bill and Russia oil limits legislation.
The Senate is not in session today, returning tomorrow to vote on confirming Maria Pagan to be deputy U.S. trade chief.
Amtrak is pushing lawmakers to regulate further the freight railroads, saying they often get in the way of passenger trains and cause delays. A shrinking number of railroads over the past four decades has led to price bumps and service issues that the freight-regulating Surface Transportation Board hasn't fully addressed, passenger rail carriers and shippers told a House panel. "I haven't seen too many times when rail labor, railroad shippers, and Amtrak are all raising similar concerns about the way the freight rail industry is operating," House Transportation Chair Peter DeFazio (D-Ore.) said. Lillianna Byington has more.
Sen. Susan Collins praised Judge Ketanji Brown Jackson's qualifications after a meeting with her, saying their discussion was "very productive" and "helpful." They "covered a lot of issues," Collins (R-Maine) said, saying Jackson explained "the methodology that she uses as she approaches the cases that come before her." Collins, who met with Jackson for over 90 minutes, is one of the Senate Republicans most likely to vote in favor of Jackson's confirmation. So far, she's supported 87% of Biden's judicial picks, including Jackson's nomination to the U.S. Court of Appeals for the District of Columbia Circuit. Read more from Madison Alder.
The White House is sticking with its ICE nominee even though he faces a tricky path to Senate confirmation. Senators scuttled a planned procedural vote on the nomination yesterday after one Republican raised questions about potential domestic violence allegations. Aides to Majority Leader Chuck Schumer (D-N.Y.) didn't immediately respond to questions about the move. An official said the White House still supports Ed Gonzalez's nomination to lead U.S. Immigration and Customs Enforcement and urged swift confirmation. Read more from Ellen M. Gilmer.
The Senate passed the most significant overhaul of the troubled U.S. Postal Service in 16 years, with the goal of putting the agency on a sound financial footing after years of losses. The vote was 79 to 19 on the bill, which has already passed the House. The legislation now heads to Biden, who is expected to sign it into law. Read more from Erik Wasson.
House Energy and Commerce Republicans plan to counter a proposal by Democrats to revamp an FDA approval pathway that Biogen's Alzheimer's drug has thrust under the microscope. The draft bill, obtained by Bloomberg Law and confirmed by a Republican aide yesterday, would overhaul the accelerated approval process that's designed to speed up access to medicines by relying on laboratory markers that can predict a drug's clinical benefit. The bill, by Rep. Cathy McMorris Rodgers (R-Wash.), the top Republican on the committee, would allow the FDA to expedite withdrawals of drugs that ultimately don't show a benefit to patients. Read more from Jeannie Baumann and Alex Ruoff.
Around the Administration
BIDEN'S SCHEDULE:
The president meets with business leaders and governors at 2 p.m. to tout legislative efforts to enhance domestic research and manufacturing to compete with economic rivals.
At 6:15 p.m., Biden is scheduled to deliver remarks at Senate Democrats' spring retreat.
The White House and lawmakers are making another push to pass legislation to boost domestic manufacturing. Biden will meet with business leaders today to stress the importance of competitiveness legislation to strengthen supply chains, especially regarding semiconductor chips. Biden, Secretary of Commerce Gina Raimondo and White House National Economic Council Director Brian Deese will attend along with corporate executives including Siyoung Choi; president of Samsung Electronics' Device Solutions Division; Whirlpool Senior Vice Presidet Elizabeth Door; HP CEO Enrique Lores; Medtronic CEO Geoff Martha; Micron CEO Sanjay Mehrotra; and Cummins CEO Jennifer Rumsey, Chelsea Mes reports.
Biden today plans to order government agencies to take a closer look at issues surrounding the fast-growing crypto market, from developing a potential digital dollar to combating illicit finance. The White House executive order, which was outlined in a fact sheet, comes as the administration faces calls from the industry to take a leading role in setting policy for digital assets. It is the first attempt at coordinating the government's strategy, though it falls short of providing a clear direction on regulation — something crypto firms have been clamoring for. Read more from Allyson Versprille.
The Biden administration is set on a plan to impose minimum staffing requirements on nursing homes, according to a top health official, even as industry groups say it won't work without more funding. The staffing proposal is part of a broad agenda Biden released last week to bring greater scrutiny to a U.S. nursing-home industry whose patients and workers have been devastated by Covid-19. Read more from John Tozzi and Tony Pugh.
To contact the reporters on this story: Zachary Sherwood in Washington at zsherwood@bgov.com; Brandon Lee in Washington at blee@bgov.com
To contact the editors responsible for this story: Giuseppe Macri at gmacri@bgov.com; Loren Duggan at lduggan@bgov.com; Michaela Ross at mross@bgov.com