What to Know in Washington: House to Vote on Biden's Agenda
Bloomberg Government subscribers get the stories like this first. Act now and gain unlimited access to everything you need to know. Learn more.
The House plans to vote today on two landmark pieces of legislation comprising major elements of President Joe Biden's agenda, after Democrats negotiated late into the night to reach deals on state and local taxes, drug pricing, and immigration. Also in the House, the committee probing the Jan. 6 insurrection is set to serve out as many as 20 new subpoenas to people for testimony and documents.
Here's what Bloomberg Government is tracking for Friday.
Congress Agenda:
The House returns at 8 a.m., with scheduled votes on the bipartisan infrastructure bill and Democrats' tax and spending.
The Senate plans a pro forma session today, but no business is scheduled. There are no committee events scheduled.
Biden's Schedule:
The Labor Department this morning will release employment figures for October. The report is forecast to show the U.S. added 450,000 workers to payrolls last month, which would be the most since July. The report comes at a time of more worker upheaval than the country has seen in decades, Olivia Rockeman reports. Biden plans to delivers remarks on the report at 10:15 a.m.
Biden will then attend the funeral of former Secretary of State Colin Powell at the Washington National Cathedral at 12 p.m.
The president is scheduled to spend the weekend in Rehoboth Beach, Del.
House to Vote on Infrastructure, Economic Plans
The House plans to vote today on President Biden's $1.75 trillion economic package and a separate infrastructure bill, after intense 11th-hour negotiations by Speaker Nancy Pelosi (D-Calif.) appeared to settle lingering differences.
A vote on the massive tax and spending measure follows months of intra-party tension and disputes that carried into late last night. Although much of the bill had been written, there were last- minute changes on modifying the state and local income tax deduction and a provision allowing Medicare to negotiate drug prices. Approval of the infrastructure measure, already passed by the Senate, will send it directly to Biden's desk.
House passage of both measures would deliver a much-needed victory for the president, whose approval ratings have plummeted. A stunning loss for Democrats in the Virginia gubernatorial race and an unexpectedly close call for the incumbent governor of New Jersey generated fresh impetus for the party's lawmakers to finish work on both the economic package, known as Build Back Better, and an infrastructure measure.
Biden has been directly involved in negotiating with House and Senate Democrats and he made calls to House members yesterday asking them to vote yes when the bill comes to the floor, a White House official said.
Pelosi signed off on a change to the SALT deduction provisions in Biden's economic agenda. Instead of moving forward with a proposal to lift the $10,000 cap on state and local tax deductions to $72,500 through 2031, the bill will now raise it to $80,000 through 2030, a person familiar with the negotiations said. The cap would snap back to $10,000 in 2031. Compared to current law where there is no cap after 2025, the provision would raise $14.8 billion in revenue over 10 years. Read more from Erik Wasson.
Democrats agreed to give some drugs an extra year of exemption from their proposed drug price negotiations after party moderates sought changes, according to a person familiar with the matter, Alex Ruoff reports. The move means biologic drugs won't face government negotiation until 13 years post approval, one year longer than previously agreed to. Small molecule drugs remain at nine years post-approval until negotiation. The change was made after Reps.

Scott Peters

(D-Calif.) and

Kathleen Rice

(D-N.Y.) met with Pelosi.
Pelosi assured three potential holdout House Democrats late yesterday that immigrant protections will be a top priority after the party finishes its sweeping social spending and tax package, potentially strengthening a deal that doesn't include a path to citizenship for undocumented immigrants. Reps.

Adriano Espaillat

(D-N.Y.),

Chuy García

(D-Ill.) and

Lou Correa

(D-Calif.) met with Pelosi after spending the day trying to persuade colleagues to strengthen immigration language in the bill. Read more from Ellen M. Gilmer.
For a closer look in House Democrats' reconciliation measure released Tuesday, read the BGOV Bill Summary.
While the House would be giving final passage to the infrastructure legislation, the economic package still faces hurdles—and changes—in the Senate. If the legislation is modified there, as expected, it would have to go back to the House for another vote. Senate Majority Leader Chuck Schumer (D-N.Y.) said senators would strive to act on the package "before Thanksgiving," which falls on Nov. 25.
But even that schedule may be ambitious. Sen. Joe Manchin (D-W.Va.), who has fought to trim the size of the package, continues to object to provisions favored by the House, such as paid family leave and immigration. He also said he wants a clearer assessment of the impact of the expansive tax and spending package on inflation and debt. "I have a lot of concerns, let's put it that way," Manchin said on Wednesday. Read more from Billy House and Erik Wasson.
After Decades of Aid to Elderly, Congress Turns to Families: The $1.75 trillion package marks a dramatic shift toward boosting support for families with children after decades of government benefits being skewed toward the elderly. The turn reflects new attention among Democrats to the lasting damage growing up in poverty does to someone's lifelong prospects, and a growing recognition across party lines of how the financial squeeze on many working- and middle-class families often hits hardest when parents confront the costs of caring for younger children. Read more from Mike Dorning.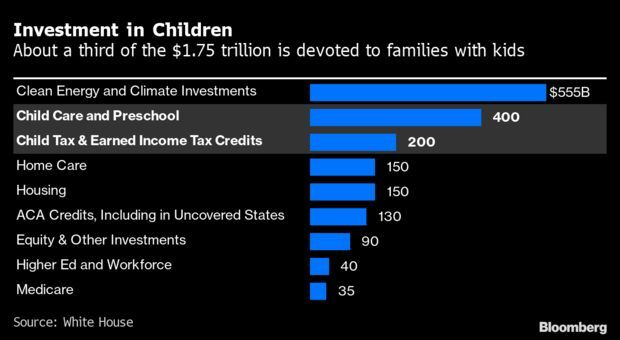 Capitol Riot Probe Panel Readies Subpoenas
The House committee investigating the Jan. 6 insurrection at the U.S. Capitol is set to serve as many as 20 new subpoenas to individuals seeking testimony and documents, some as early as this week, the panel's chairman said. "I signed the subpoenas," Rep. Bennie Thompson (D-Miss.) said yesterday. He declined to identify who was being targeted.
The committee has already subpoenaed some former aides and advisers to former President Donald Trump as part of its investigation into the siege of the Capitol as Congress was certifying the Electoral College results from the 2020 presidential election. Trump has instructed his former aides to not cooperate with the panel and has sued to block release of White House records in response to the committee's requests.
Thompson said that former Trump political strategist Steve Bannon is the only person subpoenaed by the committee who has flat-out refused to comply with a subpoena for a deposition. Read more from Billy House.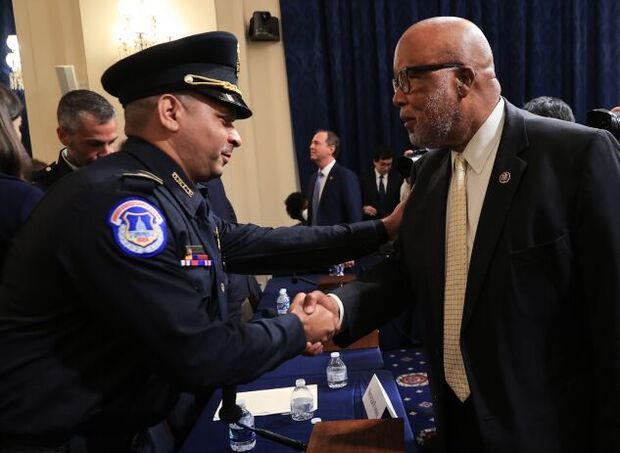 The first $100,000 contribution to a pro-Donald Trump super PAC by an affiliate of the giant corrections company GEO Group came in August 2016, a day after the Obama administration announced it would end federal use of private prisons. GEO's stock price dropped by nearly 40% after the Obama announcement but shot back up when Trump was elected president and reversed Obama's prison policy. GEO's contributions violated a decades-old ban on campaign money from government contractors, a watchdog group, the Campaign Legal Center, complained. But, in a move that could have a wide impact on other contractors, the Federal Election Commission announced in September it had dismissed the watchdog's complaint against GEO on a 3-3 party-line vote. Kenneth P. Doyle takes a deep dive into the rules.
Manhattan prosecutors have convened a second grand jury to continue probing the financial practices of Trump's sprawling real estate business and to weigh possible criminal charges, according to a person with knowledge of the matter. The new grand jury was assembled by Manhattan District Attorney Cyrus Vance to examine whether the Trump Organization manipulated the value of its assets for loans and tax breaks, said the person, who asked not to be identified discussing the matter because it isn't public. Read more from Erik Larson.
GOP's Virginia Playbook Tests 2022 Hopefuls
Glenn Youngkin provided Republicans with what could be a winning strategy as he embraced Donald Trump enough to win the GOP primary, but ignored the former president during the general election, a challenging tightrope strategists say will be very tricky to replicate. Many Republicans running in next year's midterm elections, or who have signaled 2024 presidential aspirations, will be too cozy with Trump to pull off Youngkin's tough balancing act, according to GOP strategists. Moreover, they still need Trump, the party's most popular figure, to win primaries.
Youngkin, a former co-CEO of Carlyle Group, upset Democrat Terry McAuliffe in Tuesday's Virginia governor's race by keeping Trump's voters in rural regions of the state happy, but winning over suburban independents repelled by the former president. Trump has maintained an iron grip on the GOP since his own surprising victory in the 2016 election. And he's continued to wield power even after he lost the White House last year, teasing a possible 2024 run and seeking to be a kingmaker in 2022.
In the primary campaign, Youngkin said that Trump "represents so much of why I'm running." But in the fall contest against McAuliffe, he didn't campaign with the former president and disavowed a rally Trump called into where attendees pledged allegiance to a flag said to have been displayed during the Jan. 6 insurrection at the U.S. Capitol. Trump endorsed Youngkin multiple times and held a tele-rally on his behalf on election eve, all of which Youngkin ignored. Read more from Mark Niquette and Ryan Teague Beckwith.
Asian communities are pushing for representation as their populations balloon nationwide. Southern California's Little Saigon, for example, where thousands of refugees settled after the Vietnam War, is the largest Vietnamese diaspora community in the United States. But its roughly 200,000 residents across about 30 square miles are represented by three different members of Congress, a divide advocates say has diluted the community's voice. Advocacy groups are seeking to keep the "communities of interest" whole in the absence of federal voting rights protections. Tiffany Stecker has more.
The Justice Department filed a lawsuit yesterday against Texas and its secretary of state over what it said were restrictive voting procedures in legislation passed in September. The department said in a statement that the legislation improperly prevents voters from getting assistance in the voting booth when they have "basic questions" or need help with matters such as clarifying ballot translations or "confirming that voters with visual impairments have marked a ballot as intended." Read more from Bill Faries.
Around the Administration
Firms Wrestle With Fighting or Accepting OSHA Vaccine Rule: The Biden administration's goal of cultivating business alliances to offset conservative resistance to its vaccine-or-testing rule for the private sector was evident in the employer-focused carveouts it provided. So far, that strategy has produced mixed results. Some business trade groups were considering filing a legal challenge as of last night. Other industry organizations were frustrated with the requirements but committed to helping member companies meet the compliance schedule, which begins Dec. 5 and ramps up Jan. 4. Ben Penn has more.
Meanwhile, a White House aide who accompanied Biden to international summits in Europe last week tested positive for coronavirus infection before the president returned to the U.S., according to people familiar with the matter. The aide and some of Biden's other traveling staff remained in Scotland after the president attended the United Nations climate summit in Glasgow due to concerns about transmission, the people said. The exact number of staff involved is unclear. Read more from Jennifer Jacobs.
Xi, Biden Likely to Agree to Reopen Consulates: Biden and Chinese leader Xi Jinping are likely to announce the reopening of consulates shuttered last year, Politico reported, which would be one of the biggest steps yet to repair ties fractured during the Trump administration. The two leaders, who are planning a virtual summit in the near future, are also likely to announce an easing of visa restrictions, the news outlet reported, citing sources it didn't identify. The U.S. is also seeking to make progress on trade and climate issues, as well as start a bilateral nuclear weapons dialogue—something Beijing has resisted. Read more.
To contact the reporters on this story: Zachary Sherwood in Washington at zsherwood@bgov.com; Brandon Lee in Washington at blee@bgov.com
To contact the editors responsible for this story: Giuseppe Macri at gmacri@bgov.com; Loren Duggan at lduggan@bgov.com
Stay informed with more news like this – from the largest team of reporters on Capitol Hill – subscribe to Bloomberg Government today. Learn more.