What to Know in Washington: House to Easily Pass Biden Stimulus
President Joe Biden's $1.9 trillion package will sail through the House when it takes up the bill tomorrow, according to Democratic lawmakers and aides, even after proposals progressives championed were scaled back.
The Senate's changes to the House-passed bill, made to appease moderates and comply with parliamentary rules, included dropping a proposed minimum wage increase but are unlikely to prove enough to make progressive Democrats vote against it.
House Speaker Nancy Pelosi (D-Calif.) can only afford to have four Democrats oppose a bill for it to pass, if all members are voting and Republicans are lined up in opposition, given her party's thin majority. Two Democrats joined a united GOP in voting against the initial version of the stimulus.
Pelosi yesterday predicted the bill will pass.
"In two days, the House will have a resounding, hopefully bipartisan, vote for justice," Pelosi said in a letter to her caucus. "We can then send it to the president and move quickly to distribute its life-saving resources." Read more from Erik Wasson and Jarrell Dillard.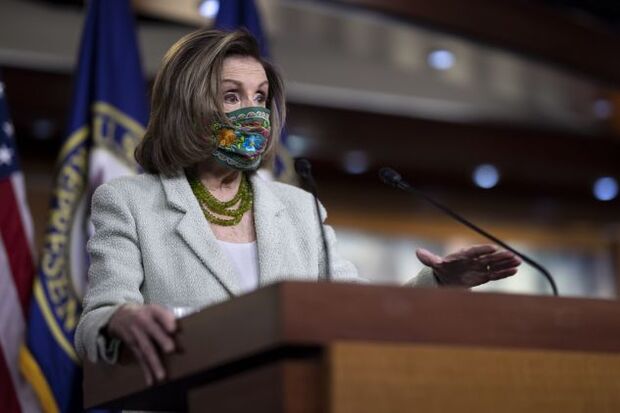 What's in the $1.9 Trillion Stimulus Bill: Senate Democrats passed the latest version of the stimulus bill after a more than 24-hour voting session that included the longest single vote in the chamber's history. The plan includes a wave of new spending, an extension of jobless benefits, another round of direct household payments, money for state and local governments and an expansion of vaccinations and virus-testing programs including a national vaccine distribution program for all residents regardless of immigration status. Laura Davison breaks down the version of the bill passed by the Senate.
Also Happening on the Hill
Manchin Open to Some Filibuster Reform: Sen. Joe Manchin (D-W.Va.) opened the door yesterday to reforming the filibuster, which requires 60 votes to pass most bills in the Senate, possibly by making it harder to invoke the maneuver. That could mean requiring opposition members to actually speak on the floor for the duration of the filibuster. Still, he repeated his opposition to eliminating the maneuver, as some of his colleagues have urged. "The filibuster should be painful," Manchin said on "Fox News Sunday," one of four network interviews yesterday. "It really should be painful, and we've made it more comfortable over the years," Manchin said of invoking the filibuster to slow legislation. "Maybe it has to be more painful, maybe you have to stand there. There's things we can talk about." Read more from Keith Laing.
Capitol Riot Review Urges Tougher Security: House members today will receive closed-door briefings with details of a top-level review that calls for security improvements to prevent another breach of the Capitol. Briefings from the task force led by retired Army Lieutenant General Russel Honore will be given to members of both parties, a person familiar with the matter said.
Recommendations in the draft report include hiring more Capitol Police officers, streamlining the force's command structure, improving its intelligence capability, and upgrading fences and security surveillance. It even suggests restoring horse-mounted patrols to the Capitol complex that were disbanded in 2005. Read more from Billy House.
Tipped Workers Pledge Fight to Raise Pay: Tipped workers, the vast majority of whom are women, are fighting to sustain the momentum behind phasing out a tipped minimum wage of $2.13—a level that hasn't budged since 1991 despite increases in the regular minimum wage. Some tipped workers are demanding change, pointing out that women and people of color comprise most of the industries that rely on tips, while those same workers have been hurt most by the pandemic. Congressional progressives, including Sen. Patty Murray (D-Wash.), have vowed to address the stagnant tipped minimum wage. Read more from Paige Smith.
Big Oshkosh Trades Before Award Spurs Questions: A lawmaker is seeking an investigation of a $54.2 million, after-hours purchase of Oshkosh stock one day before the company won a blockbuster contract to construct trucks for the U.S. Postal Service. The transaction of 524,400 shares is bigger than Oshkosh trading volume for some entire days. Oshkosh shares climbed up to 16% the next day. "It definitely stinks and needs to be looked into at the highest levels," said Rep. Tim Ryan (D-Ohio). Read more from Ari Natter, Todd Shields and Ben Bain.
Around the Administration
Biden Targets Gender Inequality in Latest Executive Orders: Biden will formally create a gender policy council within the White House as part of two executive orders he intends to sign today to mark International Women's Day. The council will include a staff of four, three of whom will hold the title of special assistant to the president, according to a senior administration official who previewed the two orders. The council's mandate is to work across the federal government's domestic and foreign policy to fight discrimination and bias, boost economic security, increase access to health care, and advance general equality through diplomacy, trade and defense.
The second order asks the Department of Education to re-examine the Trump administration's policies and rule-making on Title IX, the 1972 law which governs the way sex-based discrimination in schools is handled. The goal, one of the officials said, is to ensure students have an education "free of sexual violence." Read more from Nancy Cook.
Biden Moves to Blunt GOP on Voting Rights Moves: Biden issued an executive order mandating federal departments and agencies increase efforts to help Americans register to vote, as the White House looks for ways to offset Republican efforts to toughen voting standards. The executive action taken yesterday directs federal facilities to accept requests from states — which each run their own voter processes — to become registration sites, and calls for a modernization of the Vote.gov website. Read more from Justin Sink.
White House Officials Visit Mexican Border: Administration officials will brief Biden after traveling to the U.S.-Mexico border for operational briefings and to tour immigration facilities, the White House said. The group, led by Homeland Security Secretary Alejandro Mayorkas and White House Domestic Policy Adviser Susan Rice, visited a Department of Homeland Security Border Patrol facility and a Health and Human Services Office of Refugee Resettlement center. The officials discussed capacity needs given a rising number of families and unaccompanied children arriving at the border, and what the White House called "the complex challenges with rebuilding our gutted border infrastructure and immigration system." Read more from Keith Laing.
U.S. Mulls Afghan Exit by May: The Biden administration is considering withdrawing all troops from Afghanistan by May 1 as it leans on President Ashraf Ghani to accelerate peace talks with the Taliban, including by supporting a proposal for six-nation discussions that include Iran. Secretary of State Antony Blinken made the comments in a letter to Ghani that was first reported by Afghan news channel Tolo News and confirmed as authentic by a U.S. government official with knowledge of the matter. Read more from Nick Wadhams.
Austin Puts Iran on Notice After Iraq Attack: The U.S. will respond as appropriate to a rocket attack last week on an airbase hosting U.S.-led coalition forces in Iraq, Defense Secretary Lloyd Austin said. While he stopped short of assigning blame on ABC's "This Week," an earlier rocket incident prompted U.S. air strikes against Iranian-backed fighters in Syria in February. Read more from Tony Czuczka.
U.S., South Korea Reach Defense Costs Agreement: The U.S. and South Korea have reached a tentative pact on defense cost-sharing that will see Seoul increase funding for U.S. forces stationed in the country, the State Department said. Negotiators reached an agreement in principle on the proposed text for the Special Measures Agreement, according to a series of Twitter posts from the U.S. agency's political-military affairs branch. Read more from Jeong-Ho Lee.
Defense Companies' Contraction Raises Alarms: The number of companies winning Pentagon prime contracts has plummeted over the past decade, underlying growing concerns over the health of the defense industrial base. The shrinking number of prime contractors inking deals with the military, as well as a contraction in the vast network of subcontractors that supply them parts and services, has set off alarm bells among the highest echelons of the Pentagon and on Capitol Hill. Read more from Travis J. Tritten and Paul Murphy.
Microsoft Attack Blamed on China: A sophisticated attack on Microsoft's widely used business email software is morphing into a global cybersecurity crisis, as hackers race to infect as many victims as possible before companies can secure their computer systems. The attack, which Microsoft has said started with a Chinese government-backed hacking group, has so far claimed at least 60,000 known victims globally, according to a former senior U.S. official with knowledge of the investigation. Read more from William Turton and Jordan Robertson.
Buttigieg Definition of Equity Draws Line on Infrastructure Push: Transportation Secretary Pete Buttigieg pledged in his first note to his staff to "break new ground" by "making sure transportation is an engine for equity in this country" — a pledge he's tirelessly repeated on prime-time television and on social media. Translating those calls for "equity" into law requires defining the word and its goals, neither of which are bipartisan. Read more from Lillianna Byington.
NLRB Dumps Trump-Era Western Region Plan: The National Labor Relations Board nixed a contentious Trump administration program that reorganized certain case-handling functions for seven Western regional offices. The NLRB confirmed it's ending the program, but it didn't provide a specific rationale for doing so. The NLRB is "in the process of reassessing the other operational actions of the past administration," a spokesperson said. Robert Iafolla has more.
Politics & Influence
Trump Scolds GOP for Using Name Without Consent: Lawyers for former President Donald Trump have demanded the Republican National Committee and other GOP entities stop using his name and likeness on fund-raising emails and merchandise without his permission, said a person familiar with the move. The cease-and-desist demands were sent on Friday to the RNC, National Republican Congressional Committee and National Republican Senatorial Committee that have been using Trump in solicitations. Read more from Mark Niquette.
Republican Reopenings Sharpen Political Divide: Decisions by the Republican governors of Texas and Mississippi to remove all coronavirus restrictions in their states have reignited the political debate on the pandemic response, elevating it as a campaign issue this year and in 2022. The moves drew dire warnings from Democrats and health officials that they risk igniting another spike in cases and deaths and stood in stark contrast to Biden's cautious approach to getting the U.S. back to normalcy. Read more from Mark Niquette and Jonathan Levin.
Cuomo Won't Quit After New Allegations: New York Gov. Andrew Cuomo (D) remained defiant against growing calls for his resignation, saying he'll not quit his job because of "allegations" of misbehavior with women. "I am not going to resign because of allegations," Cuomo said yesterday on a call with reporters. "There is no way I resign." Read more from Stacie Sherman.
To contact the reporters on this story: Zachary Sherwood in Washington at zsherwood@bgov.com; Brandon Lee in Washington at blee@bgov.com
To contact the editors responsible for this story: Giuseppe Macri at gmacri@bgov.com; Loren Duggan at lduggan@bgov.com; Michaela Ross at mross@bgov.com