What to Know in Washington: House Takes Up Debt-Ceiling Fix
The House is scheduled to vote on a short-term increase to the government's borrowing limit today, averting the immediate threat of a catastrophic default but setting the stage for even bigger showdown on debt and spending in less than two months.
The $480 billion increase to the government's borrowing ability gives Congress until approximately Dec. 3 to act on a temporary fix or a longer term solution before the country again faces a risk of defaulting on its obligations.
The temporary patch was the result of a move by Senate Minority Leader Mitch McConnell (R-Ky.) that gave Democrats additional time to handle the debt ceiling, which Treasury Department officials estimated would have been breached by Oct. 18. But he warned President Joe Biden last week that Democrats would be on their own to raise the limit again.
The delay means that lawmakers will need to resolve the underlying stand-off over the debt limit while at the same time renewing government funding that will also expire on Dec. 3 — both fights that will pit Democrats against Republicans. Those talks could also spillover into time needed to advance Biden's legislative agenda, which Democrats want to pass by the end of the year. Intra-party fights over the size and scope of the legislation, coupled with narrow majorities in both chambers, mean that any deal could take weeks or months to negotiate.
While McConnell cleared the way for the debt ceiling legislation in the Senate last week, it passed without any Republican votes. The bill is likely to pass with a close vote in the House; Democrats hold only an eight-seat majority, and Republicans aren't inclined to support an increase to the debt ceiling, even though it mostly would be covering spending approved when the GOP controlled Congress and the White House.
Biden has already committed to signing the bill.
Lawmakers are slated to vote this evening on the debt ceiling, during a week that they were initially scheduled to be at home in their districts. The last-minute change means that many members will not return and instead vote by proxy, a change instituted during the pandemic to allow lawmakers to vote without being physically present. Read more from Laura Davison and Billy House.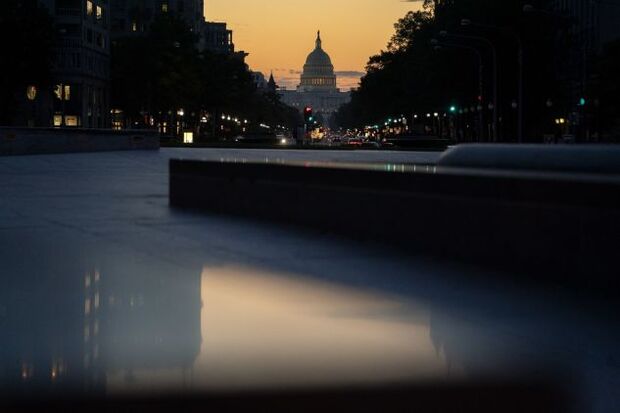 Happening on the Hill
Today's Agenda:
Global Tax Deal Faces Hurdle in Treaty Debate: As the Biden administration and governments around the world celebrate another advance toward an historic global tax accord, an obscure legal question in the U.S. threatens to tear it apart. At a congressional committee hearing last month, Sen. Pat Toomey (R-Pa.), who opposes the agreement, told Treasury Secretary Janet Yellen that a key portion of the tax deal would require a formal treaty approved by a super-majority in the Senate. Toomey's claim marked the opening salvo in what could be a crucial legal debate over what exactly is required of Congress to bring the U.S. into line with the international accord. Read more from Christopher Condon.
Critics Rebut Tech's Claim Antitrust Push Risks U.S. Security: A coalition of anti-monopoly groups attacked the claim by U.S. technology giants that bills aiming to crimp their power pose national security risks, arguing that over-reliance on a handful of companies is more dangerous. The most powerful U.S. tech companies put shareholder profit over public interest, according to a letter from public advocacy groups obtained by Bloomberg News that rejects warnings about a series of antitrust bills before Congress. Read more from Anna Edgerton.
Johnson Calls for Vaccine Mandate Halt on Southwest Delays: Sen. Ron Johnson (R-Wis.) said he's asking to "stop the madness before more damage is done" after Southwest Airlines canceled more than a quarter of its scheduled flights Sunday. "As a loyal Southwest customer who has been flying safely throughout the pandemic and is utterly opposed to vaccine mandates, I'm asking, stop the madness before more damage is done," Johnson said in a tweet, Megan Howard reports.
Around the Administration
Biden's Agenda: The president will meet with virtually at 8:45 a.m. with G20 leaders to discuss close coordination on Afghanistan.
Texas Abortion Law Is 'Sabotage,' U.S. Says: The Biden administration urged a federal appeals court to reinstate a judge's order blocking enforcement of Texas's new ban on most abortions, arguing the law flouts more than 200 years of precedent. The Texas law barring most abortions after about six weeks of pregnancy, before many women know they're pregnant, far exceeds the power granted to state legislatures under the Constitution, the Justice Department said late yesterday in a filing with the U.S. Court of Appeals in New Orleans. Read more from Erik Larson.
Biden's Options on Evictions Limited if Vouchers Fail: Biden's push to get legal help to tenants and billions in pandemic rent relief aid to landlords is cloaking a dilemma that existed long before Covid-19: how millions of low-income tenants will be able to make rent in the long run without help. Democratic lawmakers want to pump $75 billion into housing vouchers for low-income families, an idea scholars say could make a big difference long term, but one that is tied up in political squabbles and may not become reality. Read more from Courtney Rozen.
Flood Threats Goes Beyond U.S. Homes: Nearly a quarter of U.S. critical infrastructure—utilities, airports, police stations and more—is at risk of being inundated by flooding, according to a report by First Street Foundation, a Brooklyn nonprofit dedicated to making climate risk more visible to the public. The authors say the report provides the first holistic understanding of flood risk beyond individual property level. In addition to critical infrastructure, the report assesses commercial buildings, millions of miles of roads and socially important institutions such as schools and museums. Read more from Leslie Kaufman, Rachael Dottle and Mira Rojanasakul.
Climate Pact on Methane Advances: Two dozen more countries have joined a global pact to pare methane emissions, the U.S. and the European Union announced yesterday, as world leaders seek to galvanize momentum against the potent greenhouse gas before critical climate talks in Scotland. With the addition of Canada, France, Germany and others, nations backing the pledge now represent about 30% of global methane emissions and 60% of the global economy. "Rapidly reducing global methane emissions is the single fastest strategy we have to limit global warming to 1.5 degrees Celsius," European Commission Executive Vice President Frans Timmermans said after a virtual ministerial meeting on the pact. Read more from John Ainger and Jennifer A. Dlouhy.
IMF Board Keeps Georgieva as Chief: Kristalina Georgieva will remain as head of the International Monetary Fund after the lender's board reviewed accusations that she improperly influenced a World Bank ranking of China's business climate. The fate of Georgieva — a Bulgarian economist and the first person from an emerging-market nation to run the IMF — had been in limbo since Sept. 16. That's when a report written by law firm WilmerHale and commissioned by the World Bank, her previous employer, asserted that she pressured subordinates to boost China's position in the bank's influential "Doing Business" report. Read more from Eric Martin and Saleha Mohsin.
China, Asia Trade Top Agriculture Industry List for Biden Pick: Improving U.S. trade with Asian nations, particularly China, is the top priority for American food exporters as Biden's nominee for chief agricultural trade negotiator heads for Senate confirmation. "We are being left behind while the rest of the world has negotiated new business deals," said Peter Bachmann, vice president of international trade policy at USA Rice Federation. Biden's nominee to the post within the U.S. Trade Representative's Office, Elaine Trevino, is a former deputy secretary in the Department of Food and Agriculture in California. Currently, she's president of the Almond Alliance of California. Read more from Megan Boyanton.
China's Response to U.S. Trade Talks Shows Big Gap: The U.S. and China are still far apart on economic and trade questions, with recent statements from both sides showing just how big that gap remains. China's ambassador to Washington said over the weekend that Beijing wants the U.S. to stop restrictions and sanctions against its companies, outlining some of the Asian nation's demands for future talks. That was in response to U.S. Trade Representative Katherine Tai's comments before her call with Vice Premier Liu He, in which the U.S. raised concerns about China's state-led support for businesses. Read more.
Kim Jong Un Shows Off Array of Missiles to Hit U.S.: Kim Jong Un showed off his increasingly varied arsenal of missiles designed to frustrate U.S. defense systems, in a rare display that appeared to be the North Korean leader's latest effort to break a diplomatic stalemate over his nuclear program. Blaming the U.S. for "creating regional tension with wrong decisions and action," Kim vowed at a defense forum yesterday to keep expanding his nuclear weapons program, according to the official Korean Central News Agency. Read more from Brendan Scott and Shinhye Kang.
To contact the reporter on this story: Giuseppe Macri in Washington at gmacri@bgov.com
To contact the editors responsible for this story: Zachary Sherwood at zsherwood@bgov.com; Loren Duggan at lduggan@bgov.com