What to Know in Washington: House Set to Vote on Biden Plan
The House will reconvene early today with the aim of voting on President Joe Biden's social spending and tax agenda after Republicans delayed a vote late last night. At the White House, Biden continues to deliberate on his pick to lead the Federal Reserve, as senators weigh in on the pivotal nomination.
Here's what Bloomberg Government is tracking for Friday.
Biden's Agenda:
The president this morning is scheduled to undergo a routine physical exam at Walter Reed Medical Center outside Washington ahead of his birthday tomorrow.
Biden will pardon the National Thanksgiving Turkey at the White House at 3:15 p.m.
Biden will then depart at 6:20 p.m. for Wilmington, Del.
Congressional Schedule:
The Senate meets at 10 a.m. with plans to move toward consideration of the annual defense policy bill. The effort to consider the measure last night was delayed by objections from Senate Republicans.
The House meets at 8 a.m. with plans to complete consideration of the reconciliation bill.
Democrats' Economic Bill Heads to Vote
House Democrats pushed expected passage of President Biden's $1.64 trillion economic agenda to today as Minority Leader Kevin McCarthy (R-Calif.) delayed a vote with a lengthy floor speech that lasted into the early morning hours.
McCarthy used his privilege as minority leader to camp out on the House floor just after 8:30 p.m. yesterday in a speech criticizing the tax and spending bill in particular — and Democrats in general — that stretched past midnight.
Flanked by his GOP allies and heckled by Democrats, the California Republican called the bill the "single most reckless and irresponsible spending bill in our nation's history."
As he continued speaking past midnight, House Democratic leaders announced there would be no votes until the House reconvenes at 8 a.m. today to continue working on the bill.
Debate in the House opened yesterday as the nonpartisan Congressional Budget Office released its estimate that Biden's signature economic package doesn't contain enough tax increases to pay for itself. The determination countered the Biden administration's analysis, but moderate Democrats who had been holding out to see the CBO score said they were ready to back the bill, clearing the path to passage. Read more from Erik Wasson and Billy House.
For a complete look at the bill, read the BGOV Bill Summary by BGOV's legislative analysts.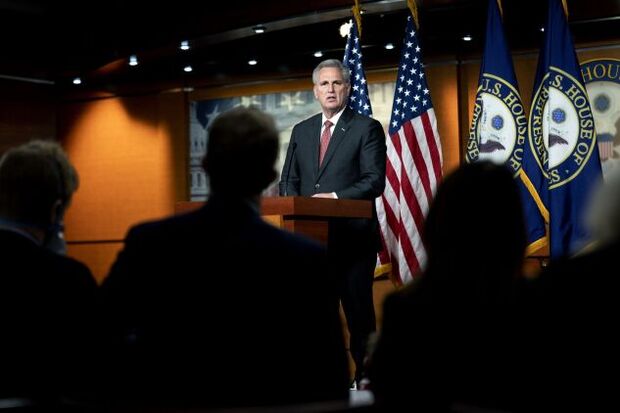 Politics & Influence
Florida now has more registered Republicans than Democrats, undoing the Democratic party's decades-old advantage in the nation's largest swing state. Registered Republicans total around 5.1 million active voters as of the end of October, edging Democrats by around 4,000, according to the latest figures published by the Florida Division of Elections. Read more from Jonathan Levin.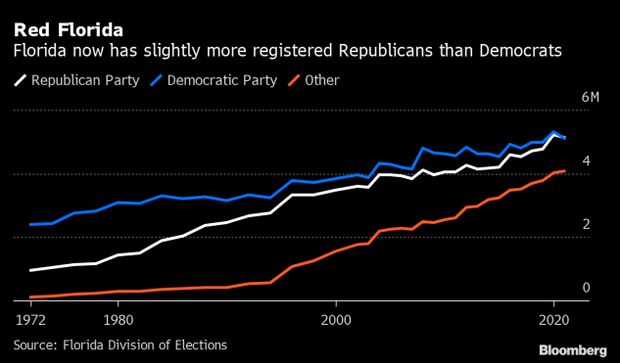 The Select Subcommittee on the Coronavirus Crisis issues a subpoena to Peter Navarro, former director of the White House Office of Trade and Manufacturing Policy and an aide to former President Donald Trump. Chair Jim Clyburn (D-S.C.) said Navarro was involved in the Trump's administration's "haphazard" approach to procurement and may have exercised inappropriate influence over the award of lucrative contracts. Navarro "pushed responsibility to the states and pursued a haphazard and ineffective approach to procurement," Clyburn said, Megan Howard reports.
Trump's legal battle to reverse his permanent ban from Twitter's platform has a new combatant: the Biden administration. The Justice Department yesterday asked to intervene in the lawsuit Trump brought against Twitter for the "limited purpose" of defending the constitutionality of Section 230 of the Communications Decency Act of 1996, which gives internet companies broad legal immunity over their moderation of user-generated content. Read more from Erik Larson.
Around the Administration
Sen. Joe Manchin (D-W.Va.) is looking to meet with Federal Reserve Governor Lael Brainard and have a follow-up conversation with current Fed Chair Jerome Powell, according to a person familiar with the matter, as Biden prepares to decide who will lead the central bank. Manchin remains undecided about whether Powell or Brainard — the two contenders under consideration by Biden — would be best for the job, according to the person, who described the senator's thinking on condition of anonymity. Manchin has repeatedly questioned the Fed's bond-buying program this year amid a surge in inflation. Read more from Annmarie Hordern.
Meanwhile, progressive Democratic senators Jeff Merkley (Ore.) and Sheldon Whitehouse (R.I.) said they oppose the renomination of Powell to a second term, joining Sen. Elizabeth Warren (D-Mass.) in urging Biden to choose someone else. The lawmakers said in a statement released early today that Powell lacks a strong commitment to address the growing risks of climate change. Read more from Laura Litvan.
It's too late for Biden to lower costs for travel over Thanksgiving. All eyes in the oil market have been on Biden to see whether his administration will announce a release from the Strategic Petroleum Reserve in a bid to keep energy costs under control. But even if those extra crude barrels hit the market immediately and sent futures down, it would likely be over a week before that would fully show up at the pump, says Patrick DeHaan, head of petroleum analysis at GasBuddy. Read more from Julia Fanzeres.
An interview is the only thing standing in the way of 10,000 qualified and vetted foreign nurses coming into the U.S. to palliate the crumbling health-care system. These nurses seeking permanent residency have passed a licensure exam, submitted paperwork, and accepted jobs in the U.S., but they're stuck in a holding pattern because of a bottleneck at that last stage of visa processing that requires an interview at the U.S. consulate in an applicant's country of origin. Allie Reed and Andrew Kreighbaum have more.
Workers who would otherwise lose their jobs when their employer's federal contract ends would be at the front of the line for jobs on the next one, under a new executive order Biden signed yesterday. The order directs federal agencies to include a clause in re-issued services contracts to provide a predecessor's employees right of first refusal to maintain their employment. The Department of Labor will finalize details of the policy by spring 2022. Read more from Courtney Rozen.
The U.S. Treasury's top climate adviser urged wealthy nations to make clear commitments to cutting emissions by the end of the decade, in a thinly veiled swipe at holdouts like Australia. John Morton, Treasury's first climate counselor, said he wants developed economies over the final six weeks of the year to "step forward with extremely clear commitments around 2030 targets related to their operations." Read more from Matthew Burgess.
To contact the reporters on this story: Zachary Sherwood in Washington at zsherwood@bgov.com; Brandon Lee in Washington at blee@bgov.com
To contact the editors responsible for this story: Giuseppe Macri at gmacri@bgov.com; Loren Duggan at lduggan@bgov.com; Michaela Ross at mross@bgov.com