What to Know in Washington: House Set to Give Pence Ultimatum
The House is set to issue a largely futile ultimatum to Vice President Mike Pence today, demanding he invoke constitutional authority to remove President Donald Trump from office, as a prelude to an expected vote to impeach the president for the second time in little more than a year.
Pence met with Trump last night and the two agreed to work together through the end of their term, according to an official, leaving little doubt that the vice president will spurn the House demand. That means Speaker Nancy Pelosi (D-Calif.) will go through with a vote on a single article of impeachment as soon as tomorrow.
The resolution being pushed through the House by the majority Democrats today calls on Pence to invoke the Constitution's 25th Amendment to convene the cabinet and declare that as a result of his encouraging a mob that stormed the Capitol that Trump is unable to perform as president. The vote serves mostly as a symbolic gesture by Democrats intended to show they exhausted all options before moving on a historic second impeachment of the president during his last days in office.
Pence met with Trump yesterday for the first time since the siege at the Capitol, where the vice president was presiding over a joint session of Congress. Pence has been described as initially furious at Trump over the violence. The official said the two men agreed that people who broke the law at the Capitol don't represent Trump's "America First" movement and pledged to continue their work on behalf of the country for the remainder of their term. Read more from Billy House, Erik Wasson and Steven T. Dennis.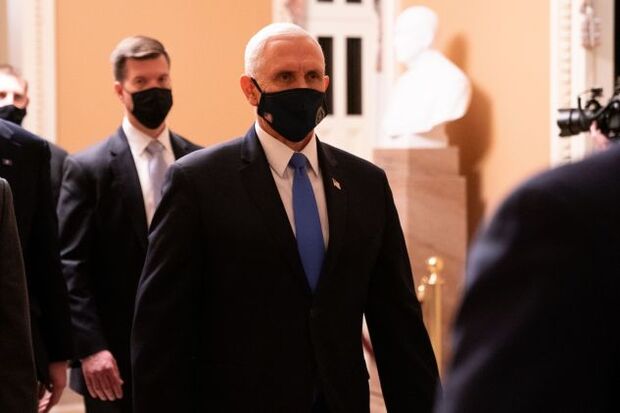 Schumer Weighs Emergency Session: Senate Minority Leader Chuck Schumer (D-N.Y.) is exploring whether the chamber can be called into an emergency session for a trial of Trump on an article of impeachment the House is set to approve this week, two senior aides said. The Senate is currently in recess, and bringing senators back before Jan. 19 would need support from Majority Leader Mitch McConnell (R-Ky.), who hasn't said whether he would back impeaching the president or expediting a trial. Read more from Steven T. Dennis.
McCarthy Privately Floats Impeachment Alternatives: House Minority Leader Kevin McCarthy (R-Calif.) yesterday told Republicans he remains opposed to impeaching Trump in connection with last week's riot, but is eyeing alternatives, including censuring the president. He said he believes "an impeachment at this time would have the opposite effect of bringing our country together," McCarthy wrote in a letter to fellow Republicans. Billy House has more.
Former Senate Democratic leader Tom Daschle (D-S.C.) warned his party against impeaching Trump for inciting the mob attack on the Capitol, arguing that even a delayed Senate trial risks impeding urgent action President-elect Joe Biden must take to bolster the economy and combat the Covid-19 pandemic. Daschle, who led Senate Democrats the last time the chamber was evenly divided, was joined by Trent Lott (R-Miss.), who led Senate Republicans at the time, in urging Congress instead to formally censure the president. The two men were also their parties' Senate leaders during President Bill Clinton's 1999 impeachment trial. Read more from Nancy Ognanovich and Mike Dorning.
Trump to Tout Border Wall, as DHS Chief Quits
Trump plans to tout completed sections of his border wall in Texas today — his first public event since encouraging supporters who went on to attack the U.S. Capitol last week.
Trump is set to visit Alamo, Texas, to claim progress on the unfinished wall, in a bid to deflect attention from intense criticism of his behavior and highlight what he believes to be one of his signature accomplishments.
Trump will make the trip without one of the officials who has been leading a frenzied push to build more sections of the barrier in Trump's final weeks in office. Chad Wolf, the acting secretary of Homeland Security, resigned yesterday, citing "recent events" including an ongoing court battle over his eligibility for the position. He did not specify whether the riot was a factor, and his statement lauded "strengthened border security" without mentioning the wall specifically.
Trump campaigned in 2016 with a promise to construct a wall along the southern border of the U.S., and that he'd make Mexico pay for it. Mexico did not pay. The administration has built about 452 miles, though much of that has included replacing existing barriers. Trump financed the project in part by redirecting military spending. Read more from Josh Wingrove.
Washington Tense as DHS Chief Quits: Wolf's abrupt resignation added to the mounting tension in Washington ahead of Biden's inauguration next week, with thousands of National Guard troops set to be deployed and the FBI warning of armed protests in all 50 state capitals. Investigations continued into the deadly Capitol riot, and Democrats in the House and Senate have said Republican colleagues who continued to support Trump's false claims that he won the election even after the insurrectionists had left, must be held to account.
Before resigning, Wolf announced "the evolving security landscape" led to a decision to begin security for the inauguration on Jan. 13. The efforts were originally scheduled to begin on Jan. 19. According to the FBI's warning, the protests in state capitals would begin on Jan. 16 and at the U.S. Capitol on Jan. 17, and continue through Inauguration Day on Jan. 20, according to a law enforcement official. John Harney and Chris Strohm have the latest on security preparations for the inauguration.
Congress in Dark on Domestic Terror Before Riot: Days before the mob of Trump supporters stormed the Capitol, Congress scrapped a requirement in the annual defense policy measure for a domestic terrorist threat assessment that could have helped shed light on the violence. Lawmakers with national security oversight agreed that a new report on domestic terrorism wasn't necessary because the previous annual defense legislation already required such an assessment. But there was one problem: The FBI has failed to submit the report, due in June, leaving lawmakers in the dark. Read more from Roxana Tiron and Shaun Courtney.
Two Officers Suspended for Roles in Riot: Rep. Tim Ryan (D-Ohio) said two Capitol Police officers have been suspended for their alleged roles in the Capitol breach, including the officer who took a photograph with one of the rioters. "I've heard that there are a number of investigations about that, about 10 to 15, but have no clue as to the level of investigation that is going on," Ryan told reporters at the Capitol, Erik Wasson and Peyton Forte report.
More Fallout from the Capitol Riot
Trump May Be Shielded From Riot Charges: A 1969 Supreme Court ruling that tossed the conviction of a Ku Klux Klan leader may also shield Trump from prosecution for inciting last week's Capitol riot, leaving few alternatives to hold him accountable if impeachment efforts fail. At the rally preceding the riot, Trump gave an inflammatory speech, urging the crowd to go to the Capitol and demand legislators address his baseless claims of election fraud. He asked his supporters to "show strength" and "fight much harder." Rudy Giuliani, Donald Trump Jr. and Rep. Mo Brooks (R-Ala.) also spoke ahead of the riot, which led to five deaths. Read more from David Yaffe-Bellany and Bob Van Voris.
GOP Lawmakers Hit by Boardroom Backlash: Major U.S. corporations are punishing Republicans in Congress who tried to overturn Biden's electoral victory, vowing to pull their campaign contributions after a right-wing mob stormed the Capitol last week. The rapid retreat of financial support played out in an unprecedented series of announcements that began last week and picked up critical mass over the weekend and on Monday. They came from nearly every sector, stretching from Wall Street to the Texas oil patch to Silicon Valley. Read more from Gregory Korte and Bill Allison.
Meanwhile, Deutsche Bank and Signature Bank, two of Trump's favored lenders, are pulling away from the billionaire president in the wake of last week's deadly riot at the Capitol. The German lender has decided not to conduct any further business with Trump and his company, said two people with knowledge of the matter, asking not to be identified because the deliberations were confidential. Trump owes the Frankfurt-based lender more than $300 million. Signature Bank, the New York lender that's long catered to his family, is closing two personal accounts in which Trump held about $5.3 million, a spokesperson for the firm said yesterday. Read more from Sophie Alexander, Sonali Basak and Steven Arons.
Republican AG Group's Shakeup Follows Capitol Rally-Turned-Riot: The executive director of the Republican Attorneys General Association is stepping down following reports that an offshoot of the group helped organize the Jan. 6 rally of Trump supporters that turned into a deadly insurrection at the U.S. Capitol. RAGA Executive Director Adam Piper's departure was announced by the organization in a statement Monday that didn't give an explanation. Piper had also worked for RAGA's policy group, the Rule of Law Defense Fund, which was listed on a now-deleted web page as a participant in the "March to Save America" gathering in Washington. Read more from Erik Larson.
Also on Lawmakers' Radars
Jayapal Targets GOP Over Covid Diagnosis: Rep. Pramila Jayapal (D-Wash.) said she has tested positive for Covid-19, days after having shared a safe room with Republican colleagues who declined to wear masks. "I just received a positive COVID-19 test result after being locked down in a secured room at the Capitol where several Republicans not only cruelly refused to wear a mask but recklessly mocked colleagues and staff who offered them one," she wrote in a Twitter post, Derek Wallbank and Dina Bass report.
Jayapal said she's calling for "serious fines to be immediately levied on every single Member who refuses to wear a mask in the Capitol" and for lawmakers refusing to wear a mask to be "immediately removed from the floor by the Sergeant at Arms."
Meanwhile, Rep. Bonnie Watson Coleman (D-N.J.), a 75-year-old lung-cancer survivor, is seeking hospital treatment after testing positive for Covid-19. Watson Coleman believes she also was exposed after sheltering with several maskless colleagues during last week's riot at the Capitol, according to a statement. Elise Young has more.
Democrats Weigh Nullifying Trump Health Rules: Democrats are considering which Health and Human Services Department regulations they might want to overturn in the early days of Biden's administration, although there are few candidates and other avenues to do so. Their main candidates for congressional reversal are a drug rebate rule that removes legal shields for reimbursements paid by drug companies to middlemen and insurers and a rule requiring the department review all prior regulations or otherwise the rules must expire. Read more from Shira Stein and Alex Ruoff.
Democrats to Introduce Bill to Ban Federal Death Penalty: A group of Democrats led by Rep. Ayanna Pressley (D-Mass.) and Sen. Richard Durbin (D-Ill.) will introduce legislation to ban the federal death penalty following the resumption of executions by the Trump administration after a 17-year hiatus. The proposed Federal Death Penalty Prohibition Act of 2021 would prohibit capital punishment at the federal level and require re-sentencing of those on death row. Pressley and Durbin will be joined by 70 members of Congress in introducing the legislation. Read more from Jarrell Dillard.
A divided Washington appeals court panel ruled against a woman facing execution on Tuesday, clearing the latest hurdle to the Trump administration's plan to carry out more federal executions before Inauguration Day. Read more from Jordan S. Rubin.
How Democrats Won Georgia's Senate Runoff Elections (Podcast): Bloomberg Government's Kyle Trygstad and Greg Giroux discussed how Democrats won last week's pair of Georgia Senate runoffs, and control of the chamber, on the latest episode of Downballot Counts. A boom in Black voter turnout and a fundamental contradiction in the Republicans' message — they couldn't argue they'd be a check on a Democratic president while Trump continued to assert baselessly that he was the true winner — helped Jon Ossoff and Raphael Warnock unseat Republican incumbents David Perdue and Kelly Loeffler. Listen to the latest episode of Downballot Counts.
Preparing for the Transition
Immigration Orders Could be Tough to Undo: Biden's efforts to reverse Trump's immigration executive actions may not be as simple as issuing a contrary edict, as court rulings show that the government should consider both the scope of authority as well as underlying reasons for actions taken. As Trump learned when he tried and failed to rescind the Deferred Action for Childhood Arrivals program, Biden will need to address the rationales behind policies like the travel and visa bans in order to undo them. Read more from Genevieve Douglas.
Labor Chief Nominee Walsh Begins Prep: The Biden transition team is pivoting from nominating Boston Mayor Marty Walsh for labor secretary to getting the former construction union leader up to speed on the U.S. Labor Department and reviewing several labor policy veterans to serve as his deputy. Biden is still interested in offering the deputy labor secretary post to California Secretary of Labor and Workforce Development Julie Su, who lawmakers and worker advocates previously were pushing to get the top job, said sources familiar with the process. But Su has expressed reservations about accepting the No. 2 role, and hasn't definitively said whether she'd accept, those sources added. Read more from Ben Penn.
On-Demand Presidential Transition Process: BGOV has been in discussion with the Center for Presidential Transition to provide insights on the presidential transitions process, the mechanics involved, and first 100 days in office. This two-part series features an on-demand discussion on the transition process itself; and part two will be a live event on Friday featuring BGOV reporters alongside David Marchick (Center for Presidential Transition), former Health and Human Services secretary Kathleen Sebelius and former Homeland Security secretary Janet Napolitano.
Trump Administration Plans to Speed Up Vaccinations: Trump administration officials today plan to strongly encourage states to expand access to Covid-19 vaccinations to anyone older than 65, regardless of underlying conditions, and any American 16 and older with a pre-existing condition, according to two U.S. officials. Dr. Robert Redfield, director of the Centers for Disease Control and Prevention, will send out a letter to governors making these recommendations today. Existing guidelines from the Advisory Committee on Immunization Practices won't be changed, one official said. Axios first reported that an announcement would be coming. Read more from Jennifer Jacobs.
Pompeo Presses Voice of America to Promote U.S.: Pompeo pressed the Voice of America to be less critical of the U.S., delivering a speech that appeared at odds with the news organization's mandate to maintain editorial independence from the government. Pompeo's address at the Voice of America headquarters in Washington, where he said the VOA "isn't the place to give authoritarian regimes in Beijing or Tehran a platform," adds to efforts in the final days of Trump's administration to rein in the government-funded broadcaster. Read more from Nick Wadhams.
Pentagon Overhauls Financial Oversight: The Department of Defense's outgoing deputy secretary is strengthening the power of the comptroller and other offices as part of a major realignment of the Pentagon's money management in the final days of Trump's presidency. David Norquist, who oversaw three of the first-ever Pentagon audits, said yesterday a range of changes listed in two memos to Pentagon leaders will give Biden team's a more effective system for developing budgets and managing $704 billion in fiscal 2021 funding. Read more from Travis J. Tritten.
To contact the reporters on this story: Zachary Sherwood in Washington at zsherwood@bgov.com; Brandon Lee in Washington at blee@bgov.com
To contact the editors responsible for this story: Giuseppe Macri at gmacri@bgov.com; Loren Duggan at lduggan@bgov.com; Michaela Ross at mross@bgov.com