What to Know in Washington: House Set for Impeachment Vote
The House is prepared to vote on a history-making second impeachment of Donald Trump, as lawmakers seethed over his role inciting last week's mob attack on the Capitol and the president's once-firm control over the Republican party began to break down.
Trump's impeachment appeared inevitable in a vote Democrats set for today with the resolution's sponsors claiming broad support from Democrats and public backing from several Republicans, including Rep. Liz Cheney (R-Wyo.), the No. 3 House GOP leader and daughter of former Vice President Dick Cheney.
The House will begin debate shortly after 9 a.m. with the vote on the impeachment resolution expected by mid- to late afternoon. Under rules in place because of the coronavirus pandemic, members will vote in staggered groups on the House floor, and some by proxy, concluding before 5 p.m.
Although Trump is unlikely to be convicted in the Senate or forced out of office before President-elect Joe Biden is inaugurated on Jan. 20, a second impeachment would further stain a presidency that has culminated in a frightening assault on the storied center of American democracy. It also opened fissures in the Republican Party that portends a power struggle over its future.
"There has never been a greater betrayal by a president of the United States of his office and his oath to the Constitution," Cheney said in a statement. That drew a rebuke from Trump ally Rep. Andy Biggs (R-Ariz.), who called on her to resign from her leadership post.
Separately, the New York Times reported Mitch McConnell (R-Ky.), the Senate's Republican leader, has told associates he is privately pleased with the impeachment, calculating that it will make it easier to purge the party of Trump's influence.
Numerous Republicans, however, argued that impeaching Trump would only worsen divisions in the country. Read more from Mike Dorning, Erik Wasson and Billy House.
Follow the Vote: Tracking How Congress Votes to Remove Trump From Office
Defiant Trump Tries to Burnish Legacy: Faced with growing anger from within his own party, a defiant Trump rejected any responsibility for last week's insurrection at the Capitol as he sought to burnish his tarnished legacy, in what may be his final public appearance as president. Trump flew to Alamo, Texas, to stand next to a section of new border wall and deliver a 22-minute speech, in which he warned of further unrest if Congress dares to impeach him — even as the House is about to do just that.
He also declared himself invulnerable to removal by Vice President Mike Pence and his cabinet under the 25th Amendment to the Constitution. "The 25th Amendment is of zero risk to me, but will come back to haunt Joe Biden and the Biden administration," Trump said in Texas. "As the expression goes, be careful of what you wish for." Read more from Jordan Fabian and Josh Wingrove.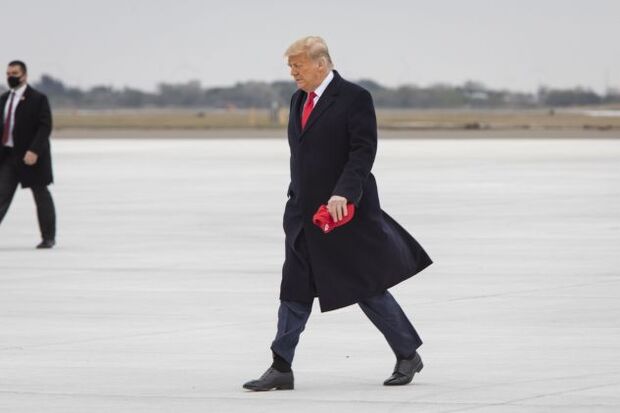 Republican Katko Supports Impeachment: Rep. John Katko (R-N.Y.), a former federal prosecutor from Syracuse, was the first Republican member of Congress to announce he would vote to impeach Trump. It was, in many ways, an unexpected development. Katko is not a lawmaker with a reputation for clashing with the president or other members of his own party. He's the kind of person who gets elected to Congress after a lifetime of public service with the goal of writing laws instead of enforcing them. And the last time the House considered Trump's impeachment, in 2019, he voted no. Daniel Flatley reports on how Katko got to 'yes'.
House Adopts Resolution Demanding Trump's Cabinet Remove Him: The House voted last night to demand Pence use the Constitution's 25th Amendment to remove Trump from office, a largely symbolic act leading up to today's impeachment vote. The House went ahead with the non-binding resolution, which was adopted 223-205, even though hours earlier Pence told Speaker Nancy Pelosi (D-Calif.) that he wouldn't comply because he didn't believe "that such a course of action is in the best interests of our Nation or consistent with our Constitution." Read more from Billy House.
Pelosi Names Impeachment Managers: Pelosi last night named nine managers for the impeachment trial, saying it is "their constitutional and patriotic duty to present the case for the President's impeachment and removal," according to a statement, Chelsea Mes reports. The lead manager is Rep. Jamie Raskin (D-Md.), joined by Reps. Diana DeGette (D-Colo.), David Cicilline (D-R.I.), Joaquin Castro (D-Texas), Eric Swalwell (D-Calif.), Ted Lieu (D-Calif.), Stacey Plaskett (D-V.I.), Joe Neguse (D-Colo.), and Madeleine Dean (D-Pa.).
Republicans Propose Censure of Trump Instead of Impeachment: A group of House Republicans have introduced a resolution to censure Trump for attempting to overturn the presidential election results and inciting the mob that stormed the Capitol. The censure resolution, using similar language to the article of impeachment being advanced by House Democrats, shows the fissures in the Republican Party that have emerged since the Jan. 6 assault on the Capitol. Read more from Anna Edgerton.
Security Issues at the Capitol
House Members Face More Security After Attack: New security measures at the Capitol added to tension among lawmakers as some Republicans bristled at being scanned before entering the House floor and Democrats responded, in the words of one, that they should "suck it up." Heightened safety precautions put in place in the wake of last week's attack on the building included a new metal fence and National Guard troops surrounding the building, as well as magnetometers at the doors used by lawmakers heading into the chamber that were implemented by the Democratic majority. Read more from Mike Dorning, Daniel Flatley, Billy House and Erik Wasson.
House Adopts Measure to Fine Maskless Lawmakers: The House last night adopted a resolution that would implement a fine system for non-compliance with Pelosi's mask requirement on the House floor, Megan Howard and Erik Wasson report. The rule would establish a $500 fine for the first offense, $2,500 for the second offense and deduct the fine from member pay.
Justice Department Could Charge Capitol Rioters With Sedition: The Justice Department is considering bringing sedition or conspiracy charges against people who rioted at the Capitol. "We're looking at significant felony cases tied to sedition and conspiracy," according to acting U.S. Attorney for the District of Columbia Michael Sherwin. "We're going to focus on the most significant charges as a deterrent." If found guilty, the rioters could face prison terms of up to 20 years, Sherwin said. Read more from Chris Strohm.
Joint Chiefs Remind Troops of Oath: The heads of the nation's military branches released a letter yesterday reminding service members not to participate in riots. Amid reports of active-duty military personnel being at the rally before the assault on the Capitol last week, the Joint Chiefs of Staff sent out a memo calling the attack a "direct assault" on the Constitution. "The violent riot in Washington, D.C. on January 6, 2021, was a direct assault on the U.S. Congress, the Capitol building, and our Constitutional process," they said. Read more from Bloomberg.
Democrats Ready Agenda
Biden Aims for Deal on Covid-19 Relief Package: Biden will seek a deal with Republicans on another round of Covid-19 stimulus, instead of attempting to ram a package through without their support, according to two people familiar with the matter. That approach could mean a smaller initial package that features some priorities favored by McConnell. The idea is to forgo using a special budget process that would remove the need for support of 10 Republicans in the Senate, which is split but has Vice President-elect Kamala Harris as a tie breaker.
Biden transition staff briefed aides to congressional Democrats yesterday about the plans to work with the GOP and not use so-called budget reconciliation in an initial stimulus measure. The briefing came a day after former Senate Democratic leader Tom Daschle urged his party to give McConnell "reasons to be cooperative," which would unlock greater legislative feats. Biden last week talked of a "multitrillion" dollar economic package, but this could now come in stages. Read more from Erik Wasson.
Democrats Target Infrastructure, Relief Bills for Climate Goals: A broad infrastructure package or economic recovery bill would be the quickest and best way for Democrats to pass significant legislation to address climate change, according to advocates for the effort. Democratic control of Congress and the White House, even by a narrow margin, gives them an opportunity to revisit initiatives that failed to garner traction in the Republican-controlled Senate of the 116th Congress. That includes the $1.5 trillion infrastructure legislation the House passed in July, which would reduce vehicle emissions, strengthen electric vehicle infrastructure, and boost environmental resources and transit access to underserved communities. "Keep an eye on stuff that's already baked," said Collin O'Mara, National Wildlife Federation president and CEO. Read more from Kellie Lunney.
Democrats Look to Erase Trump Environment Rules: Prominent Democratic lawmakers stand ready to use their control of the House and Senate to try erasing last-minute Trump administration environmental rules. Fresh off double wins in Georgia that give them slim control of the Senate, Democrats are contemplating using the Congressional Review Act. The law gives the House and Senate time after a rule is finalized to scrap it with an expedited simple majority vote instead of the 60 votes needed for most Senate legislation—giving the incoming Biden administration the fastest path to revoking some of the most controversial environmental rules of the Trump era. Read more from Stephen Lee and Dean Scott.
CEOs Will Get Call to Face Brown as Banking Chair: Sen. Sherrod Brown (D-Ohio) plans to haul in top Wall Street executives for public hearings when he takes the gavel of the Senate Banking Committee, a panel he said has been too easy on bankers in recent years. He said his first priority is addressing economic relief from the Covid-19 pandemic. But the long-time financial industry critic also put CEOs on notice to expect a call. Robert Schmidt and Jesse Hamilton have more.
Congress' Support for OECD Tax Plan in Flux: Congressional support for an OECD digital tax plan will depend on any consequences and advantages for the U.S., and the reasoning behind deviations from traditional tax policy norms, a House Ways and Means staffer said. The OECD is trying to find agreement by mid-2021 among 137 jurisdictions on overhauling international tax rules to better reflect modern, digital business models. Read more from Isabel Gottlieb.
The Biden Administration
Biden to Begin With Interim Secretaries: Biden will begin his presidency next week with a cabinet made up mostly of acting officials as delays in the Senate slow confirmation of his top choices for key positions. "Day One" seems likely to come and go without confirmations, slowing Biden's promises to gut, reverse or reform much of President Donald Trump's actions over the last four years, from the lengthy process of changing regulations to drafting legislation.
Biden can appoint acting heads of agencies while awaiting his nominees to be confirmed. In many cases he will turn to senior career officials to temporarily lead agencies, a transition official said. In a few instances the Biden team has identified Trump political appointees to take on interim roles, after determining that they share the new administration's values. Read more from Laura Litvan.
Biden Eyeing Former CFTC Chief Gensler for SEC: Gary Gensler, a former head of the U.S.'s main derivatives regulator, is the likely pick to lead the Securities and Exchange Commission under Biden, according to two sources familiar with the matter. If nominated and confirmed, Gensler would be the new government's frontline regulator for Wall Street and the arbiter of what public companies must disclose to their investors. While Gensler is seen as the leading SEC candidate, a final decision has yet to be made, one person said. Read more from Saleha Mohsin, Jennifer Epstein, Robert Schmidt, and Ben Bain.
Biden Nominates Samantha Power for USAID: Biden announced Ambassador Samantha Power as his nominee for administrator of the United States Agency for International Development and elevated the position to become a member of the National Security Council, according to a statement. Power served in the Obama-Biden administration cabinet from 2013 to 2017 as the 28th U.S. Permanent Representative to the United Nations, Sarah Jacob reports.
Homeland Pick to Face Senators Jan. 19: The Senate Homeland Security and Governmental Affairs Committee will hold a hearing on Jan. 19 to consider Alejandro Mayorkas as Biden's Homeland Security chief. Top Democrat Gary Peters (D-Mich.) and top Republican Rob Portman (R-Ohio) agreed to a nomination hearing before Biden's swearing-in. Read more from Shaun Courtney.
Unions Urge Booting Trump Social Security Officials: A group of unions representing Social Security Administration employees is calling on Biden to oust Trump's two political appointees to the agency on the first day of his presidency, citing leadership policies they argue have hurt agency workers. The call to oust Commissioner Andrew Saul and Deputy Commissioner David Black follows a vote in December of "no confidence" in SSA leadership by federal government union members. Read more from Louis C. LaBrecque.
What Else to Know Today
U.S. Government Executes First Woman Prisoner Since 1953: The Trump administration carried out the first federal execution of a woman since 1953, after a divided Supreme Court sided with the government during a late night of frenzied litigation. Lisa Montgomery's lethal injection in the Terre Haute, Ind., federal death chamber early this morning is the Justice Department's 11th execution since resuming capital punishment in July after a 17-year break. It's also the latest in a series of lame-duck period executions, which previously hadn't occurred since the late 19th century. Read more from Jordan S. Rubin.
SCOTUS Halts Mail Delivery of Abortion-Inducing Pills: A divided Supreme Court reinstated a requirement that women visit a medical facility to obtain abortion-inducing pills, granting a Trump administration request to end the mail deliveries a judge allowed amid the pandemic. The order, which came over three dissents, marks a shift for a court that let mail deliveries continue temporarily in October. That was before Justice Amy Coney Barrett joined the court and strengthened its conservative majority. Greg Stohr has more.
U.S. Vaccine Shift Stirs Fresh Unease: The U.S. government wants states to offer vaccines to millions more Americans as Covid-19 infections continue to soar, in a bid to bolster an immunization campaign that's off to a rocky start. In recommending that states start immunizing all residents 65 and older, along with all those between 16 and 64 with medical conditions that make them more vulnerable to serious disease, U.S. health officials are clearing a path for about 128 million more Americans to be vaccinated. Read more from Angelica LaVito and John Tozzi.
U.S. Unveils Plan to Counter China's Rise: The Trump administration declassified its strategy to ensure continued dominance over China, which focuses on accelerating India's rise as a counterweight to Beijing and the ability to defend Taiwan against an attack. National Security Adviser Robert O'Brien yesterday announced the publication of the document, titled "United States Strategic Framework for the Indo-Pacific." Read more from Philip J. Heijmans and Iain Marlow.
To contact the reporters on this story: Zachary Sherwood in Washington at zsherwood@bgov.com; Brandon Lee in Washington at blee@bgov.com
To contact the editors responsible for this story: Giuseppe Macri at gmacri@bgov.com; Loren Duggan at lduggan@bgov.com; Michaela Ross at mross@bgov.com