What to Know in Washington: House Republicans Off to Bumpy Start
Bloomberg Government subscribers get the stories like this first. Act now and gain unlimited access to everything you need to know. Learn more.
House Republicans emerged from their first 100 days struggling to carry out much of their agenda while facing debt limit and spending showdowns that could make or break their ability to hold their majority.
The past few months have tested Speaker Kevin McCarthy's (R-Calif.) strategy of ensuring all factions of his conference have a voice in crafting legislation and messaging. His more-carrots-and-fewer sticks approach has helped Republicans push through education and energy measures. They also claimed victory after forcing Biden to accept their rejection of D.C. crime overhaul.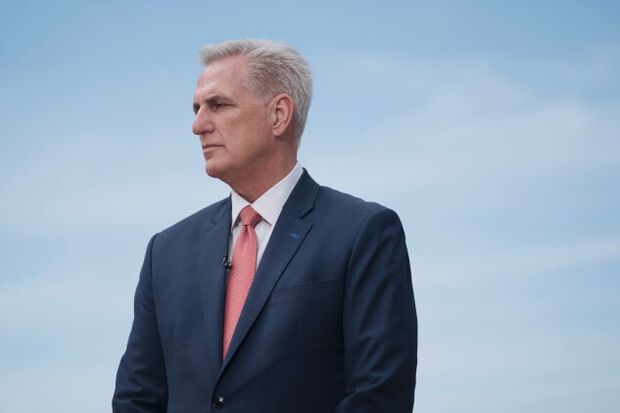 Yet the biggest hurdles still lie ahead. House leaders have made little headway on their pledge to link raising the debt limit to dramatically reducing federal spending. Despite high-profile trips by GOP members to the southwest border, the party hasn't coalesced behind a plan to curb illegal immigration and beef up border security.
Republicans are in the midst of a bevy of oversight investigations focused on the administration but lawmakers caution they need to balance probes into Biden's family ties with issues of broad public concern like the recent closure of several banks and train derailments. Those investigations are only beginning.
The leadership's ability to overcome these fiscal, legislative and oversight challenges will be key if they hope to retain control of the House and expand their narrow majority in 2024. Read more from Emily Wilkins.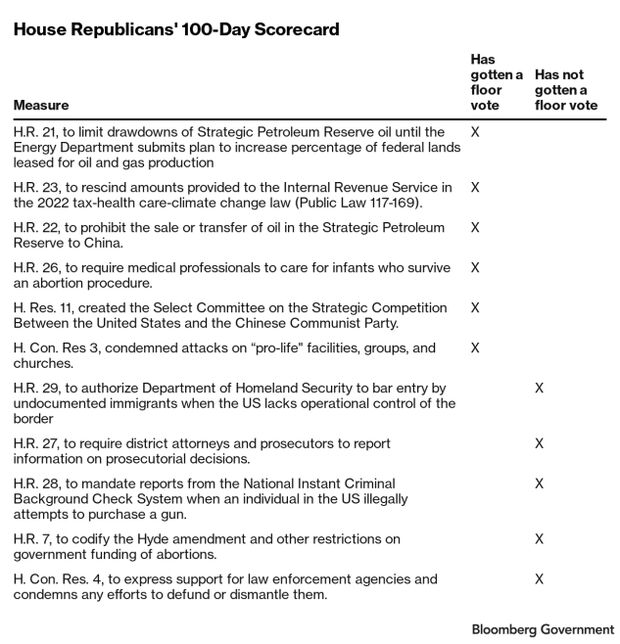 Biden to Retrace Roots in Irish Tour
President Joe Biden is leaving for Ireland this morning, kicking off a long-awaited return to his ancestral home. It's an opportunity to celebrate a heritage he cites often and that has shaped his rise in politics before an expected 2024 reelection campaign.
"Growing up Irish American gave me the pride that spoke to both sides of the Atlantic, heart and soul that drew from the old and new," Biden said last month.
His first stop is Belfast, Northern Ireland, where he will meet with UK Prime Minister Rishi Sunak, as the White House grapples with a fresh diplomatic problem—the leak of allegedly classified Pentagon documents about the war in Ukraine and US spying. Biden then heads to the Republic of Ireland to visit Dublin and the counties of his ancestors.
Biden will mark the 25th anniversary of the Good Friday Agreement, which largely brought about an end to decades of sectarian violence in Northern Ireland, and commemorate the recent Brexit deal intended to preserve the accord. Jennifer Jacobs, Morwenna Coniam, and Ellen Milligan preview the trip.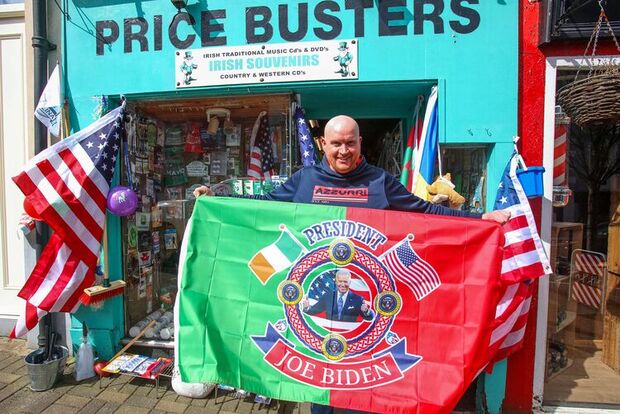 US's Foreign Policy Setbacks
It may prove to be the most serious intelligence leak the US has had in a decade, and behind closed doors, it has set off uncomfortable conversations with the nation's closest allies.
The tranche of classified documents dumped online revealed to the global public just how closely Americans are spying on their friends and foes at a most delicate time. The war in Ukraine is at a turning point. Biden is meeting with the leaders of key allies this month. As one foreign official put it, the timing is bad and the lack of public outcry from various capitals should fool no one.
US allies are disconcerted by the biggest breach of US intelligence since former federal contractor Edward Snowden handed out thousands of pages of classified documents to journalists. Rather than air their grievances out in the open, they are hitting the diplomatic back channels—and hitting them hard.
Secretary of State Antony Blinken has formally determined that Evan Gershkovich, a reporter for The Wall Street Journal, has been wrongfully detained by Russia, a finding that authorizes the US to negotiate on his behalf.
The US defense industry is financially healthy but has significantly reduced internal funding toward development of new tech, the Pentagon said in its first report in 35 years on contractor financing. Read more
MORE IN US DEFENSE ISSUES
National Battle Over Abortion
Dueling Friday rulings over the legality and availability of mifepristone, also known as the abortion pill, are the most significant turn yet in what's shaping up to be the biggest fight over reproductive rights in the US since the overturning of Roe v. Wade.
US District Judge Matthew Kacsmaryk of the Northern District of Texas temporarily suspended the FDA's decades-old approval of mifepristone, the only pill specifically approved for abortion in the country. His directive is set to take effect on April 14, but it was followed moments later by a contradictory ruling from a judge in Washington who affirmed approval of mifepristone and blocked the government from further restricting its distribution.
The conflicting orders mean an appeals court will have to intervene. The Biden administration has already filed an appeal of the Texas judge's ruling. And Steve Vladeck, a professor of law at the University of Texas at Austin, said that "this case is going to the Supreme Court with a bullet."
MORE ON THE ABORTION FIGHT
Also on Lawmakers' Radars
The White House has started giving lawmakers, including the leaders of the House and Senate intelligence committees, access to classified documents that were recovered from the homes of Joe Biden, Donald Trump, and Mike Pence, Punchbowl reports.
All Democrats on the Senate Judiciary Committee have called on Chief Justice John Roberts to investigate undisclosed luxury trips that Supreme Court Justice Clarence Thomas accepted from a wealthy Republican donor.
The current system is plagued by technology failures, logistics problems, and a contracting system that's allowed one group to manage US transplants for decades without enough oversight, advocates for change are telling lawmakers.
The IRS's strategic operating plan will give fodder to House Republicans gearing up to probe how clean energy credits from Democrats' sweeping Inflation Reduction Act are being doled out.
A group of California lawmakers is redoubling the pressure on US Citizenship and Immigration Services to extend the grace period for laid-off foreign tech workers to find new employment before losing legal status in the US.
What Else We're Reading Today
To contact the reporter on this story: Brandon Lee in Washington at blee@bgov.com
To contact the editors responsible for this story: Giuseppe Macri at gmacri@bgov.com; Michaela Ross at mross@bgov.com
Stay informed with more news like this – from the largest team of reporters on Capitol Hill – subscribe to Bloomberg Government today. Learn more.