What to Know in Washington: House Readies Funding, Debt Showdown
House Democrats will include a suspension of the U.S. debt ceiling in a spending bill needed to keep the government open past the end of this month, a risky move backed by President Joe Biden that assures a potentially damaging showdown with Republicans.
The debt ceiling would be suspended through December 2022, which would push that battle past the mid-term congressional elections. The stopgap funding bill would last through Dec. 3, 2021, a person familiar with the legislation said — setting up another fight to keep the government operating at the end of this year.
But those dates may not matter, with Republicans and Democrats completely at odds over the debt limit. Without a shift in position by one of the two parties, the decision to combine the temporary funding measure and the debt ceiling leaves the U.S. on course for a government shutdown and defaults on federal payments as soon as next month. Republicans have said they won't vote to raise the debt ceiling as long as Democrats are pressing ahead with a partisan tax and spending plan encompassing much of Biden's economic agenda. The White House and congressional Democratic leaders have insisted that the debt limit vote should be bipartisan.
Biden tweeted his support yesterday afternoon, saying Democrats are acting "to keep the government open, provide disaster relief, and avoid catastrophic default."
The House could begin consideration of the measure as soon as today. But the text of the stopgap bill has yet to be released, and the House Rules Committee still needs to meet to advance the measure. The White House's request for $6.4 billion for Afghan refugees caused a delay in taking up the continuing resolution, Sen. Roy Blunt (R-Mo.) said yesterday. The question of whether they're refugees or asylum seekers would make a difference in funding requirements, he said. Read more from Erik Wasson and Billy House.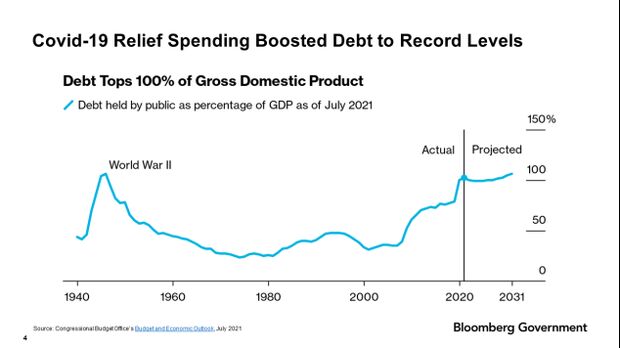 Democrats Unveil Plan to Tackle Debt Limit—BGOV OnPoint: Democratic leaders are planning to vote on a measure that would suspend the debt limit through December 2022, setting up a clash with Republicans as default risks come into view. Speaker Pelosi and Leader Schumer said the debt provision would be attached to a bill to keep the government operational past Sept. 30. But that would need votes from 10 Senate Republicans, which will be an uphill battle to find. Michael Smallberg explains in a BGOV OnPoint.
Happening on the Hill
Today's Agenda:
The House could vote on several bipartisan measures under expedited procedure. The chamber could also begin consideration of a stopgap government funding bill, and the annual defense policy measure.
The Senate is scheduled to vote on one of Biden's judicial nominations.
Click here for a complete list of today's hearings and markups.
Pelosi Says Democrats May Adjust Reconciliation Figure: House Speaker Nancy Pelosi (D-Calif.) said that Democrats must be prepared for adjustments to the reconciliation legislation and to an agreed to top-line spending number with the Senate, according to a letter sent to House Democrats. Pelosi said the adjustments may need to be made according to the Byrd rule. House and Senate Budget Committees are reviewing the legislation now for possible Byrd violations in order to narrow exposure to such challenges, Max Zimmerman and Billy House report.
Democrats Eye Legal Immigration Path Options: Lawmakers and advocates are eyeing a largely forgotten section of immigration law as a pathway to legalization for millions after a Senate official rejected a broader proposal for overhauling the system. Updating a section of the Immigration and Nationality Act would allow many undocumented individuals to apply for green cards and gain protection from deportation. Members of Congress are weighing that option as a backup plan after the Senate parliamentarian on Sunday said a more ambitious proposal wasn't eligible for the budget reconciliation process Democrats are using to advance the Biden administration's sweeping economic and social agenda. Read more from Ellen M. Gilmer.
Democrats Tee Up Votes on Workplace Protection Measures: Two House measures that would beef up safeguards for nursing mothers in the workplace as well as older job applicants took a step toward floor consideration later this month under Democrats' plans. One measure would broaden breastfeeding protections to workers not covered by the Fair Labor Standards Act. The other would restore federal protections for job applicants who allege ageism. Andrew Kreighbaum has more.
Wyden Aims to Use Budget Bill to Mandate 26 Weeks of Jobless Aid: Unemployment benefits would be available for at least 26 weeks in all states and be more accessible to part-time and young workers under proposals that Sen. Ron Wyden (D-Ore.) aims to include in Democrats' $3.5 trillion budget reconciliation package. The Oregon Democrat said yesterday he plans to use his position as chairman of the Senate Finance Committee to push for permanent changes to make the unemployment insurance system more generous—albeit a scaled-back version of the unemployment overhaul that he proposed in draft legislation in April. Read more from Chris Marr.
Facebook Targeted With Document Request: Rep. Raja Krishnamoorthi (D-Ill.), who leads the House economic and consumer subcommittee, asked Facebook chief Mark Zuckerberg for documents related to a Wall Street Journal report on how the company's products are used by human traffickers and the mental health risks for teenagers. Krishnamoorthi cited Facebook's "apparent failure to protect the welfare of its users, particularly women and girls." Anna Edgerton has more.
Around the Administration
Today's Agenda: Biden is scheduled to address the United Nations General Assembly in New York at 10 a.m. before meeting with Australian Prime Minister Scott Morrison at noon. The president plans to depart New York after 2 p.m. and return to the White House shortly before 4 p.m. for a meeting with U.K. Prime Minister Boris Johnson at 4:45 p.m.
Biden Has Priorities Beyond U.K. Deal, Johnson Says: Biden has too many domestic priorities to find time to negotiate a trade deal with the U.K., Prime Minister Boris Johnson said ahead of his meeting with Biden in Washington. A trade deal with the U.S. was billed as one of the key prizes of Brexit, so Johnson is under pressure to prove the biggest upheaval in British foreign policy in 50 years was worth it. The U.S in 2016 warned Britain would be "at the back" of the line for a deal. Kitty Donaldson has more.
Brainard Walks Tightrope Toward Next Job: Lael Brainard's record fighting back as the Trump administration loosened the leash on Wall Street has made her a leading candidate to be the Federal Reserve's banking watchdog. And that's not the only job she's in line for. The central bank's lone Democratic governor, Brainard is also being discussed for more prominent Biden administration appointments, including to replace Fed chairman Jerome Powell and, potentially, for Treasury secretary if Janet Yellen leaves. That makes the role of bank supervision chief appear like a consolation prize, one that could block Brainard from securing the more prestigious posts, people familiar with the selection process said. Also, she may not be a lock for the banking position. Read more from Robert Schmidt and Jesse Hamilton.
Homeland Security Probing Treatment of Haitians: The Department of Homeland Security is investigating a heated confrontation between border patrol agents on horseback and Haitian migrants seeking asylum in the U.S. Homeland Security Secretary Alejandro Mayorkas, according to people familiar with the matter, has seen video of the agents, wearing western hats and chaps, chasing migrants into the Rio Grande near Del Rio, Texas, with one of the agents waving what looks like a rein or whip and others shouting and pointing at Mexico. Read more from Jennifer Epstein and John Harney.
Europe Mulls French Request to Delay U.S. Trade Talks:The European Union is discussing a possible delay of upcoming trade talks with the U.S. following French outrage over a canceled Australian submarine contract that was scuttled in favor of a new defense pact with Washington and the U.K. France asked the European Commission to postpone the first meeting of the Trade and Technology Council that was due to gather in Pittsburgh on Sept. 29, according to EU diplomats who asked not to be identified because the talks are confidential. Read more from John Follain and Alberto Nardelli.
Russia Gas Limits Pose Concern, U.S. Envoy Says: The Biden administration is growing more concerned over Russia's restrictions on gas exports amid worries that some European countries may not have enough supply to heat homes this winter if temperatures are colder than normal, the U.S. envoy for energy security said. Russian supplies are "inexplicably low," and news today that Russia didn't book capacity through October "increases the concern," he said. Nick Wadhams and Annmarie Hordern have more.
Also in Russia tensions, after a furious run of ransomware attacks in the first half of the year, Biden in July warned his Russian counterpart, Vladimir Putin, that Russia-based hacking groups should steer clear of 16 critical sectors of the U.S. economy. In recent days, however, a Russia-linked ransomware group called BlackMatter attacked a grain cooperative in Iowa, an incident that appears to test Biden's terms since "food and agriculture" is one of the protected sectors. William Turton has more.
Politics & Influence
GOP and Democrats Both Top $12 Million in August Fundraising: The Republican National Committee raised $12.2 million in August, equaling its Democratic rival while leaving it with more money in the bank as the two parties seek a financial edge before the 2022 midterm elections, according to their latest filings with the Federal Election Commission. Democrats also brought in $12.2 million, with the Democratic National Committee reporting $9.9 million in donations and the Democratic Grassroots Victory Fund, an allied committee, bringing in another $2.3 million. The DNC has raised $110 million in 2021, a record amount for the party at this point in the year before an election. Read more from Bill Allison.
Lawyer Says Trump CFO Could Be Collateral Damage: Longtime Trump Organization Chief Financial Officer Allen Weisselberg's legal team complained that he risked becoming "collateral damage" in what they said is a still-growing tax-fraud prosecution that was likely to see additional defendants. Weisselberg and former President Donald Trump's company yesterday had their first court appearance in state court in Manhattan since he was arrested in July. Patricia Hurtado has more.
To contact the reporters on this story: Zachary Sherwood in Washington at zsherwood@bgov.com; Brandon Lee in Washington at blee@bgov.com
To contact the editors responsible for this story: Giuseppe Macri at gmacri@bgov.com; Loren Duggan at lduggan@bgov.com; Michaela Ross at mross@bgov.com