What to Know in Washington: House Progressives Stand Ground
House liberals are digging in their heels to ensure their priorities make it into a pair of forthcoming spending bills set for divergent paths toward becoming law.
The insistence from the Congressional Progressive Caucus comes as the White House makes a push on Capitol Hill to get Democrats to fall in line on a tax and social spending package that would likely need to be passed in a party-line vote and a smaller, $579 billion bipartisan infrastructure bill that was negotiated in the Senate.
Democrats' slim majority means a handful of lawmakers—from either wing of the party—could sink the larger bill if they vote against it. Several progressive lawmakers said that's on the table if the bill doesn't address issues such as climate change and housing assistance, or doesn't go big enough in terms of funding.
"This is a once-in-a-lifetime opportunity to make real change and invest in 21st century infrastructure," Rep. Ilhan Omar (D-Minn.), the progressive caucus whip, said in an interview. "We are very much committed to pressuring our members to hold their vote if we do not get our priorities."
If successful, most of their priorities will likely appear in the larger bill that would be brought up in the Senate through reconciliation, a procedure that allows budget-related legislation to advance with a simple majority. Read more from Emily Wilkins.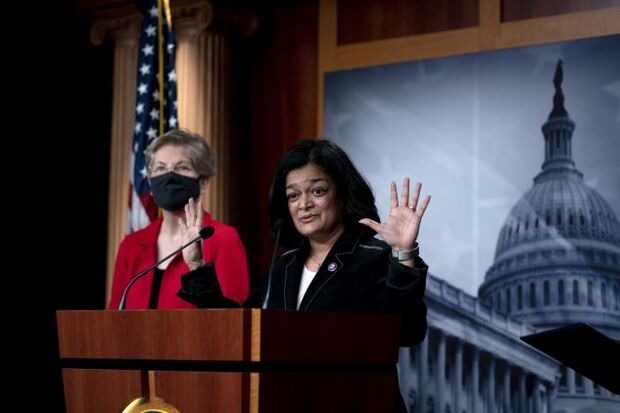 Happening on the Hill
Today's Agenda:
The House plans to vote today on a resolution to establish a congressional panel to investigate the Jan. 6 riot at the U.S. Capitol. The chamber will also begin considering Democrats' combined highway and water infrastructure funding package. For more, see the BGOV Bill Summary.
Click here for a complete list of today's hearings and markups.
House Votes to Remove Confederate-Linked Statues from Capitol: The House passed a bill yesterday directing the Joint Library Committee to remove statues and busts in the Capitol complex of individuals associated with slavery, the Confederacy and White supremacy, Megan Howard reports. The vote was 285-120. The measure also requires the bust of former Supreme Court Chief Justice Roger B. Taney to be replaced with one honoring Justice Thurgood Marshall. For more, see the BGOV Bill Summary.
IRS Funding Boost Advances Over GOP Objections: House Democrats advanced a spending bill to boost funds for the Internal Revenue Service and other Treasury Department programs, over Republican calls to cut planned increases in domestic spending and pull back stimulus funds for local governments. The House Appropriations Committee voted 33-24 to advance the fiscal 2022 Financial Services-General Government spending bill out of the committee and to the floor. Read more from Jack Fitzpatrick.
Boost to Pandemic Resilience Grant Proposed: An in-demand federal disaster mitigation program could draw upon previously provided funding under a spending bill released yesterday. The grant program was established by Congress in 2018 to help with resilience in places where a disaster has been declared. Due to the coronavirus pandemic, all 50 states have disaster declarations and were eligible for funding in fiscal 2020, but only $500 million was available. Read more from Nicole Sadek.
Congressional Panels Called Out on Lack of Diversity in Hearings: Congressional committees have had an Achilles heel when it comes to ensuring racial and ethnic diversity of witnesses at hearings and need to fix it now, an environmental group said in a letter today. "Hearings are an integral element of the policy making process, and the inclusion of witnesses of color is key to ensuring that people across our nation have their voices heard," wrote Andres Jimenez, executive director for Green 2.0, which pushes for increased diversity among environmental organizations. The need for diversity is particularly crucial as committees focus on pollution, water, energy, infrastructure, conservation, and other environmental policies, Jimenez said. Read more from Dean Scott.
Politics & Influence
GOP's Objection to Vote for Felons Imperils Supporters: Republicans who oppose a movement to let felons vote after they leave prison are fighting a policy idea that could earn them a large number of new voters. Republicans in the Senate last week united to block an omnibus Democratic elections bill that included a provision to restore felon voting rights nationwide with many objecting to that requirement specifically. Yet like the prison population, ex-felons are overwhelmingly male and non-college educated and largely White, three demographic groups that increasingly vote Republican. Read more from Ryan Teague Beckwith.
Trump Organization COO Isn't Expected to Be Charged, Lawyer Says: The Trump Organization's chief operating officer isn't expecting to face charges from the Manhattan district attorney, his lawyer said. "Notwithstanding whatever charges may or may not be brought against others at this time, I do not expect charges to be brought against either of my clients," Nicholas Gravante, who represents Matthew Calamari and his son, said in an interview. Read more from Patricia Hurtado.
Vote-Counting Turns New York's Mayoral Race Upside Down: New York City election officials thrust the race for the next mayor into turmoil yesterday after erroneously counting test ballots alongside election night results, producing about 135,000 "dummy ballots" that skewed results of the city's first major test of a new ranked-choice voting system. Read more from Gregory Korte and Henry Goldman.
Around the Administration
Biden to Confront Perils of Heat Wave: As intense, record heat seizes the U.S. Pacific Northwest, Biden will meet today with governors from Western states already anxious over the prospect of another summer of unquenchable wildfires, drought and massive power failures.
Biden along with Vice President Kamala Harris and other administration officials will discuss preparations for wildfire emergencies and electrical failures, according to an administration official. That would include marshaling technology, including satellite systems, apps and social media to detect blazes as early as possible and sending information rapidly to people in affected areas. The Democratic governors of California, Oregon, New Mexico, Colorado, Washington State, and Nevada have been invited as have the Republican governors of Utah and Wyoming. The governors will participate virtually. White House officials declined to say why the Republican governors of three other Western states, Idaho, Montana and Arizona, were not invited. Read more from Jennifer Jacobs.
Biden Climate Promises Hit Grinding Gears: The agency that manages car shopping for the federal government hasn't published a promised plan to stock up on electric vehicles. The Agriculture and Interior departments don't have a public strategy to employ thousands of young people to address the threat of climate change. And the Defense Department hasn't determined how it will use the risk of climate change in military simulations and war gaming. As Biden tries to wrangle Capitol Hill and world leaders to take action on climate change, his own administration is missing many of his deadlines to complete items on a lengthy domestic and international climate change to-do list. Read more from Courtney Rozen.
Biden Home Health Goals Come Up Short: A one-time infusion of cash for state home health programs will fund worker bonuses and training without meeting the Biden administration's goal of bolstering wages and benefits in the industry, proposals in six states show. Biden has proposed injecting the home and community-based services industry with $400 billion, mostly through Medicaid. The money could briefly help more Americans get home care, but won't reach Biden's larger goals for the industry. Read more from Alex Ruoff.
White House Nears Upending Trump-Era Permitting Changes: Changes to federal environmental permitting laws now "seem likely," a top Biden administration official said yesterday, giving some of the White House's clearest guidance to date on its plans. The White House's Council on Environmental Quality hopes to be in "an active coordinating phase" before the end of the year to revise the regulations under the National Environmental Policy Act, CEQ Chair Brenda Mallory said. Read more from Stephen Lee.
FTC Looks to Bolster Facebook Monopoly Claim: To revive their landmark lawsuit against Facebook, U.S. antitrust enforcers will need to present stronger evidence to support their argument that the world's biggest social network is a monopoly. With nearly 180 million monthly users in the U.S., according to eMarketer estimates, and a suite of products that are among the most widely used online, Facebook's influence and reach may appear beyond question to most. Read more from David McLaughlin, Siri Bulusu and Kurt Wagner.
Supreme Court Leaves Eviction Ban in Effect: A divided U.S. Supreme Court refused to lift the federal moratorium on evictions during the Covid-19 outbreak, leaving the ban in place until the end of July. Voting 5-4, the justices rejected calls by landlords and real-estate trade associations from Alabama and Georgia to block the moratorium while their challenge goes forward. The states said the CDC exceeded its authority with the ban as a means of stopping the spread of Covid-19. Read more from Greg Stohr.
U.S., Taiwan to Talk Chips, Vaccines as Long-Stalled Talks Begin: The U.S. and Taiwan will sit down today for long-stalled trade talks, with computer chips and vaccines likely replacing pork and beef as the main topics of discussion. Ensuring stable supplies of semiconductors will be a focus of the talks, Hsiao Cheng-Jung, chief of staff in Taiwan's Office of Trade Negotiations, said Monday. Taiwan is one of the main global suppliers of chips and its premier manufacturer is building a new factory in the U.S. to boost supply amid a global shortage. Read more from Betty Hou and Samson Ellis.
Reports Says Gutmann Is Biden's Pick for Ambassador to Germany: Biden is poised to nominate University of Pennsylvania President Amy Gutmann as the first female U.S. ambassador to Germany, Der Spiegel reported. The 71-year-old's posting, which needs Senate approval, is seen as an effort to restore balance after the departure of Richard Grenell, former President Donald Trump's top diplomat in Berlin who left in February 2020, the German magazine said, citing unidentified government officials in Washington and Berlin, Angela Cullen reports.
To contact the reporters on this story: Zachary Sherwood in Washington at zsherwood@bgov.com; Brandon Lee in Washington at blee@bgov.com
To contact the editors responsible for this story: Giuseppe Macri at gmacri@bgov.com; Loren Duggan at lduggan@bgov.com; Michaela Ross at mross@bgov.com