What to Know in Washington: House Preps for Testy Defense Debate
Bloomberg Government subscribers get the stories like this first. Act now and gain unlimited access to everything you need to know. Learn more.
House Republican leaders have a tough job when they bring the annual defense policy bill to the floor this week: wrangling conservatives who seek to curtail diversity and inclusion, abortion rights, and security aid to Ukraine — while attracting enough Democrats to pass the legislation.
Congress has treated the mammoth measure as must-pass for 60 years because it authorizes pay for troops in harm's way. For fiscal 2024, it would authorize $886 billion for national security, in keeping with the debt limit deal President Joe Biden and House Speaker Kevin McCarthy (R-Calif.) reached.
The Rules Committee on Tuesday must sift through almost 1,500 amendments — most dealing with national security and weapons. Yet only a few hot-button controversies will put deep divisions between the parties on display. McCarthy, with a tiny Republican majority, won his speakership only after making concessions to conservatives. The defense authorization bill will be a barometer of whether he can deliver crucial legislation.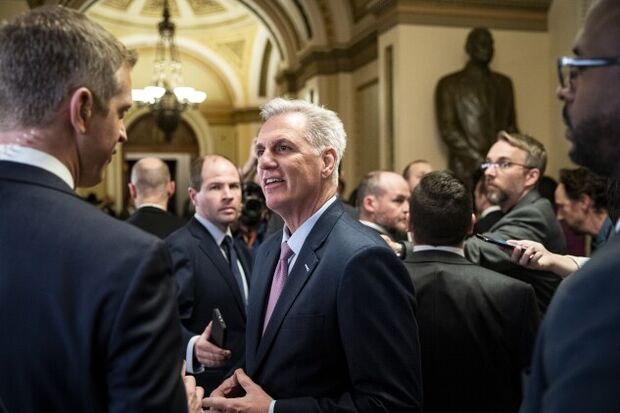 McCarthy's math is complicated. Both parties have lawmakers who vote against the defense bill every year. If the House adopts amendments to satisfy GOP conservatives, leaders risk alienating even more Democrats than usual, and perhaps more moderate Republicans, dooming the legislation. For Democrats, restrictions on abortion and transgender care loom as a red line.
Reps. Mike Rogers (R-Ala.) and Adam Smith (D-Wash.) staved off some of the more inflammatory amendments when the committee considered the bill. Smith, the ranking member, had warned against ruining "decades of comity" and urged the GOP to "to weigh the so-called political gains that a few in their ranks are pursuing at the expense of America's greatest source of national strength." Roxana Tiron previews the issues they'll contend with ahead of floor votes.
Senate Majority Leader Chuck Schumer (D-N.Y.) in a letter yesterday said advancing that chamber's version of NDAA is among priorities the Senate will tackle during the upcoming work period. "We must continue to compete globally and deepen our strategic ties with our allies and partners, so I hope to move this bill quickly," he wrote.
CONGRESS' SCHEDULE
Senators return today to vote on Xochitl Torres Small's nomination to be the Agriculture Department's deputy secretary.
The House is back tomorrow with votes set later this week on the annual defense policy bill.
BIDEN'S AGENDA
At 8:05 a.m. EDT, Biden will meet with King Charles III, philanthropists, and investors at Windsor Castle to discuss climate efforts.
At 12:55 p.m. EDT, Biden will arrive in Vilnius, Lithuania for the 74th NATO summit.
More From the Hill Today
A time crunch looms for taxwriters seeking to mint a deal on a bipartisan tax package that could ride along on several pieces of legislation winding through Congress this year.
Congressional efforts to strengthen children's safety and privacy online amid a youth mental health crisis are running into opposition from lobbyists who warn legislative proposals would be counterproductive.
The statute the Department of Labor is using for Julie Su's tenure as acting secretary has drawn Republican scrutiny as her nomination to fill the role permanently continues to languish in the Senate.
Lawmakers return this week, aiming to make progress on key authorizations and appropriations ahead of August recess and looming deadlines this fall.
Biden Heads to UK, NATO Summit
Joe Biden is meeting Prime Minister Rishi Sunak for talks on Ukraine during a brief visit to the UK today, after allies questioned the US decision to send cluster bombs to support Volodymyr Zelenskiy.
Democratic lawmakers voiced concern about Biden's decision to send the cluster munitions. Read more.
Southeast Asian nations still struggling to clear cluster munitions dropped on them by US forces during the Vietnam War are pleading with the Americans to back away from sending the deadly bombs. Read more.
Biden spoke yesterday with his Turkish counterpart Recep Tayyip Erdogan as the US pushes for a deal with Ankara that would allow Sweden's entry into NATO. National Security Advisor Jake Sullivan told reporters that the call lasted about 45 minutes to an hour and that the leaders agreed to sit down together during the NATO summit.
Secretary of State Antony Blinken also spoke with Turkish Foreign Minister Hakan Fidan about the upcoming summit, emphasizing that "now is the time" for Sweden to formally join NATO and to further strengthen US-Turkey defense cooperation." Read more.
Politics, Probes and 2024
First Lady Jill Biden will travel to 2024 presidential battleground states over the next two weeks to aid the White House's effort to promote "Bidenomics."
Iowa Republicans scheduled the party's caucuses for Jan. 15, setting a key date in the 2024 presidential race and solidifying the state's influential first-in-the-nation status at least for one party.
Former President Donald Trump went after Florida Gov. Ron DeSantis (R) Friday on an issue of out-sized importance to Iowa caucus voters: the federal ethanol mandate.
Trump also criticized DeSantis at a rally in Las Vegas over votes that his top Republican rival had cast in support of a federal plan to store the nation's nuclear waste in Yucca Mountain, a contentious issue in the early primary state. Read more.
Trump "must face consequences" for mishandling classified documents, former Central Intelligence Director Michael Hayden said in a new political ad that's another indication of the degree to which the former president's legal troubles will dominate the 2024 campaign.
Republican presidential hopeful Sen. Tim Scott (S.C.) expressed confidence that he will meet his party's eligibility requirements to participate in the cycle's first debate in August.
Maryland Rep. Jamie Raskin, the Democratic firebrand and constitutional law professor who led Trump's second impeachment, announced late Friday that he would forgo a run for Senate and seek reelection, citing ongoing risks to US democracy.
What Else We're Reading
State legislators across party lines have increasingly sought to promote paid family and medical leave bills, even as differences of opinion remain substantial about whether to pursue mandatory, voluntary, or state-employee-focused policies.
A mix of medical provider groups, insurers, and patient advocacy organizations voiced strong support for the Biden administration's move Friday to curb the sale of "junk" health insurance plans, and to shore up other protections for patients.
Treasury Secretary Janet Yellen's two-day engagement with top officials in Beijing offered a way for the US and China to contain damage in their economies from the two nations' intensifying rivalry.
Yellen wouldn't rule out the threat of a recession during an appearance on CBS's Face the Nation, saying it's "appropriate and normal" for growth to moderate and that inflation remains too high.
To contact the reporters on this story: Brandon Lee in Washington at blee@bgov.com; Giuseppe Macri in Washington at gmacri@bgov.com
To contact the editor responsible for this story: Kayla Sharpe at ksharpe@bloombergindustry.com
Stay informed with more news like this – from the largest team of reporters on Capitol Hill – subscribe to Bloomberg Government today. Learn more.