What to Know in Washington: House Plans Showdown Over Greene
House Democrats are heading into a showdown with Republicans today over Rep. Marjorie Taylor Greene's past promotion of conspiracies that threatens to provoke an escalating cycle of political retaliation.
The conflict over Greene (R-Ga.) is one of two that had been festering for House Republicans and reflect tension in the party over its future direction and former President Donald Trump's continued influence even after he was voted out of office.
GOP lawmakers last night decided to stand with both Trump loyalists and the old-line establishment. They rejected pressure from Democrats to take steps on their own to punish Greene, who has aligned herself closely with the former president, and voted to keep Rep. Liz Cheney (R-Wyo.) as one of their leaders despite scathing criticism over her vote to impeach Trump after a mob of his supporters stormed the Capitol on Jan. 6.
"It was a very resounding acknowledgment that we need to go forward together," Cheney told reporters after a more than four-hour meeting of House Republicans where she and Greene were the main topics. She did not apologize for the impeachment vote, according to other lawmakers in the room.
Democrats are continuing the battle over Greene. Earlier yesterday, they set up a vote on the House floor to remove her from the two committees she was assigned by GOP leadership, Education and Labor and Budget. Read more from Billy House and Emily Wilkins.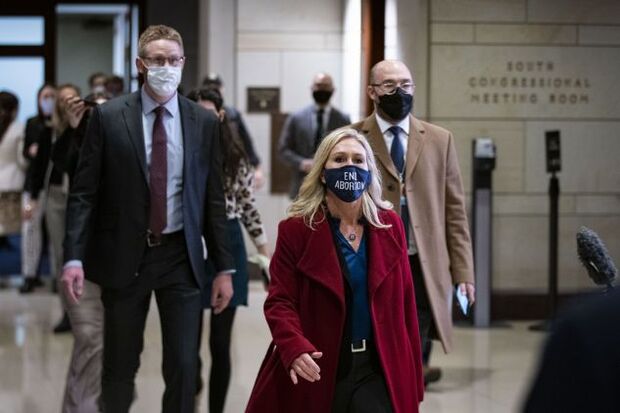 Also Happening on the Hill
Senators Prepare Budget Amendments: The Senate will continue consideration of the budget resolution with reconciliation instructions to expedite Biden's $1.9 trillion stimulus relief plan. Floor action on the resolution will include a "vote-a-rama," in which members can offer an unlimited number of amendments to the budget measure. And Republicans are hoping to use that process to push back on the effort.
Meanwhile, the House last night adopted by a 218-212 vote a fiscal 2021 budget resolution as Democrats move forward with plans to push through a stimulus bill. After both chambers act, House and Senate committees will have until Feb. 16 to craft the elements of a stimulus bill. That legislation will have to stay below $1.9 trillion and adhere to Senate rules against including non-fiscal provisions to remain immune from a Republican filibuster, Erik Wasson reports.
Senate Committees Ready to Work With 50-50 Agreement in Place: Democrats will finally take control of the Senate's committees now that both parties agreed to an organizing resolution for the 117th Congress. The resolution negotiated by Majority Leader Chuck Schumer (D-N.Y.) and Minority Leader Mitch McConnell (R-Ky.) splits committees equally between the two parties, with the top Democrat designated as chair. The panels also will share resources and work space equally. Read more from Nancy Ognanovich.
For more on the power-sharing deal, read the BGOV Bill Summary by Loren Duggan.
Meanwhile, McConnell announced committee assignments for the 117th Congress. Read the full list here.
Early Test for Durbin on Judicial Picks: New Senate Judiciary Chair Dick Durbin (D-Ill.) faces the first test of how he balances his institutionalist instincts and progressive pressure on judicial confirmations when it comes to whether he lets home-state senators block nominees. Progressives consider Durbin's approach to the "blue slip" privilege an important signal of how aggressive he'll be in advancing Biden's judicial nominees. Read more from Madison Alder.
Waters's Plans GameStop Hearing: Robinhood Markets, GameStop, and hedge funds are all on the wish list that House Financial Services Committee Chair Maxine Waters (D-Calif.) is assembling for a hearing that will dig into the Reddit-fueled stock trading that has shocked Wall Street and lawmakers. "I'm trying to get everybody that has a role to play," Waters said in an interview, without naming specific executives that she plans to ask to testify. "I want Reddit there. I want Robinhood there. I even want GameStop there. And I want a couple of the hedge funds there." Read more from Daniel Flatley.
Klobuchar Pitches Antitrust Reform: Sen. Amy Klobuchar (D-Minn.) is proposing a sweeping reform to U.S. antitrust laws that would curtail the power of dominant companies across the economy by making it harder for them to buy competitors and flex their muscles over markets. Klobuchar, who is the incoming chairwoman of the Senate's panel on antitrust law and competition, plans to introduce legislation that would change current merger law to make it easier to stop deals in court and target conduct by dominant companies that thwarts competition from rivals. Read more from David McLaughlin and Ben Brody.
Cyber Academy is Priority For Rogers: The House Armed Services Committee's top Republican wants to establish a cyber, digital, and artificial-intelligence academy for military and Defense Department civilians to boost their skills in an area key to national security. A service-academy type institution would arm Pentagon personnel with "the skills that they need to take on all these challenges that we anticipate — that we know are already serious — and that are going to become much more problematic from various nation states," Rep. Mike Rogers (R-Ala.) said in an interview. "We are just not prepared as a nation." Read more from Roxana Tiron.
The New Admin Staffs Up
Labor Nominee Aims to Show Broad Appeal: Marty Walsh's unlikely journey to labor secretary nominee is grounded in unions and construction work, but his political rise intersected with a range of employment issues facing vulnerable workers hit hard by the pandemic—factors that will figure prominently at his confirmation hearing today. Read more from Ben Penn.
Senate Panels Vote on Nominees: The Senate Foreign Relations Committee is scheduled to vote today on the nomination of Linda Thomas-Greenfield to be the U.S. ambassador to the United Nations.The Senate Banking, Housing, and Urban Affairs Committee will meet to vote on Biden's nominee for HUD chief, Rep. Marcia Fudge (D-Ohio). The panel will also consider the nomination of Cecilia Rouse, Biden's choice to be the head of the White House Council of Economic Advisers.
Haaland Hearing Undetermined: The Senate Energy and Natural Resources Committee's top Democrat, Sen. Joe Manchin (D-W.Va.), told reporters yesterday he "would love" to schedule a confirmation hearing this month for Rep. Deb Haaland (D-N.M.), Biden's Interior secretary nominee, Kellie Lunney reports. But he wasn't sure on timing. "We have to get through an awful lot of stuff here with the impeachment."
Sen. Dan Sullivan (R-Alaska), who is set to meet with Haaland today, said he will be pressing her to steer clear of some policy decisions if confirmed to lead the Interior Department, Jennifer A. Dlouhy reports. Haaland has embraced land conservation and endorsed ending oil and gas leasing on federal land—a permanent moratorium that would go beyond the temporary halt Biden ordered last week. Biden's recent executive actions run counter to congressionally mandated lease sales in the Arctic National Wildlife Refuge and statutory requirements governing oil development in the National Petroleum Reserve-Alaska, Sullivan said in an interview. "She's going to have to recuse herself on a whole host of areas where she's already committed to certain policy approaches that I think go against the law," Sullivan said in a phone interview.
Biden Won't Give ABA Advance Role on Picks: The Biden administration won't have the American Bar Association vet judicial candidates before they're nominated, a person familiar with the talks told Bloomberg Law. That continues the practice put in place under Trump and departs from President Barack Obama, who offered the ABA's Standing Committee on the Federal Judiciary advance notice of candidates to vet. Read more from Madison Alder.
More From the White House
Trump's Flubs Gift Biden Time to Rewrite Regs: Skeptical courts are giving Biden a window to reopen last-minute rules that the Trump administration tried to rush out to beat a regulatory freeze. Recent decisions gave Biden's administration opportunities to move faster than rulemaking processes would usually allow to undo limits on how the EPA uses science when writing its regulations, and rules that redefined how U.S. companies pay highly skilled foreign workers. The legal rebukes mean the rules will either be set aside or get caught up in the regulatory freeze the Trump administration sought to avoid, making it easier for the Biden team to reverse course. Read more from Courtney Rozen.
Treasury Wants More Time on Trump Taxes: The Treasury Department says it needs more time to decide whether to fight House Democrats in their effort to get former Trump's personal and business tax returns. With the ongoing transition to new leadership in the Biden administration, Treasury needs more time to evaluate its position in the case, government lawyers said in a filing in Washington federal court yesterday. Read more from Joe Schneider.
Cyber Agency Checks Itself on Fighting Disinformation Post-2020: The federal agency charged with safeguarding America's elections said it needs to reevaluate its approach to disinformation so that agency leaders don't "jeopardize" bipartisan congressional support, its acting leader said yesterday. Brandon Wales, acting director of the Cybersecurity and Infrastructure Security Agency, told state election officials that his agency is taking stock of its roles and authorities as the Biden administration seeks to combat disinformation. Read more from Shaun Courtney.
Biden Commerce Pick Sees 'No Reason' to Lift Huawei Curbs: Biden's nominee for Commerce secretary Gina Raimondo said she knows of "no reason" why Huawei, ZTE and other Chinese companies shouldn't remain on a restricted trade list. Raimondo, in written questions from Senate Republicans, was asked about the two companies, as well as others. They are on a list that requires U.S. firms to obtain government licenses if they want to sell American tech and intellectual property to the Chinese companies, Eric Martin reports.
Biden Wants a Foreign Policy Putting Middle-Class America First: Biden has followed the path of many American presidents in bringing his own foreign policy brand into office. Biden's promise to the world is reengagement, whether on issues from which the U.S. has been absent, such as climate change, or in multilateral institutions his predecessor sought to blow up, such as the World Health Organization. Read more from Shawn Donnan.
The U.S. Postal Service Finds a Champion in Biden: Biden expressed admiration and support for the long-neglected USPS before the election and is likely to be its strongest supporter in decades. And if ever there was a federal agency in need of a champion, it's the Postal Service, which suffered a net loss of $9 billion last year as it struggled with pandemic-related absences and delivery delays, and faces the continuing threat of dwindling mail volume. Read more from Devin Leonard.
To contact the reporters on this story: Zachary Sherwood in Washington at zsherwood@bgov.com; Brandon Lee in Washington at blee@bgov.com
To contact the editors responsible for this story: Giuseppe Macri at gmacri@bgov.com; Loren Duggan at lduggan@bgov.com; Michaela Ross at mross@bgov.com