What to Know in Washington: House Passes Omnibus, Ukraine Aid
House sends $1.5 trillion spending bill to Senate
Chamber also passed ban on Russian fossil fuels
The House passed a long-delayed $1.5 trillion spending bill that would fund the U.S. government through the rest of the fiscal year and provide $13.6 billion to respond to Russia's invasion of Ukraine. The vote Wednesday night followed a day of political drama that saw emergency coronavirus funding struck from the legislation, which passed just in time for Democrats to depart for their previously planned retreat in Philadelphia.
The 2,741-page bill was approved in two tranches, with the defense portion passing on a 361 to 69 vote and the domestic agency funding passing on a 260 to 171 vote. Senate Democrats plan to vote on the bill before the current three-week stopgap measure expires at midnight Friday. To hedge its bets and avoid the chance of a government shutdown, the House also sent the Senate a four-day spending bill through March 15.
Domestic agencies will receive their biggest increases in years under the bill, a significant policy achievement for Democrats who have struggled to pass President Joe Biden's larger economic agenda. The bill, approved nearly five months after the start of the fiscal year, is the product of tough talks with Republicans who pressed for defense increases that matched domestic spending.
Republicans secured an increase to military spending that is far larger than what progressive Democrats, some of whom voted against the defense portion, and the White House wanted. The annual spending for the Pentagon alone comes to $743.4 billion, $28.4 billion above the president's request of $715 billion for the year. The measure would provide $730 billion for non-defense discretionary spending, a 6.7% increase. And it also contains billions in "earmarked" money for lawmaker pet projects, the first measure to do so following a 2011 ban after a series of scandals.
What should have been a day of political triumph for Democrats devolved into infighting after rank-and-file lawmakers saw cuts in federal aid to their states. After furious hours of negotiations in Pelosi's office, Democrats removed a section of funding for the pandemic that was paid for by those cuts, which were part of an earlier Covid relief bill. Democrats reconstructed the $15.6 billion for urgent pandemic testing and treatment as a standalone bill they will vote on next week. Read more from Erik Wasson.
BGOV Bill Summaries:
MORE OMNIBUS HIGHLIGHTS:
The package would also add funding to help connect rural areas to the internet. Over $550 million would be dedicated to rural broadband, including $450 million for ReConnect, a program offering loans and grants to cover building, improving, or obtaining facilities and equipment needed to provide broadband in eligible rural regions of the U.S. Senate appropriators initially wanted $700 million for ReConnect, while the House had backed $800 million. In the negotiated bill, lawmakers told the Agriculture Department to avoid duplicating efforts by private investors and other agencies. Maria Curi has more.
The bill also provides for an orderly transition of debt contracts off of the London interbank offered rates, promising to head off uncertainty and legal fights over trillions of dollars of securities and loans pegged to the discredited benchmarks. The Libor provisions would establish a uniform process for replacing the benchmark in existing contracts that don't have a clearly defined alternative index to use. Regulators and investors have said such legislation was crucial to ensuring a large swath of the U.S. financial system isn't disrupted when the Libor indexes are retired. Read more from Alexandra Harris.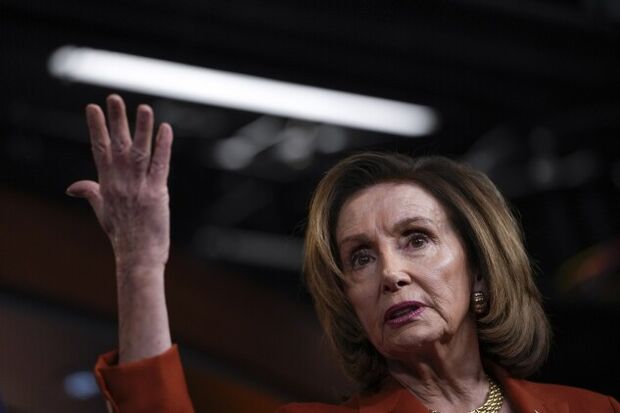 House Votes to Ban Russian Oil Imports
In addition to the $13.6 billion in Ukraine funds, the House also passed a bill barring U.S. imports of Russian crude, as members of both parties demanded stronger punishment of Russia for its invasion of that country. The 414-17 vote came after Biden this week implemented a ban on U.S. imports of Russian crude oil and other fossil fuel products, a decision taken in part because of pressure from Congress.
The House legislation also takes steps to review Russia's access to the World Trade Organization, and reauthorizes and bolsters the Magnitsky Act, which calls for sanctions on human rights offenders. The oil ban would go into effect 45 days after it's signed into law. It also has a provision letting the president allow imports of certain products if it is "in the national interest," subject to review by lawmakers.
"The Russian regime relies on energy sales to fund many of its offenses," House Ways and Means Chair Richard Neal (D-Mass.) said. "This bill will cut off some of the revenue with a ban on the import of Russian oil and energy products into the U.S. The more economic pain we inflict" on Russia's Vladimir Putin, he said, "the more pressure he will feel to finally feel to end this brutal campaign of terror on the Ukrainian people."
It wasn't clear, however, whether the measure would be considered in the Senate. Majority Leader Chuck Schumer (D-N.Y.) praised Biden's decision to ban Russian energy imports but so far has made no commitment to having his chamber take up separate legislation. "We'll first have to see what the House passes and then we'll discuss things with the administration and find the best way to make sure that the oil export ban is tight and tough," Schumer said Tuesday. Other Democrats said they wanted to leave the administration with some flexibility to act. Read more from Ari Natter.
Lawmakers in both parties expect more will be needed for aid for the largest conflict in Europe since World War II. The aid package, attached to a sweeping $1.5 trillion omnibus bill funding the rest of the government through Sept. 30, had ballooned from an initial estimate of about $6.5 billion a little more than a week ago to a $10 billion request from the White House to the $13.6 billion approved on Wednesday. How much more to add to that figure will depend on how the war evolves, including the possibility of a hefty investment in rebuilding a war-torn Ukraine, lawmakers said. Read more from Steven T. Dennis.
Two key senators unveiled legislation to suspend normal trade relations with Russia as part of a bill banning the import of that country's oil and energy products. The bipartisan legislation from Senate Finance Chairman Ron Wyden (D-Ore.) and ranking Republican Mike Crapo (R-Idaho) said their ban would continue until Russia ceases its aggression, stops threatening NATO allies and partners, and recognizes a free and independent Ukraine, according to a statement from Crapo's office. It also gives Congress the ability to overturn any attempt to lift the ban, Eric Martin and Erik Wasson report.
Future U.S. imports of crude from Venezuela and Iran would be barred under legislation being introduced this week by Sen. Marco Rubio (R-Fla.), a member of the Foreign Relations Committee. The move is an attempt to forestall any potential effort by Biden's administration to turn to Venezuela or Iran, if a nuclear deal is ever reached with Tehran, as a cushion to rising oil prices sparked by the crisis in Ukraine, and a U.S. ban on Russian oil imports. The U.S. doesn't currently import oil from either nation, both of which are under sanctions regimes. Read more from Daniel Flatley.
The U.S is willing to relax economic pressure on Venezuela depending on the outcome of upcoming talks between President Nicolas Maduro and the opposition, according to a senior Biden administration official. The comments indicate Biden wants to see progress toward restoring democratic governance before allowing Venezuela to increase oil exports to the U.S. amid a global supply crunch triggered by Russia's invasion of Ukraine. Read more from Jordan Fabian.
MORE ON THE UKRAINE WAR:
Ukraine and Russia failed to make progress in halting the war and bridging the vast differences between them at the first high-level talks between their foreign ministers since the Russian invasion began. Russia indicated it will continue attacks until its goals are met, Ukrainian Foreign Minister Dmytro Kuleba said after the meeting lasting about 90 minutes with his Russian counterpart Sergei Lavrov in Turkey on Thursday. "The broad narrative he conveyed to me is that they will continue their aggression until Ukraine meets their demands, and the least of these demands is surrender," Kuleba said. Read more from Selcan Hacaoglu and Firat Kozok.
Commerce Secretary Gina Raimondo vowed to vigorously enforce export controls on Russia and said the U.S. would be on guard against Chinese semiconductor companies that might try to get around the sanctions. "It's going to be hard. I'm not going to pretend it won't be hard," she said. Raimondo told The New York Times this week that the U.S. can shut down Chinese firms like Semiconductor Manufacturing International Corporation if they don't comply with U.S. sanctions, but she later said it was "probably" a mistake to call out a specific company over a hypothetical, Jenny Leonard reports.
Also Happening on the Hill
CONGRESSIONAL SCHEDULE:
The Senate returns at 10 a.m. and could vote on a deputy U.S. trade representative nominee. The chamber will also begin processing the omnibus appropriations bill.
The House is out for the week. House Democrats are in Philadelphia for a policy retreat.
The RNC sued the lawmakers investigating the Jan. 6 attack, accusing the group of abusing its power for political gain. The House committee probing the insurrection by a mob of President Donald Trump's supporters issued an "overbroad" subpoena for sensitive RNC data from Salesforce, a key vendor, the party said in a lawsuit filed Wednesday in Washington. The Republican National Committee has previously called the Jan. 6 committee illegitimate, censured its Republican lawmakers and argued that the deadly siege that injured 140 police officers was "legitimate political discourse." Erik Larson has more.
Republicans who sued Nancy Pelosi over a mask mandate on the House floor and fines incurred for violating the mandate had their case tossed out by a federal judge. Reps. Thomas Massie (Ky.), Marjorie Taylor Greene (Ga.), and Ralph Norman (R-S.C.), said they were fined for entering the House to vote without wearing masks in May 2021. The representatives said they wanted to engage in a "protest against the double standard being enforced," and demonstrate "the well-founded beliefs " they shared that mask wearing "is not scientifically based." Read more from Maeve Allsup.
Health committee senators said they'll find ways of standing up Biden's new biomedical incubator, even as they left the proposal out of their sweeping pandemic preparedness bill. Health, Education, Labor and Pensions Chairwoman Patty Murray (D-Wash.) and top Republican Richard Burr (R-N.C.) unveiled the PREVENT Pandemics Act, which aims to use the lessons learned from the response to Covid-19 to bolster public-health infrastructure. It builds on a draft measure unveiled earlier this year and culminates a year of work to create a comprehensive pandemic readiness bill. Jeannie Baumann has more.
The Senate Intelligence Committee quietly advanced the nomination of Ken Wainstein to lead the Department of Homeland Security's intelligence unit. The panel met informally Tuesday during a flurry of legislative activity, and voted to send Wainstein's nomination to the full Senate, a committee aide said. The nomination advanced by voice vote. Sen. Rubio (Fla.), the panel's chief Republican, voiced his opposition Wednesday, saying he couldn't support Wainstein because of legal work he had once done on behalf of China National Offshore Oil Corp., a state-owned oil company. Read more from Ellen M. Gilmer.
Around the Administration
BIDEN'S SCHEDULE:
The president is scheduled to have a phone call at 10 a.m. with Recep Tayyip Erdoğan, president of NATO ally Turkey, to discuss the situation in Ukraine.
Biden is then scheduled to meet with Colombian President Iván Duque Márquez at the White House at 1:40 p.m. to tout their countries' bilateral relations.
The White House Council on Environmental Quality has tapped Amanda Aguirre, formerly with the EPA during the Obama administration, to help elevate environmental equity issues as a senior adviser to CEQ Chair Brenda Mallory. Aguirre's roles will include helping recruit additional positions within CEQ's environmental justice team, and helping coordinate climate and other environmental efforts with the Office of Management and Budget and other White House offices. Dean Scott has more.
The White House's $350 billion state and local aid package gave hazard pay or bonuses for 740,000 workers on the front lines of the pandemic. First responders, teachers and other employees "deserve to be compensated for keeping society running during the pandemic," Treasury Secretary Janet Yellen said during an online press briefing on Wednesday, at which federal and local officials gave new details on programs financed by last year's $1.9 trillion American Rescue Plan. Read more from Danielle Moran and Amanda Albright.
To contact the reporters on this story: Brandon Lee in Washington at blee@bgov.com; Giuseppe Macri in Washington at gmacri@bgov.com
To contact the editors responsible for this story: Loren Duggan at lduggan@bgov.com; Michaela Ross at mross@bgov.com