What to Know in Washington: House Passes $40 Billion for Ukraine
House passes $40 billion for arms, humanitarian aid to Ukraine
Trump-backed candidate wins West Virginia primary for House
The House on Tuesday night approved a more than $40 billion emergency Ukraine spending bill that pays for new weapons and provides economic and humanitarian relief. The 368 to 57 vote underscores bipartisan support for Ukraine in a Congress deeply divided on other issues.
The legislation, which is significantly larger than the $33 billion aid package President Joe Biden requested last month, now heads to the Senate where approval is likely to occur next week. "Given the magnitude of the terror campaign being waged against the Ukrainian people and Ukrainian democracy, we are morally obligated to ensure the brave Ukrainian fighters and the Ukrainian people have the security and economic aid they need," House Appropriations Chair Rosa DeLauro (D-Conn.) said.
The bill includes $19.7 billion for the Defense Department, over $3 billion above the level asked for by the Biden administration. This includes the $6 billion in direct security assistance to Ukraine that Biden sought last month and $9 billion to replenish arms stocks sent from the Pentagon to Ukraine.
In addition, the measure would provide $4.35 billion for global food and humanitarian aid to be administered by the US Agency for International Development and another $700 million in global food funding at the Department of State. The bill also contains language to allow Ukrainian refugees to access US government benefits, over the objections of some Republicans. Read more from Erik Wasson.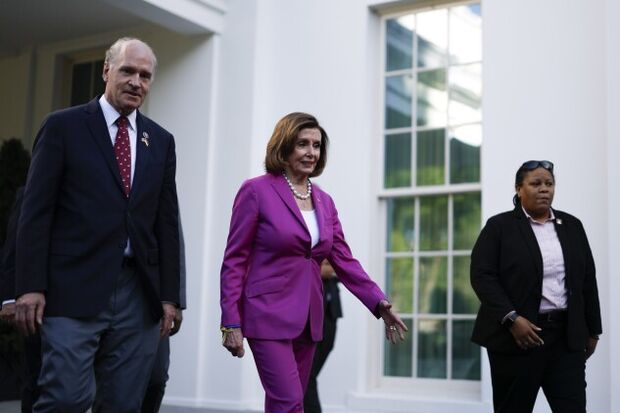 Training manuals for US weapons heading to Ukraine are piling up, but few Americans can translate them into either Russian or Ukrainian. There is a limited pool of American citizens who speak Ukrainian and who can get a top-secret clearance to process national security-related documents to teach Ukrainian troops to use the millions of dollars of equipment. Patty Nieberg and Roxana Tiron have more.
As Russia faces another round of payments on its sovereign debt, Biden administration officials are weighing whether forcing Moscow into default for its invasion of Ukraine would really be the best outcome. Treasury Secretary Janet Yellen said Tuesday that the matter is being "actively examined" before a crucial deadline in two weeks, and a decision will be made shortly. Read more from Daniel Flatley and Sydney Maki.
Italy's Mario Draghi met with Biden on Tuesday and said allies should start work on a long-lasting peace process in Ukraine, even as they continue to hit Russia with economic sanctions. Read more from Chiara Albanese and Nancy Cook.
Also Happening on the Hill
CONGRESS' SCHEDULE:
The House convenes at noon to debate legislation that would provide compensation to firefighters who develop health issues as a result of their job, as well as consider other bills under expedited procedure.
The Senate meets at 10 a.m., with votes on codifying abortion rights.
The House paved the way for congressional staffers to unionize, though lawmakers left unresolved details on how such an effort would be carried out and in what ways it would affect daily operations on Capitol Hill. The staffer union resolution was deemed approved upon adoption of a larger procedural package. Read more from Emily Wilkins and Paige Smith.
Chuck Schumer said he's optimistic talks on legislation to restrict stock trading by members of Congress will produce a bill that can be voted on this year. "We've have had several meetings with a group of senators who are pursuing this," Schumer (D-N.Y.) said. Sen. Jeff Merkley (D-Ore.) is holding talks with Sens. Jon Ossoff (D-Ga.) and Mark Kelly (D-Ariz.), sponsors of the Ban Congressional Stock Trading Act. Read more from Laura Litvan.
Senators go on the record Wednesday on Roe v. Wade, the Supreme Court ruling that granted the constitutional right to an abortion. Schumer has acknowledged he lacks the votes needed to advance the bill, but Senate Democrats are intent on highlighting the issue ahead of the midterms. Read BGOV's Bill Summary by Christina Banoub.
A House panel will weigh a five-year authorization of FDA user fees—which fund a major part of its drug and device approval programs—at a Wednesday mark-up. The bill would also make changes to cut down drug prices, increase the availability of generics, and bolster postmarket clinical study requirements for fast-track drug approvals. Find a BGOV OnPoint on the bill here.
Economist Lisa Cook will be the first Black woman on the Federal Reserve board of governors after winning confirmation by the narrowest possible margin in the Senate. The 51-50 vote required a tie-breaking appearance by Vice President Kamala Harris. Read more from Steven T. Dennis.
Transportation Secretary Pete Buttigieg said it's less expensive for cars to fill up on electricity than gasoline as Republican lawmakers questioned the White House's plans to spend money on a national EV charging network. House Republicans raised their concerns to Biden's top transportation official that drivers in rural areas wouldn't benefit from increased spending on EVs. Lillianna Byington has more.
Eric Garcetti, Biden's pick to be U.S. envoy to India, "likely" knew or should have known about harassment complaints against a former top aide, said a GOP review of the allegations, which have held up his nomination since it was approved by the Senate Foreign Relations Committee earlier this year. A report on the matter was commissioned by Sen. Chuck Grassley (R-Iowa). Read more from Jarrell Dillard.
The US Navy wants to scrap nine of 16 Littoral Combat Ships built by Lockheed Martin well short of their projected service lives in order to save a projected $4.3 billion in upgrades and maintenance over coming years. That decision may get a hard look at hearings by House and Senate panels on Wednesday and Thursday. Read more from Tony Capaccio.
The Biden administration's stance on approval of investor visa businesses doesn't line up with the requirements spelled out in a reauthorization law passed earlier this year, lawmakers wrote in a letter to Homeland Security Secretary Alejandro Mayorkas. Congress included legislation to restart the EB-5 regional center program in a $1.5 trillion fiscal 2022 government spending bill in March. Read more from Andrew Kreighbaum.
Lawmakers who objected to loud TV commercials now want quieter ads on streaming services. Rep. Anna Eshoo (D-Calif.) and Sen. Sheldon Whitehouse (D-R.I.) Tuesday introduced legislation requiring ads on streaming services be no louder than regular programming. Todd Shields has more.
Sen. Josh Hawley wants to shorten the time companies can protect their creative work through copyrights, the latest shot at Walt Disney. Hawley (R-Mo.) introduced a bill so Disney could no longer claim exclusive rights to some older characters like Mickey Mouse. "The age of Republican handouts to Big Business is over," Hawley said in a press release. Read more from Christopher Palmeri.
A House panel will hold the first public hearing on UFOs in more than 50 years on May 17, with Chair Andre Carson (D-Ind.) saying that "Americans need to know more about these unexplained occurrences." Ronald Moultrie, the under secretary of defense for intelligence and security, and Scott Bray, deputy director of naval intelligence, will testify to the House Intelligence Counterterrorism, Counterintelligence and Counterproliferation Subcommittee. Read more from Billy House.
Elections, Politics & Influence
Alex Mooney rode a Donald Trump endorsement to victory over fellow Rep. David McKinley in a reapportionment-forced GOP primary and is now set to represent West Virginia's 2nd district in the next Congress. Mooney led 52%-38% Tuesday evening when the race was called, according to a tally by the Associated Press. The district is safely in GOP hands, so the primary result is tantamount to victory in November. It's also a win for Trump, who endorsed the four-term congressman last fall. Read more from Emily Wilkins.
Meanwhile in Nebraska, Republican primary voters backed candidate Jim Pillen over Trump-endorsed Charles Herbster for governor, the AP reports.
Twitter was "foolish in the extreme" in booting Trump from its service and his permanent ban should be ended, said Elon Musk, the billionaire who has agreed to acquire the social media company. "I would reverse the permanent ban," Musk said at a conference Tuesday. Kurt Wagner, Ed Ludlow, and Dana Hull have more.
House Democrats argue a Justice Department criminal case against Trump's adviser Steve Bannon for ignoring a subpoena from a congressional committee investigating the Jan. 6, 2021 riot at the Capitol must not be dismissed. In a 20-page legal brief supporting the DOJ's prosecution, House lawyers dismissed a slew of reasons Bannon filed last month for why his indictment in November on two counts of contempt should be dropped. Bannon's trial is set for July. Read more from Billy House.
Around the Administration
BIDEN'S SCHEDULE:
The president will visit a family farm in Kankakee, Illinois to discuss how Russia's war on Ukraine has impacted crop supply. Biden, seeking to undercut the climbing cost of food, at 1:15 p.m. CDT will in an address propose new measures to reduce costs for US farmers. The initiatives—including expanding insurance coverage and investing in domestic fertilizer production— will be announced on the same day as the Consumer Price Index April report on inflation, John Harney reports.
Biden will at 4 p.m. CDT address the 40th International Brotherhood of Electrical Workers (IBEW) International Convention in Chicago.
Biden will participate in a Democratic National Committee fundraiser in the evening.
Biden Wednesday unveiled a plan to help speed construction of projects funded under his $550 billion infrastructure law (Public Law 117-58) passed last year. The administration will create sector-specific teams in hopes of speeding permitting and supply chain issues slowing construction. The White House said it will improve environmental reviews to avoid duplicity and prioritize tribal and disadvantaged communities, Justin Sink reports.
It's been three years since the White House, Congress and federal agencies began ordering that certain Chinese-made equipment had to be ripped out from telecommunications and security networks due to security concerns. But delays, deferrals and a serious funding shortfall have left that threat largely unaddressed, and Chinese technology remains in place throughout America — including in Department of Defense facilities, more than 100 telecomproviders, and the biggest commercial airlines. Read more from Sheridan Prasso.
A federal redo of controversial natural gas pipeline policies needs buy-in from at least one Republican as well as industry, Willie Phillips, a crucial Democratic vote on the Federal Energy Regulatory Commission, told a gathering of energy lawyers on Tuesday. "Any solution that can be successful has to have buy-in from our stakeholders," Daniel Moore reports.
The Biden administration urged the Supreme Court to reject Bayer's bid to block potentially billions of dollars in claims that its top-selling Roundup weedkiller causes cancer. Bayer said federal approval of Roundup's label meant that Hardeman's lawsuit—and others like it—can't go forward. Read more from Greg Stohr.
Lifesaving drugs could reach patients faster under a pilot drug review program Peter Marks, head of the FDA's Center for Biologics Evaluation and Research, wants to pursue based on lessons learned from America's coronavirus response. Read more from Jeannie Baumann.
Deteriorating morale spanning multiple administrations at the nation's enforcer of minimum wage, family leave, and worker misclassification laws has left the U.S. Labor Department division with the lowest number of investigators in nearly 50 years. The attrition at the Wage and Hour unit could leave some of the country's most vulnerable workers at risk of abuse, a former agency official said. Rebecca Rainey has more.
Estimates of three million daily fliers would top the last summer travel record of 2.8 million in one day, American Association of Airport Executives CEO Todd Hauptli said on Tuesday. David Pekoske, administrator of the Transportation Security Administration, said the agency has "taken every step to ensure we're ready" for potential record summer travel, Mary Schlangenstein reports.
To contact the reporter on this story: Brandon Lee in Washington at blee@bgov.com
To contact the editors responsible for this story: Giuseppe Macri at gmacri@bgov.com; Loren Duggan at lduggan@bgov.com; Michaela Ross at mross@bgov.com