What to Know in Washington: House Packs Agenda for July Sprint
Democrats have loaded up the House floor agenda for their return next week, with a two-week push to clear the decks of most of their top legislative priorities before departing Washington for the month of August.
Majority Leader Steny Hoyer (D-Md.) outlined an ambitious schedule in a "Dear Colleague" letter sent to members yesterday, calling for them to be prepared to vote on several measures, including fiscal 2021 appropriations bills and another economic recovery package, before the start of the annual August recess.
"It is my hope that the House can complete its work on all of these items in a responsible and timely fashion and in a way that does not infringe on members' previously scheduled work as part of the August District Work Period," Hoyer said in the letter.
Hoyer's ambitious agenda begins with work on the annual National Defense Authorization Act starting Monday. Lawmakers will then turn to measures that would overturn the president's ban on entry from certain predominantly Muslim countries, and require the Homeland Security Department to provide access to legal counsel and personal contacts for individuals during screening processes. The House had been scheduled to vote on the proposals in March, before the coronavirus pandemic took hold.
The House could then move to the Great American Outdoors Act, a bipartisan bill to fund the Land and Water Conservation Fund permanently that was passed by the Senate last month. Hoyer also said the House will consider his bill to remove the bust of Chief Justice Roger B. Taney, the author of the 1857 Dred Scott decision, from the Old Supreme Court Chamber. The measure, cosponsored by Congressional Black Caucus members, also would address the issue of Confederate statues on display in the Capitol.
The chamber next week will also vote on the first package of fiscal 2021 appropriations bills, which would include the Agriculture-FDA, Interior-Environment, Military Construction-Veterans Affairs, and State-Foreign Operations bills. The following week will feature votes on a second package of spending bills, though Hoyer didn't commit to acting on all 12 by the recess. Instead, he suggested his aim is to complete 10 bills before recess.
Hoyer told members to also expect votes on another economic recovery package but said the timing will be up to the Senate. Separately, Majority Leader Mitch McConnell (R-Ky.) said yesterday he has been developing a new stimulus package over the July 4 recess and will share details of it with lawmakers after they return to work on Monday. Nancy Ognanovich has more.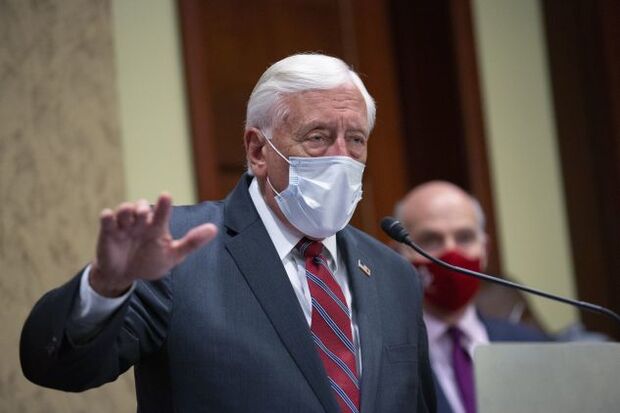 Manufacturers Eye R&D Tax Break is in Relief Bill: U.S. manufacturers are pushing lawmakers to reverse a provision in the 2017 tax law that will force companies to write down research and development expenditures starting in 2022. Businesses and experts are concerned that if the policy isn't reversed soon, U.S. competitiveness in manufacturing will be further diminished, as tax incentives to keep factories stateside weaken. The fears are heightened now, as the coronavirus pandemic continues to pummel the U.S. economy.
As Congress prepares to begin negotiating another industry-focused aid package, lobbying groups and companies see now as their chance to get the tax law change reversed. Read more from David Hood and Faris Bseiso.
Jobless Are About to Lose $600-a-Week Lifeline: In about two weeks millions of Americans could lose a crucial economic lifeline of this pandemic: $600 a week in extra federal unemployment benefits. The scheduled end will ripple through households and the entire economy. The program accounts for a big chunk of the Treasury Department's record jobless payments last month, which exceeded $100 billion. Without the additional cash, some of the hardest-hit households may be forced to choose which bills to pay and which to let slide.
But policy makers in Washington are at a standstill in their talks for more stimulus, and in particular whether to include an extension of the extra unemployment benefits. The weekly supplemental federal assistance was added to traditional unemployment benefits, which are administered by states and can vary widely in size. Read more from Reade Pickert, Michael Sasso and Maeve Sheehey.
What to Watch Today
Appropriations Markups: The House Appropriations Committee is scheduled to mark up the fiscal 2021 Defense, Commerce-Justice-Science, and Transportation-HUD appropriations bills.
Today's Hearings:
Primaries Today: Today's primaries in Alabama and Maine will determine the opponents for two of the most politically endangered senators. In Alabama, a Republican stronghold, Sen. Doug Jones (D) will face the winner of a Republican runoff that includes Jeff Sessions, President Donald Trump's first attorney general and a former senator struggling to regain his seat amid hostility from the president. In Democratic-leaning Maine, Sen. Susan Collins (R) is likely to face well-funded state House Speaker Sara Gideon in her toughest re-election campaign.
There is also a Democratic Senate runoff in Texas, where the winner will oppose John Cornyn, the former No. 2 Senate Republican who might also face a difficult re-election campaign. All three states rescheduled their elections from earlier in the year because of the coronavirus. Greg Giroux spells out what you need to know about the Senate races here.
Also Happening on the Hill
Democrats Target Private Equity Firms: Private equity-backed health-care companies would face new restrictions on getting funds through Medicare's advance payment program under a $196.5 billion funding bill that won the House Appropriations Committee's approval yesterday. The appropriations bill to fund the departments of Health and Human Services, Labor, and Education would direct the federal government to restrict Medicare advanced payments to private equity-owned organizations that have laid off or furloughed employees. It would also require the government to report every 90 days to Congress on organizations that received early payments from Medicare this year. Alex Ruoff has more.
Castro Seeking to Succeed Engel on Panel: Rep. Joaquin Castro (D-Texas) will announce this week that he will seek the gavel of the House Foreign Affairs Committee, The Washington Post reported, citing congressional aides. But Castro would face against more senior colleagues for Rep. Eliot Engel's (D-N.Y.) current spot, including Brad Sherman (D-Calif.) and Gregory Meeks (D-N.Y.), the Post reports. Castro currently leads the Congressional Hispanic Caucus. Engel was ousted in a Democratic primary on June 23. Read more from the Post.
The Coronavirus Pandemic
Rising Infections Prompt Tighter Rules Worldwide: Resurgent virus cases prompted tighter social distancing and hygiene rules around the globe. California closed indoor dining and bars, and face coverings will be compulsory in all shops in England from July 24. Tehran closed schools, universities and religious sites for a week. Hong Kong imposed its strictest social distancing measures yet, Japan said a new state of emergency is possible, while the Australian state of Queensland imposed a quarantine on some visitors. Follow the latest here.
Pence Tells Governors to Protect Citizens: Vice President Mike Pence told U.S. governors yesterday that the administration would back them on any measures to contain the pandemic as 13 states reached an alarming rate of positive tests. On a call, Pence said those states have rates of higher than 10%, according to a person who listened to the private session and requested anonymity to discuss it. The vice president has consistently argued that the administration's response has been vigorous. But yesterday, he made clear that the situation has become grave, the person said. Read more from Brian Eckhouse and David R. Baker.
Airline 'Reached Out' to Cruz Over Mask: American Airlines said it "reached out" to Sen. Ted Cruz (R-Texas) after he was photographed on a plane not wearing a mask in spite of the carrier's requirement that passengers cover their faces. The pictures of Cruz, who is the chairman of the Aviation and Space Subcommittee, were posted to Twitter by a staffer of the House Democratic campaign arm. Cruz wears a mask "to help promote safety," but took it off to drink, his office said in a statement. Read more from Alan Levin.
Fed Pushed to Loosen Reins on Loan Program: The Federal Reserve is facing pressure to loosen the rules on its $500 billion municipal lending facility, which charges penalties so steep that almost no governments are willing to borrow from it. A group of state treasurers, local officials and advocacy groups including Americans for Financial Reform, a Washington-based advocacy group, sent the central bank a letter today requesting that it significantly cut the interest rates it charges on loans. The groups also asked it to lend for longer terms and expand the number of governments that are eligible to borrow. Read more from Amanda Albright.
Top Defense Firms Get Biggest Share of Virus Funds: The largest share of the Pentagon's billions of dollars in accelerated payments to contractors — intended to help mitigate the impact of Covid-19 — is going to four of the country's five biggest defense companies. Lockheed Martin, Boeing, Raytheon, Northrop Grumman and the United Launch Alliance joint venture are the top beneficiaries of the Pentagon effort, according to a previously undisclosed May 15 letter to Sen. Elizabeth Warren (D-Mass.) from Ellen Lord, the Defense Department's undersecretary for acquisition and sustainment. Read more from Tony Capaccio.
Politics & Elections
Biden Plots Energy Path: Joe Biden today will unveil clean-energy and infrastructure plans that seek to balance progressives' demands for bold action on climate against protecting swing-state jobs in a coronavirus-altered economy. Biden's plan includes $2 trillion in spending over four years and sets the goal of a 100% clean-energy standard by 2035, people briefed on the proposals said. That's more spending over a shorter period than the $1.7 trillion, 10-year plan that Biden had offered during the Democratic primary.
The proposal is another key element of Biden's broader plan to pull the U.S. out of the recession touched off by the pandemic as he builds his argument into the November election against Trump. With the energy plan, the Democratic nominee will seek to both revive the economy and address deeper systemic problems that existed before the virus hit. Read more from Jennifer Epstein, Ari Natter and Jennifer A. Dlouhy.
Facebook Voter Drive Inspires Claims of Bias from Trump: An ambitious voter registration effort from Facebook has rankled Trump's re-election campaign, which is complaining that the social network's goal of registering 4 million voters in time for November's election is an attempt to swing the election in favor of former Vice President Joe Biden.
"With knowledge of every user's political ideology, Facebook is officially in the business of political advocacy and their efforts to silence conservative voices should be seen as nothing less than an attempt to ultimately benefit Biden and the Democrat Party," said Samantha Zager, a spokeswoman for the Trump campaign, when asked about Facebook's voter registration plans. Her comments follow other grumbling from Republican strategists, including a prediction that Gary Coby, Trump's digital director, made last month on Twitter that Facebook's effort would focus on swing state voters likely to favor Biden. Read more from Eric Newcomer.
Trump's Brother Fails to Block Niece's Book: Trump's younger brother lost his fight for an injunction against a damning memoir written by their estranged niece, Mary Trump, who said her book will expose the toxic nature of the family. Robert Trump's motion for a preliminary injunction against the scheduled July 14 release of the book was denied yesterday by Justice Hal Greenwald in New York, according to a copy of the order provided by the book publisher, Simon & Schuster. Read more from Erik Larson.
Texas GOP Convention Seen Likely Going Virtual: The Texas Republican Party will likely move most of its convention activities online this week, after a judge in the state refused to require Houston to host the party's convention in person in the middle of a pandemic hot zone. Kevin Fulton, an attorney for the group, said there just isn't enough time before the convention begins on Thursday to ask a higher court to overrule a decision that Houston's mayor acted legally in nixing the party's convention contract last week. Read more from Laurel Calkins.
What Else to Know Today
Trump Aides Won't End Hong Kong Dollar Peg: Senior advisers to Trump have ruled out undermining the Hong Kong dollar's peg to the U.S. dollar as they seek to punish Beijing for infringing on the territory's political freedoms, according to people familiar with the matter. Aides at the White House and State Department had weighed the potential of restricting Hong Kong banks' access to greenbacks as a way of striking back at China, Bloomberg News reported last week. But they dropped the idea after advocates could not gather enough support. Read more from Saleha Mohsin and Jennifer Jacobs.
China to Sanction Lockheed Martin on Taiwan Sale: China said it would impose sanctions on Lockheed Martin after the U.S. approved a possible $620 million deal for Taiwan to buy parts to refurbish defensive missiles made by the company. Chinese Foreign Ministry spokesman Zhao Lijian made the announcement at a briefing in Beijing today. He called on the U.S. to cut military ties with Taiwan — which China considers part of its territory — to avoid "further harm to bilateral relations." Read more.
Supreme Court Clears Way for First Federal Execution in 17 Years: The Trump administration can carry out the first federal execution in 17 years, after a divided U.S. Supreme Court rejected appeals from both the condemned killer and his victims' relatives who opposed the execution and wanted to witness it but felt stymied by health and travel concerns amid the Covid-19 pandemic. Read more from Jordan S. Rubin.
Juul Launches Fight Against Black Market: Juul Labs launched an aggressive legal effort to stop what it says is a "seemingly endless stream" of black market cartridges for its e-cigarettes. The vaping company filed a patent-infringement complaint at the International Trade Commission in Washington, naming more than four dozen companies it says have been importing copycat cartridges for the e-cigarettes. Juul is seeking a blanket order that would stop imports of any unauthorized cartridges. Read more from Susan Decker.
To contact the reporters on this story: Zachary Sherwood in Washington at zsherwood@bgov.com; Brandon Lee in Washington at blee@bgov.com
To contact the editors responsible for this story: Michaela Ross at mross@bgov.com; Giuseppe Macri at gmacri@bgov.com; Loren Duggan at lduggan@bgov.com