What to Know in Washington: House Nears Budget Package Finish
House committees worked into the night on components to their $3.5 trillion budget reconciliation package that would enact the second half of President Joe Biden's economic agenda.
Some panels worked past midnight, voting early this morning on some measures. The Energy and Commerce and Ways and Means committees are set to resume the final portions under their jurisdiction today, which is the deadline for all panels to submit their portions of the package to the House Budget Committee. The House and Senate are working to consider the final measure before the end of the month.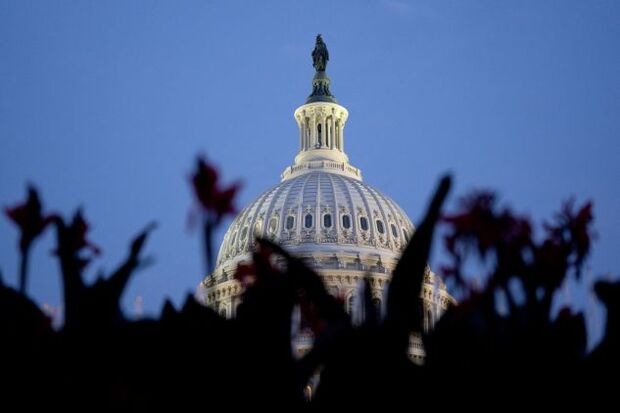 Inheritance-Tax Plan Is Short of Votes: House Ways and Means Chair Richard Neal (D-Mass.) said yesterday that Biden's planned overhaul of the tax system around inherited assets lacks sufficient support in the lower chamber. "There were enough that raised questions about it," Neal told reporters. "The issue here is very simple and the arithmetic here is very defiant. And that is getting to 218 votes," he said, referring to the number amounting to a majority in the House.
Neal plans to wrap up the committee's debate of tax policies and other provisions within its jurisdiction today.
Biden's proposal to end a tax break on inheritances known as "step-up in basis," which wipes out the capital gains tax on assets when the owner dies, was already facing obstacles even before the House committee left the provision out of its draft tax legislation released Monday. The committee instead proposed raising to raise the top long-term capital gains rate to 25% from 20%. The House Democratic leadership could still insert changes after the committee passes its draft and before the entire chamber votes on the legislation. Yet Neal's exclusion of the measure from his own committee's proposal, along with his latest remarks, indicate a last-minute addition of the capital gains overhaul is highly unlikely. Read more from Colin Wilhelm.
Democrats' Expansion of Medicaid in Hold-Out States Clears Panel: Millions of Americans in states that didn't expand their Medicaid programs under the Affordable Care Act could get government-sponsored health insurance under a measure approved by a House panel this morning. The House Energy and Commerce Committee voted 30-27 to advance the legislation.
The proposal would for the first time extend the ACA's insurance subsidies to Americans making less than 138% of the poverty level. Roughly 2 million Americans live in states that declined to expand their Medicaid programs for people whose incomes are too high to qualify for the low-income health program. Read more from Alex Ruoff.
The panel will continue marking up more health care legislation today, including an embattled plan empowering the government to demand lower prices for medicines while limiting future drug price increases based on inflation, Ruoff reports.
Climate Spending to 'Fix' Infrastructure Bill Advances in Panel: The House Transportation and Infrastructure Committee approved about $57.3 billion in a bill that includes money for reducing greenhouse gas emissions in surface transportation and building out transit and high-speed rail. The panel voted along party lines, 37-29, early this morning to advance the bill that would make greener investments in surface transportation and aviation.
The transportation funding would be in addition to the money included in a bipartisan Senate infrastructure bill, which House Democrats say doesn't go far enough on climate priorities. "We are going to be marking up a bill to try and fix some of the issues with the so-called bipartisan infrastructure plan, which we will not be allowed otherwise to deal with," said Committee Chair Peter DeFazio (D-Ore.). Read more from Lillianna Byington.
Privacy, Cyber Budget Funds Advance: The House Energy and Commerce Committee and the House Homeland Security Committee advanced their respective technology and cybersecurity sections of the package during separate markups yesterday. One of the newest provisions would provide $1 billion over ten years to create a bureau within the Federal Trade Commission focused on privacy violations, data security, identity theft, data abuses and related matters.
The committee also advanced an amended provision to provide $10 billion to the Commerce Department to monitor and identify manufacturing supply chain weaknesses. The committee also advanced an amended provision to provide an additional $4 billion to the FCC's existing Emergency Connectivity Fund to assist with remote learning.
The House Homeland Security Committee meanwhile advanced amended legislation to provide an additional $865 million to expand CISA's cyber capabilities over the next ten years after an uptick in cyber and ransomware attacks. The measure includes $400 million to help CISA implement the Biden administration's cybersecurity executive order from May and $100 million to educate and train a larger cybersecurity workforce. Read more from Rebecca Kern.
Biden Touts Clean Energy Jobs: Biden urged lawmakers to support his economic agenda, saying it would combat climate change and create high-paying jobs by accelerating development of clean energy. "We have to pick up the pace," Biden said yesterday during a visit to the National Renewable Energy Laboratory in Arvada, Colo. "We don't have a lot of time." The visit to the research facility capped Biden's first presidential trip to the western U.S., where he held events to generate support for his economic agenda by pointing to the region's increasingly devastating wildfires and persistent drought. Read more from Justin Sink and Mario Parker.
Deese Hails 'Major Progress' From Democrats on Tax Changes: White House economic adviser Brian Deese said that House Democrats had made "major progress" with their efforts to increase taxes on corporations and the wealthy to offset the cost of Biden's domestic priorities, despite the proposal falling short of some measures originally proposed by the administration. The Ways and Means Committee bill "gets at the core issues we face in our tax code," he said on Bloomberg TV. Justin Sink has more.
Also Happening on the Hill
Lawmakers, Staff Urged to Avoid Capitol on Saturday: A demonstration this Saturday in support of people arrested in the Jan. 6 insurrection has prompted security officials to warn members of Congress and their staffs to stay away from the U.S. Capitol on that day. A memo circulated yesterday by the new House sergeant-at-arms, William Walker, also pointed out that fencing would be temporarily re-installed on Capitol Hill starting today, "at the request" of the U.S. Capitol Police. "Members and staff are strongly encouraged to avoid the U.S. Capitol complex on Sept. 18th," Walker wrote. Most representatives and senators will likely not be in Washington over the weekend, as both chambers are not in session. Read more from Billy House.
Ocasio-Cortez Prepares Unemployment Bill: Rep. Alexandria Ocasio-Cortez (D-N.Y.) said she would introduce a bill to reinstate federal unemployment benefits programs that expired last week, despite a lack of appetite to do so among many of congressional Democrats. "I've been very disappointed on both sides of the aisle that we've just simply allowed pandemic unemployment assistance to completely lapse when we are clearly not fully recovered from the cost effects of the pandemic," she said during a virtual town hall last night. Democrats have debated whether to extend benefits, but ultimately have opted not to do so. Rep. Neal said Biden's position was to "hold off" until there was more evidence. Read more from Jarrell Dillard.
Facebook's Risks for Young People Add to Bipartisan Backlash: Facebook is facing renewed fury from Washington after reports suggested the company knew, but didn't disclose, that its Instagram platform could pose risks to teenagers. The report from the Wall Street Journal citing Facebook's own internal research gives fuel to politicians who have pledged to hold social media companies accountable for their impact on mental health, civil discourse and democracy. While previous rounds of outrage over issues such as the Cambridge Analytica privacy scandal haven't dented Facebook's business model or profitability, this backlash could bring Chief Executive Officer Mark Zuckerberg and other company executives back to testify before Congress about the shortcomings. Read more from Anna Edgerton.
Yellen Agenda Bogs Down With Key Posts Stuck in Senate: Treasury Secretary Janet Yellen has one of the biggest to-do lists in Washington: usher in a global tax overhaul, press Wall Street on climate change and distribute billions of dollars in Covid-relief funds. Yet her efforts are hampered by vacancies in the Treasury's top ranks, where only three officials including herself have been confirmed by the Senate. Of the 17 key remaining jobs that require confirmation, 10 have nominees stuck in the Senate, while the rest have not been named. Read more from Saleha Mohsin.
Politics & Influence
California's Newsom Beats Recall Effort: California Governor Gavin Newsom beat back a recall effort, with voters resoundingly deciding to keep the first-term Democrat in office after a historic special election. Democratic voters in the most-populous U.S. state turned out to defeat a conservative-led movement that was fueled by anger over pandemic restrictions. The result wasn't close, with major news outlets declaring the race in Newsom's favor less than an hour after polls closed. The outcome is a major win for Newsom and Democratic leaders who had characterized the recall attempt as a power grab by supporters of former President Donald Trump. Read more from Romy Varghese.
Virginia Race Tests Political Messaging Ahead of 2022: The competitive Virginia governor race is serving as a testing ground for midterm congressional campaign messaging, as both parties put together strategies to sway voters next year. Across the country from California's recall election, Virginia's airwaves have been filled ahead of the November election with ads from Republican Glenn Youngkin and Democrat Terry McAuliffe on new state laws limiting abortion, a brewing debate on hiking federal taxes for the wealthy, how to address Covid-19, and supporting law enforcement. To what extent those issues and the way they're communicated move the needle in polling, fundraising, and, ultimately, votes will inform candidates, operatives, and consultants as they prepare for 2022, when both chambers of Congress are in play. Read more from Emily Wilkins.
Election Officials on Radar of Rich Donors: The once-obscure state-level job of overseeing elections has emerged as a prime target for wealthy donors and national organizers from both parties seeking an edge in the 2022 midterms that could shift control of Congress away from Democrats. Republicans are backing secretary of state contenders who echo Donald Trump's false claims that the 2020 election was stolen from him through voter fraud, with donors including Richard Uihlen. Democrats have also seen an exponential increase in the amount of money they're raising for the role, which is often sought as a stepping stone to higher statewide office. Read more from Ryan Teague Beckwith and Bill Allison.
Around the Administration
Today's Agenda: Biden will host business leaders and chief executives at the White House at 1:30 p.m. for a meeting on the response to Covid-19. Biden is also scheduled to speak at 5 p.m. about a national security initiative.
DOJ Seeks Order Blocking Texas Anti-Abortion Law: The Justice Department asked for an emergency court order to block a restrictive anti-abortion law in Texas, the first of what is likely to be an extended legal battle that reaches all the way to the Supreme Court. The 47-page request, filed in federal court in Austin late yesterday, seeks a temporary restraining order or preliminary injunction halting enforcement of the law, which bars almost all abortions after the sixth week of pregnancy. Read more from Chris Strohm.
Cyber Chief Says 'Cyber Bullets' Part of War on Hacks: The government should be prepared to fire "cyber bullets" in response to significant hacking attacks as part of a broad strategy to dissuade adversaries, National Cyber Director Chris Inglis said. Biden has been receptive to proposals to use cyber weapons in retaliation against adversaries, among other options, he said at a panel yesterday. He is the first to hold his Senate-confirmed position at the White House. Read more from Chris Strohm.
Trump-Era Fannie-Freddie Rule Gets Biden Review: Fannie Mae and Freddie Mac's regulator said it's reviewing a rule approved at the end of the Trump administration that forced the mortgage giants to hold hundreds of billions of dollars in capital to protect against losses. In a statement yesterday, the Federal Housing Finance Agency said it's weighing the Enterprise Regulatory Capital Framework and "expects to announce further action in the new future." Read more from Jesse Westbrook.
Fed Chair Fight Amps Debate Over Bank, Climate: The fight over who should lead the Federal Reserve for the next four years has intensified questions about whether the central bank is doing enough to help combat climate change. While Chair Jerome Powell enjoys broad support from Republicans and many Democrats for his handling of monetary policy and his response to the pandemic, his critics on the left have attacked him for, among other things, acting too slowly to focus the Fed's attention on climate. Read more from Katia Dmitrieva and Christopher Condon.
DOJ Guidance Targets Chokeholds, No-Knock Warrants: The Department of Justice limited federal use of no-knock warrants, a significant criminal justice reform issue that became more prevalent following the death of Breonna Taylor last summer. The DOJ order also banned the use of chokeholds by federal agents. Ayanna Alexander has more.
Antitrust Enforcers Warn Against Gaming Disaster Relief: Federal antitrust regulators warned companies against attempts to defraud consumers and suppress competition to benefit from the devastation caused by Hurricane Ida. "This behavior will not be tolerated," the Justice Department and Federal Trade Commission said in a joint statement. Read more from Siri Bulusu.
Biden Floated Meeting With Xi: Biden suggested the possibility of an in-person meeting with Xi Jinping during a phone call last week, but the Chinese president declined to commit to one. Biden suggested the two leaders meet at some point in the next few months, according to people familiar with the conversation who were granted anonymity to discuss it. When asked last night at the White House whether he was disappointed that Xi didn't want to meet with him, Biden told reporters "not true." Read more from Nick Wadhams.
To contact the reporters on this story: Zachary Sherwood in Washington at zsherwood@bgov.com; Brandon Lee in Washington at blee@bgov.com
To contact the editors responsible for this story: Giuseppe Macri at gmacri@bgov.com; Loren Duggan at lduggan@bgov.com; Michaela Ross at mross@bgov.com