What to Know in Washington: House GOP Plans End to Proxy Voting
House Republicans look to end proxy voting if they take chamber
Tensions on Russia-Ukraine border enter potentially decisive week
House Republican lawmakers have relied on proxy voting the last two years while they were battling cancer, caring for loved ones, and giving birth.
But if the party wins control of the House in the 2022 elections, the GOP is determined to do away with the practice put in place by the Democrats to deal with health concerns stemming from the Covid-19 virus. Instead of allowing a colleague to announce their position on legislation and amendments, lawmakers would once again have to show up in person in the chamber to have their votes counted.
Minority Leader Kevin McCarthy (R-Calif.) has long opposed proxy voting, waging an unsuccessful legal fight up to the Supreme Court to fight the practice GOP lawmakers say is ripe for abuse and an abdication of governing responsibilities. "There is no question in my mind that Speaker McCarthy will not allow proxy voting. Not even like a 'maybe,'" said Rep. William Timmons (R-S.C.) "Never, ever, ever, ever. Period."
Democrats adopted the precedent-breaking procedure in May 2020 to reduce physical interactions that could spread Covid-19 between members and staff flying in from different parts of the country. Under the procedure, a member has to submit a letter designating a colleague to record their position, which is announced in the chamber during votes that otherwise are conducted by electronic device.
House Republicans, who are well-positioned to win the majority in the November election, could opt to simply let the proxy voting expire or vote to end it with a new resolution. The voting practice was renewed when the new Congress met in January 2021, has to be reauthorized every 45 days, and was extended through March 30 by Speaker Nancy Pelosi (D-Calif.). McCarthy has the backing of his leadership on scrapping the option. House Minority Whip Steve Scalise (R-La.) told reporters that proxy voting "hurts the legislative process when we're not meeting in person."
But while Republicans oppose proxy voting in theory, many have embraced it in practice. In 2020, 160 Republicans signed on to McCarthy's lawsuit against proxy voting. By the end of 2021, roughly 70% of the original plaintiffs still serving in Congress either voted by proxy or served as another member's proxy at least once, according to a study from the Brookings Institution.
House Republican Conference Chair Elise Stefanik (R-N.Y.), who cast more than 100 proxy votes including some while on maternity leave, said in an interview that she opposes the rules set by House Democrats and predicted Republicans would eliminate them if the chamber flips. "We are committed as Republicans to returning back to in-person working," Stefanik said.
Still, an analysis of proxy votes in 2021 by the center-right Ripon Society found Democrats were responsible for 72% of all proxy votes in 2021. Among Republicans, Rep. Russ Fulcher (R-Idaho) cast the most, with 160, according to the study. Fulcher opposes the practice but said he relied on it after he was diagnosed with renal cancer. Fulcher, who announced in December he was cancer-free, said his situation was "rare." Emily Wilkins and Zach C. Cohen have more.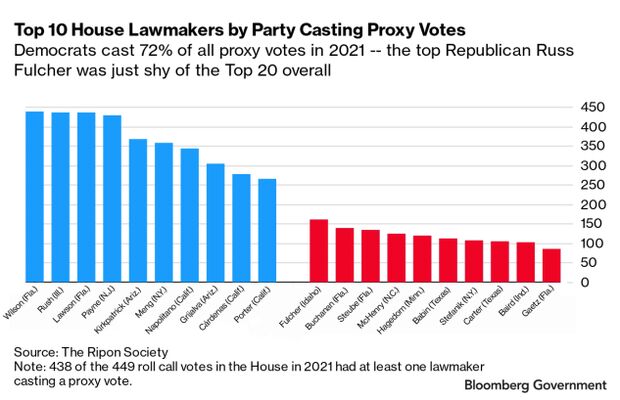 Happening on the Hill
CONGRESS'S SCHEDULE:
The Senate is in at 3 p.m., with a vote possible on legislation to overhaul the U.S. Postal Service.
The House holds a committee work week, with no votes scheduled.
Sen. Joe Manchin said the Federal Reserve needs to "stop pussyfooting around" and "tackle inflation head-on," renewing his call for the central bank to act against the fastest pace of cost increases since the 1980s. Manchin (D-W.Va.) has warned for months about the impact of U.S. government spending on inflation. Meanwhile, Speaker Nancy Pelosi (D-Calif.) told ABC yesterday that accelerating prices should be weighed against rising employment and efforts by President Joe Biden to ease the pandemic's impacts with federal spending, including a bipartisan public-works bill enacted last year. Tony Czuczka has more.
Sen. Ben Ray Luján in a video described the progress of his recovery from a stroke, and estimated he would return to the Senate "in just a few short weeks to vote on important legislation and to consider a Supreme Court nominee." Luján (D-N.M.) said the the video posted yesterday New Mexicans should know they'll have a vote in that process.
A founder of a fintech firm that Biden's Fed supervisory nominee worked for after serving in the Obama administration said on Friday that Republican allegations that she behaved unethically in interacting with a regional Fed bank are "completely false." Sarah Bloom Raskin's "conduct was appropriate, ethical and correct in every respect," Dennis Gingold, a former chairman of the Reserve Trust company said in a statement to Bloomberg News. Jennifer Epstein has more.
Lawmakers could revamp the fast-track FDA process used to approve Biogen's drug to treat Alzheimer's under must-pass legislation to reauthorize the agency's user fees. The House is considering a plan to renew the Prescription Drug User Fee Act, which permits the FDA to collect fees from brand-name pharmaceutical firms to help fund agency operations. Celine Castronuovo and Jeannie Baumann have more.
Latest on the Ukraine Crisis
Tensions over Russia's military buildup near Ukraine are entering a potentially decisive week, with the U.S. warning that an invasion may be imminent and President Vladimir Putin accusing America of failing to meet his demands. U.S. National Security Advisor Jake Sullivan, who on Friday cited the risk that Russia will attack or seek to ignite conflict within Ukraine this week, told CNN on yesterday there's "a distinct possibility that there will be major military action very soon."
A phone call on Saturday between Putin and Biden that went for just over an hour saw them reiterate their positions without any apparent progress. Moscow has repeatedly denied it plans to invade its neighbor and Russian officials accuse the U.S. of stoking "hysteria." Read more from Tony Czuczka, Henry Meyer and Daryna Krasnolutska.
The Biden administration increasingly believes that China is gauging the U.S.'s response to the Ukraine crisis as a proxy for how America would deal with more aggressive action by Beijing against Taiwan, according to three senior officials, Peter Martin reports.
Meanwhile, the U.S. will open an embassy in the Solomon Islands in a gesture that highlights an increased focus on the Indo-Pacific in the face of Beijing's efforts for a more dominant role in the region. Blinken will announce the U.S.'s intent to open an embassy in Honiara, the nation's capital, during a trip to Fiji. Rob Verdonck has more.
Also in the Asia-Pacific, Blinken and his Japanese and Korean counterparts committed to work together to deter further Moscow's escalation on Ukraine's border and condemned North Korea's recent ballistic missile launches. The three officials stressed the "critical importance" of strong cooperation among their nations for regional stability, they said in a statement after wide-ranging talks in Hawaii. K. Oanh Ha and Peter Martin have more.
Elections & Influence
The House probe of the insurrection will move its work into the public eye as soon as April, laying out for voters evidence they say shows former President Donald Trump and his allies stoked the violence. The select committee of five Democrats and two Republicans doesn't have a formal deadline and has largely kept its work behind closed doors. But with Washington's new focus on the November midterms and polls showing diminishing public outrage over the Jan. 6, 2021 riot by Trump supporters, the panel is readying its first public hearings since holding an initial one in July featuring officers on duty that day. Read more from Billy House.
Two Big Law firms that halted PAC donations after the attack on Jan. 6, Holland & Knight and Hogan Lovells, resumed the giving months later, including support for Congress members who voted to overturn the 2020 presidential election. Read more from Sam Skolnik.
Billionaire real-estate developer Rick Caruso and Rep. Karen Bass are among the best-known contenders entering a packed race to lead Los Angeles. LA Councilmembers Kevin de Leon and Joe Buscaino and City Attorney Mike Feuer also filed paperwork to run by Saturday's deadline, according to the L.A. city clerk's website. The primary is June 7, and the general election is Nov. 8. Read more from Brian Eckhouse.
The Coronavirus Pandemic
Billions of federal dollars to bolster public health departments nationwide might not have a lasting impact when the pool of cash dwindles, officials worry. Biden outlined a plan to create thousands of new public health jobs, a vision Democrats sought to make reality as part of the American Rescue Plan signed into law last year. The administration in May vowed to spend $7.4 billion from the law to recruit new public health workers. Most of that money was targeted for state and local health departments. But health agencies have to compete with hospitals and other private firms for high-demand workers Alex Ruoff has more.
Major airlines say a knot of conflicting state, local, and federal requirements on pay and working conditions for their flight crews are an existential threat to their bottom lines that adds to strains from the pandemic. One case before the Supreme Court poses the question of whether a California law guaranteeing rest breaks to flight crews should take precedence over looser U.S. regulations. Read more from Erin Mulvaney.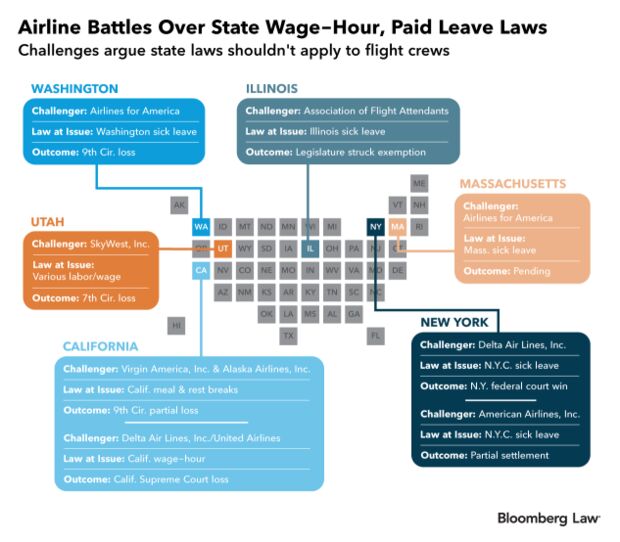 U.S. Supreme Court Justice Sonia Sotomayor refused to intervene on behalf of 15 people who claim they are about to be fired from their jobs as New York City school workers because they refuse to be vaccinated against Covid-19. Sotomayor, who handles emergency matters from New York, rejected the group's requests that she block the city from firing people who claim a religious objection to getting the shot. Read more from Greg Stohr.
The most urgent rulemaking for the government's worker safety agency is enacting a permanent Covid-19 standard for the health-care industry, OSHA chief Doug Parker told Bloomberg Law. "It's the occupational hazard of our time and we'll continue to treat it like that as long as necessary," Parker said of Covid-19 in a Feb. 10 exclusive interview. Parker, the assistant secretary of labor for occupational safety and health sworn in Nov. 3, discussed rulemakings during a wide-ranging discussion that included questions about the need to raise the number of OSHA inspectors and enforcement priorities. Bruce Rolfsen has more.
Biden and Congress are working to ease shipping industry challenges created by a surge in demand for imports through the pandemic. The largest container ports, Los Angeles and Long Beach, experienced a record flow of ships with the queue of vessels waiting to dock reaching 109 in January. While several ports made progress with clearing cargo backlogs in February, staffing and equipment shortages persist. A shipping rule revamp was added to the China package the House passed on Feb. 4. Find a BGOV OnPoint breaking down the shipping industry challenges facing the U.S. here.
Around the Administration
BIDEN'S SCHEDULE:
The president returns to the White House from Camp David at 10:30 a.m.
Principal Deputy Press Secretary Karine Jean-Pierre holds a briefing at 2:30 p.m.
Biden will talk infrastructure in Ohio on Thursday, the White House said in a statement yesterday. During his visits to Lorain and Cleveland, the president will "deliver remarks on how the Bipartisan Infrastructure Law delivers for the American people by rebuilding roads and bridges, upgrading water systems, cleaning up the environment, and creating good-paying, union jobs," it said, Derek Wallbank reports.
Biden backed Black ownership of NFL teams, saying it's a requirement of "generic decency." Asked whether the National Football League should be held to a higher standard on racial equity, Biden said the league "should be held to a reasonable standard," according to an interview excerpt that aired on NBC's Super Bowl pregame show. Read more from Jenny Leonard.
The U.S. Postal Service in coming days will reaffirm its plan to pay Oshkosh as much as $6 billion over 10 years to replace an aging fleet of red-white-and blue delivery vans with mostly gasoline-powered models instead of climate-friendly electric vehicles. The service insists it's the cheapest alternative. But its analysis is based on assumptions that critics and even other agencies say are unrealistic, such as gasoline at $2.19 a gallon and charging stations that cost roughly $20,000 a facility. And the assumptions will form the bullseye of expected legal bids that could stop Oshkosh's assembly lines. Jennifer A. Dlouhy has more.
Raytheon Technologies is a target of a criminal investigation by the U.S. Justice Department into alleged agreements to limit hiring between its jet-engine unit and some suppliers, the company said. The aerospace and defense giant was recently advised that it is a target of the antitrust probe, and is cooperating with the investigation, according to an evening securities filing Friday, Ryan Beene and David McLaughlin report.
Supreme Court justices aren't required to have judicial experience or even be lawyers, but those who have served on federal appellate courts dominate the list of justices confirmed since the mid 1970s. Twelve of the 14 justices from Antonin Scalia to Amy Coney Barrett brought circuit court experience. Five spent time on the U.S. Court of Appeals for the D.C. Circuit, often seen as the prime springboard to the high court. Ketanji Brown Jackson is the only one among three judges mentioned most prominently as potential replacements for Stephen Breyer checks the appellate box. Read more from Kimberly Strawbridge Robinson
To contact the reporters on this story: Brandon Lee in Washington at blee@bgov.com; Michaela Ross in Washington at mross@bgov.com
To contact the editors responsible for this story: Zachary Sherwood at zsherwood@bgov.com; Loren Duggan at lduggan@bgov.com; Michaela Ross at mross@bgov.com