What to Know in Washington: House Eyes Vote on Biden Agenda
Bloomberg Government subscribers get the stories like this first. Act now and gain unlimited access to everything you need to know. Learn more.
President Joe Biden welcomes lawmakers from both sides of the aisle back to Washington today with an event at the White House to sign the bipartisan infrastructure measure into law. But Democrats will quickly shift their attention back to the Capitol, as they wait for the congressional scorekeeper to help determine whether they'll move forward with Biden's tax and spending measure in the House this week.
Here's what Bloomberg Government is tracking for Monday.
Biden's Agenda:
Biden will participate in a tribal nations summit at the White House at 11:20 a.m. in connection with Native American Heritage Month.
Biden will sign the bipartisan infrastructure bill into law at 3 p.m.
The president will meet virtually at 7:45 p.m. with China President Xi Jinping.
Congressional Schedule:
The House meets at 2 p.m., with plans to consider five bipartisan veterans-related measures.
The Senate at 5:30 will hold a procedural vote on Biden's pick for assistant secretary of the Treasury Department.
Click here for a complete list of this week's hearings and markups.
Biden's Agenda in the Spotlight
House Democrats aim to vote this week on Biden's roughly $2 trillion tax and spending bill, despite lingering uncertainty over the bill's cost, GOP attacks over its potential inflationary impact and a wide-spread expectation that the Senate won't act until December at the earliest.
A key milepost this week will be more analysis of revenue and spending of the legislation's various provisions from the Congressional Budget Office.
The CBO's work is central to a deal worked out between moderate and progressive Democrats before last week's congressional break. That agreement cleared the way for progressives to consent to passage of a $550 billion infrastructure bill, which Biden is set to sign later today at a White House ceremony with a bipartisan group of lawmakers, in exchange for moderates backing a vote on the broader economic package this week.
The group of moderates, which included Reps. Josh Gottheimer (D-N.J.) and Stephanie Murphy (D-Fla.), didn't insist on a full CBO analysis. But they committed to voting for the bill if the CBO information is "consistent" with a White House estimate that the bill would not increase the deficit.
Progressives say they will demand a vote this week on the bill no matter what the status of the CBO score, given the moderates' agreement. "They've signed on the dotted line," Rep. Jan Schakowsky (D-Ill.) said. Read more from Erik Wasson, Laura Litvan and Laura Davison.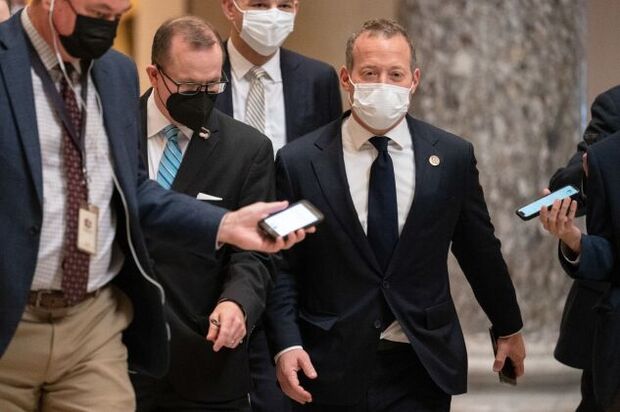 Biden selected former New Orleans Mayor Mitch Landrieu to oversee implementation of the $550 billion infrastructure bill. Landrieu, a Democrat, led his city from 2010 to 2018, and helped guide its recovery from Hurricane Katrina and BP's Gulf of Mexico oil spill. He also spent six years as lieutenant governor of Louisiana and served as a state legislator. Read more from Jennifer Epstein.
Biden's approval rating dropped to a new low, mainly because of more negative views among Democrats and independents, according to a Washington Post-ABC News poll. The president's overall approval is at 41%, down from 50% in June and 44% in September, according to the poll, which added that his current standing isn't statistically different from two months ago. Read more from Eduard Gismatullin.
Democrats' Agenda Hangs on Budget Office's Work: House Democrats hoping to advance their tax and spending bill this week have balanced their legislative ambitions on an often overworked group of analysts with a smaller budget than even some D.C. think tanks.
The demands from moderates on a CBO score puts the heat on the small band of policy experts who are required to work around the clock when the congressional schedule heats up. The CBO released estimates for six of the 13 portions of the bill last week, though Director Phillip Swagel has yet to say how long the most difficult parts of the bill will take to analyze. The remaining titles of the package include key provisions such as a drug-pricing provision the White House claims would save $250 billion over 10 years. Pelosi said in a letter on Friday she expects three more reports released today.
"They're over 100% capacity" at times like these, Keith Hall, a former CBO director who's now a professor at Georgetown University's McCourt School of Public Policy, said in a phone interview last week. "The key people are working virtually day and night to get this work done." Read more from Jack Fitzpatrick.
Inflation-Wary Manchin Voters Imperil Biden Agenda
When Sen. Joe Manchin (D-W.Va.) says Biden's package will worsen inflation and leave the most basic government services like Social Security and Medicare in danger, he's reflecting the concerns of his aging and vulnerable West Virginia constituents.
Washington "can no longer ignore the economic pain Americans feel every day," Manchin said in a tweet last week. That pain in particular threatens West Virginia, whose residents trail only Maine and New Hampshire by age. Read more from Gregory Korte.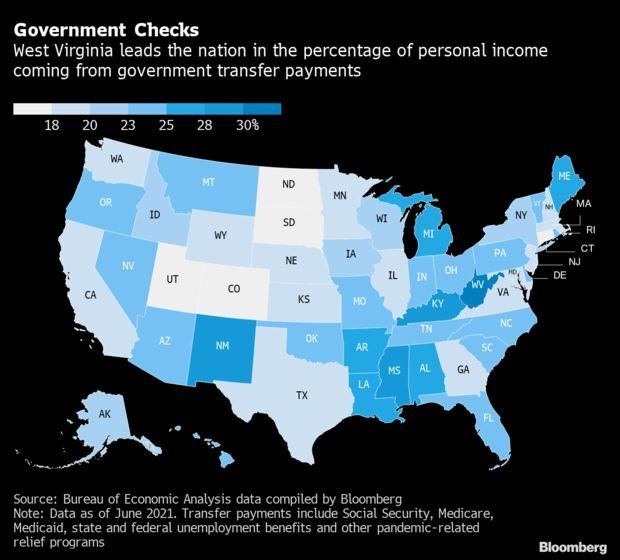 Senate Set to Consider Defense Measure
The Senate is likely to pick up the must-pass fiscal 2022 defense policy measure this week, Schumer said in a letter to colleagues yesterday.
The defense authorization bill is one of the few measures that Congress passes year after year. It's considered must-pass because it authorizes pay increases for troops as well as hazard pay, Roxana Tiron reports. It also contains policies to compete against strategic challengers such as China and Russia.
Schumer is seeking to break a logjam on a $250 billion measure aimed at making the U.S. more competitive with China and easing a global shortage in microchips by attaching it to the defense bill. The China bill passed the Senate with bipartisan support in June but has languished in the House. The bill would boost domestic semiconductor manufacturing with $52 billion in assistance and authorize another $190 billion for research and development at colleges and other institutions and other priorities. Read more from Laura Litvan.
Senators will also need to take up "a short-term Continuing Resolution that we hope will allow more time for a bipartisan, bicameral agreement on FY2022 Appropriations," Schumer said. That's in addition to a measure to address the debt limit, he said. Congressional action on the debt limit is "pending further information on the X date," Schumer said, referring to projections of the date the U.S. will reach it's borrowing limit.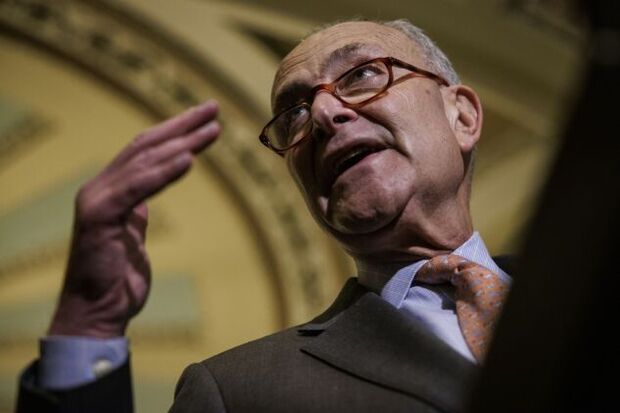 Politics & Influence
Ohio Senate candidate JD Vance says his Silicon Valley experience makes him ideal to take on big technology companies, a favorite target of Republicans, but he'll have to brush off attacks from rivals who question his sincerity on tech issues. Vance said tech firms wield too much influence on politics and unfairly censors conservative opinions. That presents a challenge for Vance, a venture capitalist supported by tech titans like Peter Thiel. Mark Niquette has more.
Montana's redistricting commission has approved a new two-district congressional map that provides Republicans the edge in both. By a 3-2 vote Friday, the commission sent to Montana's secretary of state a map that divides the state into two districts for the first time in 30 years. Robust population growth in the 2010s earned Montana a second district in the 2020 reapportionment of U.S. House seats. Read more from Greg Giroux.
California's draft congressional map is out for public comment, and it means Rep. Devin Nunes (R) could be motivated to move a few miles and Rep. Katie Porter (D) may have to figure out how to win in a district with fewer fellow Democrats. Read more from Tiffany Stecker.
Around the Administration
Biden and Chinese leader Xi Jinping have plenty to discuss during their first virtual summit — from sanctions to Taiwan — even as expectations for a breakthrough on major issues are low. A Biden administration official said the U.S. expects the virtual summit tonight to last several hours, a time frame that includes translation for both leaders in their third conversation this year. It comes as the world's two biggest economies spar regularly over the origin of Covid-19, human rights in Hong Kong and Xinjiang, and the status of Taiwan. Read more.
Federal Reserve Governor Lael Brainard's recent interview for the U.S. central bank's top job has heightened focus on her views on inflation and employment as investors gauge how she would handle an economy that's enduring a historic surge in prices. Neither Brainard, who joined the Fed board in 2014, nor Chair Jerome Powell, who's been on the panel since 2012, have until this year faced making monetary policy amid the prospect of sustained inflation rates well exceeding the central bank's 2% target. Read more from Craig Torres.
A U.S. appeals court has extended its Nov. 6 order pausing Biden's shot-or-test mandate for businesses with 100 or more employees. The verdict, issued Friday by the New Orleans-based U.S. Court of Appeals for the Fifth Circuit, solidifies its earlier ruling halting implementation of OSHA's emergency regulation. Andrew Harris has more.
The Biden administration's push for vaccine mandates, under fire in courts around the nation, has survived a legal challenge headed by former Trump campaign lawyer Sidney Powell over vaccines in the military, Erik Larson reports.
Biden plans to nominate Christopher Williamson to lead the Mine Safety and Health Administration, the White House announced Friday. Williamson is currently senior counsel to NLRB Chair Lauren McFerran and has experience at the Capitol, having previously worked as a labor counsel to former Sen. Tom Harkin on the chamber's labor panel and as a legislative aide to Sen. Manchin, the White House said. Fatima Hussein has more.
The Federal Bureau of Investigation said no data or personal identifiable information was accessed or compromised on the agency's network after hackers sent fake emails yesterday using its Law Enforcement Enterprise Portal. The illegitimate email originated from an FBI-operated server, which was "dedicated to pushing notifications for LEEP and was not part of the FBI's corporate email service," said the agency in a statement yesterday on the update of the incident. Belinda Cao has more.
To contact the reporters on this story: Giuseppe Macri in Washington at gmacri@bgov.com; Brandon Lee in Washington at blee@bgov.com
To contact the editors responsible for this story: Giuseppe Macri at gmacri@bgov.com; Loren Duggan at lduggan@bgov.com; Michaela Ross at mross@bgov.com
Stay informed with more news like this – from the largest team of reporters on Capitol Hill – subscribe to Bloomberg Government today. Learn more.