What to Know in Washington: House Democrats Flex Unity Muscles
Bloomberg Government subscribers get the stories like this first. Act now and gain unlimited access to everything you need to know. Learn more.
Kevin McCarthy united a party last week. It just wasn't his own.
In 15 ballots over more than four days, House Democrats logged hundreds of votes for Rep. Hakeem Jeffries (D-N.Y.) as Republicans split on whether to give McCarthy (R-Calif.) the speaker's gavel. With the exception of a handful of absences, not a single Democrat defected to help Republicans.
Indeed, Jeffries in his first speech as minority leader from the rostrum early Saturday morning made a point to thank the caucus "for their unanimous support."
"I want to say that that showing of strength is not for any one particular individual," Jeffries said. "It will be a showing of strength throughout the 118th Congress, unanimity of purpose on behalf of the American people."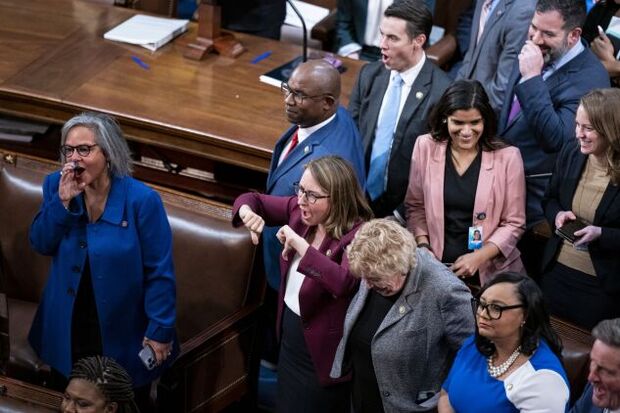 Democrats hope to remain united as Republicans begin work on their legislative agenda this week, several Democratic lawmakers told Bloomberg Government. The strategy will force McCarthy to keep his unruly caucus in line or deal with Democrats if he wants to pass any legislation.
Rep. Robert Garcia (D-Calif.), the president of the freshman class, said Democrats' unity also served as a "contrast" to the Republican divisions ahead of elections that determine control of Congress and the White House.
"I think that 2024 looks better and better for us every single day with a united party," Garcia said, "especially against a divided Republican Party that has obviously no interest in real governance."
Lawmakers also believe if Democrats remain in line they could exert some concessions from McCarthy on must-pass legislation, including the annual spending bills and raising the debt ceiling, with the GOP only holding a slim majority. Read more
New House Budget Chair Seeks 1983-Style Talks on Social Security
Rep. Jodey Arrington, a self-proclaimed "far-right ideological conservative" with a good relationship with Democrats, will chair the House Budget Committee, giving the Texan a key role in pushing for spending cuts and negotiating a debt-limit deal.
The House Republican Steering Committee elected Arrington (R-Texas) over Reps. Buddy Carter (R-Ga.) and Lloyd Smucker (R-Pa.) Monday evening, Smucker and Rep. John Carter (R-Texas) said.
Arrington has said Republicans should use an upcoming debt-limit deadline to prompt negotiations on the solvency of major programs such as Social Security and Medicare. He's also pushed for statutory limits on discretionary spending, a smaller portion of federal expenditures that Congress allocates each year through appropriations bills.
Ahead of Monday evening's vote, Arrington said he wants to use the debt limit — which will likely have to be raised or suspended around the middle of the year — to prompt a negotiation on Social Security along the lines of the 1983 negotiations between then-President Ronald Reagan (R) and House Speaker Tip O'Neill (D-Mass.).
"Tip O'Neill and Ronald Reagan came in and they cut a deal," Arrington told reporters. "I suspect that's exactly what's going to happen the next round." Read more
Happening on the Hill
CONGRESS' SCHEDULE:
The House meets at 10 a.m. to debate two resolutions: one creating a full committee focused on US competitiveness with China and another on government weaponization.
The Senate meets at 10 a.m. for a pro forma session.
Sen. Lindsey Graham (R-S.C.) , one of the most consistent GOP supporters of Biden judicial appointments, will bring experience and unpredictability to those nominations going forward as the top Senate Judiciary Committee Republican.
McCarthy passed the first test of his House leadership as Republicans backed a new set of rules for how the chamber operates, including one that will make it easier for dissidents to challenge him.
The new GOP majority previewed what's expected to be a contentious two-year relationship with the IRS on Monday, passing a bill that claws back most of the $80 billion Democrats appropriated to the agency last year.
Rep. Virginia Foxx (R-N.C.) will head the House committee on education and the workforce, circumventing Republican term limit rules after a contested House Speaker election pushed back decisions on competitive chair races.
The House voted to eliminate congressional staffers' unions as part of a rules package, marking a Republican attempt to end Capitol Hill organizing weeks after a union signed its first negotiated contract.
Trump told congressional Republicans to play "tough" on raising the federal debt limit later this year, stoking sentiment in the GOP for a potentially market-rattling showdown in order to pressure Democrats on spending cuts.
The White House accused GOP lawmakers of seeking to "defund" the military, seizing on an agreement to elect McCarthy speaker of the House that may lead to defense spending cuts.
Senators working to strike an immigration deal see a prospective House border package as an opportunity to advance broader measures, including protections for "Dreamers" who came to the US as children.
The last pieces of House and Senate leadership are in place, with McCarthy securing the speaker's gavel and Gary Peters (D-Mich.) signing on for a second cycle leading the Senate Democrats' campaign arm.

Elections & Politics
The rapper and record producer Andre Young, better known as Dr. Dre, is demanding that Rep. Marjorie Taylor Greene (R-Ga.) stop using his music in her political campaigns, saying she's wrongfully exploiting his work to promote her "divisive and hateful political agenda."
Attorneys for President Joe Biden discovered classified documents while packing up the Washington office he used after serving as vice president and turned the materials over to the National Archives in November, the White House said in a statement.
Rudy Giuliani, a close ally of Trump involved in efforts to undermine the 2020 presidential election, received a subpoena to testify and provide documents to a federal grand jury in Washington, according to a person familiar with the matter.
Virginia Governor Glenn Youngkin said he's ready to pitch a new stadium in the state to whoever ends up buying the NFL's Washington Commanders.
Around the Administration
BIDEN'S SCHEDULE:
Biden at 10:30 a.m. CST will participate in a bilateral meeting with Canadian Prime Minister Justin Trudeau in Mexico City, Mexico
At 11:45 a.m. CST, Biden, Trudeau and Mexican President Andrés Manuel López Obrador take a photo together
The three leaders come together at 1:30 p.m. CST for the 10th North American Leaders' Summit at the National Palace in Mexico, and at 3:45 p.m. they deliver statements
At 10:20 p.m. EST, the president returns to the White House
Biden met with Mexican President Andrés Manuel López Obrador in Mexico City, according to a readout from the White House.
Jair Bolsonaro's presence in the US has turned into a diplomatic quandary for President Biden after supporters of the former Brazilian leader stormed government buildings over the weekend.
The White House said on Monday evening that Biden and Bolsonaro's successor, Luiz Inacio Lula da Silva, had spoken by telephone, and the American president "conveyed the unwavering support of the United States for Brazil's democracy." Biden also invited Lula to visit Washington early next month. The invitation was accepted, according to the statement, which did not mention Bolsonaro by name.
The US is in discussions with Japan, the Netherlands and South Korea to restrict semiconductor exports to China, and it needs all parties to agree on a deal, US Ambassador to Japan Rahm Emanuel said in an interview.
US aviation safety regulators intend to require passenger and cargo aircraft to meet requirements by early next year for navigation gear to deal with potentially unsafe interference from 5G mobile-phone signals.
Health policy leaders say the Biden administration needs to ensure vulnerable populations are protected before it calls an end to the Covid public health emergency, which is set to renew this week for what may be the last time.
Sweden and the US have started negotiations on a defense cooperation agreement as the Nordic nation prepares to become a fully fledged member of NATO along with its neighbor Finland.
To contact the reporter on this story: Michaela Ross in Washington at mross@bgov.com
To contact the editor responsible for this story: Andrew Small at asmall@bgov.com
Stay informed with more news like this – from the largest team of reporters on Capitol Hill – subscribe to Bloomberg Government today. Learn more.