What to Know in Washington: House Advances Debt, Defense Bills
House lawmakers last night passed legislation to address the approaching debt limit deadline as well as the annual defense policy bill, sending both to the Senate. The moves are a key step in freeing up time for Senate Democrats to pass President Joe Biden's Build Back Better agenda before Christmas, but a key holdout remains skeptical of the tax and spending package.
Here's what Bloomberg Government is tracking for Wednesday.
Congress Agenda:
The House meets at 10 a.m. with plans to vote on consider nearly 20 bills under expedited procedure.
The Senate meets at 10 a.m. to vote on Biden's nominees, with consideration possible of a resolution that would block the vaccine-or-testing mandate for large employers issued by the Biden administration.
Biden's Schedule:
Biden will visit the Kansas City Area Transportation Authority in Kansas City, Mo., at 2 p.m. and deliver remarks at 2:30 p.m. Central Time on the bipartisan infrastructure law.
The president is scheduled to return to the White House at 7:15 p.m. Eastern Time.
House Sends Debt Limit, Defense Bills to Senate
The House passed legislation last night that would create a quick process to raise the U.S. debt ceiling by a simple majority vote in the Senate, approving a procedural measure on a 222 to 212 vote.
Under the terms of the bill, Democrats would receive one-time fast track authority to raise the U.S. debt ceiling, likely by an amount sufficient to cover borrowing through 2022.
The vote lessens the risk of a U.S. payment default this month. The bill would also cancel automatic cuts to Medicare, farm subsidies and other programs triggered by deficit spending earlier this year.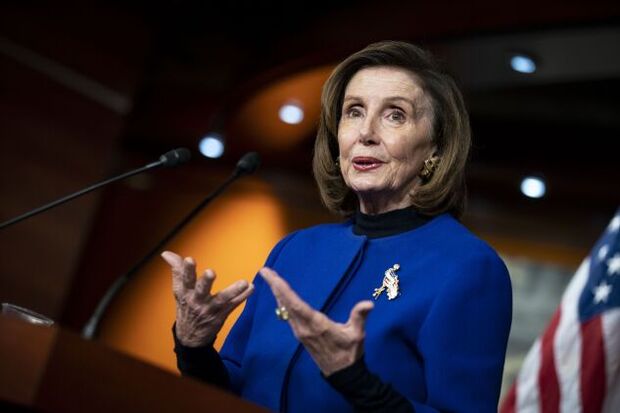 Once the bill the House just advanced is passed by the Senate, Democrats will be permitted for one time only to add a yet-to-be-determined amount to the U.S. debt ceiling without the threat of a Republican filibuster blocking the action. After Senate passage, the House would then take up the bill, Speaker Nancy Pelosi (D-Calif.) said. Read more from Erik Wasson and Billy House.
The House last night also passed a compromise defense policy bill that would authorize a $25 billion budget boost for the Pentagon, rejecting Biden's request for $715 billion amid concerns about countering an emerging China. The bill, passed by a vote on 363-70, would authorize $768.2 billion for U.S. national security in fiscal 2022, Roxana Tiron reports. It would authorize funding for three DDG-51 Arleigh Burke destroyers, two more than the Navy requested, and would allow funding for 85 Lockheed Martin F-35 Joint Strike Fighters, the same as the Pentagon's request.
The bill, which is typically considered must-pass because it authorizes pay for troops in harm's way, backs a pay raise of 2.7% and also spells out policies on counter-terrorism and deterring strategic competitors such as China and Russia. The Senate could consider the measure this week or next.
Read the BGOV bill summaries here:
Democrats Face Skeptical Manchin on Biden's Agenda
Senate Democrats are expressing confidence they can pass Biden's Build Back Better agenda before Christmas, but one key holdout—Sen. Joe Manchin (D-W.Va.)—said he's skeptical he can vote for a bill that includes major economic changes.
Many Democrats say they can meet Senate Majority Leader Chuck Schumer's (D-N.Y.) deadline for passing the bill by Dec. 25, which is key to preventing an interruption in the monthly child tax credit payments that the party considers critical for economic and political success. "We're down to just a small number of issues. We're all here. The people who are intensely involved in those are negotiating almost around the clock," Sen. Elizabeth Warren (D-Mass.) said yesterday. "Another month, another three months is not going to make this any easier. It's time for us to cut our final deals."
Manchin said that he's not so sure. Yesterday he noted that he months ago called for a "strategic pause" on the economic package in the face of accelerating inflation and because of the long-term costs of the proposed social and climate policies, and that his view hasn't changed. Manchin's vote in the 50-50 Senate is critical for Democrats to pass legislation that isn't expected to get any support from Republicans. "We have to make sure we get this right," he said at a Wall Street Journal event. "We can't just continue to flood the market as we're doing."
Democrats are worried that momentum on the bill could stall if it isn't finished before the end of the year, delivering a major political blow to Biden and the party heading into a congressional election year. But Manchin isn't the only obstacle to quick passage. Read more from Steven T. Dennis, Laura Litvan and Laura Davison.
Senate Democrats have an emerging agreement to exclude millionaires from an expansion of the state and local tax deduction, but key negotiators continue to clash over the specific income limits for one of the unresolved issues in Biden's economic agenda. Sens.

Bob Menendez

(D-N.J.) and

Bernie Sanders

(I-Vt.) have been leading two Democratic factions in talks over how to address the tax break for people in high-tax states such as New York and New Jersey. Menendez wants a more generous federal deduction for state and local taxes, or SALT, while Sanders wants to curb the benefit so it won't benefit the highest earning households. Read more from Laura Davison.
ALSO HAPPENING ON THE HILL:
Politics & Influence
BGOV Redistricting Webinar: Redistricting will have a major impact on the political landscape heading into 2022 and on the balance of power in the House for the next decade. Bloomberg Government's Greg Giroux, Kyle Trygstad, and Brenna Goth will be joined on Dec. 14 at 1 p.m. by Wendy Underhill, the director for elections and redistricting at the National Conference of State Legislatures, for a conversation on redistricting. Find more information on the virtual event and register here.
Former President Donald Trump's last chief of staff, Mark Meadows, was warned yesterday he risks being held in contempt of Congress if he does not appear for a deposition today before a House committee investigating the Jan. 6 mob attack on the Capitol. The threat was delivered by the committee's Democratic chairman and Republican vice chair after they said his lawyer informed the panel that Meadows—a former congressman—no longer intends to cooperate with the panel despite a subpoena to turn over documents and answer questions. Read more from Billy House.
A White House Commission studying changes to the U.S. Supreme Court voted unanimously to send its report to Biden after sidestepping the most controversial proposals to expand the court's membership or limit the justices' terms. Members, who voted 34-0 yesterday, emphasized that their approval of the final report doesn't signal support for all the proposals examined by the panel. Read more from Kimberly Strawbridge Robinson.
Around the Administration
The video call between Biden and Vladimir Putin lasted about two hours. It will take months to figure out if the two sides managed to defuse the crisis over Ukraine. Biden sought to send a clear message: Russia must not go ahead with an invasion of Ukraine as the U.S. fears it might, and would face massive economic sanctions if it does. Putin, meanwhile, wanted the U.S. to know that Russia won't tolerate NATO expanding farther east or deploying weapons in Ukraine.
Biden didn't accede to Putin's "red line" demands. And Putin made no promise to withdraw the 175,000 troops he's amassing along the Ukrainian border. That highlighted how U.S. officials appeared to have no new clarity on the fundamental question at the heart of this most recent standoff with Russia — whether Putin intends to invade Ukraine a second time, after taking Crimea in 2014. Read more from Nick Wadhams and Ilya Arkhipov.
The White House's pick to lead a key banking regulator has withdrawn her name from consideration, with Biden citing "inappropriate personal attacks" as undermining her candidacy. Biden accepted Saule Omarova's request to abandon the appointment to run the Office of the Comptroller of the Currency, according to a statement. Her nomination triggered aggressive opposition from Republican lawmakers and bank lobbyists, while revealing divisions among Democrats.
The Biden administration must now begin again the process to name a regulator of U.S. national banks including JPMorgan Chase and Citigroup. At least two previous potential candidates were abandoned during earlier vetting. Read more from Jesse Hamilton and Jennifer Epstein.
Chris Magnus will take the helm of U.S. Customs and Border Protection as commissioner amid record border crossings and persistent public scrutiny after winning Senate confirmation. The Senate's 50-47 vote yesterday gives the agency its first confirmed leader since 2019, Ellen M. Gilmer reports.
The Senate voted to confirm five top federal prosecutors in Democratic-leaning states yesterday, offsetting what's been a slow process filling vacancies atop U.S. attorneys' offices this year. The chamber confirmed by voice vote Philip Sellinger in New Jersey, Gregory Harris in Illinois's Central District, Nikolas Kerest in Vermont, Zachary Cunha in Rhode Island, and Clare Connors in Hawaii, Ben Penn reports.
Vice President Kamala Harris yesterday announced a plan to reduce the country's alarmingly high maternal mortality rate by improving pregnancy and postpartum care nationwide. The strategy includes calling for states to extend postpartum coverage under Medicaid from 2 to 12 months and designating "birthing-friendly" hospitals. "Maternal mortality and morbidity is a serious crisis and one that endangers both public health and economic growth," Harris said at a White House event. Read more from Kelsey Butler.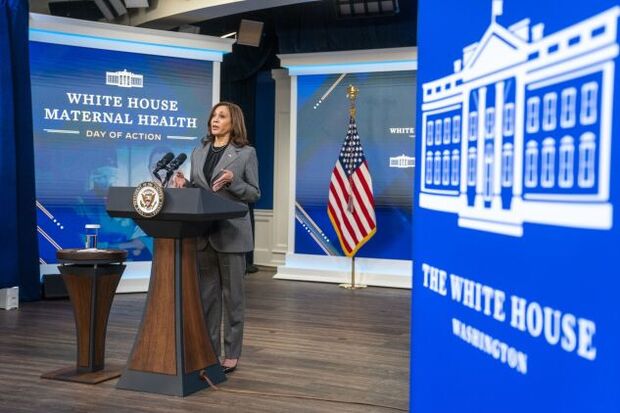 Global supply chain disruptions are leaving schools with food shortages and the Agriculture Department can use its authority to help, a new School Nutrition Association survey suggests. More than 75% of survey respondents see significant challenges in menu item shortages and discontinuations, along with slim quantities of supplies and packaging. About 95% highlight staffing shortages as hurdles for their programs. Read more from Megan U. Boyanton.
The Cincinnati-based federal appeals court handling the legal challenge to the Biden administration's shot-or-test regulation has ruled against other government responses to the coronavirus pandemic in decisions that don't bode well for the emergency measure's survival. The U.S. Court of Appeals for the Sixth Circuit—a court dominated by Republican-appointed judges that will review the emergency standard after winning a multi-circuit lottery—previously has nixed the federal government's eviction moratorium and two Kentucky restrictions on religious services. Read more from Robert Iafolla.
What Else We're Reading
Rep. Ayanna Pressley (D-Mass.) plans to introduce a resolution today to strip Rep.

Lauren Boebert

(R-Colo.) of her committee assignments for repeatedly making anti-Muslim remarks aimed at Rep.

Ilhan Omar

(D-Minn.), hoping the action forces House Democratic leadership to punish the lawmaker before the end of the year, The Washington Post reports.
Republican lawmakers have spent months criticizing Biden and his administration for not being tough enough on China, with potential 2024 presidential candidates in the Senate especially eager to position themselves as national security hawks. But even some of Biden's harshest GOP critics found themselves praising the White House's decision this week to institute a diplomatic boycott of the 2022 Beijing Winter Olympics, The Washington Post reports.
The decision by Rep. Devin Nunes (R-Calif.) to retire and run Trump's media and technology company was due in large part to the nonpartisan California Citizens Redistricting Commission, which this week is putting the finishing touches on new boundaries, the New York Times reports. The plan is likely to transform the district Nunes has represented for 19 years from a rural area that voted for Trump in 2020 by 5 percentage points into one centered in Fresno, the fifth-largest city in California, which Biden would have carried handily. NYT's Jonathan Weisman has more.
To contact the reporters on this story: Zachary Sherwood in Washington at zsherwood@bgov.com; Michaela Ross in Washington at mross@bgov.com
To contact the editors responsible for this story: Giuseppe Macri at gmacri@bgov.com; Loren Duggan at lduggan@bgov.com