What to Know in Washington: Harris Nears VP Tie-Breaking Record
Bloomberg Government subscribers get the stories like this first. Act now and gain unlimited access to everything you need to know. Learn more.
Vice President Kamala Harris is on the verge of casting more tie-breaking votes in the Senate than any of her predecessors, underscoring the chamber's increasing partisan rancor in an era of narrowly divided government and presenting her a unique set of challenges in traveling outside of Washington D.C.
Harris has so far broken 29 tie votes since becoming vice president in January 2021, putting her on track in just over two years to surpass the record of 31 set by John C. Calhoun over almost eight years as vice president in the 19th century.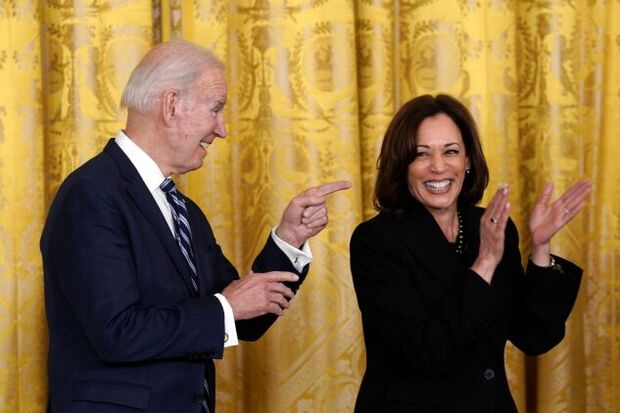 "I always like it when she votes because when the vice president votes, we win," said Senate Majority Whip Dick Durbin (D-Ill.).
The increased number of votes for Harris to break provides the latest evidence of the country's political fissures, showcased in party-line votes by a Senate narrowly divided in membership between the two parties. Read more.
Also Happening on the Hill
CONGRESS' SCHEDULE
The Senate meets in a pro forma session at 8:45 a.m. with no business planned
Members of Congress who are also pilots are urging President Joe Biden to withdraw his nominee to lead the Federal Aviation Administration, arguing the agency needs someone with flight experience as it deals with safety concerns.
Bipartisan group of senators ask the Federal Reserve to examine how how the central bank and other regulators missed warning signs in their oversight of Silicon Valley Bank before its collapse.
The Treasury Department should make sure that law-enforcement officials and others with a need for newly collected information about companies' ownership can access it without putting up unnecessary obstacles, a bipartisan group of US senators said.
Norfolk Southern CEO Alan Shaw will appear before the Senate Commerce Committee's hearing on improving rail safety on March 22.
Four Republican lawmakers criticized offshore wind farms planned for waters off the East Coast at a New Jersey event, marking the latest sign of mounting pushback against the fledgling energy source.
FDA wants to attach a diagnostics reform bill to pandemic preparedness legislation to extend authorization for HHS's emergency programs before they expire at the end of the September.
A replacement for the Indian Health Service's near-40-year-old patient management software would receive a quadrupling of funds if President Joe Biden's record $9.7 billion IHS fiscal 2024 budget request makes it through Congress intact.
A bipartisan Senate duo has revived an effort from last Congress to reverse a change to the research and development tax credit and expand it to apply to more startups and small businesses.
Elections, Politics & Probes
The Federal Election Commission turned down former President Donald Trump's request for an additional 30 days to file a detailed report on his income, assets and debts, but the decision will have little effect on him.
Candidates to fill a pivotal seat on the Wisconsin Supreme Court are saying what's usually the quiet part out loud.
Around the Administration
BIDEN'S AGENDA
Biden meets with the Taoiseach of Ireland, Prime Minister H.E. Leo Varadkar, at 10:30 a.m. in the White House.
At noon, the president attends the Friends of Ireland Caucus St. Patrick's Day Luncheon at the US Capitol.
Biden hosts Varadkar at the White House at 5 p.m. for a Shamrock presentation and reception, then departs for New Castle, Delaware, at 7:30 p.m.
US authorities said a deal by the nation's biggest lenders to deposit $30 billion with First Republic Bank demonstrated the resilience of the nation's banking system, seeking to reinforce a message that the sector is on firm footing and united in its efforts.
Jamie Dimon and Janet Yellen were on a call Tuesday, when she floated an idea: What if the nation's largest lenders deposited billions of dollars into

First Republic Bank

, the latest firm getting nudged toward the brink by a depositor panic. Read more.
US aviation regulators are moving to extend the amount of time captured by crash-proof cockpit recorders after multiple recent cases in which they were overwritten.
The surge of cyberattacks on health systems underscores the need for them to reassess security controls constantly as they minimize the risk of hackers obtaining patient data through phishing scams and other data infiltration methods.
Pfizer Inc.'s Covid-19 treatment Paxlovid gained key backing from US advisers for full approval, paving the way for the drug to become a source of revenue well into the future after it was cleared for emergency pandemic use.
The US is committed to replenishing the Strategic Petroleum Reserve but won't rush to do so immediately despite the recent decline in oil prices, a top Biden administration official said.
Companies with directors sitting on competitor's boards have found it easier to part ways with those members rather than fight the Biden administration's aggressive probe of board overlaps for potential antitrust violations.
The US State Department approved a potential sale of Tomahawk missile systems worth $895 million to Australia, further tightening security ties between the two nations.
The Biden administration released dramatic footage of an encounter between Russian fighter jets and an American surveillance drone as the US sought to show that Russia was lying with claims that its warplane never hit the US aircraft.
Biden chose the University of Arizona over the University of Kansas to win the men's NCAA basketball tournament.
WHAT'S ON THE SUPREME COURT DOCKET
The US Supreme Court is set to weigh three high-profile intellectual property cases in a seven-day stretch testing the bounds of branded parodies, broad drug patent claims, and international application of trademark law. Read more.
A clash involving disgruntled Coinbase Global customers will give the US Supreme Court its first taste of the world of cryptocurrency, foreshadowing future cases that could help define the industry. Read more.
To contact the reporters on this story: Brandon Lee in Washington at blee@bgov.com; Michaela Ross in Washington at mross@bgov.com
To contact the editor responsible for this story: Katrice Eborn at keborn@bgov.com
Stay informed with more news like this – from the largest team of reporters on Capitol Hill – subscribe to Bloomberg Government today. Learn more.