What to Know in Washington: Harris Brings Justice Past to Ticket
Sen. Kamala Harris brings an aggressive approach to politics and public policy, deep electoral experience and hands-on expertise in the beleaguered U.S. criminal justice system as Joe Biden's running mate.
Harris (D-Calif.), at 55 a full generation younger than Biden, also imparts a youthful persona and diversity, with Jamaican and Indian ancestry that may help Biden, as a 77-year-old White man, energize a Democratic base that is rapidly becoming younger, more female and less White.
But Harris comes with a track record as attorney general of California and district attorney of San Francisco, where she was known as being tough on minority defendants, an issue she will likely need to address in the 83 days remaining in the campaign.
She at times proved a lackluster campaigner in the primaries, which she quit in December after failing to give voters a clear idea of what she stood for.
Jeffrey Taylor takes a look at the assets and liabilities Harris brings to the Biden campaign.
Biden and Harris will speak in Wilmington, Del., today for their first joint appearance.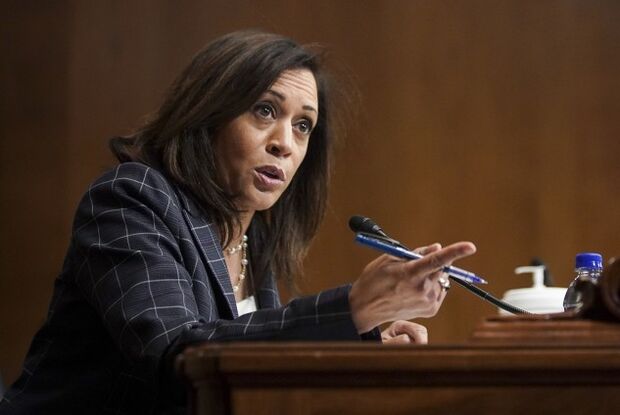 President Donald Trump said he was "a little surprised" by Biden's selection, saying Harris had been "nasty" to Biden in primary debates. "She was my number one pick" to run with Biden, Trump said at a news conference. Trump attacked Harris for her questioning of now Justice Brett Kavanaugh over his sexual misconduct allegations during confirmation hearings, calling her "the meanest, the most horrible" person in the Senate. Read more from Jordan Fabian.
Latinos Likely Top Picks to Replace Harris: California Gov. Gavin Newsom (D) could appoint the state's first Latino or Latina senator if Harris is elected vice president. State Attorney General Xavier Becerra, a former member of House leadership, and Secretary of State Alex Padilla are among the contenders for Newsom's appointment, which would be made after the election if Biden wins, California political veterans said. Tiffany Stecker has more.
What to Watch Today
The Senate will meet at 11 a.m. with no votes scheduled. The House isn't in session.
At 3 p.m., Trump participates in an event called "Kids First: Getting America's Children Safely Back to School."
More Elections & Politics
Poll Shows Biden Ahead in Pennsylvania: New Emerson College polls of three battleground states show Biden ahead by a wide margin in Pennsylvania and close races in Arizona and North Carolina.
In the Pennsylvania poll, 52% of likely voters supported Biden and 43% backed Trump, with 5% undecided. In the Arizona poll, 49% of likely voters supported Biden and 45% backed Trump, with 5% undecided. And in the North Carolina poll, 48% of likely voters supported Trump and 46% backed Biden, with 6% undecided — a lead that was within the survey's 3.8 percentage-point margin of error.
The polls were conducted August 8-10, before Biden's announcement that he'd chosen Harris as his running mate. Read more from Ryan Teague Beckwith.
Trump Campaign Blasts Biden Aides for Helping Protests: Trump's campaign ran an ad online yesterday featuring the mugshots of Black people jailed during the protests earlier this summer in Minneapolis and claiming that staffers under Biden donated to a group that posted their bails. The ad says the Biden staffers contributed to the Minnesota Freedom Fund, a group that says it pays criminal bail and immigration bonds for people who can't afford them. Read more from Mario Parker.
QAnon Supporter Wins Georgia Runoff and Likely Seat in Congress: A QAnon conspiracy theory supporter with a history of racist and anti-Islamic remarks will likely head to Congress next year after winning the Republican nomination yesterday in a deep red corner of Georgia. Marjorie Greene had nearly 60% of the vote as of last night in a primary runoff against neurosurgeon John Cowan, though not all votes had been tallied.
Her victory all but guarantees Greene will win the open seat in the state's 14th District in November and replace retiring Rep. Tom Graves (R). It also gives Democrats ammo to use against other Republicans in a state loaded with competitive races, including the presidential election, two Senate contests, and a pair of House seats. Read more from Emily Wilkins.
Progressive Omar Fends off Challenge: Ilhan Omar, a member of the "Squad" of progressives who rose to prominence after winning House seats in 2018, fended off a strong challenge and won her Democratic primary in Minnesota. Omar, one of two Muslim women in Congress, defeated fellow progressive and political newcomer Antone Melton-Meaux and three other candidates, the Associated Press reported last night. She is now likely to win a second term representing the heavily Democratic Minneapolis-based district. Read more from Skylar Woodhouse.
States Shield Mail-In Voting From Postal Delay: State officials wary of slower-than-usual mail delivery are extending mail-in ballot deadlines and making backup plans to smooth early voting in the weeks before the November election, but experts warn tens of thousands of ballots might still be thrown out. Amid a historic surge of interest in mail-in voting because of the coronavirus pandemic, a new postmaster general has barred overtime and changed other policies that some complain are slowing mail delivery. And because ballots in most states must be in the hands of state officials on Election Day, delays could mean uncounted votes. Read more from Ryan Teague Beckwith.
The Coronavirus Pandemic
Trump's Tax Cut Pledge May Founder: Trump is tapping his presidential authority to make tax changes that Congress is refusing to do, but his limited power means he could end up over-promising and under-delivering on his pledge to slash IRS bills. Trump has deferred hundreds of billions of dollars worth of payroll tax payments and is contemplating another executive action that would amount to a roughly $100 billion capital gains tax cut for investors by changing Treasury Department guidelines.
The president is running for re-election in November trailing Biden in every recent poll. Meanwhile, Congress is deadlocked on another stimulus as the country continues to struggle under a still-raging coronavirus pandemic. There are no immediate prospects for more negotiations and the stalemate could drag in September, leaving the economy limping as voters are getting ready to make their choices. Read more from Laura Davison.
Moderna, U.S. Reach $1.5 Billion Vaccine Deal: Moderna has reached a deal with the Trump administration to supply 100 million doses of its experimental Covid-19 vaccine, in a pact valued at up to $1.5 billion, the latest in a string of supply agreements that the U.S. has reached to stockpile the most advanced vaccines in testing. Trump at the White House yesterday said "the federal government will own these vaccine doses—we're buying them." He said three vaccine candidates are in their third phases of clinical trials, and that the U.S. is investing in the manufacture of the top six contenders to ensure rapid delivery. Read more from Olivia Raimonde and Robert Langreth have more.
Meanwhile Merck says human trials of one of its candidates will begin in mid-August, months behind the likes of AstraZeneca, Moderna, and Pfizer, whose shots have already begun large-scale testing. Pfizer has said it may approach regulators for an emergency use authorization as early as October. Merck told Congress last month that 2021 is the earliest it expects to have a vaccine ready, and its top executives have cast doubt on the rosier predictions being made for other shots. But Merck's pace, CEO Kenneth Frazier said in May, is deliberate: It's betting that Americans won't mind a later vaccine if it's more powerful and convenient, Langreth and Riley Griffin report.
Kodak Confirms SEC Probe in Virus Loan: Eastman Kodak confirmed an investigation by the Securities and Exchange Commission related to a tentative $765 million loan from the U.S. International Development Financial Corporation to help produce ingredients used in key generic medicines to fight the coronavirus, Eric Newcomer reports.
Kodak significantly increased its spending to lobby the federal government in the months before the loan announcement, Newcomer and Michael Tobin report. Kodak spent $870,000 lobbying Congress and federal agencies from April through June, according to public disclosures filed with Congress. The Rochester, New York-based company hadn't spent any money on lobbying since an expense of less than $5,000 in the first quarter of 2019, the reports show.
What Else to Know Today
Democrats Want Records on Foreign Aid Spending: House Democrats want the Trump administration to hand over documents to show whether officials plan to follow through with Congress-approved funding for global health programs, foreign military aid, and more, key members said in a letter yesterday.
House Appropriations Chairwoman Nita Lowey (N.Y.), Oversight and Reform Chairwoman Carolyn Maloney (D-N.Y.) and Budget Chairman John Yarmuth (Ky.) asked Russell Vought, director of the White House Office of Management and Budget, for an array of "apportionment documents" that detail a plan to either use or withhold budgetary resources. The Democrats' letter specifically asks for documents on apportioning funds for the last quarter of fiscal 2020, reflecting a concern among Democrats that the White House may delay the expenditure of funds until the fiscal year ends.
Vought had previously told Congress the administration didn't have plans for a year-end rescission of funds, but didn't rule out delaying funds late in the year via apportionment. That response "reflects a serious misunderstanding of the President's role in apportioning funds," the three Democrats wrote in the letter, Jack Fitzpatrick reports.
Senate Democrats Oppose Pendley Nomination: Sen. Martin Heinrich (D-N.M.), a member of the Senate Energy and Natural Resources Committee, led the full Senate Democratic caucus in a letter to President Donald Trump opposing William Perry Pendley's nomination to lead the Bureau of Land Management. The caucus's concerns included Pendley's climate change denial, advocacy for selling off public lands, and attempts to undermine tribes.
Trump to Lift Methane Regulations: The Trump administration is abandoning Obama administration curbs on methane leaks from oil and gas wells, a move that even some drillers oppose and that could become a campaign issue in the swing state of Pennsylvania. The effort, which an administration official said would be finalized tomorrow, represents the final Trump administration blow to former President Barack Obama's three-part plan for stifling planet-warming emissions, following eased limits on power plants and automobiles. Read more from Jennifer A. Dlouhy.
China to Bring Up WeChat, TikTok in Trade Talks: U.S. and Chinese negotiators are set to discuss implementation of the phase one trade deal in the coming days, with Beijing pushing for the recent measures targeting businesses including TikTok and WeChat to be on the agenda.
A virtual meeting will likely take place as soon as this week though a date hasn't been finalized, according to people familiar with preparations for the talks who asked not to be named. Along with agricultural purchases and the dollar-yuan exchange rate, which are among topics to be discussed, Chinese officials intend to bring up Trump's prospective bans on transactions with the two apps on national security grounds, the people said. They did not elaborate on what China hopes to achieve on these issues. Read more.
The trade deal is "fine" and China is "substantially" increasing purchases of American goods, Trump's top economic adviser Larry Kudlow said yesterday, dismissing concerns that rising tensions between the two countries might jeopardize the deal. The "one area we are engaging is trade," Kudlow said at a White House press conference. "It's fine right now." Read more.
Trump's campaign is inadvertently funding Chinese state media outlets and entities tied to the Kremlin through automated advertisements on YouTube, according to a study of thousands of videos on the Google service. Omelas Inc., a Washington-based security software firm, reviewed the YouTube clips in early August and found 22 Trump campaign ads running on YouTube channels linked to the Chinese government. Read more from Mark Bergen and Eric Newcomer.
U.S. Targets Stanford, Fordham Over Foreign Gifts: Stanford University and Fordham University are the latest targets of a White House investigation into whether they underreported foreign gifts and contracts. The reviews opened this week are the latest in efforts at the Education Department beginning last year to scrutinize foreign financial ties at U.S. colleges and universities. Read more from Andrew Kreighbaum.
To contact the reporters on this story: Zachary Sherwood in Washington at zsherwood@bgov.com; Brandon Lee in Washington at blee@bgov.com
To contact the editors responsible for this story: Giuseppe Macri at gmacri@bgov.com; Loren Duggan at lduggan@bgov.com; Michaela Ross at mross@bgov.com