What to Know in Washington: Hard-Liners Extend McCarthy Blockade
Bloomberg Government subscribers get the stories like this first. Act now and gain unlimited access to everything you need to know. Learn more.
Speaker Kevin McCarthy called off votes for the remainder of the week and sent lawmakers home as a revolt by Republican hard-liners halted business in the chamber for a second day.
The blockade by a band of 11 ultra-conservatives heightened tensions among Republicans following the speaker's backing of a compromise with the White House to avert a debt default. It also showcased their capacity to grind the chamber to a halt even if holding off, for now, on a push for McCarthy's (R-Calif.) ouster.
"There's a little chaos going on," McCarthy told reporters a the Capitol Wednesday, shortly after a round of talks with dissidents failed to conclude a deal.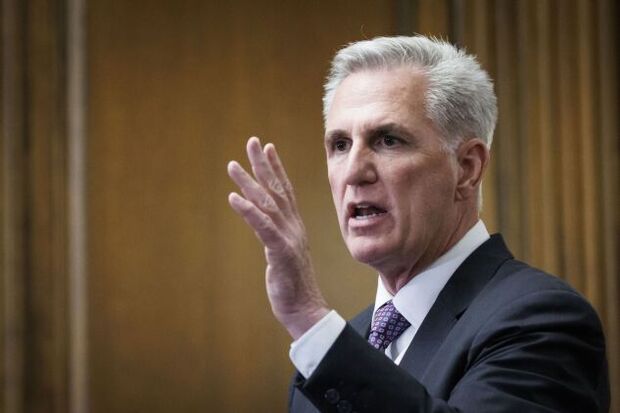 The speaker said he would continue to speak with the hard-liners during the evening but negotiations were complicated by a lack of clarity in the goals of the protesters, who were angered by the debt deal.
McCarthy mostly projected his customary optimism, predicting that the two sides would resolve their differences soon. Yet he showed flashes of frustration during the day and admitted the protest took him by surprise. Billy House has the update.
CONGRESS' SCHEDULE
Senators convene at 10 a.m. to vote on SBA and judge nominees.
The House is out until next week.
BIDEN'S AGENDA
President Joe Biden holds a bilateral meeting with UK Prime Minister Rishi Sunak at 11:30 a.m., with a press conference to follow at 1:30 p.m.
At 7 p.m., Biden hosts a pride celebration at the White House and plans to announce new federal efforts to counter state and local laws targeting the LGBTQ community and book bans. Read more.
Headlines from the Hill
Sen. Tim Scott (R-S.C.) said he's still hashing out the details of legislation addressing recent bank failures the panel's Democratic chair wants to advance this summer.
Republicans are clamoring to clip the rule-making powers of federal agencies and return the authority to Congress. But some Congress watchers say such a move could overwhelm lawmakers and their staffs who already struggle to get spending bills passed on time and often miss deadlines on key legislation.
Amtrak's passenger trains would no longer be given priority over freight trains on certain railroads under legislation being introduced today.
Early efforts to bolster the nation's pandemic preparedness are being stalled by partisan bickering over how the government responded to the outbreak of Covid.
Democratic Sens. Elizabeth Warren (Mass.) and Chris Van Hollen (Md.) want the Justice Department to investigate whether crypto exchange Binance lied to lawmakers about its business practices.
Nutrition aid advocates and members of Congress are looking toward the farm bill that's up for reauthorization this year to move Puerto Rico onto SNAP. But they worry an emphasis on belt-cinching in the GOP-controlled House will slow the momentum they've gathered. Puerto Ricans fear they're vulnerable to a single disaster or economic downturn leaving more residents hungry.
Biden vetoed a bill designed to kill the administration's sweeping student-debt relief plan on Wednesday.
Meeting to vote on holding FBI Director Christopher Wray in contempt of Congress is now removed from today's schedule, House Oversight Committee Chair James Comer says in statement.
Politics & Probes
Senate Democrats are demanding investigations into the surprise merger this week between Saudi-owned LIV Golf and the PGA Tour, citing the specter of a monopoly as well as accusations of human rights abuses within the kingdom.
The House members with the lowest party unity scores for the first five months of the current Congress represent districts where voters either elected a president opposite the lawmaker's party or favor policies not generally aligned with the lawmaker's party, an analysis by Bloomberg Government found. It strongly suggests those lawmakers know their best hope for returning to Washington after 2024 is showing an independent streak.
Donald Trump's legal team has been notified by the Justice Department that the former president is a target in a federal investigation into the handling of classified documents, according to a person familiar with the matter.
Gov. Ron DeSantis (R) has presided over a period of eye-catching growth for Florida's $1.1 trillion economy. He's betting the surge can help carry him into the White House, even though more of the Sunshine State's workers are being left behind.
Texas Attorney General Ken Paxton's upcoming state Senate impeachment trial is a legal minefield that the combative official must deftly navigate to avoid a conviction.
What Else We're Reading
Wildfires continue to ravage large tracts of forest in Canada, with little sign weather will provide much help to firefighters who are battling the blazes that sent smoke more than 1,000 miles southward and prompted air hazard alerts in cities on both sides of the US border.
Biden has directed his team to deploy all available federal firefighting assets that can rapidly assist in suppressing fires impacting Canadian and American communities, the White House says. Read more.
Several states, including California, Illinois, and New York, have implemented or moved forward on plans to expand Medicaid coverage to undocumented immigrants. Others, including Colorado and Washington, have extended clemency to undocumented immigrants looking to enroll in state-subsidized health plans.
Vice President Kamala Harris will commit $100 million to address security and climate change in the Caribbean during a visit on Thursday, the latest effort to shore up relations in a region where China is making increasing inroads and leaders have felt neglected by the US.
The US Patent and Trademark Office should create guidance on innovations that rely on AI, Google's head of patent policy told senators Wednesday.
Sunak wooed US business leaders and politicians as he engaged in baseball diplomacy the day before he's to meet Biden at the White House.
To contact the reporter on this story: Giuseppe Macri in Washington at gmacri@bgov.com
To contact the editor responsible for this story: Kayla Sharpe at ksharpe@bloombergindustry.com
Stay informed with more news like this – from the largest team of reporters on Capitol Hill – subscribe to Bloomberg Government today. Learn more.