What to Know in Washington: GOP's Hope for 'Red Wave' Sputters
Republicans advanced toward control of the House but by smaller margins than forecast and Democrats gained a Senate seat in Pennsylvania, as voters delivered a mixed verdict in an election shaped by concerns about inflation and by the nation's divisions on cultural and social issues.
Some of the bellwether races that had been targets for Republicans suggested the party's gains in the midterms may be limited and even below historical averages.
President Joe Biden's party is trying to buck history by holding onto their razor thin congressional majorities with the president's remaining legislative agenda hanging in the balance. Since World War II, the party holding the White House has on average lost 26 House seats and four Senate seats. Barack Obama's Democrats lost 63 House seats in 2010, and Donald Trump's Republicans 40 House seats in 2018.
In the biggest victory of the night for Democrats, John Fetterman narrowly defeated Republican television celebrity Mehmet Oz in the Pennsylvania Senate race, which was one of the nation's hardest fought contests. Fetterman's win was vital to any Democratic hopes of keeping control of the Senate.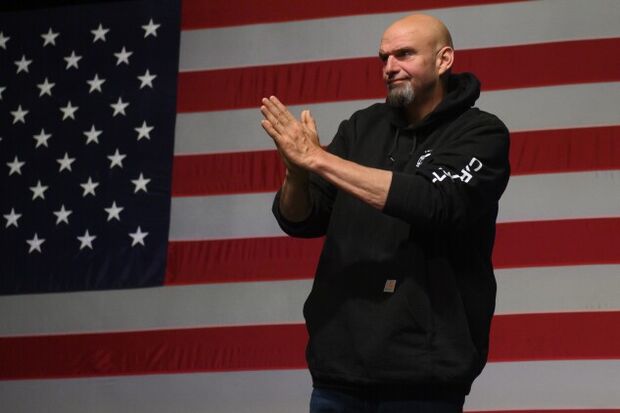 In Georgia, Sen. Raphael Warnock (D) led challenger Herschel Walker (R) by a razor thin margin in a race that could be decided in a runoff early next month;
In Ohio, JD Vance (R) defeated Rep. Tim Ryan (D) to keep an Ohio Senate seat in GOP hands;
In Arizona, incumbent Sen. Mark Kelly (D) was leading challenger Blake Masters (R);
In Nevada, Adam Laxalt (R) is leading incumbent Sen. Catherine Cortez Masto (D); and
In Wisconsin, Sen. Ron Johnson (R) was leading challenger Mandela Barnes (D) with most of the votes counted.
All of the Republican candidates were backed by former President Donald Trump, who has campaigned across the country and is expected to announce his third run for the White House next week. Read more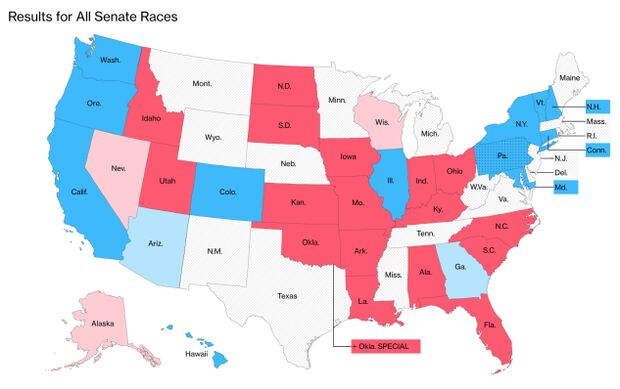 Also: GOP's Gain Is Short of a Wave as Biden Dodges Worst-Case Outcome
Bloomberg is reporting live election results for Senate races. Follow here.
To see the members-elect of the 118th Congress confirmed so far, click here.
Fresh off his re-election victory, Florida Governor Ron DeSantis now faces a potential showdown with Trump for the Republican presidential nomination in 2024.
Trump on Tuesday escalated his rivalry with DeSantis, warning that he would expose damaging information if the Florida governor were to challenge him for the 2024 Republican presidential nomination. Read more
DeSantis is one half of a pair of incumbent governors thought to have eyes on the White House—with Gavin Newsom in California. Both men handily won re-election, giving their parties a glimpse into the future. Read more
Several candidates for key posts in battleground states who support former Trump's unfounded claims of election fraud in 2020 were defeated as the races were called.
The contest between incumbent Democrat Raphael Warnock and Republican Herschel Walker for a US Senate seat in Georgia remained too close to call early Wednesday, making a Dec. 6 runoff increasingly likely.
Voters in Michigan, Kentucky, California and Vermont were on track to back ballot measures supporting reproductive rights on Tuesday, six months after the US Supreme Court eliminated the federal right to an abortion and sent the issue back to the states.
Come January, for the first time in 234 years, every US state will have sent a female representative to Congress. Vermont, the lone holdout, has finally elected a woman to Congress.
Democrat Kathy Hochul became New York's first elected female governor on Tuesday, fending off a challenge from Republican Lee Zeldin in a competitive race that was dominated in recent weeks by issues of crime and the economy.
Cyber attacks on election offices and campaigns are expected to continue as votes roll in, but none have threatened the integrity of the vote, a senior official at the US government's Cybersecurity and Infrastructure Security Agency said Tuesday.
Voters said yes to raising the wages of some low-income workers, allowing adult-use marijuana in Maryland, and decided the fate of legal abortions in multiple states as the midterm election ballots settled hundreds of policy questions.
Maryland and Missouri will be the latest states to legalize recreational marijuana, expanding the number of states that permit adult cannabis use to 21.
Republicans will hold the keys to redistricting 29 congressional seats in Ohio and North Carolina with GOP judges holding majorities for both states' high courts.
Around the Administration
PRESIDENT'S SCHEDULE
The White House will hold a press pool call at 11 a.m.
Biden gets his daily briefing at 11:45 a.m.
Ukraine believes the US will keep up financial support for its fight against Russia if Republicans take control of Congress following the midterm elections, the country's economy minister said, regardless of threats from some leaders to scrutinize spending.
Russia and the US expect to meet in the coming weeks to discuss resuming inspections of atomic weapons sites under the New START treaty, a small step to reviving arms-control talks suspended since Russia's invasion. Read more
The US government has continued to follow up on alternative avenues to secure the release of Americans in Russia, including basketball player Brittney Griner, through all available channels, the White House said. Read more
Russian diplomats tried to dial back rising fears the Kremlin might use nuclear weapons in its war in Ukraine, clarifying that their use against conventional forces would only occur if the existence of the country was at stake. Read more
Al Gore, the former US vice president turned climate campaigner, said any Republican Party efforts to force through policies that penalize green investors would be at odds with market forces that are ultimately more powerful than politics.
US climate envoy John Kerry arrived at the United Nations climate summit in Egypt with a new plan to expand the sale of carbon credits in order to boost renewable projects in developing countries. Read more
China Climate Envoy Xie Zhenhua says he met with Kerry for unofficial talks, during the COP27 climate summit in Egypt on Wednesday. Read more
Makers of cancer therapies and other medications are eyeing longer protection from government-negotiated prices as one of several potential technical changes to Democrats' landmark drug price law.
Energy companies that want to take advantage of bonus tax credits in Biden's tax-and-climate law and avoid new labor rules are expediting their projects before the requirements go into effect.
To contact the reporters on this story: Brandon Lee in Washington at blee@bgov.com; Andrew Small at asmall@bgov.com
To contact the editor responsible for this story: Giuseppe Macri at gmacri@bgov.com