What to Know in Washington: GOP Witness Undercut Trump Case
Two witnesses Republicans were counting on to undercut the impeachment inquiry against Donald Trump instead may have bolstered the Democrats' case, adding to evidence of the president's insistence that Ukraine investigate the Bidens and setting up dramatic testimony today.
Timothy Morrison, a former senior director for the National Security Council, in his testimony yesterday put Gordon Sondland, the U.S. ambassador to the European Union, once again at the center of Trump's maneuvering on Ukraine.
Sondland, who's scheduled to testify before the House Intelligence Committee this morning, will face tough questions from both Democrats and Republicans over his personal interactions with Trump regarding Ukraine.
Morrison recounted an episode from September in which Sondland pulled aside a top aide to Ukraine's President Volodymyr Zelenskiy to tell him the country's prosecutor general needed to make a statement about investigations "as a condition" of unfreezing $391 million in U.S. security assistance. "I was concerned about what Ambassador Sondland was saying about investigations," Morrison said.
Sitting next to Morrison, Kurt Volker, the former special U.S. envoy to Ukraine, testified that Republican suspicions about former Vice President Joe Biden — and claims that he pressed Ukraine to fire a prosecutor to fend off an investigation of his son Hunter — were unfounded and "not credible."
The testimony undercut key messages that Republicans have put forward about the weakness of the impeachment inquiry, and were particularly damaging because it was Republicans who had requested that Volker and Morrison appear.
But Republicans said no witnesses had asserted that Trump engaged in bribery or extortion, as Democrats have claimed. Read more from Nick Wadhams.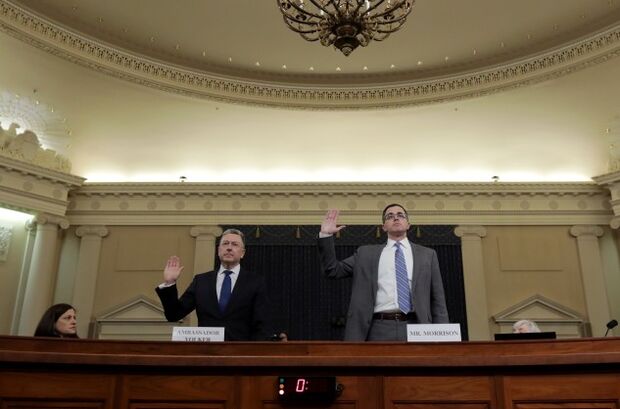 Envoy Denies Role in Pushing Biden Probe: Trump's former special envoy to Ukraine said he only realized after the fact that the president and a few close advisers were putting "unacceptable" pressure on Ukraine to launch a politically motivated investigation. Volker said that he wasn't initially aware of attempts to prod Ukrainian authorities into investigating Biden. But he added that he came to realize that the anti-corruption efforts being demanded by the administration meant probes aimed at entangling Biden in a potential scandal. Read more from Billy House, Laura Litvan and Steven T. Dennis.
Judge to Rule Monday on McGahn Subpoena: A federal judge said she'll rule next Monday on whether former White House Counsel Don McGahn must obey a subpoena to testify to the House Judiciary Committee, Laura Litvan and Billy House report. U.S. District Judge Ketanji Brown Jackson, in a brief order, said she'll issue a ruling barring "unforeseen circumstances." Trump has asserted that absolute immunity shields McGahn from being questioned.
Happening on the Hill
Hong Kong Bill Passes: The Senate unanimously passed a bill yesterday aimed at supporting protesters in Hong Kong and warning China against a violent suppression of the demonstrations — drawing a rebuke from Beijing. China reiterated today a threat to impose unspecified retaliation if the bill became law and urged the U.S. to stop meddling in Hong Kong affairs. Ma Zhaoxu, vice minister of foreign affairs in Beijing, later summoned William Klein, a U.S. embassy official, and raised strong objections about the bill. Separately, Hong Kong's government expressed "extreme regret" and said the legislation would negatively impact relations with the U.S.
The House unanimously passed a similar bill last month, but slight differences mean both chambers still have to pass the same version before sending it to the president. Read more from Daniel Flatley.
Trump Poised to Flip 11th Circuit: Trump is on the cusp of flipping the U.S. Court of Appeals for the 11th Circuit to a majority of Republican-appointed judges, the third such changeover during his administration. The Republican-led Senate yesterday easily confirmed Robert Luck to the Atlanta-based circuit, 64 to 31, and is expected to confirm Barbara Lagoa to the court in the coming days. Lagoa's confirmation would actually flip the circuit central to several cases involving significant election law disputes. She won overwhelming bipartisan support in a procedural tally yesterday that set up her confirmation vote. Read more from Madison Alder.
Meanwhile, Trump's nominee for a district court judgeship in Missouri is already down one Republican vote. Sen. Susan Collins (R-Maine) said she plans to oppose the nomination of Sarah Pitlyk to the U.S. District Court for the Eastern District of Missouri, citing her lack of experience, "troubling assertions" on therapies for families struggling with infertility, and stance on abortion. Read more from Madison Alder.
Rural Democrats Urge Trade Deal: Democrats from rural areas, many of whom face tough re-elections in 2020, are pushing party leaders to complete the U.S.–Mexico–Canada trade pact before the end of the year to give them a solid legislative achievement and undercut GOP criticism they're just focused on impeachment. "It's only going to get harder to make a good deal as we get closer and closer to the presidential election," Rep. Ben McAdams (D-Utah) said. "There's a window right now to get it done." An agreement between House leaders and U.S. Trade Representative Robert Lighthizer is close with enforcement provisions on labor and environment still being ironed out. Read more from Emily Wilkins.
Teen Vaping Bill Wins Panel's Backing: A House panel teed up a bill for passage aimed at curbing youth use of e-cigarettes by banning some flavored vaping products and raising the minimum age to buy tobacco products to 21. The House Energy and Commerce Committee approved the bill yesterday by a 28-24 vote.
Democrats and anti-tobacco groups said the wide-ranging measure, which would bar companies from selling e-cigarette or tobacco products with popular flavors such as mint and menthol and require tobacco advertisements to include graphic warnings, is needed to stop the increase in teen vaping. Committee leaders said backtracking on the issue by Trump's White House forces them to move ahead. Read more from Alex Ruoff.
Asbestos Ban Approved: A House committee approved legislation yesterday to ban asbestos but allow certain chemical manufacturers to transition away from use of the cancer-causing mineral. House Energy and Commerce Committee members approved an amended version of the Alan Reinstein Ban Asbestos Now Act of 2019 on a 47-1 vote. The bill would ban the mineral, with a few exemptions, within one year. Read more from Pat Rizzuto.
Elections & Politics
Buttigieg in Rivals' Sights at Debate: The Democratic presidential race's new pecking order will be on full display tonight, with Pete Buttigieg taking the debate stage as the emerging front-runner in Iowa and top 2020 rivals Joe Biden and Sen. Elizabeth Warren (D-Mass.) trying to knock him off that perch. Buttigieg's 9 percentage-point lead over the pack in Iowa is a sign of strength for the party's moderates as they try to convince voters that progressives such as Warren and Sen. Bernie Sanders (I-Vt.) are too far left to be viable opponents to Trump in 2020, particularly among swing voters who will play a crucial role in the general election.
The fifth Democratic debate will be held in Atlanta at 9 p.m. and will be hosted by MSNBC and the Washington Post. The choice of venue is also a signal of the party's desire to put Georgia in play for the presidential race and a pick-up opportunity for two Senate seats. Read more from Tyler Pager.
Patrick Tries to Cut Into Biden's African-American Support: Former Massachusetts Gov. Deval Patrick (D) courted black voters in South Carolina yesterday, trying to cut into Biden's commanding lead among black voters in the early primary state. At a meeting with about a dozen African-American businesswomen in Columbia, Patrick, a former managing director at Bain Capital Private Equity, spoke briefly about growing up on the South Side of Chicago before opening the floor to questions, saying he was more interested in listening than in delivering a speech. Read more from Emma Kinery.
Booker to Pitch College Childcare: Sen. Cory Booker (D-N.J.) will introduce a proposal today to spend an additional $9 billion over five years on campus childcare at community colleges and colleges serving high proportions of minority students, Andrew Kreighbaum reports. Booker's measure, called the PROSPECT Act, would create competitive grants for programs on those campuses to care for infants and toddlers. The funding would also support new academic programs in early childhood education. Booker's bill has the support of the American Federation of Teachers and the United Negro College Fund, among other education groups.
Sanders Takes Aim at Netflix Over Taxes: Sanders took at shot of Netflix yesterday, saying the streaming service paid no federal income taxes in 2018. "Your $8.99 Netflix subscription is more than the company paid in federal income taxes last year (nothing)," he said on Twitter yesterday. He added that he would "make massive corporations finally pay their fair share." Netflix disputed his claim. The company's filings with the Securities and Exchange Commission show that it paid an effective tax rate of 1% in 2018. That was well below the federal corporate tax rate of 21%. Read more from Bill Allison.
Lawyers Doling More Cash to Democrats: Lawyers have long been a reliable source of campaign funds for Democratic presidential hopefuls. But the legal set's political contributions haven't been this blue since at least 2004. Lawyers and employees of the nation's law firms have contributed nearly $17 million to presidential campaigns so far this election cycle and 95% of the total has gone to Democrats, according to the Center for Responsive Politics. Trump's campaign has raised just over $785,000 from lawyers and law firms. Read more from Roy Strom.
Republicans Raise $25.3M in October: The Republican National Committee raised $25.3 million in October, its biggest haul for the month in a nonelection year, it announced yesterday. Ronna McDaniel, the RNC's chairwoman, tied the big numbers to the public's distaste for the impeachment probe of Trump that began in October and was formalized with a full House vote at the end of the month. "It's clear that the American people are sick and tired of the Democrats' baseless investigations," she said in a statement. Read more from Bill Allison.
Around the Administration
Trump Campaign to Collide With Trade War at Apple Factory: Trump's effort to tout U.S. economic growth will clash with his trade war today when he visits an Apple factory in Texas, where Tim Cook will probably plead in-person to keep Macs and iPhones free from tariffs. Trump's visit to the Austin factory, where Apple contractor Flex Ltd. assembles some of the company's laptops, is intended to highlight the growth in U.S. manufacturing jobs since his inauguration. Trump has made U.S. economic growth the centerpiece of his campaign for re-election in 2020.
But the stop will also highlight the impact of Trump's trade war with Beijing. The administration is currently considering whether to exempt Apple goods from a 15% tariff that took effect Sept. 1, covering about $110 billion in Chinese imports including the Apple Watch, AirPods and parts for the iPhone. Read more from Jordan Fabian.
Election-Year Regulatory Agenda: The White House today is set to release a comprehensive list of all regulations that federal agencies will work on over the next 12 months as the administration looks to finalize a number of rules before Trump's first term ends. The White House Office of Management and Budget is set to post on RegInfo.gov at 10 a.m. its fall 2019 Unified Agenda of Federal Regulatory and Deregulatory Actions, a senior administration official said. The biannual report lists all the rules that federal departments and agencies intend to advance or cut during the upcoming year. Read more from Cheryl Bolen.
Court Asked to Block Border Wall Funds: Environmental and political activists are back in court in an effort to persuade a federal judge to block $3.6 billion in border wall funding from the Defense Department that Trump made available by declaring a national emergency in February. The Sierra Club and the Southern Border Communities Coalition plan to ask U.S. District Judge Haywood Gilliam today to rule that Trump and the Defense Department broke the law by using a purported national emergency as an "end-run" around Congress's refusal to fund the projects. Read more from Edvard Pettersson.
Foreign Affairs
'America First' Tensions Exposed as Esper Ends Asia Trip: The tension between bolstering U.S. alliances while pursuing an "America First" foreign policy tripped up Defense Secretary Mark Esper on a tour through Asia — while still leaving the Pentagon chief exposed to Washington politics thousands of miles away. Over the course of a week, Esper had the unenviable job of pressing South Korea and Japan to spend vastly more money to host U.S. troops, rescuing a soon-to-expire intelligence pact between the Asian allies and extending an olive branch to the notoriously fickle North Korean regime as a year-end deadline for nuclear talks seems all but dead. It was rough going. Read more from Glen Carey.
Wrong Sites for 79 Nukes: Air Force inventory systems that tally the location and value of property misidentified the locations of 79 active Minuteman III nuclear-armed missiles, or almost a fifth of the fleet, last year according to an audit sanctioned by the Pentagon. Ernst & Young discovered the discrepancies during the recently completed second round of full financial audits in Pentagon history for the Air Force and other military services, which were released Friday. Deputy Defense Secretary David Norquist may be asked about the flawed inventory of the intercontinental ballistic missiles during a hearing today by the Senate Armed Services Committee on the fiscal 2019 audit. Read more from Tony Capaccio.
To contact the reporters on this story: Zachary Sherwood in Washington at zsherwood@bgov.com; Brandon Lee in Washington at blee@bgov.com
To contact the editors responsible for this story: Giuseppe Macri at gmacri@bgov.com; Loren Duggan at lduggan@bgov.com