What to Know in Washington: GOP Wins House as Pelosi Eyes Future
Republicans won a narrow House majority that gives them the power to halt President Joe Biden's agenda, yet their slim margin marked a letdown for a party that had counted on decisive election results as a springboard for the 2024 presidential race.
More than a week after Election Day, the party finally gained the minimum 218 seats needed to control the chamber, the Associated Press reported Wednesday night, when incumbent GOP Representative Mike Garcia defeated Democrat Christy Smith in California. Roughly a half-dozen races still remain undecided.
Despite concerns about Biden's handling of the economy and the prospects of a recession, voters delivered a split verdict over who was to blame and how much weight to put on issues such as abortion rights and election deniers' threats to democracy. While giving control of the House to the GOP, they kept the Senate in the hands of Democrats.
Slender as it is, the House majority hands Republicans control of committees with subpoena authority, allowing them to make good on campaign pledges to investigate Biden's administration and family, as well as social-media companies that conservatives claim are biased against them.
Republicans also have promised to slash government spending, expand fossil fuel production and extend Trump-era tax cuts on the wealthy. Much of that agenda, however, will be left to wither in the Democratic-controlled Senate. Erik Wasson and Se Young Lee preview the power shift.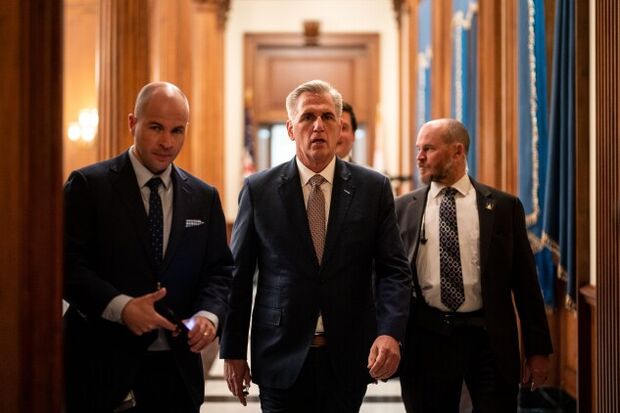 Nancy Pelosi's historic run as speaker will come to an end with the Democrats' unexpectedly narrow loss of their House majority, a power flip that comes as a new generation of leaders clamors to take over the party.
Pelosi, 82, has been the Democratic House leader for almost two decades and is the only woman to be elected speaker, serving in two stretches and under four presidents. She will announce "her future plans" today, her spokesman, Drew Hammill, tweeted late Wednesday night.
Meanwhile, Kevin McCarthy confronts an unexpectedly complex path to becoming the next speaker after the election delivered only a fractured majority in which many members are more loyal to Donald Trump. Read more
Still, McCarthy fended off a conservative proposal on Wednesday that could have hamstrung the speakership he hopes to claim early next year. Read more
Republican lawmakers are set to give closer scrutiny to financial support for Ukraine once they take control of the House, risking a showdown with the Biden administration and raising questions about the long-term US commitment as the war drags on.
With Russia reeling after losing troops and weapons, winter may be a good time for Ukraine to consider negotiations, the top US general said, reaffirming a stance that earlier drawn a mild rebuke from the White House. Read more
Republicans are expected to pressure Biden to pursue a more hawkish approach to China now that they've won control of the House, with promises to probe White House policy toward Asia and confront Beijing more forcefully.
The top US general said China's military won't be capable of invading Taiwan for some time, and President Xi Jinping would probably conclude attacking soon would be a disaster anyway. Read more
Republican control of the House will help advance financial-services firms' priorities, with a wish list that includes curbing ambitious proposals by a top markets regulator and diminishing the clout of a popular US consumer watchdog.
House Ways and Means Committee Republicans eager to probe the Biden administration have gotten a head start previewing areas they want to investigate with their new gavel authority.
Also Happening on the Hill
CONGRESS' SCHEDULE
The House meets at noon and plans to vote on 13 bills under expedited floor procedure.
Senators convene at 10 a.m. to resume considering a bill to protect same-sex marriages.
Legislation protecting the right of same-sex couples to marry advanced in the Senate on Wednesday, setting it up for passage by a simple majority as soon as this week.
The Senate on Thursday night passed legislation that will make it easier for researchers and manufacturers to study marijuana, a change to federal policy on the drug supporters hailed as "historic."
An overhaul of the federal permitting process for energy projects is a priority for members of both parties — but how it gets done is elusive for now, Republicans and Democrats said this week.
A key Senate committee approved Biden's choice for White House regulations chief, after two senior Republicans crossed party lines to move his nomination forward.
An investigation by the Senate Homeland Security Committee alleged that the FBI, parts of the US government and leading social media companies are not adequately addressing the threat of domestic terrorism, NBC reports, citing the panel's report.
Around the Administration
PRESIDENT'S AGENDA
Biden returned from the G20 in Bali, Indonesia early this morning and has no daily events planned.
Donald Trump's entry into the 2024 White House race adds a new degree of difficulty for federal prosecutors who've struggled for months to shield their investigations of the former president from accusations of political impropriety.
The Justice Department is determined to continue the probes, but Trump's status as a candidate means investigators will have to take extra procedural steps to shield their work. They will also face pressure to speed it up in order to resolve any criminal trial and appeals before voters head to the polls.
If the Justice Department decides to indict him, Trump would be the first former president charged with a federal crime. And it would be under the auspices of the man who beat him for the presidency in 2020 and may run against him again in the 2024 election. Joe Biden hasn't formally declared he is running again, though has said he plans to.
Meanwhile, two top Republican mega-donors won't be backing Trump's bid for a return to the White House, saying it's time for the party to move on. Read more
The crypto industry should do more to police itself and report bad actors to authorities, according to a US Justice Department official who focuses on digital assets.
A federal appeals court will consider whether a Republican-controlled federal labor panel erroneously decertified a union created to represent some 500 federal immigration judges who decide disputes over immigrants' legal status.
North Korea fired a suspected ballistic missile Thursday toward waters off its east coast after issuing a warning to the US of a 'fierce' move if it persists in conducting joint military drills with allies in the region.
South Korean President Yoon Suk Yeol and Dutch Prime Minister Mark Rutte discussed ways to enhance economic security ties, seeking cooperation in the chip industry after US export curbs to China rattled the global semiconductor market.
French Finance Minister Bruno Le Maire warned that US efforts to support domestic clean energy initiatives could unfairly damage European industry already buffeted by the fallout from Russia's invasion of Ukraine.
To contact the reporters on this story: Brandon Lee in Washington at blee@bgov.com; Michaela Ross in Washington at mross@bgov.com
To contact the editors responsible for this story: Giuseppe Macri at gmacri@bgov.com; Loren Duggan at lduggan@bgov.com