What to Know in Washington: GOP Win Risks Defense Budget Fights
A potential Republican takeover of the US House next year is raising jitters over defense priorities, despite the party's traditional hawkishness and projections of greater national security spending.
The defense budget will likely be caught in protracted battles over raising the nation's debt limit and cutting discretionary spending if the GOP wins the House and the Senate stays in Democratic hands or has a very small Republican lead, defense market analysts say.
That uncertainty may impede both national security and defense business planning. Delayed budgets, stopgap spending, and long negotiations can affect everything including sending weapons to Ukraine and replenishing US stocks, and new programs for hypersonic weapons, satellites, and drones.
Key House Republicans are already signaling they want to use next year's debt-limit deadline to extract concessions from Democrats. The Republican position — which members are still formulating — could set the stage for an explosive standoff next year, reminiscent of the 2011 negotiations when the Tea Party wave of Republicans took on former President Barack Obama's administration over spending.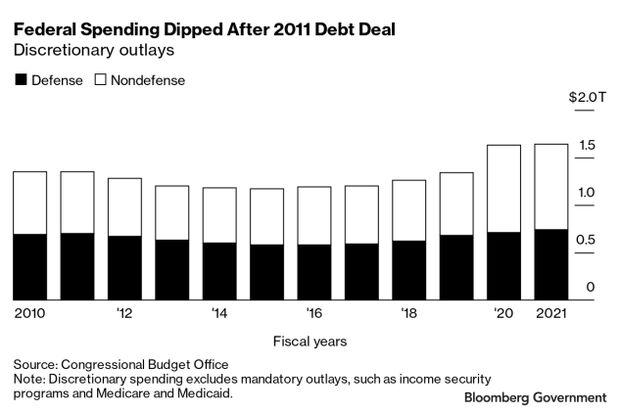 More on 2022 Election
Joe Biden assailed Ron DeSantis as "Donald Trump incarnate," a remark that unveils a key question batted around in the White House: Will the president be facing the rival he knows or the one he doesn't in 2024?
Biden kicked off the final campaign stretch before the Nov. 8 midterms with a warning that Republican control of Congress could trigger a standoff over government programs and the debt ceiling and unleash economic "chaos."
Some Republicans running for governor have kept a low profile — skipping debates, refusing to take reporters' questions, and spending little on traditional campaign ads.
Republican JD Vance, who has asserted that the 2020 presidential race was stolen from Donald Trump, said he trusts the integrity of Ohio elections and he'd accept the results if he loses the US Senate race in the state to his Democratic opponent, Representative Tim Ryan.
Politics & Probes
Sen. Ben Sasse (R-Neb.) is one step closer to leaving Congress after the University of Florida's Board of Trustees yesterday unanimously voted to select him at the school's next president. The school announced last month that Sasse was the sole finalist, prompting student and faculty protests.
The Florida Board of Governors is scheduled to vote on ratifying Sasse's selection Nov. 10, and the school said he's "expected to take office in early 2023."
Nebraska's governor would appoint Sasse's Senate replacement, who would face voters in 2024. Gov. Pete Ricketts (R) said last month he won't appoint himself to the job but may pursue it after he steps down due to term limits next year. University of Nebraska Regent Jim Pillen (R) in an emailed statement said he was "focused on" winning the governorship next month and dismissed talk of an appointment as "speculation," Zach C. Cohen reports.
The former chairman of the El Paso Republican Party cannot proceed with a lawsuit alleging he's still in charge of the local party—after having tendered then rescinded his resignation—a Texas appellate panel said, affirming courts have no jurisdiction over that type of dispute.
Perkins Coie, the law firm that has long been a top adviser to Democrats, is looking to expand its work for tech and emerging companies while pulling back from politics.
Also Happening on the Hill
Biden is calling on Congress to send legislation banning assault weapons and high-capacity magazines to his desk after recent gun violence incidents, White House Press Secretary Karine Jean-Pierre says in a statement.
The US Capitol Police chief warned that heightened political tension has greatly increased the danger for members of Congress and said the agency needs to bolster protection for lawmakers in the wake of Friday's violent attack on Speaker

Nancy Pelosi

's husband in their San Francisco home. Read more.
The intruder was in his own words on a "suicide mission," according to law enforcement authorities — not just going after Pelosi, but to go after other politicians and their relatives. Read more.
Cramped travelers and lawmakers on airplanes are trying to convince the Federal Aviation Administration that feeling squished is a safety risk.
Around the Administration
PRESIDENT'S SCHEDULE
Biden at 2:15 p.m. will view a workforce training demonstration at the White House with unions and companies.
At 2:40 p.m., Biden will give a speech at the White House on strengthening the infrastructure talent pipeline following the passage of the bipartisan infrastructure law, Inflation Reduction Act, and CHIPS and Science Act.
White House Press Secretary Karine Jean-Pierre will give a briefing at 1:15 p.m.
The Federal Reserve looks set to deliver a fourth straight super-sized rate increase with Chair Jerome Powell repeating his resolute message on inflation and opening the door to a downshift — without necessarily pivoting yet.
President Joe Biden's threat to slap a tax on oil-company profits is more bluster than threat as the clock runs out on the administration's efforts to tame fuel prices ahead of midterm elections.
The Biden administration is pushing electric heat pumps as a solution to high energy costs, enlisting companies like Airbnb, Lyft, and Procter and Gamble to spur production and installation of the energy-efficient heating systems.
The Government Accountability Office is again providing relief to over half of contractors challenging federal agency contract actions, the watchdog's annual report to Congress says.
The Pentagon's research and development agency is exploring the upside of satellites at a range most space companies aim to avoid.
Defense & Foreign Affairs
An official watchdog known for his sharp criticism of wasteful US spending in Afghanistan said the Biden administration has stonewalled inquiries about $1.1 billion in humanitarian aid spent "to support the Afghan people since the Taliban's takeover."
Saudi Arabia and the US have shared information indicating Iran may attack the kingdom or other nations in the region sometime soon, leading Washington and Riyadh to adjust their military posture, according to people familiar with the matter.
Iran will respond to US killing of a top Iranian general in 2020 "when the time is right," Supreme Leader Ayatollah Ali Khamenei said, according to state-run Islamic Republic News Agency. The country "hasn't forgotten" drone strike ordered by US government that killed Gen. Qassem Soleimani, he added. Read more.
US Secretary of State Antony Blinken and South Korean Foreign Minister Park Jin discussed the launches and condemned what they saw as an "unprecedented" military provocation, the Foreign Ministry in Seoul said in a statement.
With assistance from Zach C. Cohen
To contact the reporter on this story: Michaela Ross in Washington at mross@bgov.com
To contact the editor responsible for this story: Katrice Eborn at keborn@bgov.com