What to Know in Washington: GOP Vows Revenge for Trump Probes
GOP poised to launch counter-probes if take majority
House panel still faces hurdles to get Trump's tax returns
Republicans vow they will waste no time tearing into the FBI search of Donald Trump's home and other investigations of the former president if the GOP wins control of Congress in November, signaling a protracted fight with the Biden administration.
Party leaders and committee chairmen-in-waiting have already pledged to hold aggressive hearings and issue subpoenas in the wake of Monday's unprecedented search of the former president's Florida home.
The top Republican on the House Intelligence Committee, Mike Turner of Ohio, has already written to the National Archives and Records Administration demanding officials preserve the documents and communications tied to NARA's criminal referral to the FBI, which appears to have sparked the search.
The response, Turner said, should be written in a way that is "potentially responsive to a congressional inquiry, request, investigation, or subpoena that may be initiated or otherwise undertaken by a committee of Congress or any other investigative entity."
There's little Republicans can do now in the minority. But winning one or both chambers would allow them to harness subpoena and other powers to launch a widespread probe that could go as high as President Joe Biden himself. The White House has said it was in the dark on the Mar-a-Lago search. Read more from Billy House and Laura Litvan.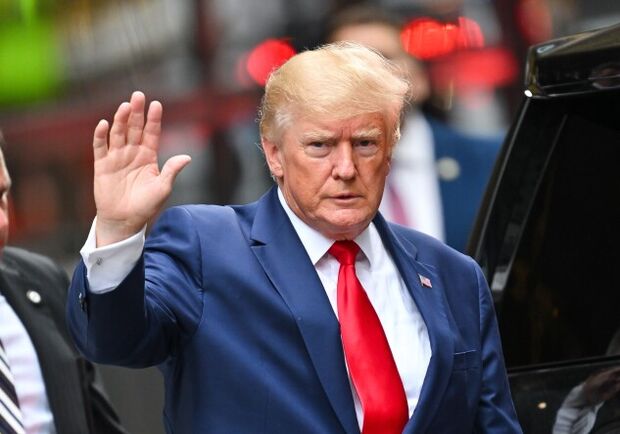 Also in Trump's legal woes, when he and New York Attorney General Letitia James finally sat across from each other during a long-awaited deposition in a probe of his asset valuations, the mood was surprisingly cordial. But Trump pleaded his Fifth Amendment right against self incrimination and didn't answer any questions, following through on a pledge he made in a statement just before the deposition got underway in Manhattan. Erik Larson recaps.
In another probe of Trump, the House Ways and Means Committee still faces hurdles in getting the former president's tax returns from the Treasury Department, even after a court endorsed its authority this week. Shortly after the D.C. Circuit's ruling, the committee said it expected "to receive the requested tax returns and audit files immediately." But the court said it wouldn't issue a mandate to enforce its decision until seven days after Trump or his business entities request a rehearing. Read more from Aysha Bagchi.
Also on Lawmakers' Radar
Senator Elizabeth Warren rebuked Federal Reserve Chair Jerome Powell for withholding information on trading by central bank officials during the pandemic and said an investigation into the matter by the Fed's inspector general was "troubling." The IG report "raises new concerns about the reasons why you continue to withhold key information about Fed officials' financial trading activity from Congress and the public," Warren (D-Mass.) said in a letter to Powell released Thursday, Craig Torres and Catarina Saraiva report.
Senate passage of Democrats' tax and climate legislation puts the IRS on the cusp of realizing a long-held dream: a significant increase in funds that it can use over nearly a decade. But the IRS will have to recruit and train thousands of employees who have the necessary skills to audit high-income taxpayers and corporations, as well as those who are able to upgrade the agency's technology. Read more from Naomi Jagoda.
Meanwhile, marginalized communities inundated with air pollution could be some of the biggest beneficiaries of the tax and climate bill (H.R. 5376). Environmentalists say the bill would bring potentially transformative local air quality gains, despite a tradeoff of benefits to the fossil fuel industry. Read more from Jennifer Hijazi.
The Pentagon's costliest program ever—the $398 billion F-35 Joint Strike Fighter made by Lockheed Martin—is set to be largely insulated from a problem that seems poised to plague other weapons systems: the lack of a new budget for fiscal 2023. The specter of a budget impasse is rising as the Congress heads into rancorous midterm elections in November—and coincides with the Pentagon negotiating new contracts for hundreds more F-35 aircraft. Read more from Roxana Tiron and Tony Capaccio.
The US couldn't let China establish a "new normal" around Taiwan Speaker Nancy Pelosi's (D-Calif.) said, hours after Beijing announced plans for regular military patrols near the democratically governed island. Pelosi told a news briefing Wednesday in Washington that Chinese leaders had been "trying to push their way" toward their goals on Taiwan before her visit last week. Read more from Rebecca Choong Wilkins.
Elections & Politics
To Blake Masters, the newly minted Republican Senate nominee in Arizona, ESG scores are an existential threat to the US economy along with inflation. Masters' advocacy is part of a growing movement among Republicans to make ESG scores—the grading of companies' performance based on their environmental and societal effects, as well as their governance structure—a cultural issue, and those Republicans could seek legislative avenues if they take control of the next Congress. Read more from Zach C. Cohen.
The six leading Democratic candidates for New York's newly redrawn 10th Congressional district, including Rep. Mondaire Jones (D-N.Y.), sparred Wednesday night over immigration, Trump and hyper-local issues like crumbling roadways, congestion pricing and street parking rules. Marie-Rose Sheinerman has more on the debate.
Gmail users could soon see more political ads in their main inboxes as federal regulators are set to consider a request to suspend spam filtering, Kenneth P. Doyle reports. The move expected Thursday by the Federal Election Commission comes despite opposition from thousands of public comments, ranging from the Democratic National Committee to ordinary computer users, asking that political spam filters be left on.
The Federal Election Commission is set to vote on approving the plan submitted by Alphabet's Google, which has been under pressure since a recent study found Republicans were more likely than Democrats to have their emails filtered as spam. Republicans said it was an example of political bias in the tech industry and introduced legislation to block spam filtering. DNC executive director Sam Cornale told the FEC that removing spam filters would fuel rampant deceptive fundraising practices by Republicans.
Around the Administration
BIDEN'S SCHEDULE:
Biden has no public events scheduled today.
Nearly a year after Biden called on the federal government to quickly and efficiently dole out $1 trillion to shore up the nation's roads and bridges, his infrastructure chief is still working on spreading the word to Americans about the domestic policy achievement. Mitch Landrieu told Bloomberg Government in an interview Wednesday that it will take years for federal, state, and local officials to yield Biden's promised results. Rachel Hunt and Courtney Rozen have highlights from the conversation.
The Federal Trade Commission is poised to take its first step toward writing consumer data protection rules that would govern corporations like Alphabet and Meta, sources familiar with the agency's plans said. The FTC plans to soon issue a notice to launch the data protection rulemaking, said the sources. Andrea Vittorio and Maria Curi have more.
The White House's decision to activate FDA emergency powers for monkeypox could quintuple the US vaccine supply, but it passes on the potential to use that authority to boost treatment options. HHS Secretary Xavier Becerra gave the Food and Drug Administration the green light to clear a technique that involves injecting smaller doses of the monkeypox vaccine into the skin, but the authorization doesn't include therapeutics or testing. Read more from Jeannie Baumann.
Survivors of the AIDS epidemic in the 1980s and 1990s said efforts to combat the monkeypox outbreak will unnecessarily stigmatize the LGBTQ community, as health-care advocates fear improper messaging risks branding it as a "gay disease" and eroding effective preventive measures. Ayanna Alexander has more.
Scientists fear the omicron shots coming this fall won't be much better at keeping people from getting Covid-19 than what's come before. That's pushing drugmakers to begin working on next-gene vaccines that don't have to be updated that often—if at all. Madison Muller, Riley Griffin, and Fiona Rutherford have more.
The US is concerned about "credible reports" that Rwanda is backing the M23 rebel group in eastern Democratic Republic of Congo, which would endanger regional security and stability, Secretary of State Antony Blinken said in Kigali, Rwanda's capital. Saul Butera has more.
Elon Musk's request for $886 million in US subsidies for beaming broadband service to rural areas via his SpaceX satellites was rejected by the Federal Communications Commission. Read more from Todd Shields.
The United States Postal Service filed notice Wednesday with the Postal Regulatory Commission for a plan to temporary adjust prices for key package products for the 2022 peak holiday season, Ilya Banares reports.
With assistance from Kenneth P. Doyle
To contact the reporters on this story: Brandon Lee in Washington at blee@bgov.com; Michaela Ross in Washington at mross@bgov.com
To contact the editors responsible for this story: Giuseppe Macri at gmacri@bgov.com; Loren Duggan at lduggan@bgov.com